June 6/14 19:07 pm - Rider Profile - Annie Foreman-Mackey

Posted by Editoress on 06/6/14

When all was said and done, Annie Foreman-Mackey finished fifth at the Chrono Gatineau, but there was no sense of disappointment for the Kingston native.

"I'm super happy with my race. I actually came back and was warming down and didn't really hear where I had finished. It wasn't a perfect ride but it felt solid."

Fourth out of the gate, Mackey-Foreman set the early standard, not yielding the hot seat until Leah Kirchmann (Team Canada), who started ninth from last, was able to post a faster time.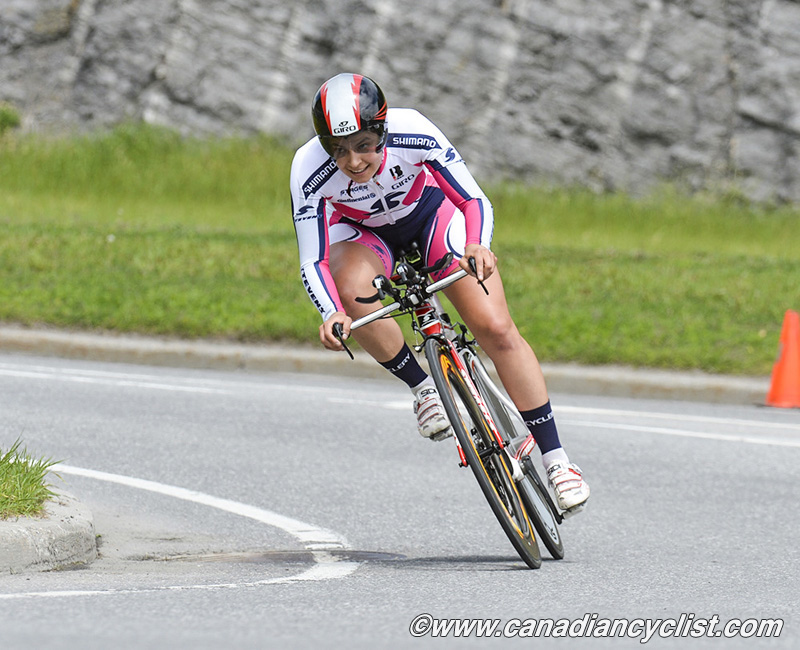 Since her Stevens-The Cyclery team is based in the national capital region, the 23-year old has moved to Gatineau for the summer, and had fun racing on what she considered to be a home course. Despite losing focus a couple of times, she was able to use the technical nature of the circuit to gather herself and rechannel her energy.

"There were a couple of moments where I lost a bit of focus so I had to kick myself and say 'Come on Annie, get back into it'."

"I had certain sections where I wanted to focus on certain things. I think that helped because this course has a lot of different sections, so when I turned a corner I would have a new thought."

At 11.5 kilometres in length, the in-between distance led to a change in start strategy. "Generally I start in what I call 'easy speed' but today I wanted to give it a little more just because it was short so I went out a little bit harder and hoped I could hang on."

Foreman-Mackey spent part of the spring in Europe with the national team, where she rode the spring classics for the first time. Although it was a challenging experience, she hopes to return next year and in years to come.

Having just completed a bachelors degree in health science at McMaster in Hamilton, she starts part-time post-graduate studies in public health this fall at the University of Toronto.

She will be based in the Hamilton area and hopes to take advantage of training opportunities at the Mattamy National Cycling Centre velodrome, scheduled to open in September of this year.


Report by Emil van Dijk
---
Related Photo Galleries
---