June 15/14 23:00 pm - Young Riders take the Lead at Downhill World Cup #4

Posted by Editoress on 06/15/14

The first half of the Mountain Bike World Cup concluded on Sunday in Leogang, Austria, with Round 4 of the Downhill. Dry and dusty conditions meant that the course was fast. Young riders took the top spots in both the women and men, with Manon Carpenter (Madison Saracen) taking her second win in the women's race to extend her overall lead, while Josh Bryceland (Santa Cruz Syndicate) took the first World Cup victory of his career. Australia's Troy Brosnan (Specialized Racing DH), who had won the first World Cup of his career a week earlier, finished third in the men, which propelled him into the overall lead.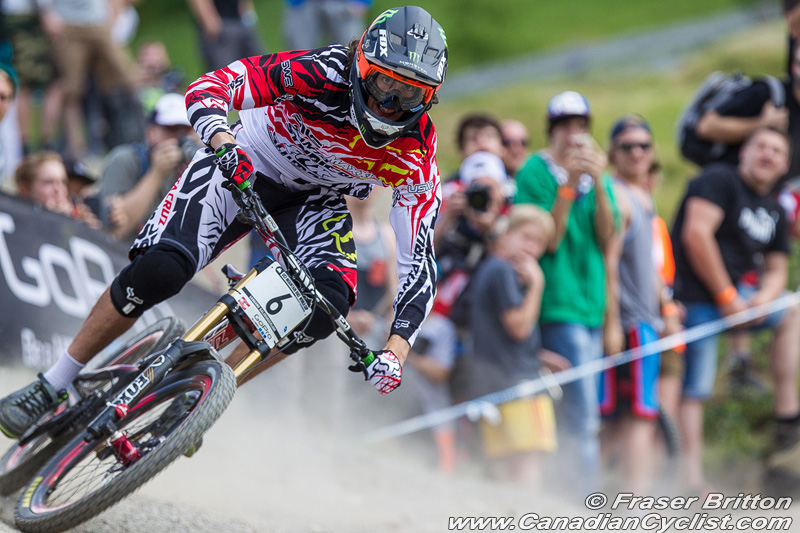 Josh Bryceland (Santa Cruz Syndicate)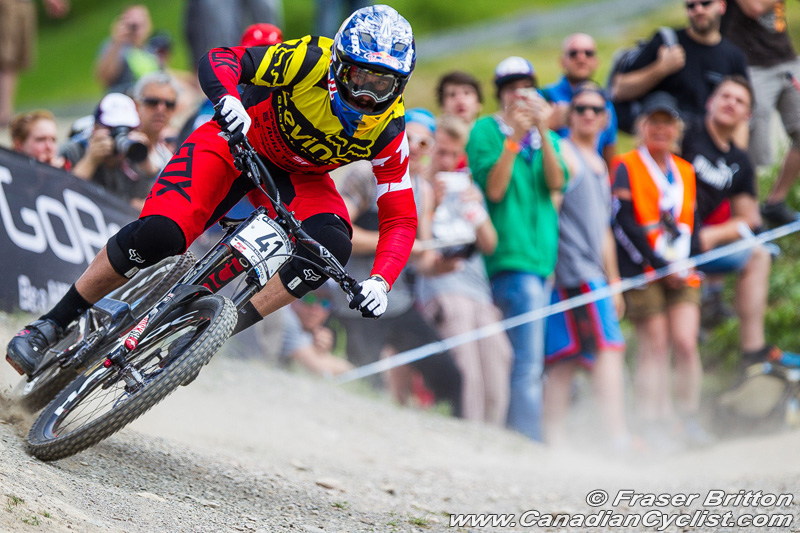 Steve Smith (Devinci Global Racing)
Steve Smith (Devinci Global Racing) continues his comeback from injury with an 11th place after making a few mistakes in his run. In the women, Micayla Gatto (Pivot Factory DH) had another strong result, finishing eighth, while Junior rider Jack Iles was seventh in his category.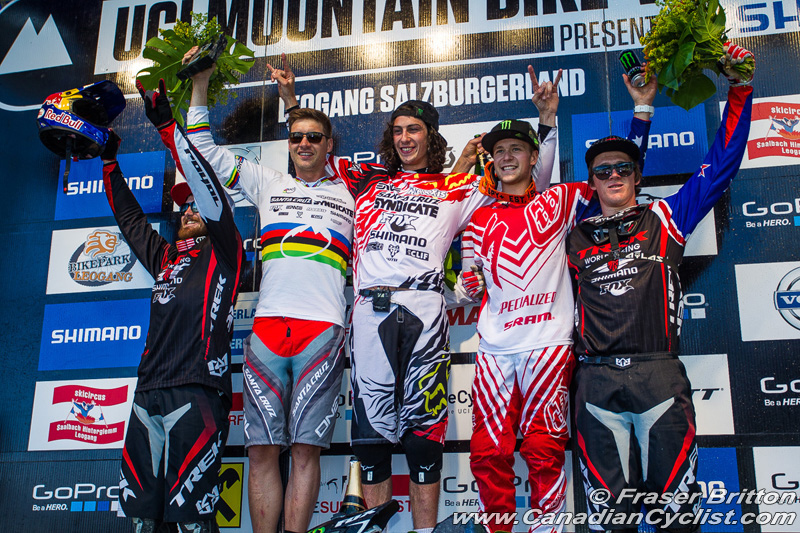 Men's podium
After suffering flat tires at Round 3 last weekend in Fort William, Scotland, the winners of Rounds 1 and 2, Manon Carpenter and Rachel Atherton (GT Factory), roared back to the top of the women's results, with Carpenter taking her second win of the season and second of her career, with Atherton finishing second, almost three seconds back. Morgan Charre (Evil Vengeance Tour) was the first to go under four minutes, before being bumped from the Hot Seat by Canadian champion Micayla Gatto.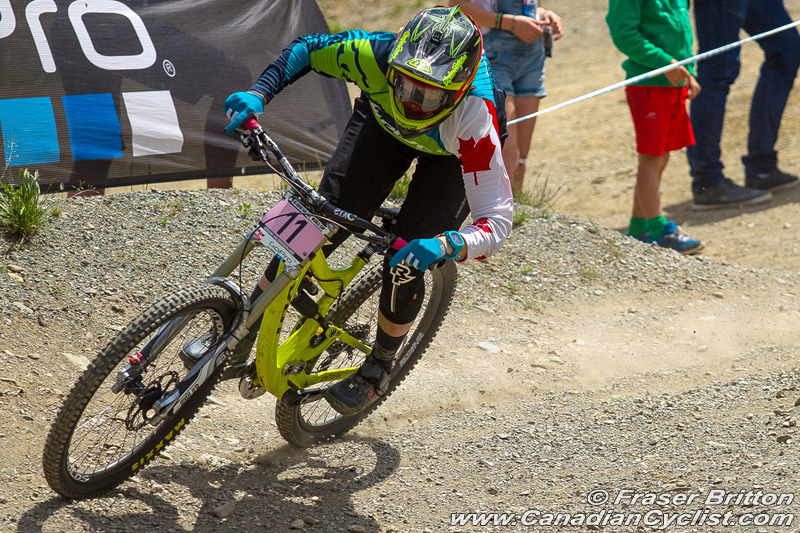 Micayla Gatto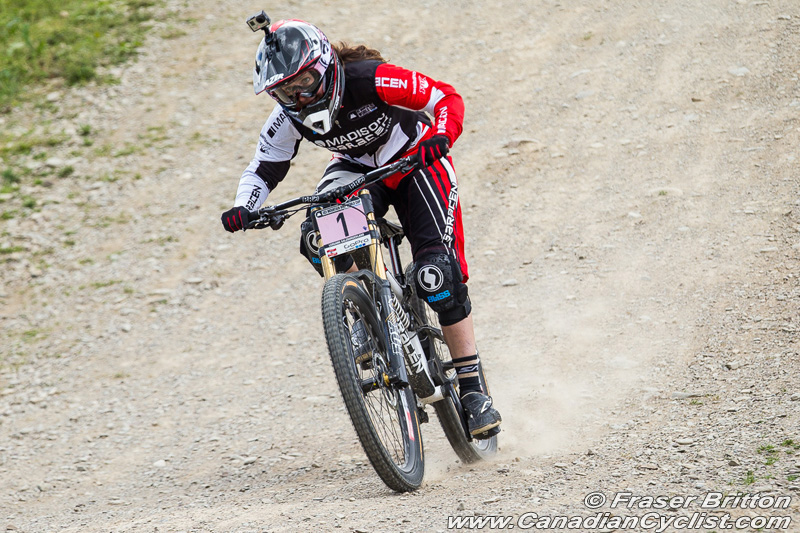 Manon Carpenter (Madison Saracen)
Gatto had no time to enjoy the lead, with Australian champion Tracey Hannah (Hutchinson UR) taking another half second off the leading time. Four riders later, Myriam Nicole (Commencal/Riding Addiction) became the first to go under 3:50, which would be good enough for third, as the next rider was world champion Atherton, who was nearly a second faster. Round 3 winner Emmeline Ragot (Lapierre Gravity Republic), the second fastest qualifier, slotted in behind Nicole, leaving Carpenter as the only rider who could beat Atherton.

Carpenter was clearly the fastest of the day, half a second up at the first split, and 2.7 seconds ahead of Atherton at the finish. The win pads Carpenter's lead in the overall standings, giving her 780 points. Ragot is second at 690 points and Nicole third with 662. Atherton, after scoring no points in Fort William, moves up from fifth to fourth with 660 points. Gatto rwmains in 11th with 270 points, but is closing on the top-ten.

"Very wild ride to be fair," commented Carpenter. It's so dry up there. So many times I locked my tires, it was hard to carry a line. I just pushed as hard as I could. It was windy up top and I was a bit worried on some of the jumps. But yah, I was trying on that one. Feels good. I'm massively happy now. It feels proper [to win here] after last weekend, when I had my issues and it really makes up for it. Feels amazing to go into the break with the leaders jersey."

Ruaridh Cunningham (Unior Tools) was the first to go under 3:25 in the men, after only 19 riders had started. Mike Jones (Chainreactioncycles.com/Nukeproof), at 26 to go, finally displaced Cunningham by two-tenths of a second, and then the time began to drop steadily as the final 25 riders came down the course. Sam Hill (Chainreactioncycles.com/Nukeproof), with 18 riders to go, was the first to make a significant drop in the time, but 6 riders later world champion Greg Minnaar (Santa Cruz Syndicate) took the lead to 3:20, finally surpassing the top qualifying time of Loic Bruni (Lapierre Gravity Republic).

As the countdown went to the final five, riders came within thousandths of a second of Minnaar, but no one could surpass the South African, with Brosnan slotting in an infinitesimal nine-thousandths of a second back. Two riders later, Josh Bryceland (Santa Cruz Syndicate), third in qualifying, smashed the 3:20 mark with a time of 3:18.749. World Cup leader Aaron Gwin (Specialized Racing DH) flatted high on the course, but rode the rim all the way down, to immense applause. This left only Bruni to ride. The French champion was fastest in both of the two intermediate splits, but slid out in the dry, loose dirt on a corner, putting Bryceland on the top of the podium for the first time in his career.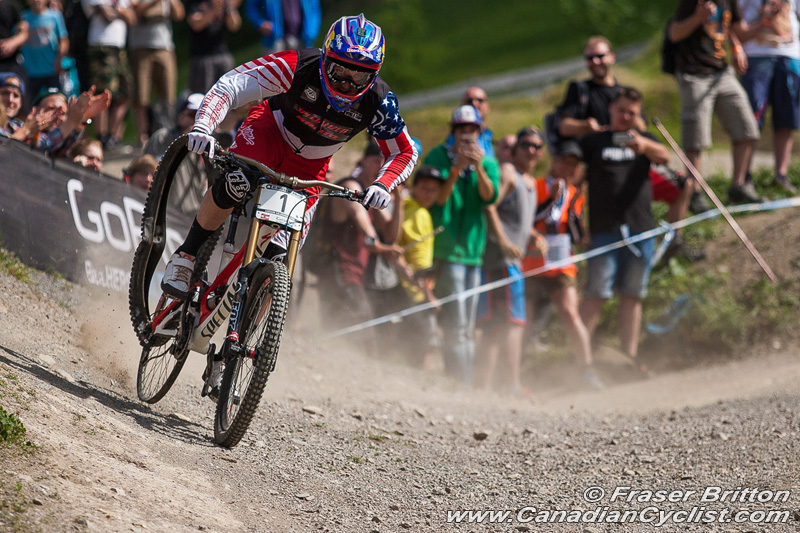 Gwin flatted and finished on his rim
"That was intense," agreed Bryceland. "Bruni was a little bit up, and a little bit up again [in the second split] and I was 'ohhhhhh'. Then I saw him go into that turn and I said he's overcooked it. I felt bad, he was flying, but you know, I'm still happy to win. I knew it [the win] would happen when the time was right. I just had to be patient, keep at it. and here it is."

Brosnan takes the lead in the overall standings with 634 points, followed by team mate Gwin with 605 points and Bryceland in third at 547. Smith, after riding only two of the four World Cups, has moved into 29th from 41st

Women and Junior Men results
Standings
---
Related Photo Galleries
---