July 22/14 17:22 pm - Commonwealth Games: Interview with Jasmine Glaesser on the First Day of Track Training

Posted by Editoress on 07/22/14

Today the Canadian women were on the track training for the opening day of racing on Thursday. At the conclusion of the training session Jasmin Glaesser took a few minutes to talk about the track and her chances.

Canadian Cyclist: So first off; what are your overall impressions of the track now that you've had a chance to spend some time on it?

Jasmin Glaesser: It's definitely a fast track, and a little bit of a different track from what we are used to. Really steep banking and tricky transitions, so part of preparation is been getting used to the track, feeling it out and seeing how best to roll it. I think we're getting the hang of it just in time for the racing.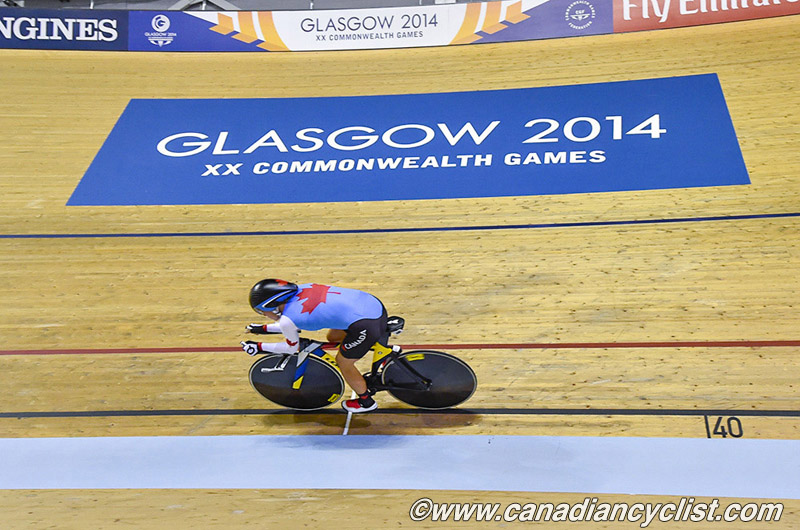 Jasmin Glaesser
CC: Who is going to do which event, between you, Laura Brown and Steph Roorda?

JG: We're allowed three riders in each event, so we'll all be doing all three of the women's track events, and the road events as well.

CC: So that's five events for you.

JG: Yeah. It's a lot of racing, but we wouldn't want it any other way.

CC: In the track events who do you see as the main competition?

JG: Commonwealth Games includes pretty much all the top track nations [for women], so all of GB, divided up into England, Wales and Scotland, and then the Aussies and the Kiwis, who haven't been racing the World Cups for the women. So it will be interesting having them back in the mix and seeing where they're at. But there's at least 10 or 15 riders that could win each of these races. So it's going to be really tough racing.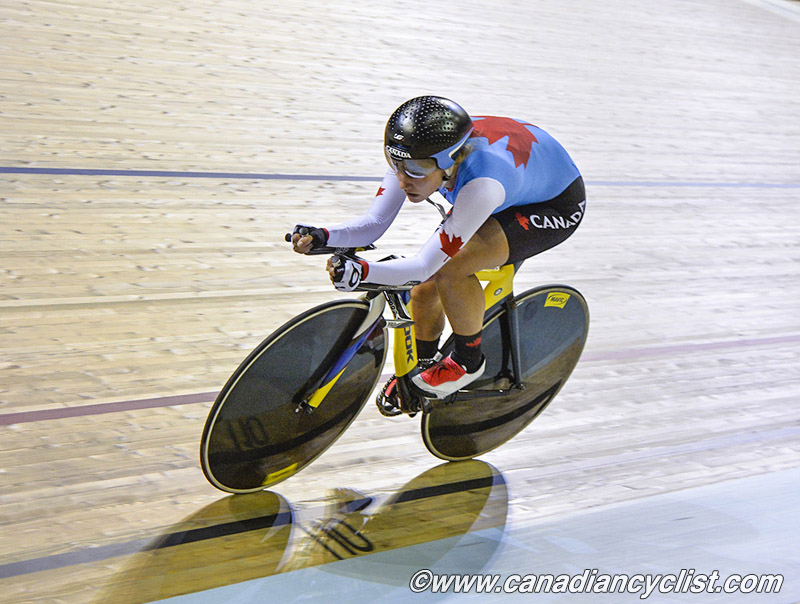 CC: Which event do you see as being your biggest strength?

JG: I've had some consistent results in the Points Race at the World Champs and World Cups in the last few seasons, but again, in that race there's a little bit of luck, a little bit of finding that right moment. So it's not all about fitness, but, that being said, I think myself and the other two girls would like to have a solid Individual Pursuit as well.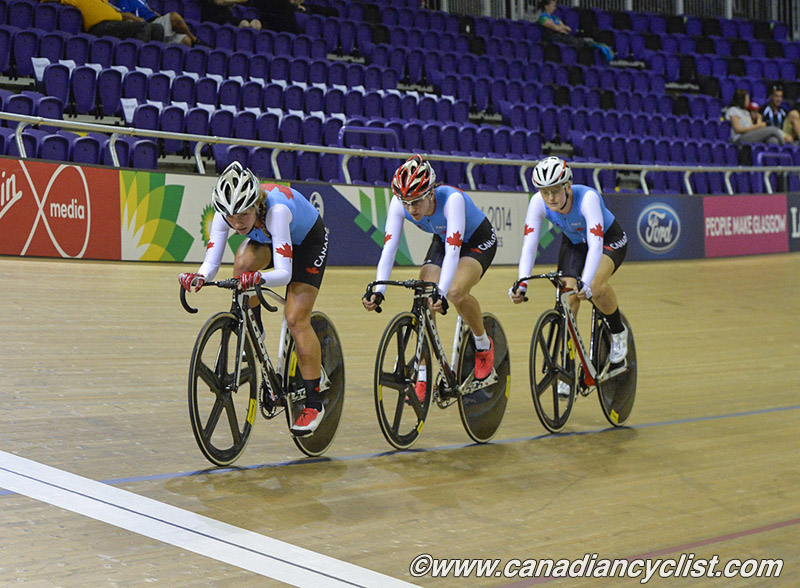 Jasmin Glaesser leads Brown and Roorda
CC: You had a crash at Road Nationals; how are you recovered from that?

JG: It was kind of a weird crash; uphill and super slow. But I was really banged up; I didn't feel well for a while and I think I hurt my jaw pretty badly; I still don't have full mobility in it. But I've put it to the back of my mind and I don't think it is affecting me anymore.

CC: So you just landed wrong.

JG: Yeah, and I think more than anything it just ruffled my feathers a little bit and I didn't really get back into the race, so definitely a bit disappointing.

CC: Let's talk about the road here - have you had a chance to think about or look at the road courses (time trial and road race), or are you leaving that until after the track is finished?

JG: I've looked at the profiles, and we've seen a video of the time trial course, but we have a few days after the track events, so that will be a chance to go out and actually ride it. I've heard it [the road race] is going to be a good course, with some climbing and a little bit technical. And, of course, we are in Scotland, so weather could be a factor as well.
---
Related Photo Galleries
---