November 10/14 12:43 pm - Velofix Mobile Bike Repair Service - Coming to a Home Near You

Posted by Editor on 11/10/14

It's late October. It's 5C. It's raining. Your bike needs work. Most people would think twice about packing a bike into a car and then trundling off to the local bike shop.

What if the bike shop could come to you? That's the idea behind Velofix.

Mobile bike shops have been tried many times in the past. Some have met with better success than others, but I don't know of any that have met with long term success. Velofix aims to change that.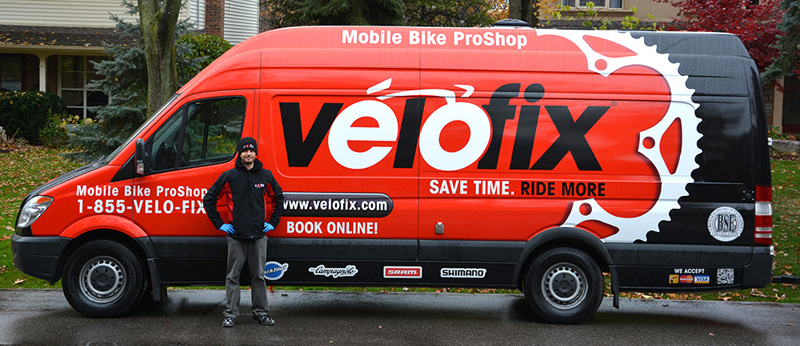 First Toronto area franchisee, Nick Di Cristofaro
The company started in Vancouver a couple of years ago. There are four trucks in the Lower Mainland and on Vancouver Island. Two of the trucks are owned by Simon Whitfield, the Olympic Gold Medal triathlete. Just recently Velofix sold their first Toronto area franchise to Nick Di Cristofaro. Nick has worked as a motorcycle mechanic and a bike mechanic, as well as being a road racer, so he is a natural fit as an owner/operator. Nick leases from Velofix his large Dodge Sprinter van that contains a very well equipped mobile shop. This van has been used since 2012 in BC, but you wouldn't know it based on how well it gleamed. Nick drove this truck back to Toronto from BC.

Before Velofix sold Nick the franchise there was a fairly long training and vetting process. This training has to do with the Velofix back end software. His truck comes with internet that connects him to Velofix headquarters. They take care of booking service appointments and doing parts ordering.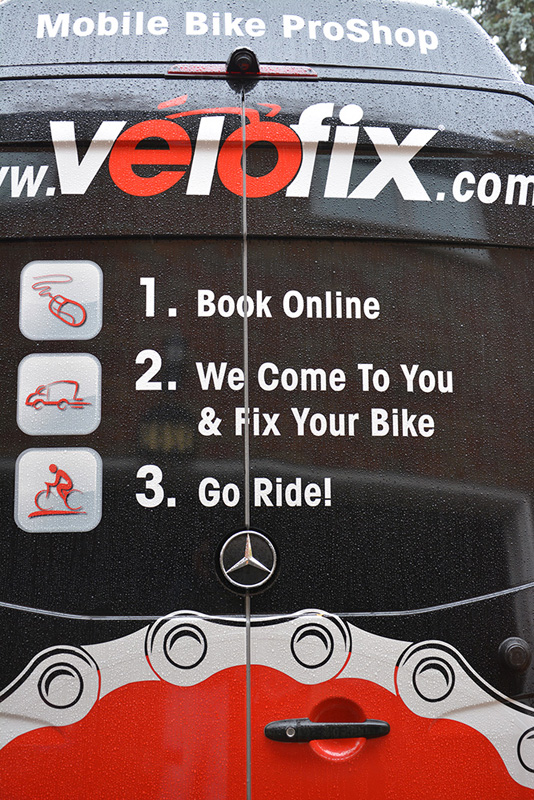 "I was always interested in doing a mobile service," explained Di Cristofaro. "The technical aspects of bicycles have always appealed to me. I have a Mechanical Engineering Technologist background and, between motorcycles and bicycles, I have always wanted to be involved with bicycle technology. I researched Velofix very thoroughly before I approached them."

"I have purchased a territory, but as I am the first franchisee in Toronto I will work just about anywhere in the GTA. What makes Velofix work is the computer assistance. Not only do we have the on line appointment booking and parts ordering, the software optimizes the day's route for me. The customer enters a postal code and selects a time and place. This helps so much when you are busy."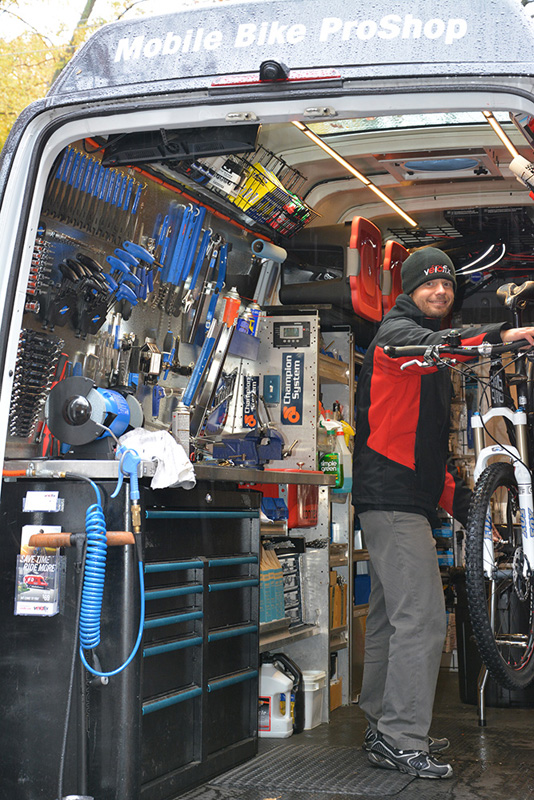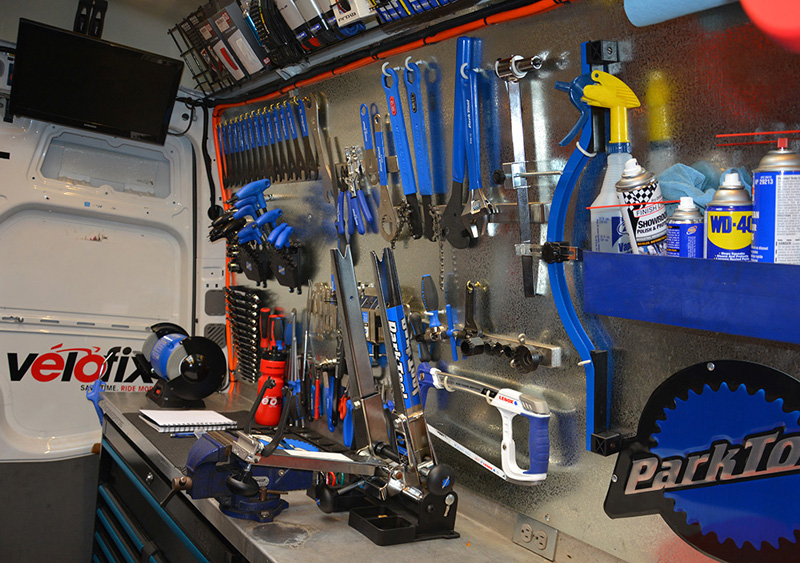 The truck itself is a bit of a tech wonder. Nick came out to my house for a visit and our interview. You will have seen Sprinters around, as they are so popular with anyone involved in deliveries. Once you see it in your driveway you appreciate how big it really is. When Nick opened the rear doors it was enough to bring a tear to this old bike techy's eye. On the right side of the van is a Park bike stand affixed to one of the van's pillars. On the left side is a full set of Park Tools attached to the wall via magnetic strips. LED rope lights and small skylights make for a well lit workshop.

That's just the beginning of it. There is a compressor. There is a bike part wash station equipped with all of the various products from Finish Line. It's all quality stuff. Not only that, there are bins that hold parts, tires, and just a huge assortment of bike bits. Nick realizes that you can't have everything in stock.

"At the moment I'm still learning the truck and my market. We carry all of the basics for repair (cables, tube, chain, bottom brackets) but if we need something specific for a repair we can typically get it the next day. If I don't have the part I have room in the van for 3 bikes and what I'll do is get it back to the customer the next day."

"So far most of my business is road, perhaps 80 to 85%. One thing I've noticed is that many road riders are out of the loop on hydraulic brakes. They are still learning, whereas the mountain bikers know them well. I've had a customer recently who bought a bike online. All he needed me to do was get the brakes set up. I also expect to be doing lots of work on electronic derailleurs. I have Shimano TEC (Technology, Education and Certification) training so that I'm able to do that work too."

I asked Nick about mountain bike suspension service. "I don't plan on it. One of the Velofix truck that works the Sea To Sky Highway (Vancouver to Whistler) is all set up for suspension overhauls because he mostly sees free-ride and downhill bikes. I think I'm going to work mostly on road and commuter bikes, at least in the near future. If a customer has a suspension issue we will send it out to get it repaired."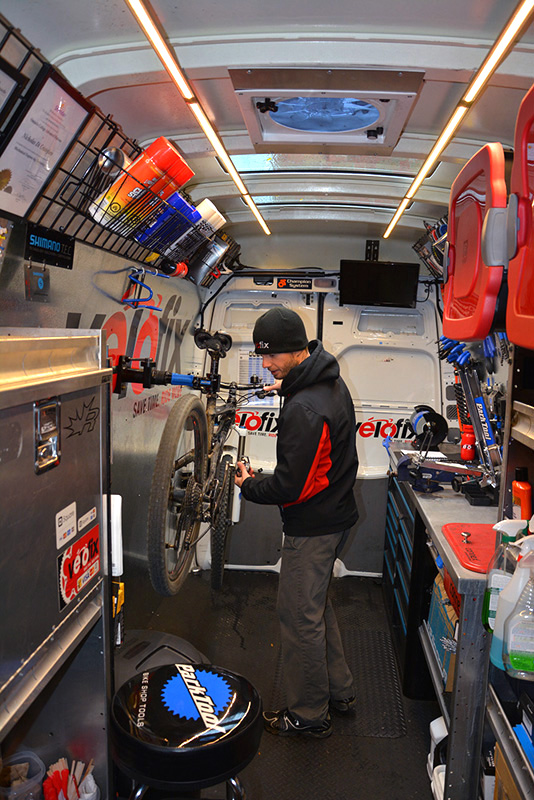 Nick sets to work
Nick offered to service one of our bikes so, naturally, I presented him with my wife's full suspension mountain bike just to see how he'd do. Nick set to work immediately.

The process starts with a complete inspection of the bike while in the work stand. Then Nick asked to borrow my garden hose. I didn't expect this. He said that he will be installing a pressure washer in the truck in the near future. "I think I'll be servicing people who live in places where access to a hose just isn't possible. It's always easier to work on a clean bike." said Nick.

What will make this possible is that the Velofix van comes with its own electrical system. Big marine batteries store many hours of power. Not only will it power a pressure washer, it powers the lights, the computer, a television (if the customer wants to watch a bike program while the repair is happening) and even a coffee maker. Nick stressed that you can't leave a diesel-fuelled truck running in a residential area just to have electricity. They want to be as environmentally friendly as possible.

After cleaning the bike Nick used the compressor to dry the bike off and then set about what I would call a very methodical "wheels off" inspection. Hubs, rims and disc brakes were all checked. The cassette was cleaned to the point it looked brand new. The chain was removed and cleaned in the wash station. Even the disc brake rotors were cleaned. Brakes and gears were adjusted. I was impressed. Nick clearly knows his stuff. A service such as this, which Nick said also includes an on-bike wheel truing, is $69. For road and commuter bikes this basic service is called "The Domestique" while for mountain bikes it is known as "The Broken Spoke".

Major tune-ups for road and mountain ("The Yellow Jersey" and "The Mudslinger") are also available for $89. Complete overhauls ("The Paris-Roubaix" and "The Digger") are priced at $189. There are too many aspects of these services to list here. Just visit www.velofix.com to see what is done. "A La Carte" individualized services are also possible.

Unlike Vancouver, where riders are active all year round, Toronto is much more seasonal for riding. As someone who has been around the bike industry for a long time, the natural question to ask Nick is why he started at this time of year when much of the Toronto area riding was winding down.

"The first thing is that I wanted to get to know my truck and get comfortable with the Velofix system. I want to be absolutely familiar with everything before we get into the busy season. It all needs to be dialed in. Secondly, we need to generate some publicity over the winter so that the business will be there in the spring. In the meantime I am going to be as flexible and adaptable as I can this winter. If it has to do with bicycles we'll get it done. I will do event support for training rides and charity events. I go to spin centres to do service. We will box bikes for shipment. I do bike builds. Since I'm the only Velofix franchise in the Toronto area I will go anywhere I'm needed. I see a lot of promise with Velofix already. I'm even thinking of buying another franchise in the future."

Nick isn't the only one who sees promise with Velofix. Chris Guillemet, the Co-Founder and CEO of Velofix recently took his business to CBC's "Dragon's Den". The episode will air this month (November). They aren't saying the result but if it is good enough to land on a national television broadcaster then they are on the right track.

The other obvious question is how will the brick and mortar bike stores react to Velofix? Nick had obviously researched this aspect too. "One of the Velofix trucks in Vancouver had done $250,000 in business last year. No bike shops had gone out of business. If anything I'd like to establish good relationships with a number of shops so that I can send customers to them. I think we can complement each other well." Time will tell on that point.

My personal feeling is that a mobile bicycle repair service like this couldn't have worked even 10 years ago. With the new nature of mobile electronics it is more viable than ever. Just-in-time parts ordering and delivery, centralized electronic appointment booking and, of course, the wonderful Velofix truck make it possible.

In the end though it comes down to the owner/operator and Nick is a great representative for Velofix. He is knowledgeable, personable and hard working. He has worked in the industry and he has competed. He is also a personal coach and spin trainer. Nick has clearly committed to the bicycle industry in a big way. If you see a Velofix van drop by and visit. I came away impressed and I think you will be too.

Full info at www.velofix.com or 1 855 VELOFIX
Report and photos by Mike Badyk
---
Related Photo Galleries
---