January 2/15 12:47 pm - European Training Camps - Mallorca with Magic Places

Posted by Editor on 01/2/15

To climb the legendary Sa Calobra on the Spanish island of Mallorca, you first descend it, flying down 26 hairpin turns, one of which coils back on itself, as if Salvador Dali himself had engineered this alluring stretch of tarmac.

I feathered my brakes to avoid wiping out on Sa Calobra's serpentine switchbacks or colliding with slow-moving tourist buses, which miraculously stayed on the road through the tight turns. I loved the stark vistas of rock and the deep blue Mediterranean Sea. I enjoyed the gravity-fed adrenalin rush that came as I plunged down the twisty pavement I'd watched other cyclists negotiate on YouTube months earlier.

My encounter with Sa Calobra came on a sunny day last April, during the second week of the 2014 Mallorca spring training camp run by Magic Places, a Canadian bike tourism company founded and managed by Joerg and Ulli Becker who live in southeastern British Columbia.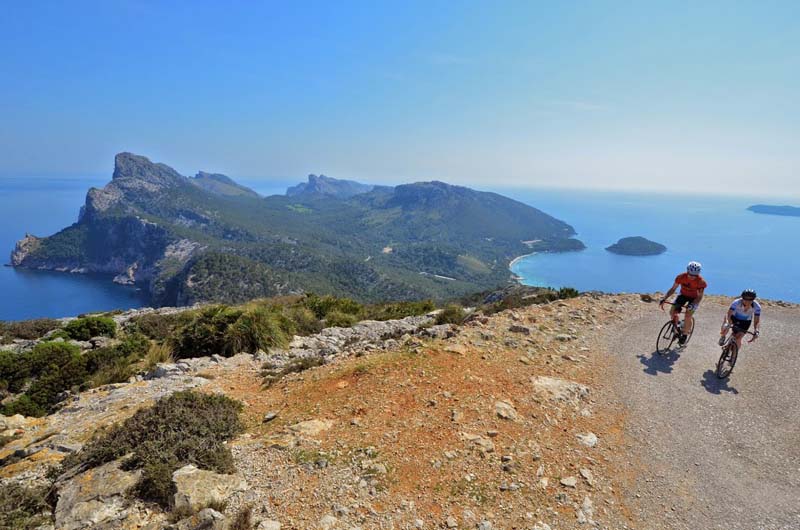 My downhill reverie gradually turned into foreboding as I approached the fishing village at the bottom, the start of the Sa Calobra climb. I knew that hauling my bike up gradients of seven to ten per cent over nine kilometres, with 668 metres of vertical, in the mid-day heat would be punishing.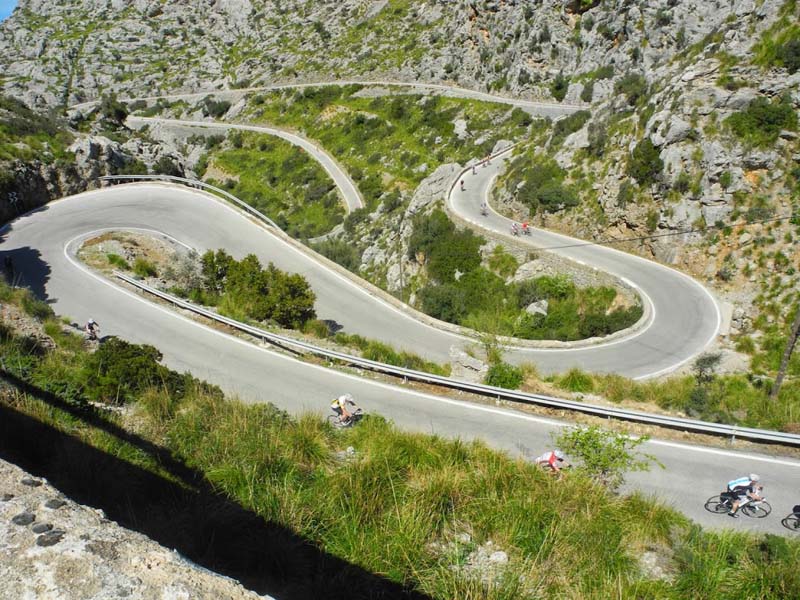 But I was ready to ride The Snake.

After several days of riding with Magic Places in the craggy limestone Serre de Tramuntana mountain range, I had found my climbing legs, such as they are. I'd already done more climbing in just over a week in Mallorca than I often did during entire summers back in Vancouver.

I joined the Magic Places camp to go beyond my normal spin zone. I hoped that regularly ratcheting up my heart rate on climbs in the early spring would pay dividends when I resumed riding with my little gruppetto back in Vancouver. I also wanted to explore Mallorca, which had acquired a buzz among cycling fanatics looking for beautiful places to ride.

The island lived up to the hype. Every winter, as consistent as the Mediterranean sun, there is a pilgrimage of road bike riders from colder climates in the north to the largest of Spain's Balearic Islands. Through the winter and early spring the Palma de Mallorca airport is a landing strip for pale-faced cyclists carrying bike bags and bringing Garmin bike computers to document their island experience.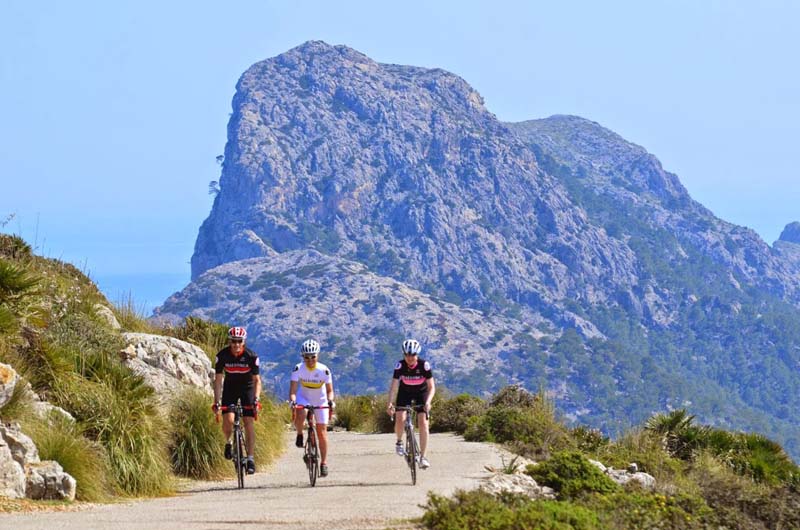 The annual skinny-tire ritual on Mallorca begins in November and extends to May. Pro riders like Bradley Wiggins and Chris Froome spend weeks in the winter here, preparing for the racing season. There were pacelines of riders everywhere during my visit. I've biked in Italy, France and Spain in recent years but I have never seen more cyclists in one place then I did in Mallorca.

It was almost tribal - being on an island populated by tens of thousands of visitors whose idea of a good time is cycling three to five hours on their bikes in the sun, with beer waiting at the end. Every plaza in every town during lunch hour was jammed with cyclists. At times it seemed like the riders out-numbered the locals and that the net worth of all the high-end bikes would exceed Mallorca's GDP.

There were plenty of Brits, Scandinavians, Americans and Canadians. But these visitors were vastly out-numbered by the Germans. Mallorca is often described, for good reason, as the 17th federal state of Germany.

There was a Gran Fondo vibe that day on Sa Calobra: A constant stream of cyclists going up and down, some riding at their max, others spinning at their leisure. The gradient at the beginning of Sa Calobra was fairly easy and I went off at a brisk pace, perhaps unwisely. As the kilometres clicked by and the gradients shifted upwards, I began to tire. Another rider from Magic Places, a sexologist from West Vancouver, passed me. I tried to keep her in sight, in case I found a faster gear in the final kilometres.

That eleventh-hour burst of energy never came. The last three kilometres are among the steepest of the climb. I couldn't bridge the gap. But I did conquer Sa Calobra and was greeted at the top with high-fives from other Magic Places riders. I was amazed when I looked back down at the startling snake of a road, one so unique I would never forget it.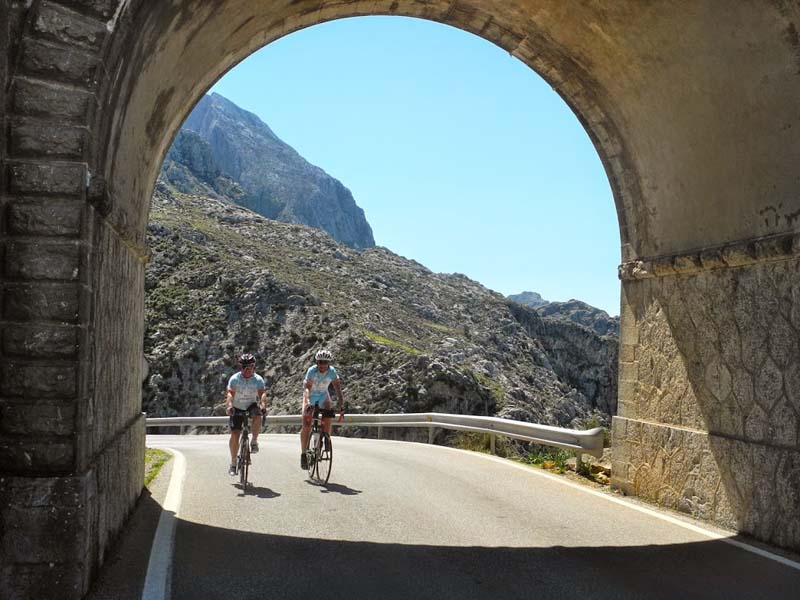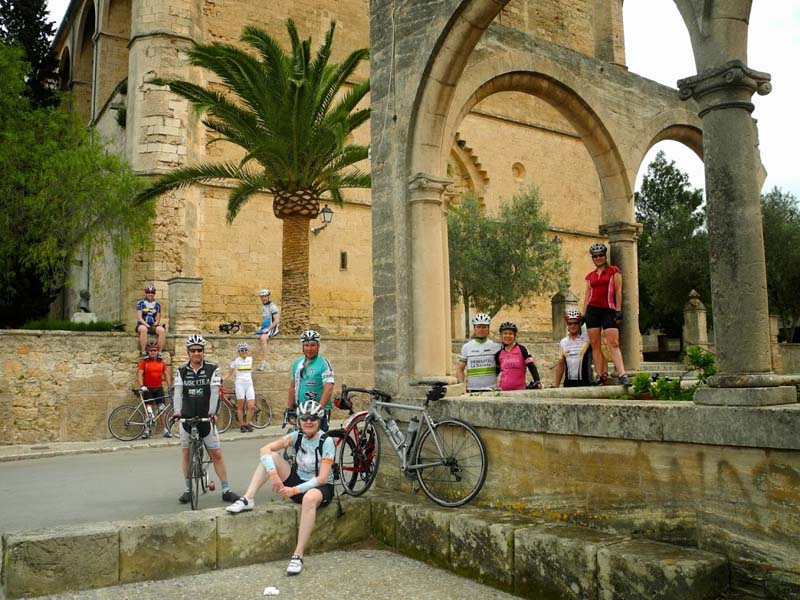 Among those in our brief celebration was camp leader Joerg Becker, a very fit 59-year-old who three decades earlier started the bike touring company which would later become Magic Places.

Becker and his wife, Ulli, left Germany in the mid '80s and embarked on a bike odyssey around the world. It was Joerg's childhood dream. When they ran out of money about four years later, the young couple began to organize summer bike tours in the Canadian Rockies for German tourists. The clients loved bike touring and camping in Western Canada - and they began asking for different routes. The Beckers added new destinations to their schedule - the American West Coast, New Zealand, and South Africa.

Soon the Beckers had a growing bike tourism business which they ran out of their home in the small village of New Denver, on beautiful Slocan Lake, surrounded by the mountains of B.C.'s Kootenay region.

After about 15 years of organizing cycle touring trips for mostly Germans, the couple gradually reinvented their company. They began offering trips for fit Canadian road cyclists who wanted to train in exotic places and stay in higher-end accommodation. The shift coincided with the boom in road bike riding and triathlons among middle-aged professionals with money to spend.

Becker himself loved to race and participated in the second edition of the famous Schwalbe Tour Transalp, the two-person team race which begins in Germany, crosses the Alps and ends in northern Italy. He began organizing Canadian teams for the Tour Transalp, eventually becoming the event's ambassador in Canada. Joerg now handles arrangements for 18 teams from Canada in the Tour Transalp. Vancouver Canucks' legend Trevor Linden has completed the race three times.

Becker discovered Mallorca eight years ago. He went at the urging of a German client who was always raving about how the Spanish island was a cycling paradise.

"I didn't expect much because Mallorca had a certain party-time image: mass tourism, beer drinking and disco. But you also heard about the good riding."

"So I joined them and I was, like everybody else, amazed by the terrain and the scenery. I loved the variety of routes. You can ride here for two weeks before you have to start repeating. People love the variety of terrain, the climate - and, of course, the cervezas."

Becker put Mallorca on his Magic Places schedule and the Mediterranean island quickly became a popular destination for Canadian cyclists preparing for summer races, including the Tour TransAlps.

The camp rides on Mallorca are usually over 100 kilometres, with cyclists leaving their four-star hotel mid-morning, returning late afternoon. There is always a leisurely alfresco lunch at a plaza in a picturesque small town. The Magic Places peloton usually breaks into fast and slower groups, each with its own leader familiar with the island's road network. By the camp's end, most riders have logged over 1,000 kilometres.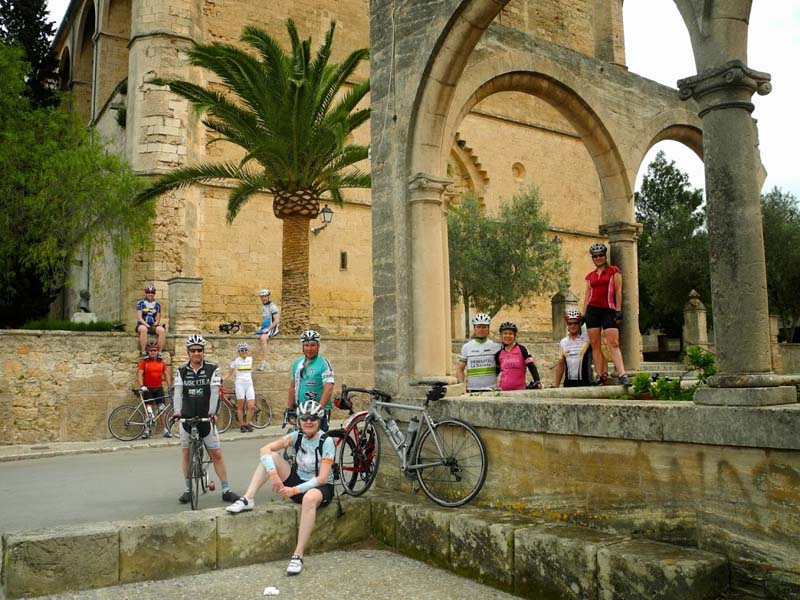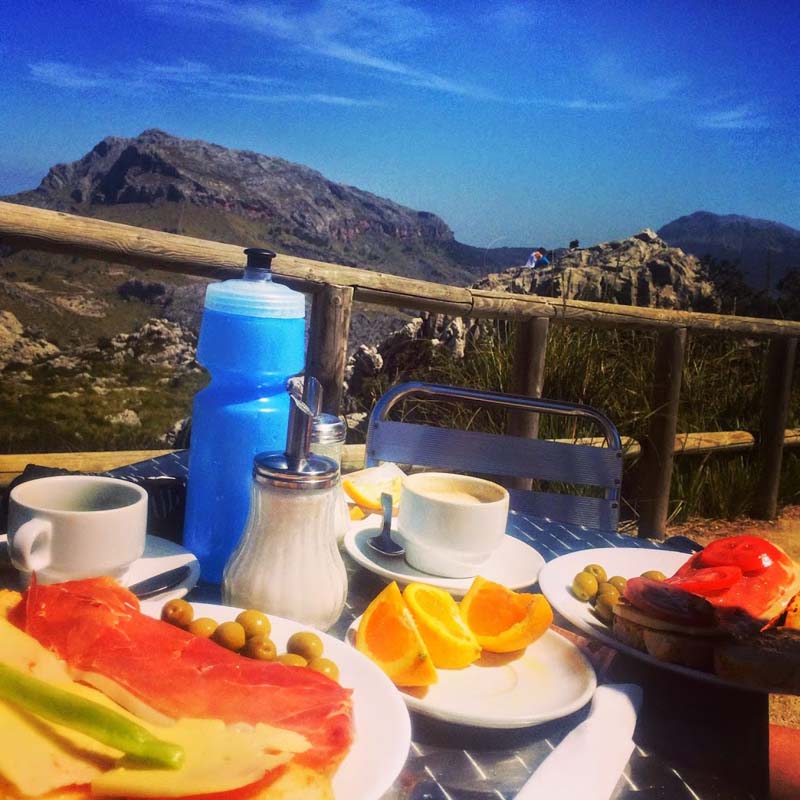 The 11-day camp typically begins with long low-heart-rate rides over flat terrain, which is ideal for riders emerging from a long winter of little cycling.

"Here you can go flat for two weeks," said Becker. "In southern Spain or Italy, you hit the hills right away." During the first days Magic Places is based out of a hotel near Palma on the south coast. After five days the camp moves to a resort hotel in the town of Alcuida on the north side of the island.

The camp's focus shifts in the second week to the higher-elevation glories of the Serre de Tramuntana: classic climbs which include the Coll de Soller San Salvador and the Puig de Ronda, which both have mountaintop monasteries; the Coll de Puig Major, which is the highest climb on the island; and the aforementioned Sa Calobra, the island's most feared. Then there's the wild and spectacular peninsula of Cap de Formentor, which Magic Places reserves for the camp's final ride because of its special seascape beauty.

The climbs on Mallorca have forgiving gradients (usually about six per cent), countless switchbacks, head-turning views - and are usually followed by thrilling, twisty descents. My regular climbs back home in the North Shore mountains of Vancouver were long slogs that you tend to endure rather than enjoy. The Mallorca climbs were so gorgeous that you were almost - though not quite - sad when they were over.

The Magic Places camps tries to minimize the time spent in traffic or on busy highways. The rides go along old farming roads; past stone walls, vineyards, almond and olive groves; through century-old towns and villages with impressive churches, narrow cobblestone streets and outdoor cafes in busy squares.

The advantage of being part of a camp is that you just follow the leader and the group. No relying on Garmin for navigation. None of that stress that comes with wondering if you made the right turn for the climb or for the return to your hotel.

"It takes years to find all the roads on Mallorca, how to stay away from the highways, where not to go, how to avoid dead-ends," said Becker. "I would not recommend coming here without a guide, or else you will end up on a freeway. You will not find the nice bike paths."

Most cyclists bring their own bike but rental carbon fibre or aluminum bikes with Shimano components are available.

Bill Yearwood, an air traffic safety inspector and veteran masters bike racer from Vancouver, visited Mallorca last April for the first time with Magic Places. He found that the wide range of rides made it easy to chalk up 100 km to 150 km a day - especially compared with back home where the routes are more limited.

"The variety here allows you to put in a lot more miles because it's interesting. You try to go to Squamish from Vancouver every day for two weeks and it gets pretty boring."

Imre Kovacs, an Okanagan-based bike racer and medical marijuana entrepreneur, joined the Magic Places camp in Mallorca to kick-start his training for the year after a winter off the bike. "I knew I could get many consecutive days of riding which I could never have got back home. Work would have pulled me away. And the weather is marginal in the winter where I live."

Kovacs used Mallorca to prepare for the 2014 Tour Transalps. "I had to get my season started, get that ball rolling." He was typically among the leaders on every Magic Places climb. "The climbing in Mallorca is good. Very nice grades of five and six per cent, some eight and ten. You can spin up at a good consistent pace, without having to grind it out."

Kristy Lerch, a physical therapist from Whitehorse, was intimidated when she arrived in Mallorca and learned that most of the Magic Places rides would be over 100 km.

"I thought I couldn't handle it - that I would be spending several days by myself. But it was ok actually. Joerg was good at coming back for me. I never got left behind."

"And the scenery was amazing. I think that's why the rides didn't seem that long. And when you break it up with lunch, it makes for a pleasant day. And the climbs were never brutal."

Lerch took several days off the bike during the Magic Places camp, exploring the island in a rental car. "The recovery days were really important for me. It was a perfect mix of riding and sight-seeing."

May Jung, a former Ironman triathlete from Vancouver who has also competed in the World Masters Games, also came away impressed. "This is cycling heaven. I've never seen so many cyclists even in Italy. Only thing I wish is that I knew how to speak German."

The next Magic Places spring training camp in Mallorca runs 10-21 April, 2015 and is based in Palma on the south coast, and Alcudia on the north.

The price is $2,100 for 11 nights in a one-bedroom apartment-style room, based on double occupancy. There is a $300 single-room supplement.

Joerg Becker recently sold the company to Matt Barlee, a cyclist and friend of the company founder. But Becker will continue to be involved in the company, leading trips in 2015 to Mallorca, the U.S. Canyonlands and South Africa. He will also continue to provide logistical support to Canadian riders in the Tour TransAlp.

www.magicplaces.ca

By Doug Ward. Doug is an avid cyclist and writer who lives in Vancouver. He was previously a reporter for The Vancouver Sun. He is now a freelance political and travel writer for The Tyee, a B.C.-based news online website, Vacay.ca, and other publications.


Photos: Magic Places and Joerg Becker
---
Related Photo Galleries
---