January 26/15 10:30 am - Fat Bikes - An Overview

Posted by Editor on 01/26/15

We have spent the past few months testing out examples of what is the latest style of mountain bikes to hit the mainstream - fat bikes. Over the next few weeks you will have an opportunity to read our take on five different fat bikes but, before we do that, we thought it would be a good idea to provide an overview of what is a fat bike.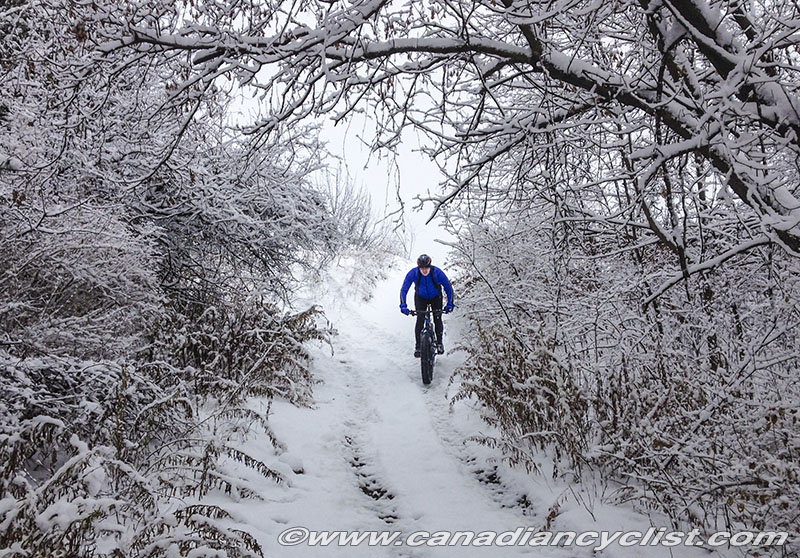 By now, you have likely seen one of these mountain bikes - what looks like a pretty standard off-roader, except for the oversized, almost donut shaped tires they sport.

History

Fat bikes are not new, in the sense that there have been examples of one-off bikes with oversized tires for at least a century. However, it was in the 1990s that the development of specific commercial fat bike components and eventually bikes began.

Riders in the winter Iditabike race in Alaska found, not surprisingly, that wide tires offered a huge advantage on the snow, since they didn't bog down because of a wider footprint. Early tires and rims were made by sewing and welding together single tires and rims, until Simon Rakower of All-Weather Sports in Fairbanks, Alaska, introduced the SnowCat rim.

Others expanded on this initial offering, with American frame builder Surly really opening up the market with the introduction of the Pugsley frameset in 2005; the first 'off-the-rack' frameset truly designed as a fat bike. The market has since exploded, with almost every major manufacturer offering at least one model in their lineup.

While originally designed for soft surfaces, like snow and sand, the market for the fat bike has expanded dramatically, with many aficionados using them as their year-round rides.
Our stable of test bikes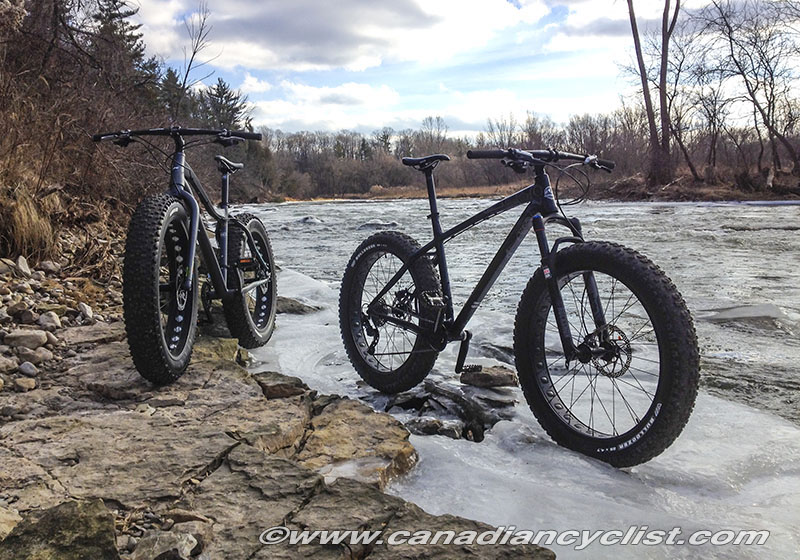 KHS 4Season 3000 (left) and the Rocky Mountain Blizzard (right)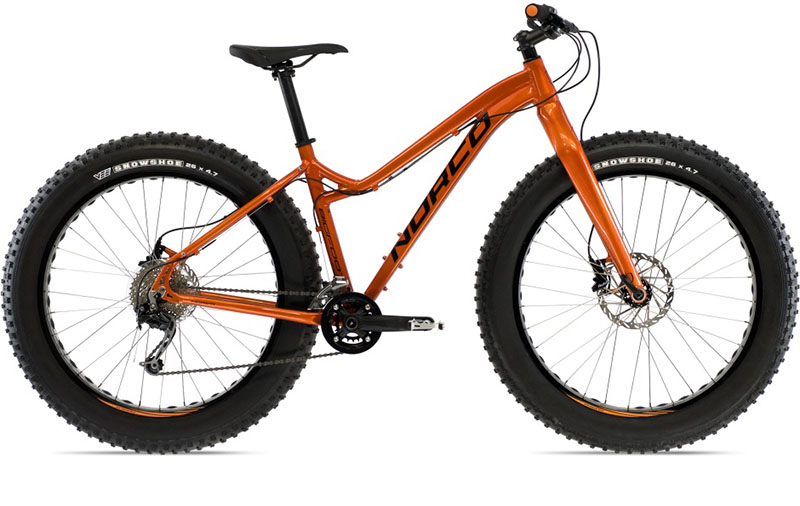 Norco BigFoot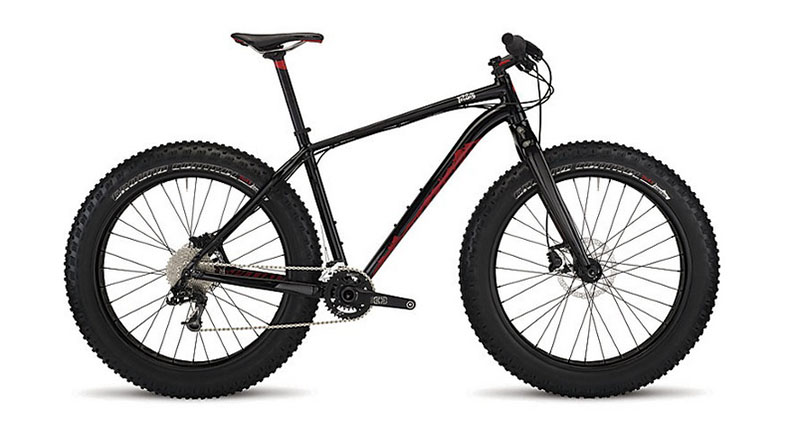 Specialized FatBoy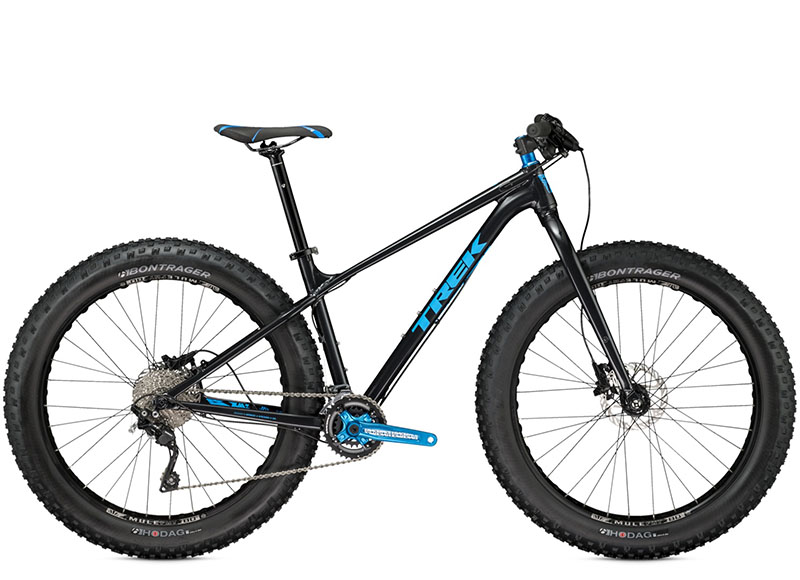 Trek Farley
Anatomy of a Fat Bike

It starts with the tires; almost all fat bikes run 26" diameter (although I have seen bizarre one-offs as big as 36"), with widths of at least 3.7". Widths can go as big as desired for custom work, but to fit most commercially available bikes the standard seems to be settling in around 4.4" to 4.8". However - and it's a BIG however - these sizes are a guideline only, with one company's 4.4" as wide as another's 4.6". Another tire point is that while they may be a standardized 26" diameter, the height of the tire wall means that most are comparable to 29" wheels in terms of actual diameter. Tubeless is considered much more desirable than wheels with tubes.

Almost all fat bikes are non-suspension at this time, although the introduction of the RockShox Bluto suspension fork, which is designed to provide clearance for fat tires, is already having an impact. No one (so far as we are aware) has introduced a commercially available full suspension fat bike (ie, other than one-off, handbuilts).

The rest of the fat bike is pretty much standard mountain bike, with obvious adjustments as required for the oversized rims and tires.

Riding the Fat Bike

Pretty much everyone assumes that the fat tires replace suspension, resulting in a super cushy ride. You would be wrong. Yes, the wider tires can give some cushioning effect, but tire pressure has a huge impact on the ride characteristics.

Fat bikes can run pressures as low as 4-5 psi, which works well in really sloppy or deep snow conditions, but has negative effects on handling, as well as bottoming out on rough trails. Tire pressure can easily go up to 35 psi for road or hard trails, but there will be little to no shock absorption at that pressure.

It turns out that, just as proper suspension tuning is critical on suspension bikes, tire pressure is just as critical on fat bikes. Get it wrong, and your bike will handle like a pig or offer little traction. Get it right, and a fat bike can be a sweet handling incredible fun machine.

We rode our test bikes in everything from wet sloppy mud to hard dirt, gravel, ice, powder snow and deep packy snow. Temperatures ranged from plus-20 C to minus-20 C. They were clearly an advantage in sloppy and low traction conditions, but worked just fine in all situations, IF YOU GOT THE TIRE PRESSURE RIGHT!

A fat bike could easily be just the bike for you, if you are looking for an all-round off-roader, and weren't as concerned with high speed descending (they won't replace 120mm-plus of travel), or super light weight (tires and wheels are getting lighter, as are framesets, but they are still bigger and heavier then non-fat bikes).

Try one out, you will likely become hooked.
---
Related Photo Galleries
---