January 31/15 12:47 pm - Mical Dyck 12th at Cross Worlds - Day 1 Report

Posted by Editor on 01/31/15

Mical Dyck was Canada's top finisher in 12th place for the Elite women on the first day of the Cyclo-cross World Championships on Saturday, in Tabor, Czech Republic, with Pauline Ferrand Prevot (France) taking the title. Junior national champion Willem Boersma was the top Canadian in the Junior men's race in 42nd, after Quinton Disera suffered mechanical problems on the last lap while in the top-30. Simon Andreassen of Denmark was the surprise Junior winner.

The majority of the snow that had fallen earlier in the week was gone by the start of the Junior men's race and, although there was a cold, damp wind, the track had a treacherous layer of slick mud on top of frozen ground. The Junior's didn't have too bad of a time, but by the women's race it was a mess, with riders crashing in every corner, on the downhills and the climbs.

Elite Women

The first crash in the women's race happened in the first corner as riders exited the pavement for mud, with one of the podium favourites, Eva Lechner (Italy), going down hard. Lechner damaged her bike and had to run half a lap to pits, putting her completely out of contention [she eventually recovered to finish 31st].

France's Lucie Chainel-Lefevre jumped into an early lead on the first lap, as the other top riders struggled in the mud. Six riders quickly formed a chase group, which was gradually thinned down as the race went on. In the early chase was World Cup title winner Sanne Cant (Belgium), defending world champion Marianne Vos (Netherlands), Czech hope Katerina Nash, Ferrand Prevot and Nikki Harris (Great Britain).

Chainel-Lefevre extended her lead going into the second lap, as Vos led the chase. Ferrand Prevot and Nash, after slower starts, made their way up to Vos, with Cant joining them and Harris yo-yoing at the back of the group. Ferrand Prevot was the first to catch Chainel-Lefevre, with the others only a few seconds back.

The third lap saw Ferrand Prevot and Cant begin to distance themselves from the others. The pair took turns gapping each other, usually after one bobbled in a corner, but neither could drop the other for good.

Going into the last lap, Cant had a two second lead on her French rival, but Ferrand Prevot clawed her way back and then went on the attack. The French rider had a slim lead of a few metres heading into the final muddy corner before the last 150 metres of pavement, but didn't clean the corner, allowing Cant onto her wheel. However, the road skills of Ferrand Prevot, the reigning Road world champion, allowed her to hold off Cant for the title. Vos managed to gap Nash in the final last half lap when the Czech rider suffered a series of slips and crashes that dropped her to fifth, behind Harris.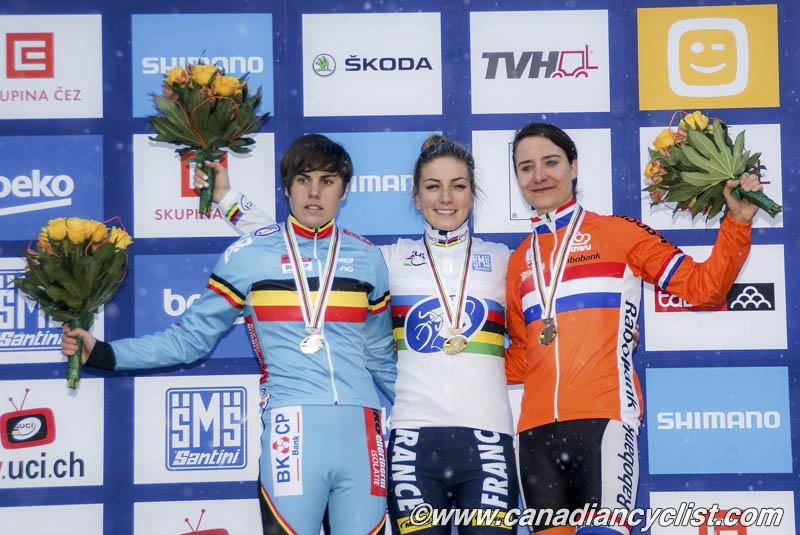 Mical Dyck, the only Canadian starter, moved up steadily all race, after starting in the back third of the 46 rider field. By mid-race she was up to 16th and continued to improve, finishing 2:19 back of the winner in 12th, her best result at any Worlds.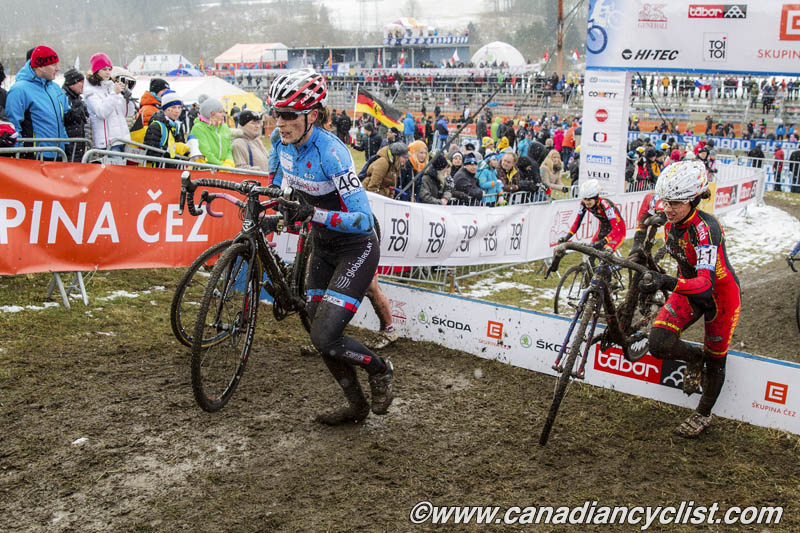 Dyck said staying upright was a big part of the reason for her best-ever world championships result. "It stayed pretty frozen for the Juniors but by the time we raced it had thawed quite a bit; it was like peanut butter and mud over ice. People were going down on straightaways, corners, uphills, downhills, everywhere ..."

"Keeping it upright today was my goal, because you lose time every time you go down. The more technical it is, the better I do. I think it was partially tire choice; I had some pretty good Kenda Kwickers tires and I was able to run them at a pretty low pressure, 23 psi. The day before, my boyfriend/mechanic went over some lines with me that were really good and felt fast but safe. I didn't take any risks in the corners."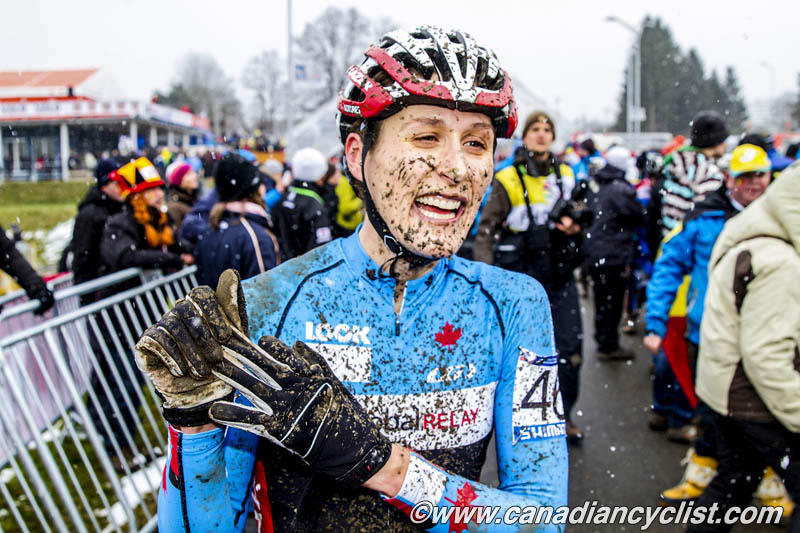 "I'm really happy. I felt good and had a really solid race. I was aiming for top-15, so I'm happy. I had a good start, and I didn't die off towards the end. When Caroline Mani (France) went by me I tried to keep her in sight for the rest of the race. I just want to say thanks to everyone who supported me; there was a lot of support from my friends, family and sponsors, and my community of Victoria, and they got me over here."

Junior Men

The Junior men's race was expected to be a battle for second, with Belgium's Eli Iserbyt all but conceded the title after winning 19 of 20 races this season, including the World Cup title, European title and Belgian title. However, Iserbyt struggled all day with the conditions and, possibly, the pressure.

Denmark's Simon Andreassen took a strong lead to power away from the rest of the field to score the first Danish cyclo-cross title in decades. Andreassen, the current mountain bike world champion, dropped Iserbyt on the second lap of the five lap race.

Iserbyt faded even more as the race went on, with Max Gulickx (Netherlands) and Gage Hecht (USA) both catching him and briefly dropping him. However, the Belgian managed to pull himself together for the final lap and salvage the silver medal. Gulickx took bronze after Hecht dropped his chain coming out of the final corner.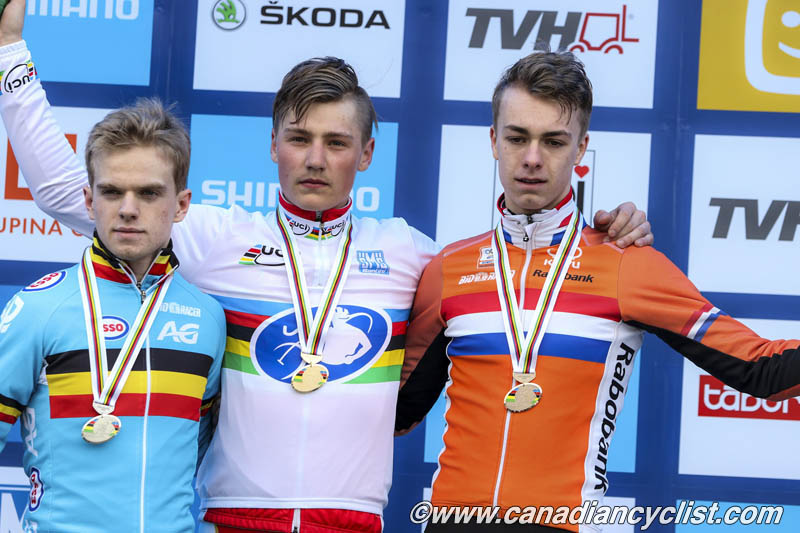 Four of Canada's five entrants in the Junior race finished on the same lap as the leader, with Stefan Ritter a lap down in 70th after suffering a mechanical problem. Willem Boersma was the top finisher in 42nd, one spot ahead of Olivier Evans, with Quinton Disera 52nd and Liam Mulcahy 61st.

Comments from the Canadians:

Willem Boersma
It (42nd) was a bit disappointing, I'm not going to lie. I had poor start, I had the wrong tires and I crashed a couple of times, so I fell back quite far, I think around 65th. I just couldn't find my rhythm for the first couple of laps, I had to swap bikes a lot. But finally in the last two laps I was able to settle into a rhythm and started picking the guys off in front of me, and just kept on going up and up and up. I was hoping for a top-30 or even top-20 but it happens, and you just have to move on and refocus for next year. Having done the [Worlds] last year, it helped with the nerves, I wasn't as nervous the night before. It made it easier to focus on what I needed to do.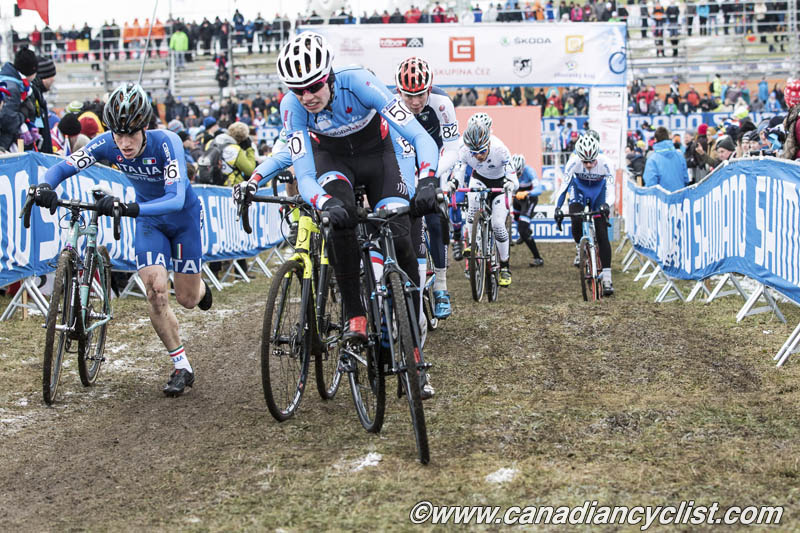 Olivier Evans
Messed up the start a bit, just didn't manage to move up. It was super slick, super greasy, and it just got worse through the race. But I felt that I rode better than at Hoogerheide [World Cup, last weekend]. I went down quite a few times, but everyone went down. I felt strong and at one point I was close to 30th and gaining, but then I crashed a couple of more times and lost some places. I sprinted for 44th [note: actually 43rd after one rider was disqualified], and it was probably the best sprint of my life. I had so much fun, and I felt really good and I rode well. I'm not super stoked with my result, but I'm really pleased with my experience. Now I know what I'm up against in Europe, now I know what the courses are like, what the conditions can be like, what the competition is and how to prepare. My goal was to finish top 50% [just outside of that], ideally top-30, which I didn't achieve. So, I'm not pleased with my result but I'm pleased with how I rode.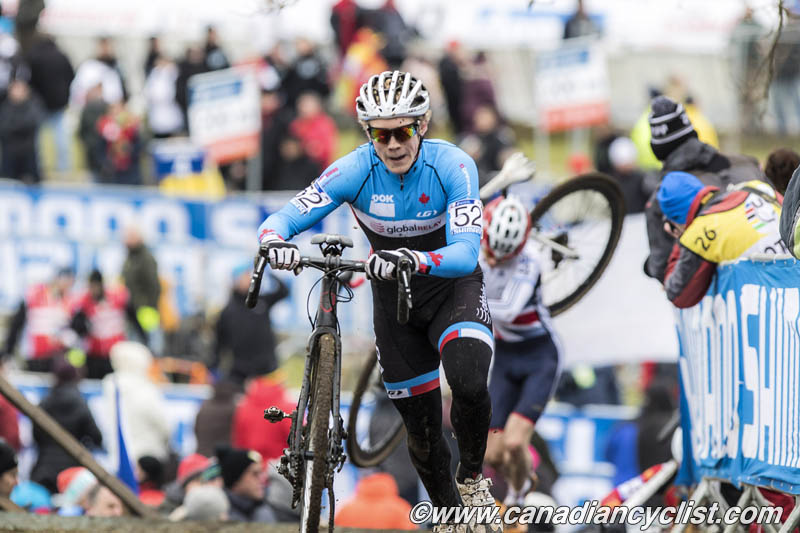 Quinton Disera
The call ups ended halfway through the field, so I was at the back on the start. But I moved up quite a bit on the first lap and was going pretty good. I had some falls like everyone else, but halfway through the last lap I came through 25th, so I had moved up a lot. But then, turning to go around the pit my chain got stuck, so I couldn't change bikes and I had to fix it myself, which was a pretty big hold up. But I'm still happy for how I did for my first Worlds. My goal was to be top-30, since I had placed 31st at Hoogerheide [World Cup, last weekend]. I'm taking away the experience; the European racing is completely different. The technical stuff of the courses and the aggression of the riders is much greater then back at home. Even just racing against 76 people is more then I have ever. Hopefully this can be a rehearsal for Mountain Bike Worlds next year. This is my first Worlds, so I'm trying to take the highs away and leave the lows. It's bike racing, so everything can change in a second.

Liam Mulcahy
Conditions were definitely better then they were when we pre-rode the course. It was frozen but they had fixed some of the ruts, so it wasn't as bad during the race. I was running pretty decently, in top-50, but then I dropped my chain and had to run in the final 400 metres. My goal was to ride consistent, to ride smooth and not have any issues. I was happy with the way I was riding. This was about getting experience; the travel, the different types of food, cultures and people ... it's all about gaining experience. When it comes to the mountain bike season, I'll be able to apply what I learned from this trip.

Stefan Ritter
It was pretty amazing, because the level of racing is much, much higher then in Canada. My goal was to not get pulled, and to ride consistently, and to have every corner dialed. I made a bunch of little mistakes; I rode the technical sections really well, but then I rolled my rear tire on my second last lap, and that meant I got caught.
Related
---
Related Photo Galleries
---