February 21/15 19:03 pm - Canada Wins Second Bronze Medal at Track World Championships

Posted by Editoress on 02/21/15

Canada took its second medal of the Track Cycling World Championships on Saturday, in St-Quentin-en-Yvelines, France, when Allison Beveridge won the bronze medal in the women's Scratch Race.

Four world titles were awarded. Germany joins host France with the most gold medals, at three each, while Australia leads in the total medal count with nine medals, two of them gold. Canada is ranked seventh in the standings with two bronze.

The Netherlands took the first world title of the evening in the women's Scratch Race, their first gold medal of these championships. Kirsten Wild won the rainbow jersey, outsprinting Amy Cure (Australia) and Beveridge.

"I am very happy," said Wild. "It was nice that my family was here and I can celebrate with them. I have never had such a title, including on the road, so yah, it is amazing. Until 10 laps to go the race was easy, but the last 10 laps was a hard race. This is first medal to the Netherlands, but not the last, I think!"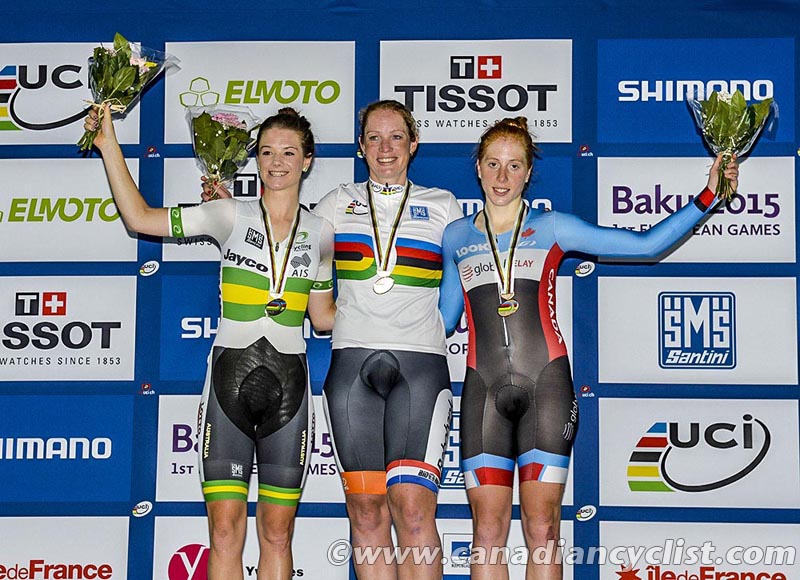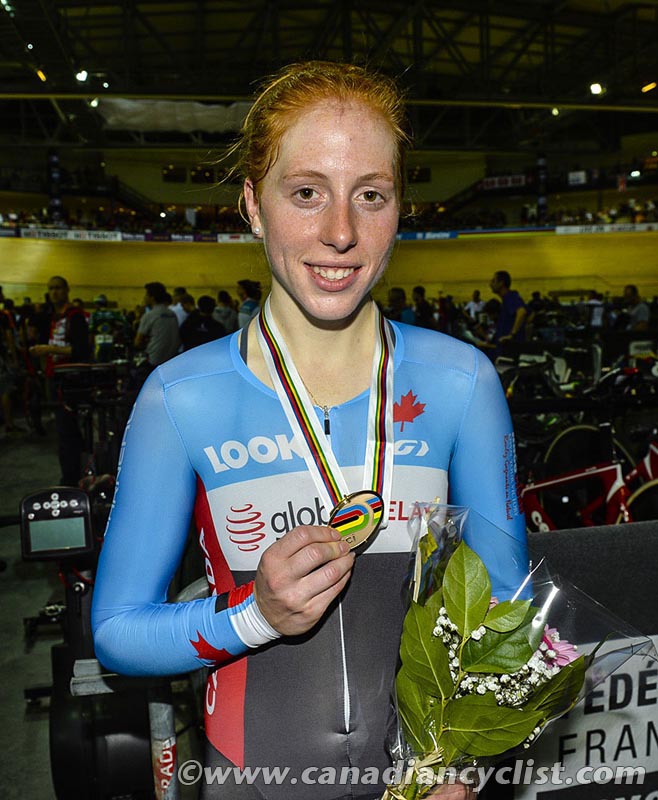 Beveridge, who was a member of Canada's bronze medal Team Pursuit squad on Wednesday, came back from a mid-race crash to win bronze. Initially, Beveridge finished fourth, but moved up to third after the French rider, Pascale Jeuland, was relegated for an improper move.

"It was definitely up and down," agreed Beveridge. "I felt a bit frustrated after my crash, and then to come fourth was really frustrating. So to end up with the bronze was really exciting and a good way to end off the world championships. I first heard that I had won the bronze medal from the announcer and the crowd booing when the French girl was relegated, but when they came over to get me for the podium I knew for sure."





Canada also had two men in the Sprint competition - Joseph Veloce and Hugo Barrette. Veloce, the Canadian national sprint champion, qualified 24th with a personal best time of 9.992 seconds for the Fly 200 metre time trial, but was knocked out of competition in the first heat. Barrette finished 26th in the qualifying time trial and did not move on to the sprint competition.

"It was definitely a bittersweet day," said Veloce. "I'm happy with my qualifier - the first tie under ten seconds at sea level - but I ended up having to race the fastest guy and he caught me flat footed, so that was it for my day. I had some forced time off after a bad crash in 2013, but I'm happy with my progression in the last three months, as I keep getting faster. Now I'm looking forward to racing at home in Toronto."





Colombia were the next to stand on the top step of the podium, with Fernando Gaviria dominating the men's Omnium. Gaviria entered the second day of competition in first place and never relinquished his lead, finishing with a total of 205 points. He sealed his victory with a strong performance in the Points Race, despite a crash. Glenn O'Shea (Australia), the 2012 world champion, overtook Elia Viviani (Italy) for the silver medal with 190 points, with Viviani just holding off Jasper de Buyst (Belgium) for the bronze medal.

Switzerland took their first world title of the championships in the men's 4000 metre Individual Pursuit, when Stefan Kueng (Switzerland) came back in the last 100 metres to beat world record holder Jack Bobridge (Australia) by just over a quarter of a second at the line. Julien Morice gave France their fourth medal of the championships with his bronze medal performance.

"It is amazing," agreed Kueng. "I already have one silver and three bronze, now to be on the top step, that's something else. I always go out quite slow and I was scared that he [Bobridge] might catch me, and that's why I pushed a little bit harder in the first laps, and then I tried to just go as hard as I can. My coach said 'keep going, keep going he's dying'. I know in the end I always come back. In the end, I was praying for glory and that what was in my head for the last two laps."

"I think I had the crowd on my side. They were really amazing, it was so great. I let my emotions out. I'm so happy to be here and represent Switzerland, and get these rainbow stripes. It has been a long time for Switzerland. Last year, when I lost by two tenths of a second I said it's not going to happen again. It is always a hard fight I had, I was a little bit sick, so I always have to keep my focus, and in the end I got it. I'm happy."

The final title of the night went to Germany's Kristina Vogel, who successfully defended her Sprint title in two closely fought rides against Elis Ligtlee (Netherlands). Vogel won the first ride by an infinitesimal one-thousandth of a second. Tianshi Zhong (China) took the bronze medal in two straight races ahead of Stephanie Morton (Australia).

"It was really hard tournament from the qualification to the semi-final against Tianshi Zhong," commented Vogel. "It was like the final last year in Cali, I needed a decider [against Zhong], so it was a real tough race. Also against Elis Ligtlee in the final, she had won in less heats than me, and was more fresh. I think today I won with my head and not with my legs. The last heats were that tough. We had some riders win that I never thought would win. Really tough and really close. Amazing tournament, tough tournament."

"I am really happy now because I think a lot of people accept that I can win. Me too. It all came together today and I'm good. This is my jersey."

Canada has one athlete racing on Sunday, the final day of competition, with Monique Sullivan competing in the women's Keirin.
---
Related Photo Galleries

Track World Championships February 18/15 - February 22/15, Saint-Quentin-en-Yvelines, France


Preview
Wm Team Pursuit Qualifying
Men Team Pursuit Qualifying
Women Team Sprint
Men Team Sprint
Women Points Race
Wm Team Pursuit Round One
Men Keirin - Round One/Repechage
Men Team Pursuit Round One
Wm Team Pursuit Final
Men Keirin Final
Women 500TT
Men Scratch Race
Women Individual Pursuit
Men Kilo
Women Sprint PT 1
Men Omnium PT1
Men Points Race
Women Scratch Race
Men Sprint PT1
Men Individual Pursuit
Men Omnium - PT 2
Women Sprint PT2
Women Keirin
Men Sprint PT2
Women Omnium PT1
Women Omnium PT2
Men Madison
---