April 8/15 18:20 pm - Cycling Canada Partners with Shelley Gautier Foundation

Posted by Editoress on 04/8/15

Cycling Canada is pleased to announce its partnership with the "Shelley Gautier Para-Sport Foundation".

Shelley Gautier is a high-performance athlete on the Canadian para-cycling team in contention for the Toronto 2015 Parapan American Games and the Rio 2016 Paralympic Games. She can boast of having won every national and international race she has participated in since her beginnings in para-cycling. Double World Champion in the road race and in the time trial from 2010 to 2014, she continues to grow and improve her performances.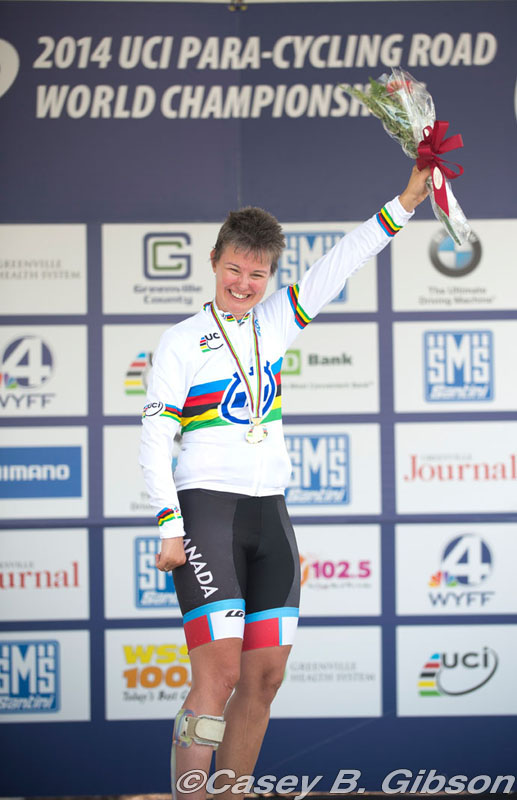 Not only Shelley is an athlete with an impressive curriculum, but she remains a leader in the Canadian cycling community. Indeed, the "Shelley Gautier ParaSport Foundation" was created in her name to encourage and provide opportunities for people with disabilities to be active and get involved in sports.

The foundation, created in 2014, has already seen much success through its integration of para-cycling program in the NCCH club (National Cycling Centre of Hamilton) and by establishing a partnership with Ross Macdonald School for the Blind in Brantford, Ontario. This school will allow children from 4 to 16 years old to enjoy access to cycling within their sports program (tandem cycling). The project is a joint venture with the NCCH club to provide guidance from certified coaches and volunteers tandem pilots.

Cycling Canada would like to thank and congratulate Shelley Gautier and her entourage for their involvement, support, and the creation of the foundation. Arnaud Litou, the supervisor of the para-cycling program, points out: "Let's not forget that only 3% of young people with disabilities are involved in a sport, according to Statistics Canada, in contrast to 20% of those able-bodied. Shelley is a model in every way!"

The Ontario Cycling Association, ParaSport Ontario, Cycling Canada and the Canadian Paralympic Committee (CPC) joined forces to form a development program for cyclists in Ontario. This partnership provides opportunities for young people and newcomers to learn about Para sports and allow Canada to remain a leading nation in the international arena.

"This is a common goal for all partners involved, and we are fortunate to have a prominent athlete, active, who shares her passion for all of the Canadian cycling community! Congratulations and good training to Shelley as she awaits the start of the 2015 season and the Rio 2016 Games," concluded Litou.
---
Related Photo Galleries
---