April 12/15 13:13 pm - Wallace 14th at Lourdes DH World Cup

Posted by Editoress on 04/12/15

Round 1 of the UCI Mountain Bike World Cup presented by Shimano on Sunday saw the return of two former World Cup winners to the top of the podium in Lourdes, France. Emmeline Ragot (MS Mondraker) gave French fans a home win in the women's race, while Aaron Gwin (Specialized Racing) crushed the men's field. Mark Wallace (Devinci Global Racing) was the top Canadian, with a very strong 14th in the Elite men's field.

Ragot will don the World Cup leader's jersey for the women. but her French compatriot Loïc Bruni (Lapierre Gravity Republic) takes the men's jersey after finishing second to Gwin in the Final and winning the Qualifying run, where Gwin crashed.

The weather was perfect on race day, but the rough, rocky and steep track in Lourdes guaranteed that any mistakes would put riders out of contention for victory, and many riders suffered crashes or mechanicals as they forced the pace on this punishing track.
Women
Tegan Molloy (Kona Factory) was the first woman to record a sub-4 minute time, with ten riders still to follow. The time steadily dropped over the next six riders until, by the time defending World Cup champion and world champion Manon Carpenter (Madison Saracen) rode with five to go, the leading time was down to three minutes and 40.531 seconds.

However, this was still more than ten seconds slower than the fastest qualifying time, set by Tracey Hannah (Polygon UR), so everyone was expecting the winner was still to come. Ragot was the next rider after Carpenter, and she knocked 7.906 seconds off the best time to take the Hot Seat. Myriam Nicole ICommencal/Vallnord) was next, but was 2.5 seconds slower, slotting in between Ragot and Carpenter. Next was Rachel Atherton (GT Factory), multiple time World Cup and world champion, and she was faster than Ragot in both intermediate splits, up by two seconds after Split 2. However, she could not maintain the pace after washing out her rear wheel following a rock jump, and had to settle for second, two seconds behind her French rival.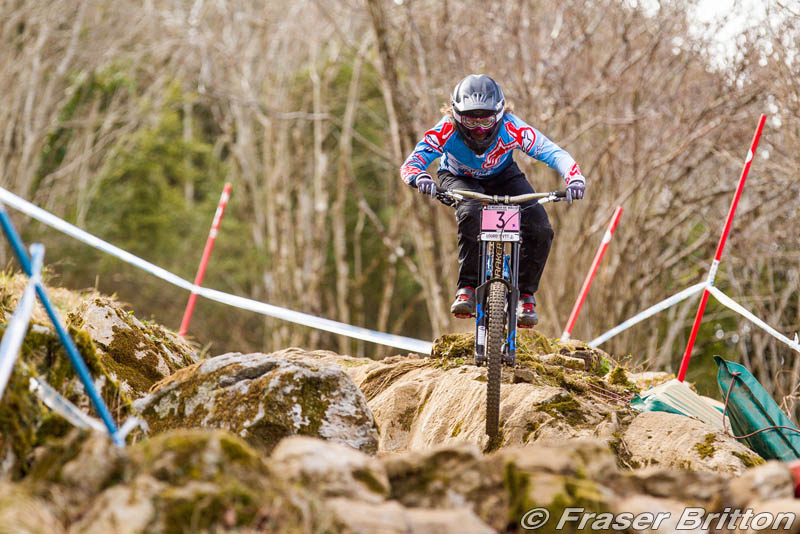 Emmeline Ragot
The final rider was Hannah, whose qualifying time was nearly three seconds faster than Ragot's final run. At the second split Hannah was less than half a second back and still in contention for the win, but a crash in the lower third of the course ruined her chances. Remarkably, the Australian managed to get back on her bike quick enough to finish fifth.

"It was okay, but I thought I could not win because I made a couple of mistakes at the start," commented Ragot. "After that I knew that I just had to go full on. It was good to be here in France, with all my family and friends here."

After factoring in points from Qualifying, Ragot leads the standings with 225 points, followed by Atherton at 200 points and Nicole at 170.

Canada had no women in the Final, since Casey Brown (Bergamont Hayes) crashed and did not finish in qualifying.

Elite Men
The men's Final had Bruni as the favourite, after qualifying first and riding in front of a home crowd. However, a number of top riders suffered problems in qualifying, with Gwin, Danny Hart (MS Mondraker) and world champion Gee Atherton (GT Factory) all crashing, so there was no way to know how fast they might have gone.

Amaury Pierron (Lac Blanc Scott), at 34 riders to go, set the first sub-3:10 time, a time that would hold up to 17th overall at the end of the day. Bernat Pascual (Intense Factory) immediately knocked a second off that time and would hold the lead until Hart came down with 24 to go. Former world champion Hart took the top time down to 3:05.577. Atherton, who had injured his wrist in his qualifying crash, was clearly not on form, finishing 48th, but Gwin, starting with 21 riders to go, then obliterated the top time, almost seven seconds faster than Hart, and the first of the weekend under three minutes, at 2:58.691.
Aaron Gwin
There were still 20 riders to go, but it quickly became clear that Gwin, the 2011 and 2012 World Cup champion, had put down a special run, with no one able to come close. Rider after rider among the top qualifiers came down six, seven or eight seconds slower than the American champion.

Michael Jones (Chain Reaction Cycles/Paypal) managed to dislodge Hart for second, but was still 6.4 seconds back of Gwin. Neko Mulally (Gstaad-Scott), fourth from last to start, lost his rear tire in the rocks and abandoned. Great Britain's Josh Bryceland, the defending World Cup champion, had a poor first split and couldn't make up the difference lower down the course. Remi Thirion (Commencal/Vallnord), the second fastest qualifier, looked good on the top half of the course but flatted lower down.

Finally, there was only Bruni left. The French rider came through the first split two-tenths of a second faster than Gwin but lost momentum through the middle part of the course and was nearly 2.8 seconds back at Split 2. He held on for second place, but was still 3.995 seconds behind Gwin at the finish line.

"It's a rough track," agreed Gwin, "but I think it is awesome. It is super fast and wide open. There are a lot of holes and soft sand, but that's what I'm used to, so I was loving it. I just tried to put it [qualifying crash] behind me and focus on today. It always sucks when you don't get a qualifier because you don't really know where you stack up. But I felt good all week and just had to try and go for it. Sitting in the Hot Seat for so long ... I was more nervous than in my run."

With 50 points awarded for qualifying first and 160 points for second in the Final, Bruni takes a slim 10 point lead over Gwin in the standings, after Gwin did not score any points in qualifying. Jones is a distant third with 157 points.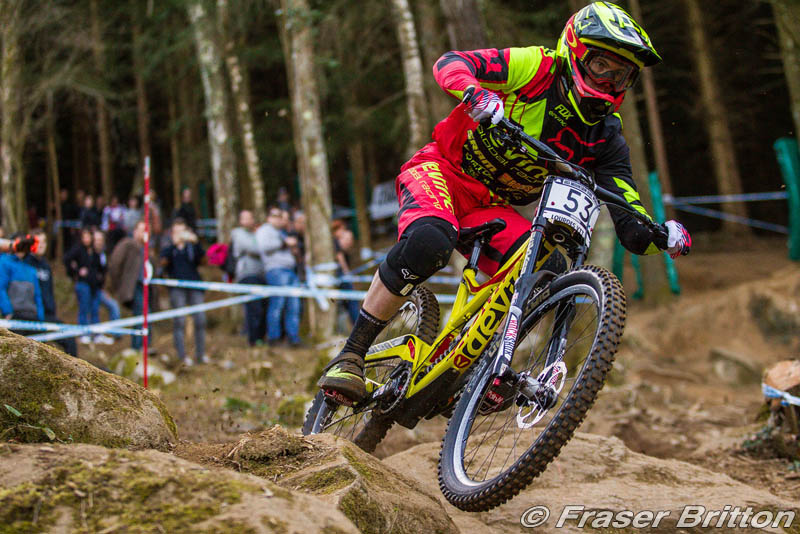 Mark Wallace
Wallace finished 10.388 seconds behind Gwin, with the strongest portion of his ride the final third. He was less than one second out of the top-10. Wallace's team mate, 2013 World Cup champion Steve Smith is out of action with a foot injury, but is expected to return for the next round.

Two other Canadians qualified for the Final, with Forrest Riesco finishing 63rd and Jack Iles (Norco Factory) 77th. Iles was over three minutes down and either crashed or had a mechanical issue.

In the Junior men's competition, Andrew Crimmins (Kona Factory) was the winner, three-tenths of a second ahead of Laurie Greenland (Trek World Racing), with Jackson Frew (Australia) third at 1.644 seconds.

Canada had one entrant in the Junior men's race; Magnus Manson (Norco Factory), who was 20th.
Related
---
Related Photo Galleries
---