May 3/15 11:08 am - Tour of the Gila Stage 4 report

Posted by Editoress on 05/3/15

With storm clouds looming over the Tour of the Gila's fourth stage on Saturday, the Downtown Silver City Criterium, the UCI men's and women's plot lines were filled with strategy as teams eyed Sunday's decisive final stage and general classification standings.

The women's field lined up at 3:00 p.m. for a 27 mile journey around the traditional four corner circuit (nearly rerouted until a late decision to postpone road work offered the typical course racers are used to). With an ever-tightening general classification time separation between riders Mara Abbott (Amy D. Foundation composite team) and Lauren Stephens (Team Tibco-SVB), each rider's team was forced to play defense and find time bonuses, respectively. But with more than 40 other riders with plans of their own, the stage win was up for grabs.

With two laps to go, UnitedHealthcare rider Linda Villumsen came throughthe start/finish banner with her arms held high. Villumsen had lost count of laps and celebrated prematurely. Fortunately the team was redeemed, with certainty, shortly after as teammate Hannah Barnes out sprinted Leah Kirchmann (Optum presented by Kelly Benefits Strategies) and Alison Jackson (Twenty16-Ridebiker) for the stage win.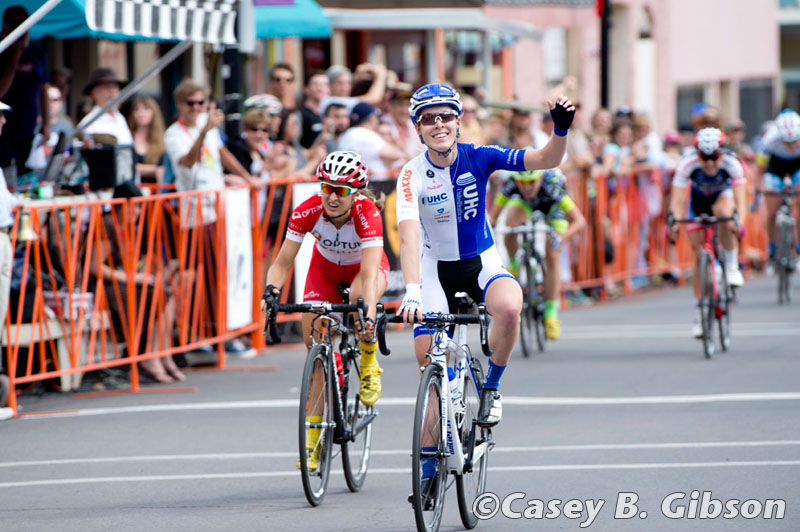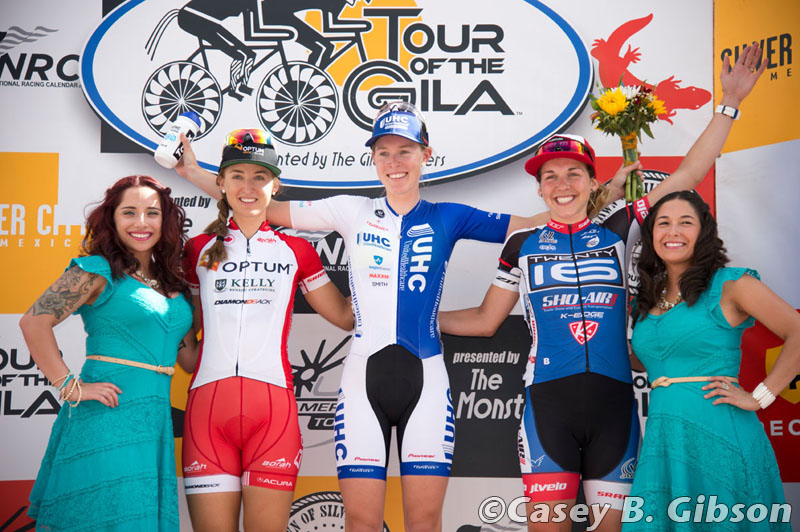 "Coming into the last lap I saw Brianna Walle from Optum go solo," said Barnes. "About 500 meters to go I chased and and caught Brianna, then Leah (Kirchmann) came past me, I said, 'that's it, it's over,' but I managed to just jump on her wheel and come around."

The clouds that loomed over the men's race were for naught as the Silver City sun shone over the 43.4 mile loop. The most threatening aspect of the entire race came in what proved to be a failed breakaway with two of the best time trial riders in the world and stage 3 podium finishers, Tom Zirbel and Jordan Kerby. As the two leapt from the pack with five laps to go, it looked like Zirbel was about to steal back-to-back stages. But with just two laps to go, the Optum team took up the chase for their sprinter Eric Young while the Jamis-Hagens Berman team positioned their Argentinian sprinter, Lucas Sebastian Haedo.

"I wasn't feeling really good all day but then in the last corner, two UnitedHealthcare guys went and I took the corner behind them in third position," said Haedo. "Maybe I went a little bit early but I came through with a fast sprint."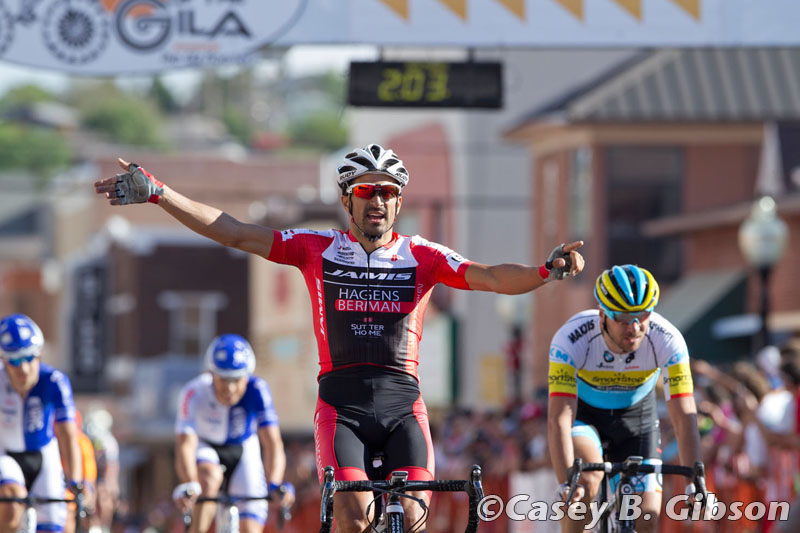 Rolling through behind Haedo were Wouter Wippert (Drapac Professional Cycling) and Eric Young (Optum).

Abbot, who has lead the women's race since stage one retained her overall race lead while Stephens still sits in second with Jasmin Glaesser (Optum) in third place.

Rafael Montiel kept his "Gila Monsters" red race leader's jersey while Rob Britton (Team SmartStop) is in second place and Daniel Jaramillo Diez (Jamis) is in third.
Courtesy Tour of the Gia


SmartStop report

Team SmartStop raced aggressively and with a lot of intelligence in Saturday's Tour of the Gila Criterium in downtown Silver City, hoping not only of a shot at the stage win but also to keep Rob Britton safe coming into Sunday's final Gila Monster stage.

Travis McCabe and Jure Kocjan gave everything they had coming into the final sprint but in a stage that did not exactly suit their sprinting abilities they just missed out on the podium finishing in fourth and fifth.

Despite the near miss, the stage went as planned for Team SmartStop who, alongside the General Classification leading team, Orgullo Antioqueno of Columbia, were looking to keep the race tight and not let anyone who was within 2-3 minutes of the GC up the road in a breakaway.

Between the whole team except for Britton covering moves and Orgullo Antioqueno holding onto a tight leash of the peloton, the race was aggressive but nothing was able to stick.

Tom Zirbel (Optum Pro Cycling) and Jordan Kirby (Drapac Pro Cycling), both of who were on the podium the previous day in the time trial, made bold attempts to breakaway from the field and with only eight laps to go it looked dangerous.

That was until the sprinter teams took charge of the peloton and reeled them back in with two laps remaining.

"Really with 5 laps to go Drapac took control of the race and leading into the sprint United HealthCare was sitting behind Drapac," said McCabe, "it wasn't very exciting until the last lap, Jure and I were together in the top 30 comfortably with three to go."

As the lap counter went down, Kocjan and McCabe snuck their way up the peloton: "We knew we had to make our move on the second corner, Jure was sitting behind Eric Young [Optum Pro Cycling], with me behind UHC."

"There was a little bit of pushing and bumping and I got pushed back on the third corner, I came into the descent seventh wheel - it was blazing fast, and a tailwind to the finish, I was 53x11 as fast as you could go, I was able to get around UHC but Haedo (Jamis-Hagens Berman) had perfect position and the fastest sprint."

The stage was won by Sebastian Haedo with Wouter Wippet (Drapac Pro Cycling) second and Eric Young third.

"For Jure and I its not our type of sprint but we tried and we finished fourth and fifth," said McCabe, "the main goal is that everyone safe and sound and excited for tomorrow."

Sunday's Gila Monster stage is one of the toughest stages in North American racing, featuring two category three climbs, two category two climbs and one category one climb over 161km.

"I feel good," said Britton, "I would like to approve upon last years finish - we just have to out smart and be patient."

With only 22 seconds separating Britton from winning the General Classification over Rafael Montiel, the Gila Monster is set to be an exciting day of racing.

"The Colombians ride hard and don't let anything go, they are strong and they know they are strong," said McCabe.
Results
---
Related Photo Galleries

Tour of the Gila April 29/15 - May 3/15, Silver City, NM USA


Stage 1
Stage 2
Stage 3
Stage 4
Stage 5
---