May 31/15 12:42 pm - Pendrel 3rd & Batty 4th at Albstadt World Cup

Posted by Editor on 05/31/15

Canadian women had a strong day in Albstadt, Germany, on Sunday, at Round 2 of the Mountain Bike World Cup, with both Catharine Pendrel (Luna) and Emily Batty (Trek Factory Racing) making the women's podium. Jolanda Neff (Stoeckli) extended her lead in the women's rankings with her second straight victory, while Julien Absalon (BMC) took over the men's series lead with a record breaking 30th World Cup victory.

Known for its steep climbs and tricky descents, Albstadt has caught many riders by surprise after going out too hard in the early laps and then fading.

Jolanda Neff attacked on the first climb and no one could stay with her. Defending Albstadt champion Pauline Ferrand Prevot (Rabo Liv) led the chase for one lap but then had to pull out of the race due to an injury she has been dealing with. However, at that point Neff was already 56 seconds ahead of her chasers.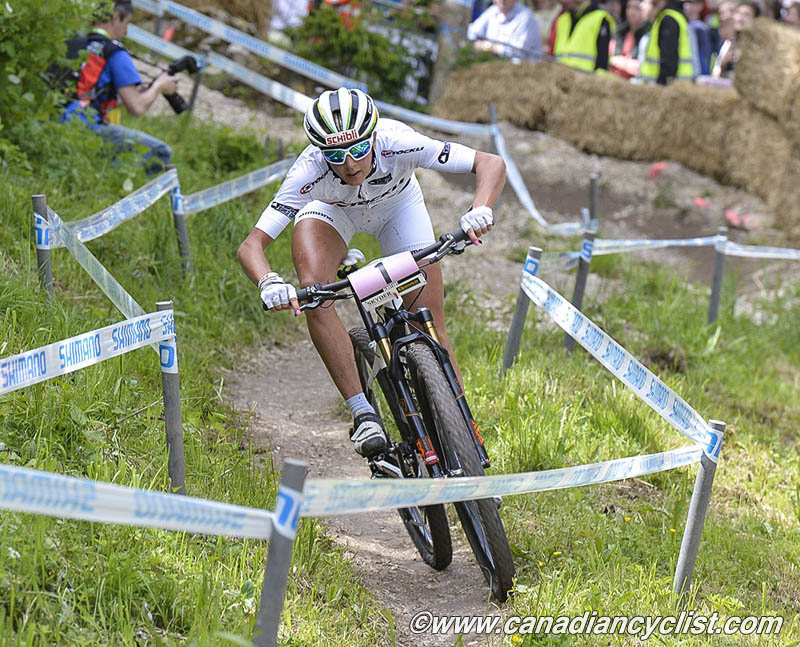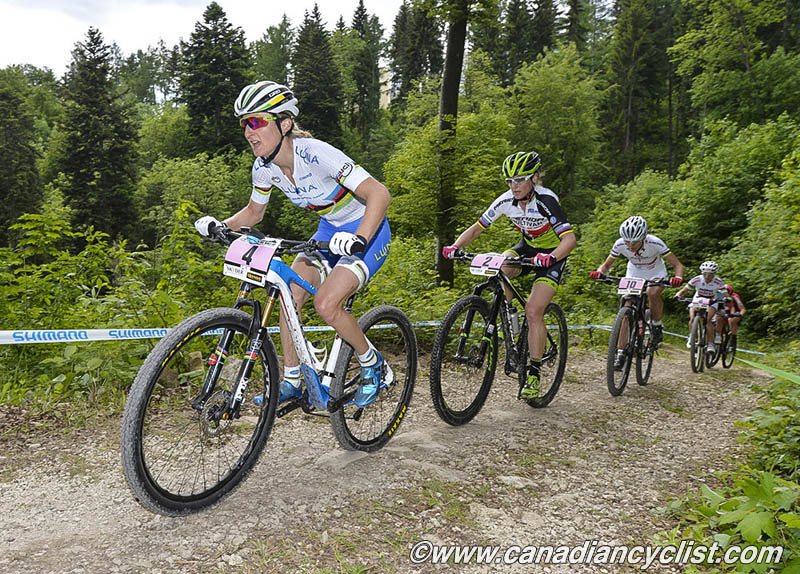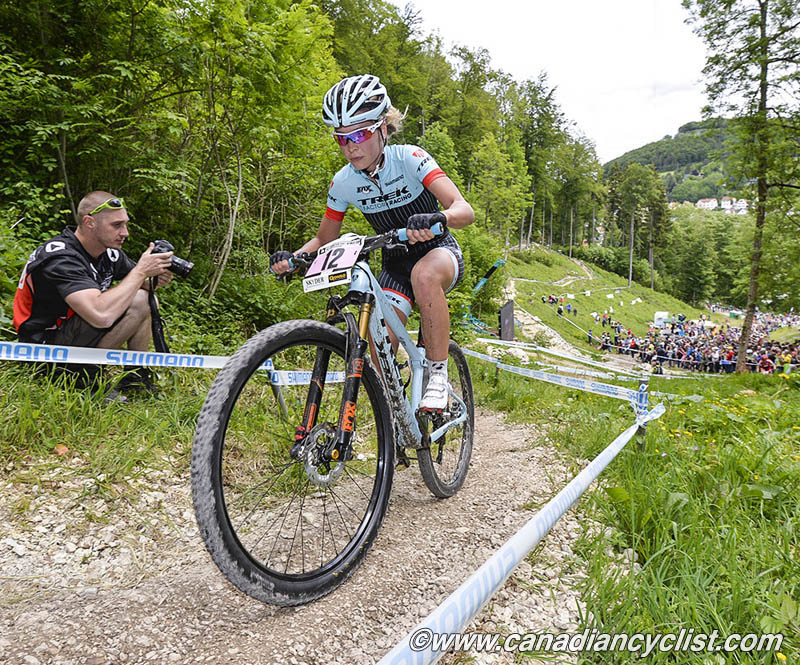 Gunn-Rita Dahle Flesjaa (Multivan Merida) and world champion Pendrel took up the chase, but for the first half of the race could only manage to hold Neff at a minute. In the second half of the race they began to slowly reel the Swiss rider in, but it was 'too little, too late', as Neff rolled across the line to take her second win. Dahle Flesjaa outsprinted Pendrel to take second.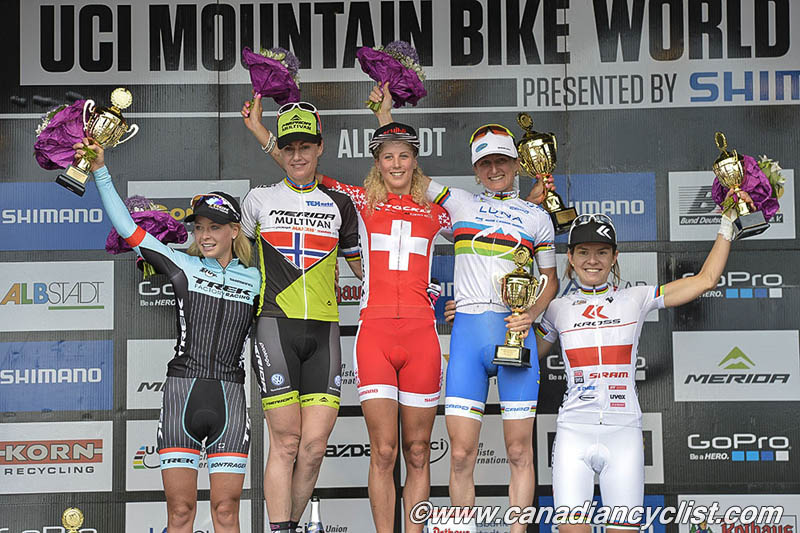 Emily Batty was in the mix for a podium spot all race, leading the chase to Maja Wloszczowska (Kross Racing), who had been sitting alone in fourth until the start of the fifth lap. Batty and Irina Kalentyeva (Moebel Maerki) caught Wloszczowska, and it then became a game of cat-and-mouse between the three riders for the remaining two podium spots, with Batty able to drop Wloszczowska to take fourth. Sandra Walter (Canadian National) was the only other Canadian to finish on the same lap as the leaders, in 38th.

[Note: We have interviews with Catharine Pendrel and Emily Batty]

"Well, I didn't start so quickly," explained Neff. "I waited the whole start loop, and I only went in the first big lap. So I think that made a bit of a difference, so I could save myself some energy at the beginning of the race and I could pull through to the finish."

"That's the way I like it best [riding alone at the front], because then I never have to fight for the downhill to be first and I can always ride my speed. That makes it very good for me to find my own rhythm and hopefully don't blow myself up."

"It is absolutely awesome that I will be riding in the leader's jersey in Lenzerheide [Round 3], which is my home World Cup. That's a big goal for me and I am looking forward very much to that race."

Neff leads the overall standings with a perfect score of 500 points, followed by Dahle Flesjaa with 400, Pendrel at 310 and Batty in fifth at 235.

While Neff led the women's race from start to finish, the men's was a battle to the end. Absalon, the defending champion, came into this race as a favourite, however, his constant rival Nino Schurter (Scott-Odlo) gave no ground.

Four riders finished the first lap together at the front - Absalon, Schurter, Round 1 winner Jaroslav Kulhavy (Specialized) and Florian Vogel (Focus XC). A lap later, Kulhavy and Vogel were still there but starting to show the pressure and, by the third lap it was just Absalon and Schurter.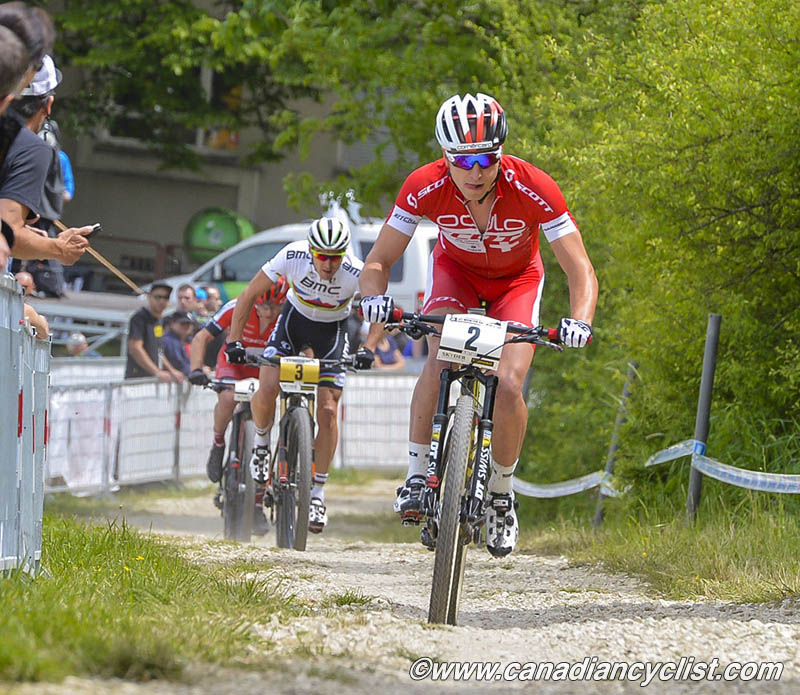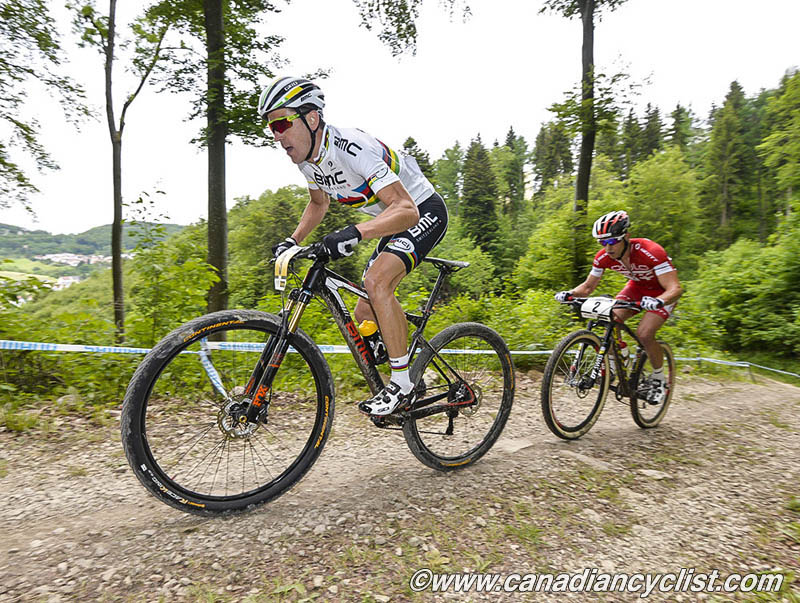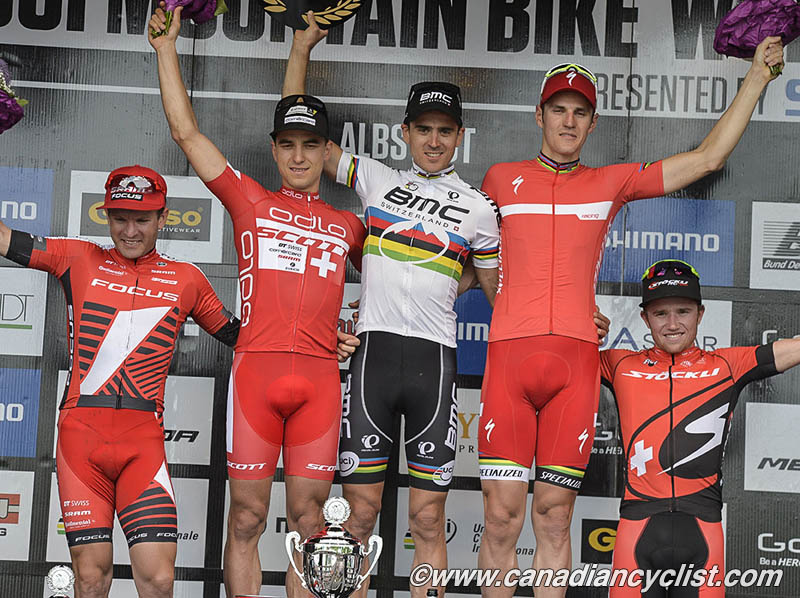 Absalon tried attacking his rival on the climbs in the final laps but could not drop the Swiss champion. Schurter then attacked before the final descent to the finish and got a small gap, only to crash in the final gravel corner after carrying too much speed. Absalon was then able to get by Schurter to record the 30th World Cup victory of his career.

Kulhavy was dropped by Vogel in the middle portion of the race, only to retake the lead in the final lap for third, followed by Vogel and then Mathias Fluckiger (Stoeckli) in fifth.

"It is always hard to beat him [Schurter]," agreed Absalon, "but I really like this track, this kind of climb it suits me really well. I am really happy also because it was hard for me to start my preparation this year; I started late because of sickness. So I am really happy to be in the rhythm now."

"In the last lap I realized 'oh it's not possible to do a gap', so I knew it would be difficult on the last downhill to beat him. I tried on the last climb, but he passed me just before the last downhill and then I try to go full gas and keep his wheel, but lost only maybe five seconds. After the last downhill, I don't know, he did a mistake on a corner and I passed him, and then full gas to the finish."

[Note: An interview with Julien Absalon]

Schurter agreed that it was his own fault; "It was a bad mistake. I felt super strong today, I had a good feeling the whole race through and I was just waiting for that last climb. I knew I could pass Absalon in this last uphill, and get a gap on the downhill ... then I just risked it a bit too much. I was thinking too much about the win on last corner and then I went down. One should never think too early about winning the race."

"I'm okay. At first my ankle was a bit painful, but it is probably just scratched."

Raphael Gagne (Canadian National) had his strongest ever European World Cup result to finish 22nd. After fading last week in Nove Mesto, Gagne started out a little more conservatively and then began to steadily pick riders off through the race. Derek Zandstra (Scott-3Rox) was the second Canadian finisher in 32nd, just three spots ahead of Leandre Bouchard (Canadian National).

[Note: We have an interview with Raphael Gagne]

The men's standings couldn't get much tighter, with Absalon tied at 410 points with Kulhavy (Absalon holds the jersey due to the most recent win), followed by Schurter at 400 points. Gagne is 24th in the standings at 116 points, followed by Zandstra in 25th (102 points) and Bouchard in 28th (84 points).

The day began with the Under 23 men's race, won by Spain's Pablo Rodriguez, ahead of Romain Seigle (Focus Rotor Ekoi) and Round 1 winner Lars Forster (Wheeler-IXS). With his win, Rodriguez takes the lead in the series standings, with 160 points to Forster's 150.

Peter Disera (Canadian National) had a second strong World Cup race, finishing 23rd, and now 29th in the rankings. Alexandre Vialle was the only other Canadian to finish on the same lap as the leaders, in 35th.
Results
---
Related Photo Galleries

Albstadt World Cup May 30/15 - May 31/15, Albstadt, Germany


U23 Women
Elite Women
Elite Men
U23 Men
---