June 7/15 12:23 pm - New Leaders for Downhill World Cup at Fort William

Posted by Editor on 06/7/15

Fort William once again proved to be one of the toughest races of the UCI Mountain Bike World Cup presented by Shimano. Rachel Atherton (GT Factory) recorded the 21st World Cup victory of her career, while Greg Minnaar won the men's title. Casey Brown (Bergamont Hayes Components Factory Team) was the top Canadian finisher for the day, just off the podium for elite women in sixth place .057 of a second out of fifth. In his first race back after two foot injuries Steve Smith (Devinci Global Racing) was ninth in qualifying and twentyfifth in the final.

High winds and torrential rain on Saturday forced the cancellation of both training and qualifying runs for the day, pushing both Qualifying and the Final onto Sunday. Since Fort William is already considered one of the most physically demanding courses on the World Cup circuit, having to do two race speed runs on the same day pushed the riders to their limits. Add to that, the deep mud and ruts caused by the rain, and it is no wonder Rachel Atherton called this one of the hardest races of her career.

Tahnee Seagrave (FMD Racing) set the first sub-6 minute time. at 5 minutes, 39.643 seconds with 12 riders to go. Her time would prove strong enough for second overall, as rider after rider struggled and crashed.

Atherton, who only qualified fifth after crashing in qualifying, was clearly on a fast run; three seconds faster than Seagrave at the first intermediate timing point and seven seconds up by the finish. Atherton was the first rider to actually go faster than world champion Manon Carpenter's fastest qualifying time.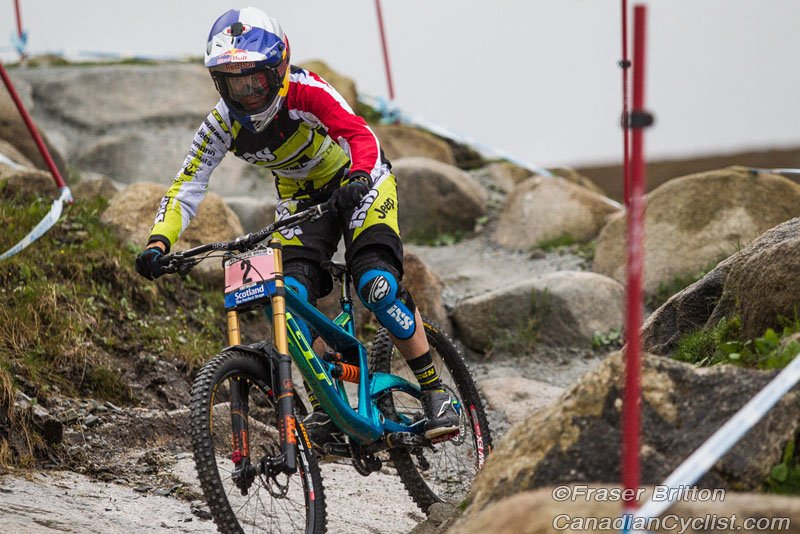 Atherton
Tracey Hannah (Polygon UR), the fourth fastest qualifier almost crashed and could only managed sixth. World Cup leader and defending Fort William champion Emmeline Ragot (MS Mondraker) crashed hard in the woods to slot into third, leaving only Carpenter with a chance of beating Atherton.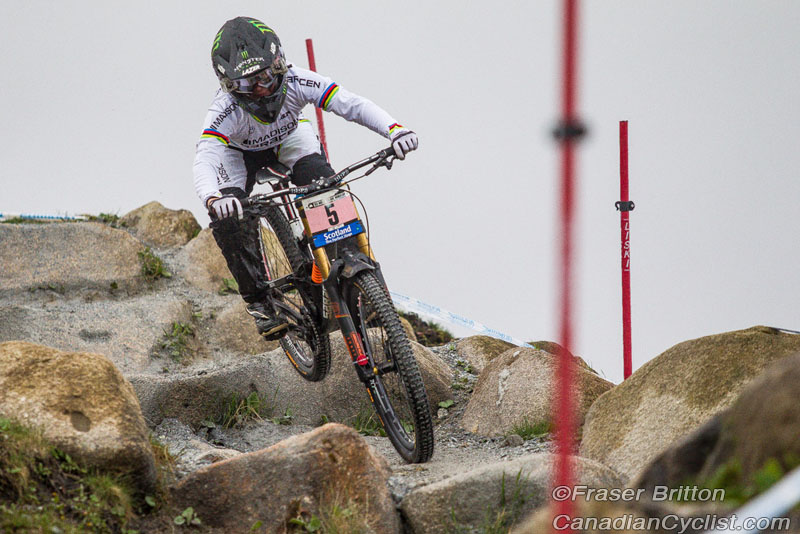 Carpenter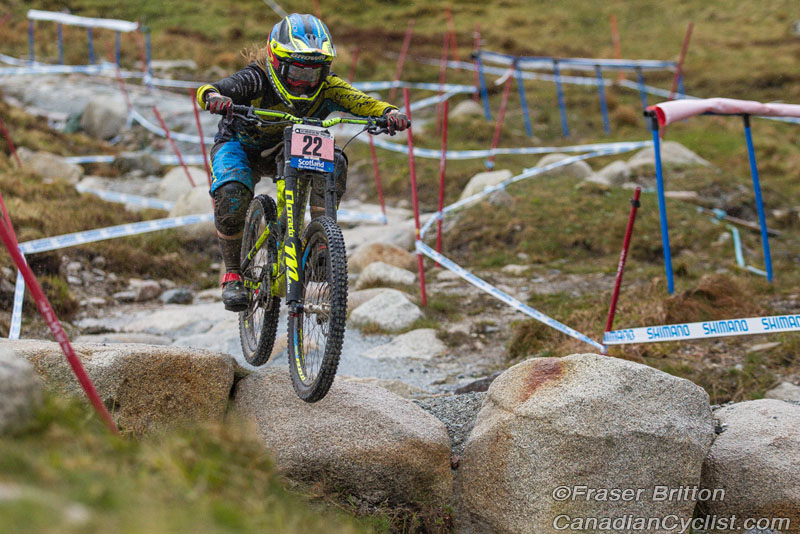 Brown
Carpenter was sitting second by four seconds after Split 2, and decided to go for the big final jump that all the other women had ridden around. If it had worked, it might have made the difference, but Carpenter didn't quite clear the gap, crashing spectacularly in front of the finish line crowd, and still managing to stagger across the line for fourth.

"That was one of the hardest races of my entire life," said Atherton. "It was horrendous; the track was ridiculous in the woods, it was a mess. It was just survival, I was suffering. This morning after qualifying, I thought that I was just riding for damage limitation. I've got a trapped nerve in my neck and it's making my arms really weak. I thought I just had to go out there and try my hardest; I crashed three times in qualifying, so I can't believe it, that I won. I can't believe that Manon tried that jump; the Brits killed it here."

For the men, the wind continued to dry out the upper, open section of the track and the sun came out, but the wooded middle part stayed extremely muddy and rut-filled. causing numerous crashes.

Florent Payent (CK Racing) set the first sub-5 minute time, until an earlier rider, George Brannigan (Trek World Racing), received a rerun, to set the leading time of 4:55.760 . Brannigan's time was still holding up as Round One winner Aaron Gwin (Specialized) started with 11 riders to go, but Gwin was clearly on a good run. Five seconds up by Split 1, Gwin was floating through sections where others struggled, and crossed the line with the first sub-4:50 time, and the first to beat Loic Bruni's (Lapierre Gravity Republic) fastest qualifying time.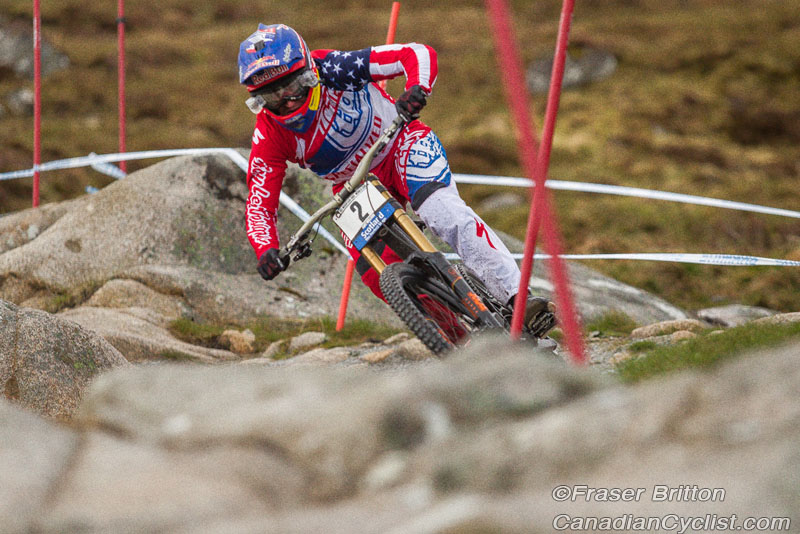 Gwin
The next rider down the course, Marcelo Gutierrez Villegas (Giant Factory), slotted in just under three seconds back, while world champion Gee Atherton (GT Factory), a two time winner at Fort William, had a strong start but faded to finish three seconds back of Gwin.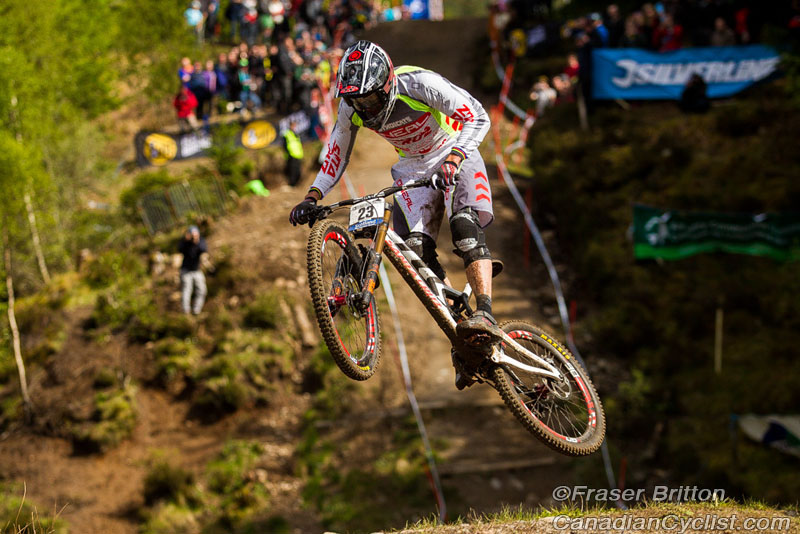 Minnaar
Then South Africa's Greg Minnaar, going for his 17th World Cup victory, came blazing through the second split half a second up on Gwin and padded his lead to finish 1.119 seconds ahead, with four riders left to race.

Defending champion Troy Brosnan (Specialized) struggled and was not in contention and neither was Danny Hart (MS Mondraker), third from last, or Michael Jones (Chain Reaction Cycles / Paypal) second from last. The only rider left was World Cup overall leader Loic Bruni (Lapierre Gravity Republic), but he could not manage better than seventh.

"It was super tough out there, we've been riding in the wet all week," explained Minnaar, "so the conditions were completely different today, even between the Qualifying and the Final. It was drying up through the day so it was a completely different track and I didn't know what to expect. I was crying when I knew I had won; it was so emotional."

Atherton moves into the women's lead in the overall standings, with 420 points to Ragot's 405. Carpenter's fourth moved her into third in the overall standings at 320 points. Casey Brown now sits eleventh with 111 points, after getting no points in round one. For the men, Gwin moves into the lead with 374 points, followed by Bruni at 350, and Minnaar moves up to third at 281 points.

Earlier in the day, Martin Maes (GT Factory) won the Junor men's competition, with Laurie Greenland (Trek World racing) moving into the lead after finishing second for the second time in two races.

Results
Women & Junior Men
Elite Men
---
Related Photo Galleries

Fort William World Cup DH 2 June 6/15 - June 7/15, Fort William, Scotland


Jr Men, Women, Elite Men
---