August 1/15 22:35 pm - Miller Takes First Podium at Mont Ste Anne

Posted by Editoress on 08/1/15

Downhill Canada saw personal best performances from two riders at the Mont Ste Anne Downhill World Cup on Saturday, with women's national champion Miranda Miller getting her first ever World Cup podium with fifth, followed by Casey Brown (Bergamont Hayes) in seventh and Mark Wallace (Devinci Global Racing) just missing the podium with a sixth place in the men.

God Save the Queen was played repeatedly, as British riders won all three categories. Laurie Greenland (Trek World Racing) started the medal rush in the Junior Men, followed by Rachel Atherton (GT Factory) in Elite women, and finally Josh Bryceland (Santa Cruz Syndicate) in the Elite men.

This year is the 25th anniversary of World Cup competition at Mont Ste Anne, as well as the 150th Downhill World Cup in the history of the sport.

After torrential rain during the men's qualifying the day before, no one was quite sure what to expect for the Final. While rain showers did sweep across the course sporadically, they were not long or intense, and did not impact the results.

Carina Cappellari (Radon Magura Factory) set the first sub-5:30 time for the women, only to have Morgane Charre (Solid-Reverse Factory) knocked over 13 seconds off the leading time a couple of riders later. Charre's time held up for four riders before Canadian champion Miranda Miller took four-tenths of a second off the lead, good enough for fifth.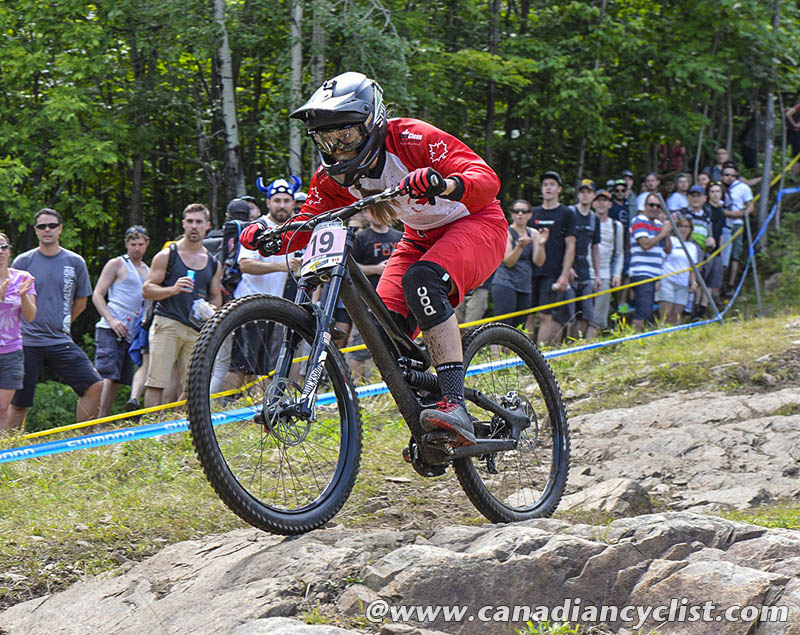 Miranda Miller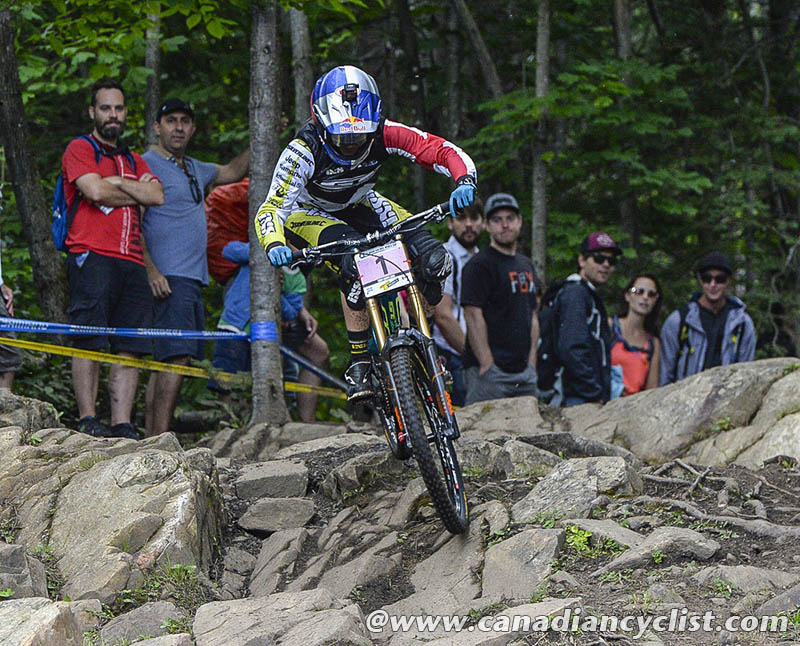 Rachel Atherton
Myriam Nicole (Commencal/Vallnord) then took the top time below 5:10 to move into the Hot Seat with three riders remaining. World champion Manon Carpenter (Madison Saracen) bumped Nicole by two-tenths of a second and, with Round 1 winner Emmeline Ragot (MS Mondraker) a non-starter due to injuries suffered in a training crash earlier in the day, only Atherton stood between Carpenter and her first win of the season.

However, Atherton was clearly the fastest, nearly three seconds ahead at the first split. She had lost a bit by Split 2, but regained it in the lower portion the course to win by 3.417 seconds, for her fourth consecutive World Cup victory of the season.

"I'm so happy," exclaimed Atherton. "Mont Ste Anne always kicks my ass' it's a really hard track. I was in the start gate and it was hammering down rain, and I though 'oh, no' ... but I decided to ride it like it was dry ... it wasn't! I had some pretty wild moments and it wasn't a pretty run, so I'm happy to make it to the finish."

"Getting beaten last year by Manon definitely gave me motivation, and I've been training well, and everything has just been working for me. Every athlete has a time at the top and, luckily for me, my time is this year."

Atherton now holds a commanding lead in the overall standings with 1160 points, followed by Ragot at 785 and Carpenter at 714. Atherton needs only 126 points in the two remaining rounds to mathematically win the title. Casey Brown (Bergamont Hayes) is the top ranked Canadian, in eighth, followed by Miller in 13th (up from 19th).



Torrential rain for the top men in qualifying upended the start order, with World Cup leader Aaron Gwin (Specialized starting 20th from last after crashing out of his qualifying run. Despite that, Gwin laid down the first sub-4:30 time to move into the Hot Seat. He was bumped five riders later by World Cup Number 2 Loic Bruni Lapierre Gravity Republic), whose time of 4:22.356 would prove to be extremely fast, as rider after rider in the top-15 could not match it.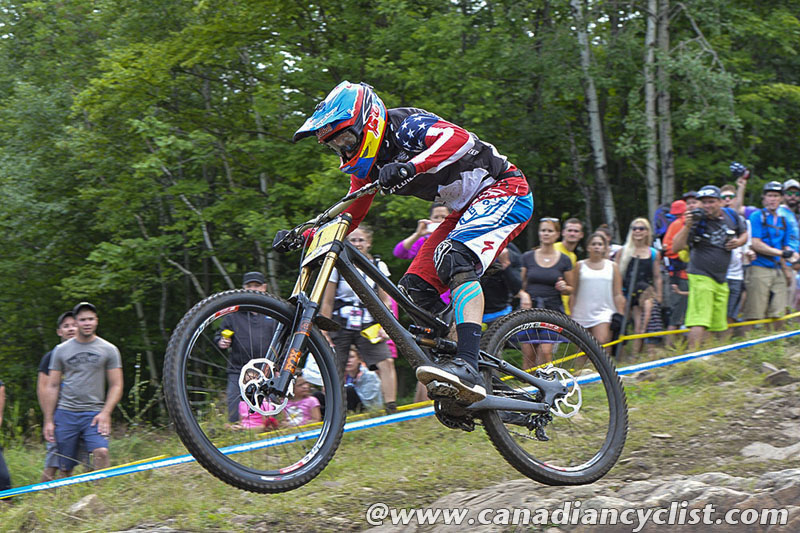 Aaron Gwin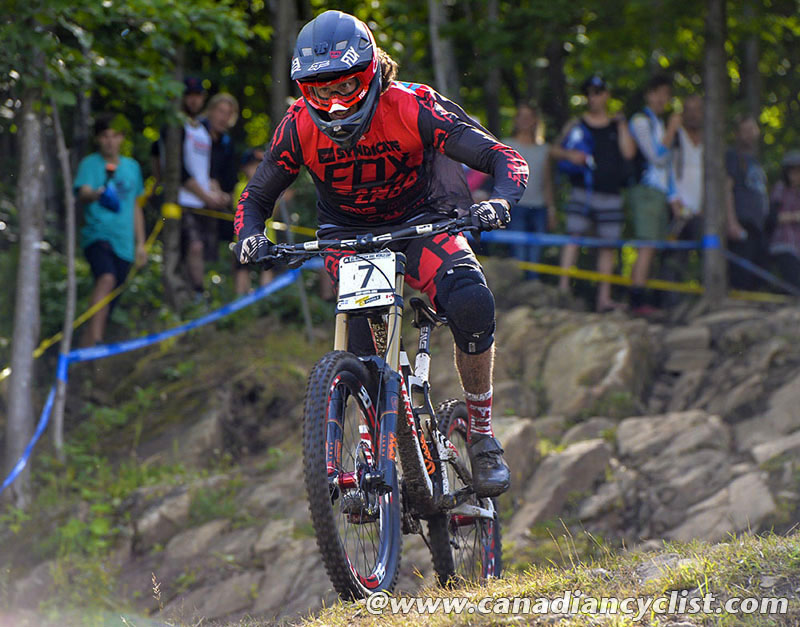 Josh Bryceland
Finally, with four riders to go, defending World Cup champion Josh Bryceland squeaked in two-tenths of a second faster, and none of the remaining riders could match either it or Bruni's time, with Gwin's team mate Troy Brosnan the closest, 0.225 seconds behind Bryceland.

"It's been hard getting over injuries, but I was just patient, just bided my time and do what I do," explained Bryceland. "But I knew it was going well this week in practice, and I had a good qualifier, so I just couldn't wait to race today. The track is just a brute, but I picked some good lines and tried to find a smooth way. I knew it was going to be good, but I honestly thought Troy was going to get me."

Wallace, after qualifying 13th, was still in a podium position until the final rider, Troy Brosnan, came down. Steve Smith, Wallace's team mate, who won at MSA in 2013, is still struggling with his return to racing after a series of injuries, finishing 41st.

Gwin managed to hold onto the overall series lead with 839 points, but Bruni has moved closer, and is now only 25 points back with two races remaining. South Africa's Greg Minnaar also moves closer, 70 points out of the lead. Wallace moves up from 24th to 19th, and is now a protected rider during qualifying. Smith moves up from 30th to 27th.



In the Junior men's competition, Laurie Greenland's win, with Alex Marin Trillo (Giant Factory) in second and Andrew Crimmins (Kona Factory) third, puts Greenland into the overal World Cup lead, with 230 points to former leader Crimmins' 202. Top Canadian finisher was Max Scharf (Canada B) in 14th, followed in 15th by Daniel Shaw (Canada B).
Results
---
Related Photo Galleries

Mont-Sainte-Anne World Cup July 31/15 - August 2/15, Mont-Sainte-Anne, QC


Women DH Qualifying
Elite Men DH Qualifying
Junior Men DH Qualifying
Junior Men DH Final
Elite Men DH FInal
Women DH Final
Elite Men DH FInal
Elite Women XC
Elite Men XC
U23 Men XC
U23 Women XC
---