September 22/15 21:36 pm - Canada Qualifies Second Spot for Women ITT at Rio

Posted by Editor on 09/22/15

While Canada's women were not completely satisfied with their placings on Tuesday in the Elite women's Individual Time Trial at the Road Worlds in Richmond, Virginia, they can take comfort in the knowledge that Tara Whitten's 13th place was enough to make Canada the tenth nation in the results, giving Canada a second spot for the event at the Rio Olympics next year. Karol-Ann Canuel finished 15th, while in the Junior men's race Derek Gee was 27th and Joel Taylor 46th.
Both the Junior men and Elite women raced two laps of the 15 kilometre circuit through the streets of Richmond. In addition to numerous turns and some steep climbs, riders faced strong headwinds in the latter half of the course, which proved to be a major factor.

Ilya Gorbushin (Kazakhstan) set the first sub-40 minute time for the Junior men, 11 riders in to the 57 rider field, and his time held up for six riders before Leo Appelt (Germany) knocked nearly two minutes off. Appelt, with 39 riders still to go, had set a time that would prove impossible to beat. Defending champion Adrien Costa of the host nation took silver, 17 seconds back, with his team mate Brandon McNulty taking bronze.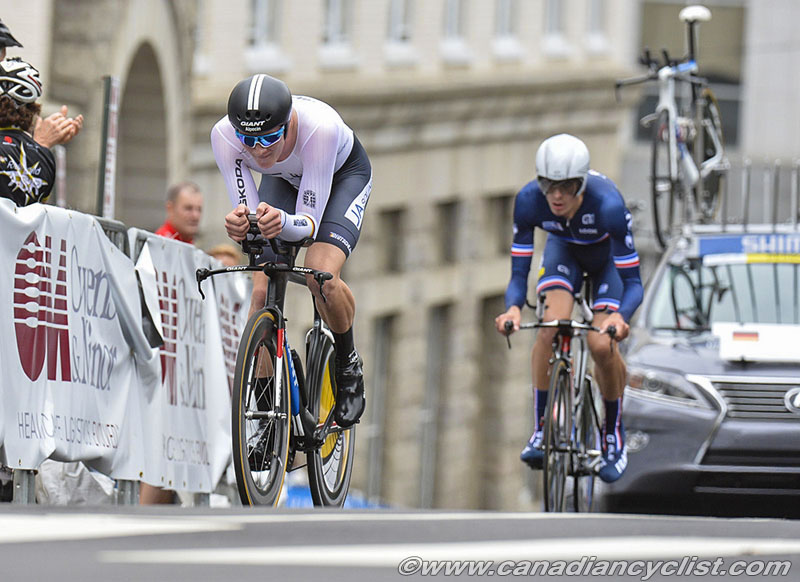 Leo Appelt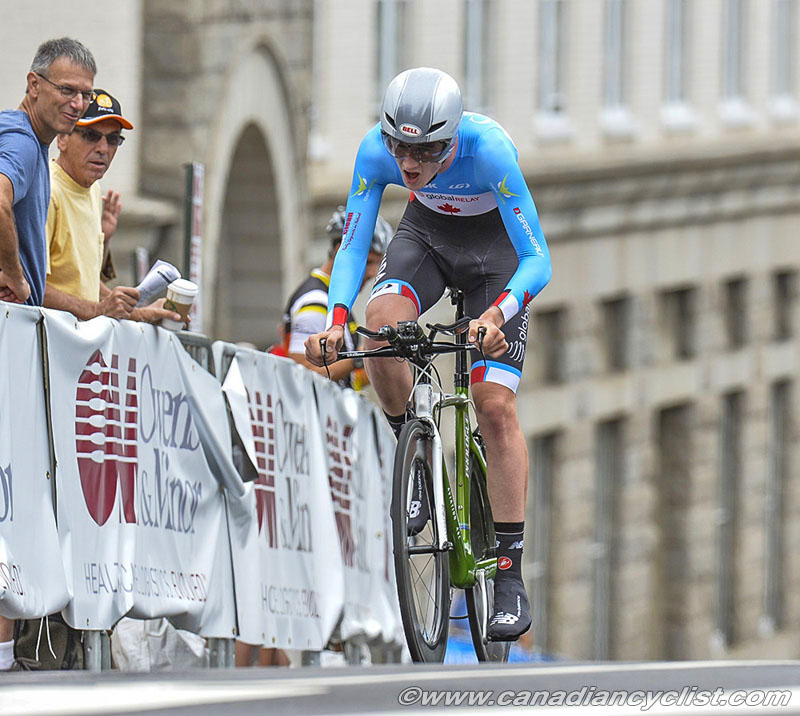 Derek Gee
Canadian champion Derek Gee said, "A super hard course. I was happy with my performance but disappointed with my finishing place. But it's got me more motivated for the road race on Saturday!"

Joel Taylor commented "It's an exciting first Worlds for me. I learned a lot and after a hard TT I'm looking forward to the road race on Saturday."

The women's race had only two riders set leading times. Two-time Olympic champion Kristin Armstrong (USA) has come out of retirement this season and was the second rider off. She was the first to finish, setting a sub-41 minute time, and her time would hold until the final nine riders, when Linda Villumsen (New Zealand) broke it by 20 seconds.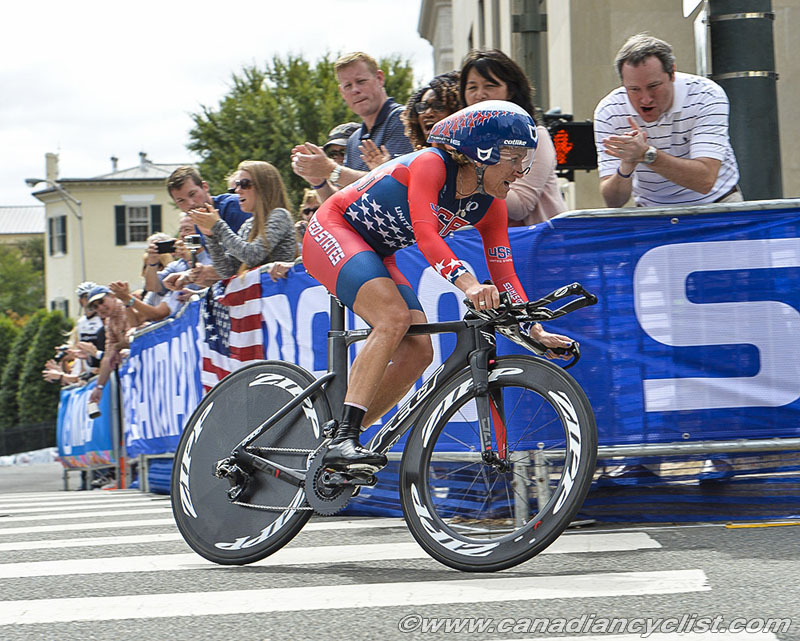 Kristin Armstrong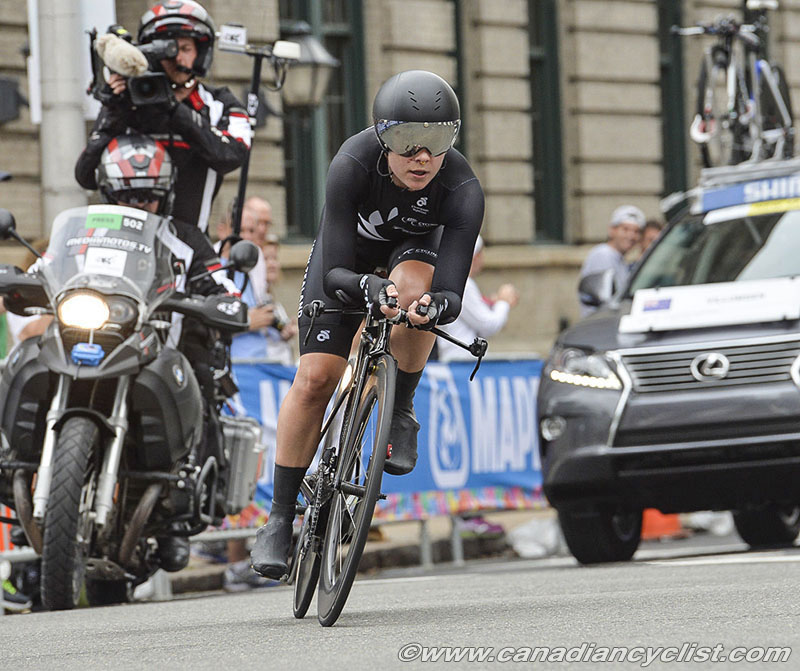 Linda Villumsen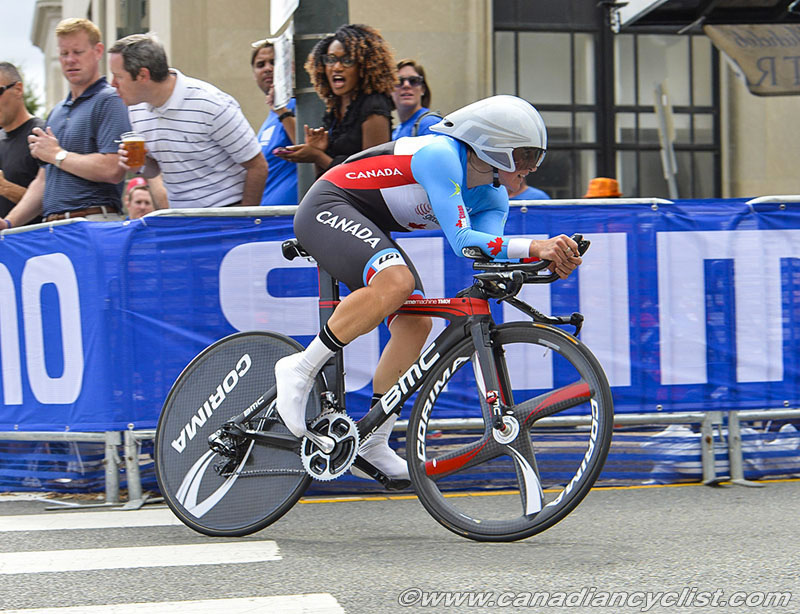 Tara Whitten
Villumsen then had a nervous wait through the remaining eight riders; something she knows too well after two silvers and three bronzes in the past six years at Worlds. However, this time she would finally get the rainbow jersey, with Anna van der Breggen (Netherlands) the closest at 2.54 seconds, and defending champion Lisa Brennauer (Germany) third at 5.26 seconds. Armstrong finished fifth, and immediately disappeared without talking to the press.

Whitten had a very strong start, with what would turn out to be the third fastest first split of the day, however, she steadily faded after that. Canuel, who buried herself on Sunday (to the point of needing medical attention) in order to help her Velocio-SRAM squad win the Team Time Trial title, knew early on that she had not recovered from her previous effort.

"I am definitely a little bit disappointed with how I rode today," admitted Whitten. "I think I started out a bit quick, but I always do. It was my goal not to, so it's a little bit disappointing to do that again. At the same time, I gave it everything I had and fought to the end. I have to be happy with that and just look at it as a first step in my comeback process."

Tara Whitten Interview




Karol-Ann Canuel Interview




Results
Junior Men
Elite Women
---
Related Photo Galleries

Road World Championships September 20/15 - September 27/15, Richmond VA USA


Women TTT
Men TTT
Jr Women ITT
U23 Men ITT
Jr Men ITT
Jr Men ITT
Elite Women ITT
Elite Men ITT
Team Canada
Training
Jr Women Road Race
U23 Men Road Race
Junior Men Road Race
Elite Women Road race
Elite Men Road race - PT1
Elite Men Road race - PT2
---