September 30/15 12:59 pm - Canadians Shine on World Stage of Amateur Cycling

Posted by Editoress on 09/30/15

Four Canadians were on the podium at the Amateur Cycling World Championships in Hobro (Time Trial) and Aalborg (Road Race), Denmark in September.

Canadian participation exploded this year with 90 participants, up from 19 in 2014 and 41 in 2013 in Trento Italy. "We saw more participants from Canada in 2015 that in the four previous years combined," said Bruce Bird, the race director for the Grey County Road Race Sponsored by Sportsnet, and Winner of the 2014 UWCT Road Race in the men's 45-49 age group in 2014.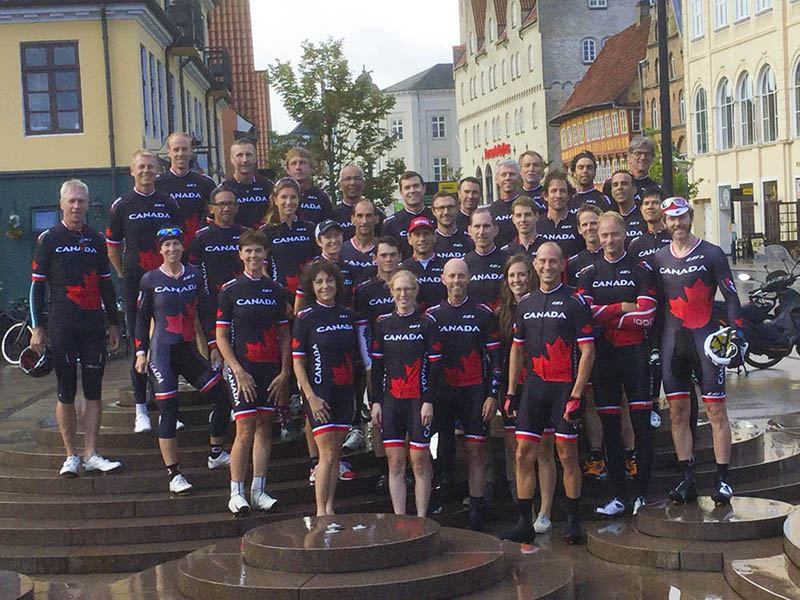 Team Canada in Denmark
"The UWCT has shown great growth in its initial five years, following on successful models already from multi-sport, where over 550 Canadians just participated in the Age Group World Triathlon Finals in Chicago."
In the individual time trial, held on a hilly 19.3 kilometre loop through the scenic Danish countryside, Janet Sillman of the Thunder Bay Cycling Club received a medal in the women's 60-64 age category, finishing in third place with a time of 32:07. Calah Wright from the Ottawa-based Euroports team won a bronze in the women's 19-34 age group with a time of 28:19, finishing just 19 seconds out of the gold medal position. The third bronze medal of the day was won by Ron Amos (Hammer/53x11 team) also from Ottawa, finishing just 12 seconds short of the rainbow championship jersey with a time of 25:05 in the men's 50-54 age group.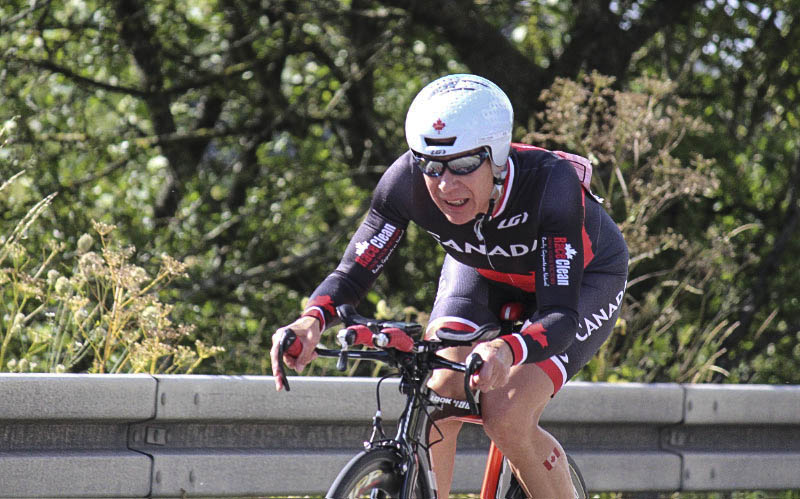 Janet Sillman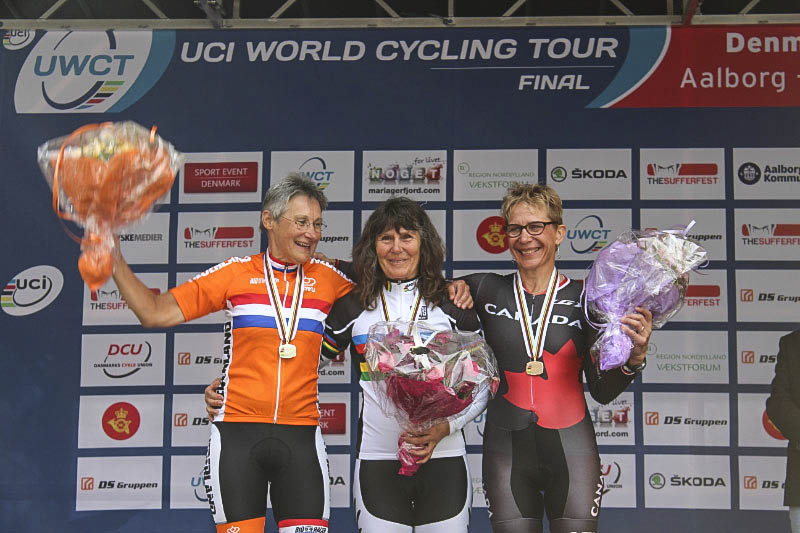 Janet Sillman (on right)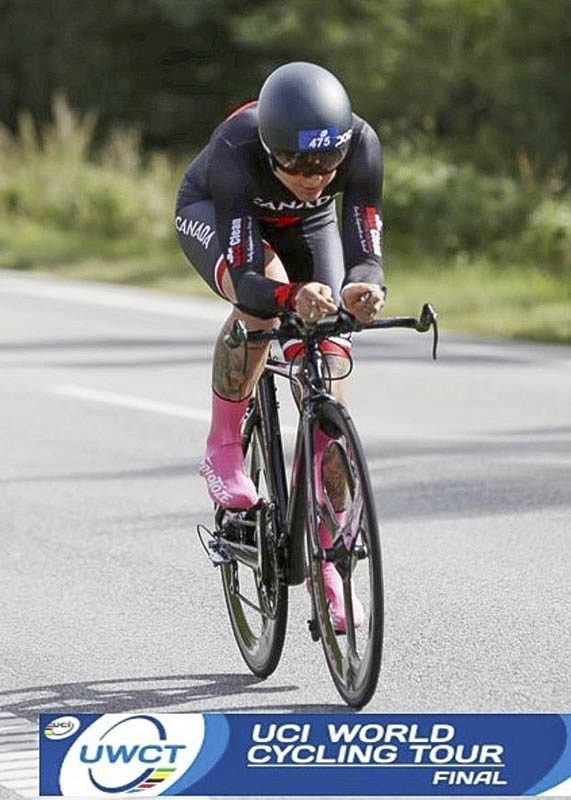 Calah Wright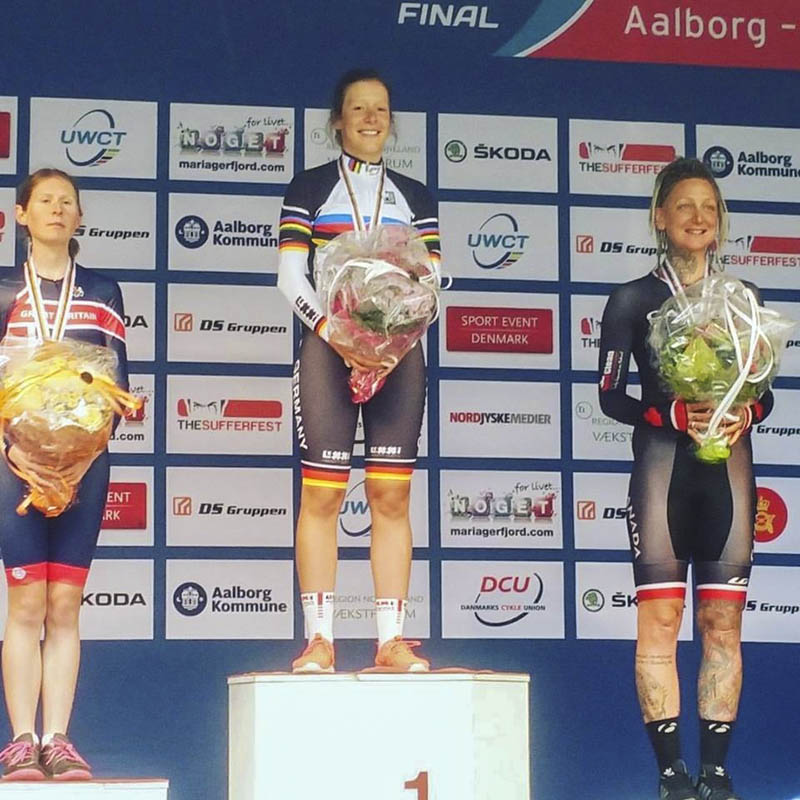 Calah Wright (on right)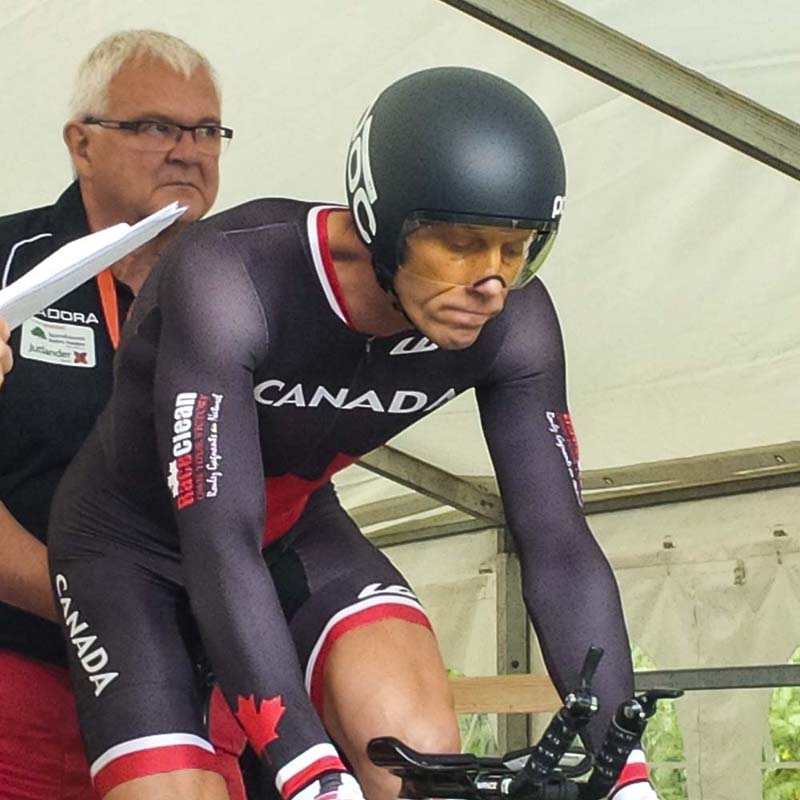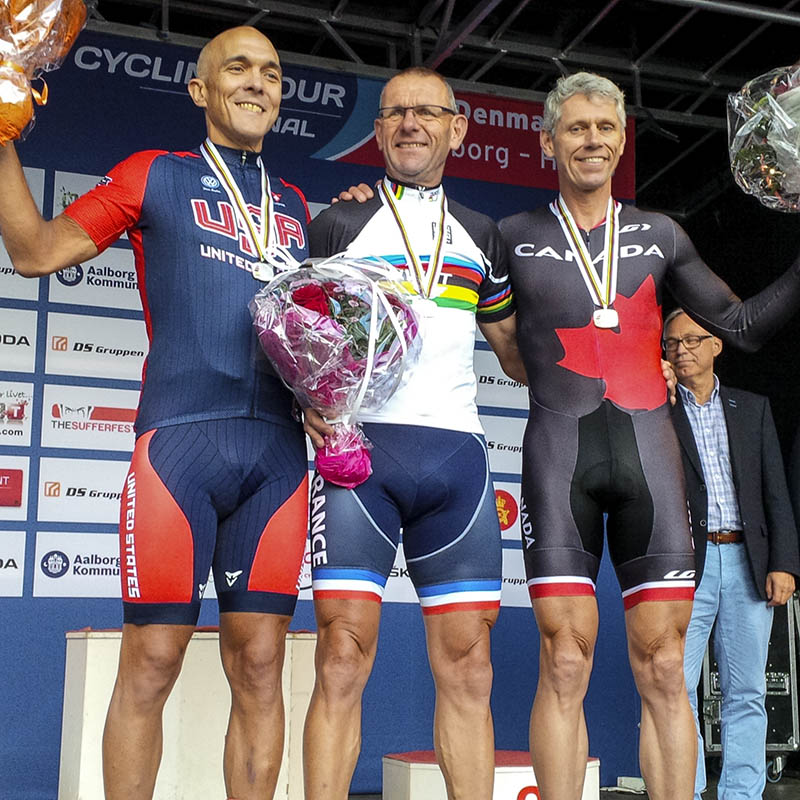 Ron Amos (above and right)
In the team relay portion, held in picturesque downtown Aalborg, Team Canada 2, comprised of Bruce Bird (Toronto, ON), Calah Wright (Ottawa, ON), David Gazsi (Masham, QC) and Ron Amos (Ottawa, ON), powered to victory over Team Poland 2 and Team Belgium 1, out of a field of 24 teams.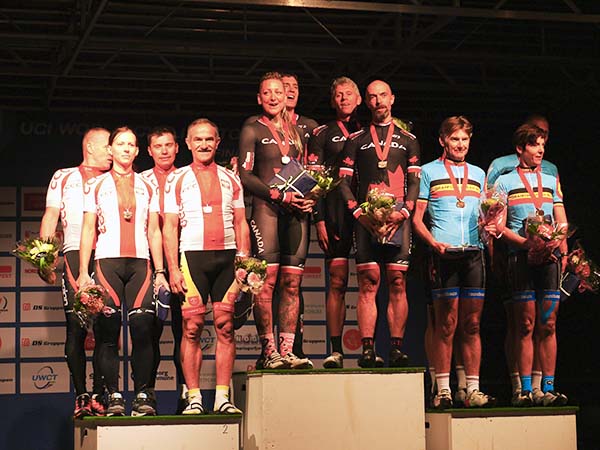 Podium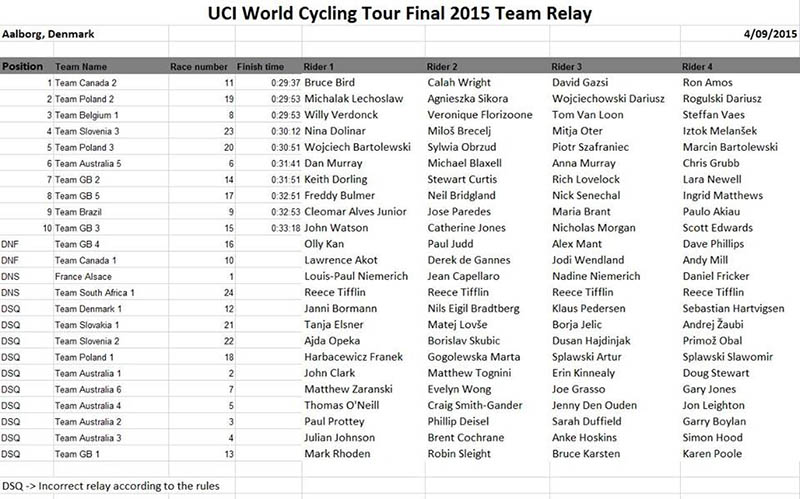 According to the rules for the Team Relay test event, now in its third year, each squad must consist of one female rider any age, one rider any age, one rider age 40+, one rider age 50+. The format required each rider to complete three laps around the 1.8 km course, with only one rider per team permitted on the course at a time.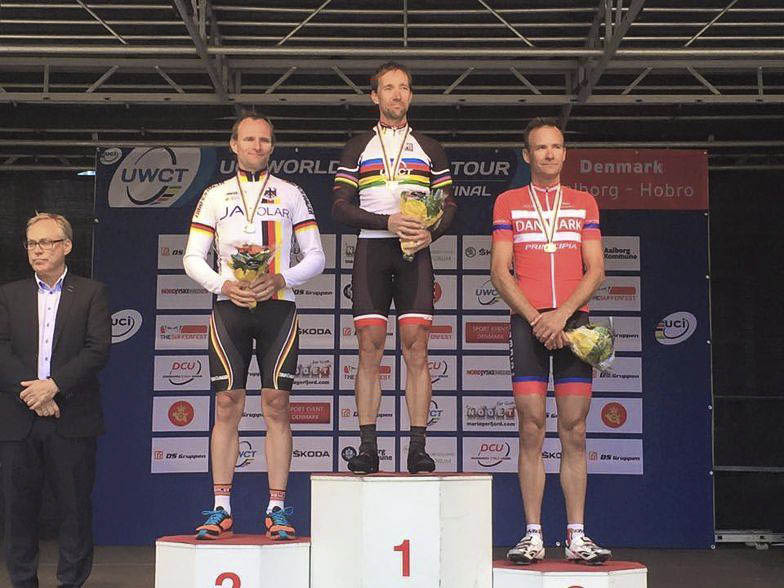 Dan Martin atop the podium
Dan Martin, a native of St Catharines, Ontario, earned a rainbow jersey for Canada in the men's 45-49 age group, outdistancing the remnants of a 15 rider breakaway with a unmatchable kick in the final 400 m of the 162 km road race, during the Denmark event. RESULTS
The growth in the number of Canucks taking part was driven by Grey County Road Race (GCRR), sponsored by Sportsnet, and held in The Blue Mountains, Ontario, on May 22nd and 24th; the only North American event in the UCI World Cycling Tour (UWCT) 2015 series. The GCRR ranked fourth out of 13 host events with 105 participants taking part in the finals.

The Town of Blue Mountains will once again play host to the Canadian qualifying event as the Grey County Road Race returns with a time trial on May 27th and a road race on May 29th, 2016. The UWCT finals for 2016 will be held in Perth, Australia Sept 1-4, 2016.

In its current format the UCI World Cycling Tour (UWCT) finals are held on an annual basis moving to a different host country each year to help spread the development of cycling globally. In its fifth year the number of participants has grown to 2085, marking a 33 per cent growth from last year when the finals were held in Slovenia. The number of participating countries continues to grow as well, with 47 represented in 2015 up from 44 last year and 31 in the inaugural campaign back in 2011.

www.greycountyroadrace.com
---
Related Photo Galleries
---