October 25/15 14:48 pm - Dyck Wins Second Canadian Cyclo-cross Title

Posted by Editor on 10/25/15

Once again, Winnipeg organizers laid the groundwork for a stunningly successful Canadian Cyclo-cross National Championships on Saturday. Mical Dyck (Naked Bicycles) took the Elite title, with a total of three maple leaf jerseys awarded to women's categories - a record.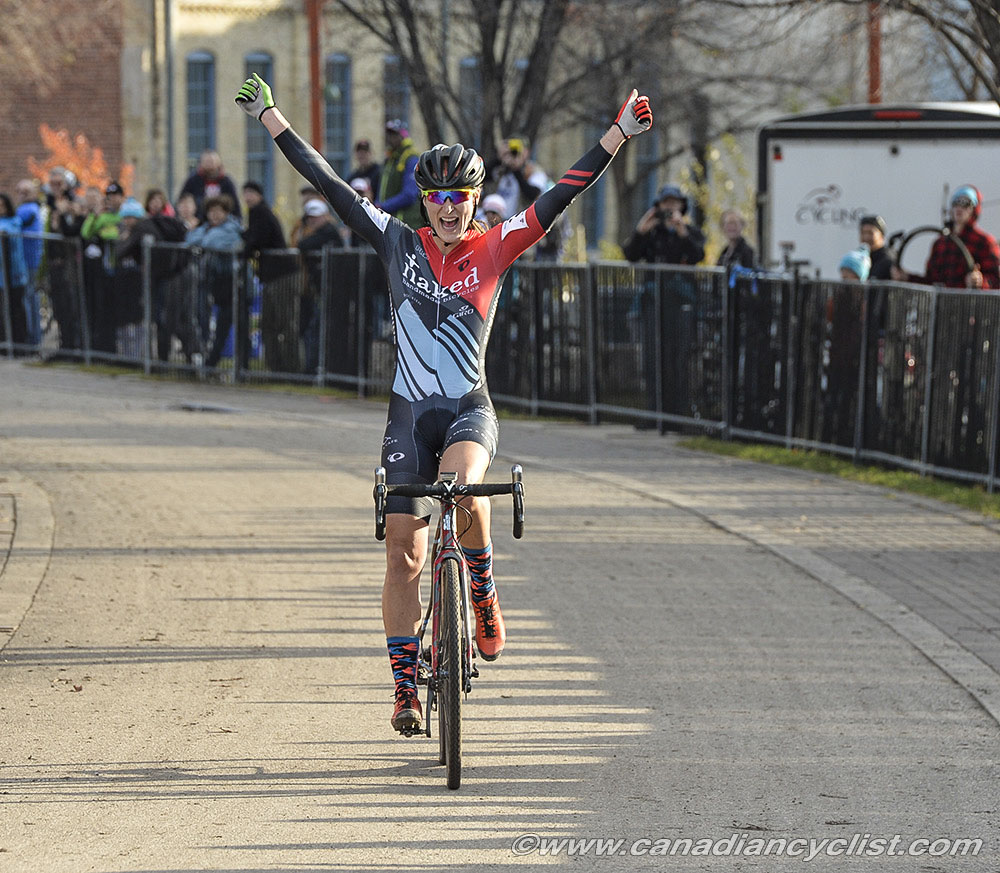 National Champion Mical Dyck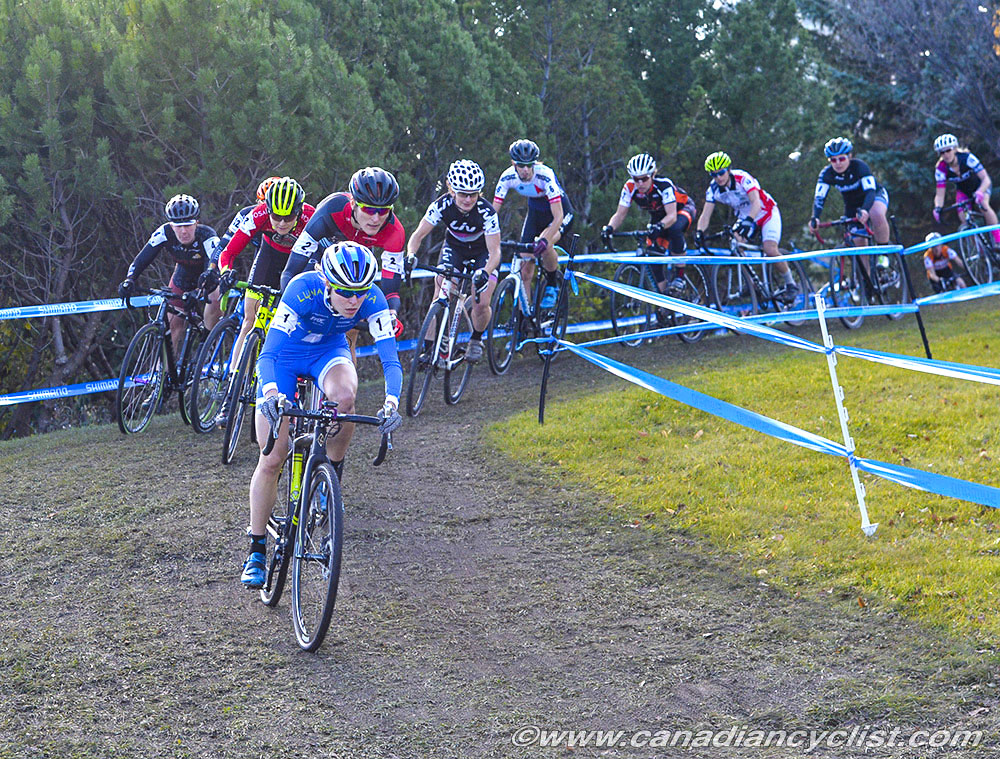 In 2014 the event was blessed with unexpectedly warm and sunny weather and, while that did not repeat, the day was sunny with temperatures in the high single digits. Rain the day before left the course muddy and slippery in sections, however, it steadily dried through the day.

Held at The Forks park and market area in downtown Winnipeg, the 3.2 kilometre circuit offered the riders a zig-zag course with constant accelerations out of corners. The key features included a long sand pit and a steep and long run up section, made more difficult this year by a stair section immediately after the dirt run up.

By the time the Elite riders took to the course, the muddy sections had all but dried out, making the circuit very fast. In the women's race, with the absence of defending champion Catharine Pendrel (Luna), the door was open to a number of contenders. Maghalie Rochette (Luna), the silver medalist last year, got the hole shot into the first of the grassy zig-zag section, but Dyck overtook her after having trouble clipping into her pedal at the start, and began to build a lead, which would extend to over 30 seconds by the finish line.





As Rochette faded, mountain biker Sandra Walter (Liv Giant Canada) moved into sole possession of second, and would hold it until the finish. Behind, a battle was developing for the final podium spot between Natasha Elliott (Red Truck-Garneau p/b Easton), Rochette and Winnipeg-born road pro Leah Kirchmann (Optum p/b KBS).

Elliott moved into third, but couldn't develop more then a few seconds gap on the other two and, on the final paved sprint to the finish line, it was the local favourite, Kirchmann, who outsprinted the other two.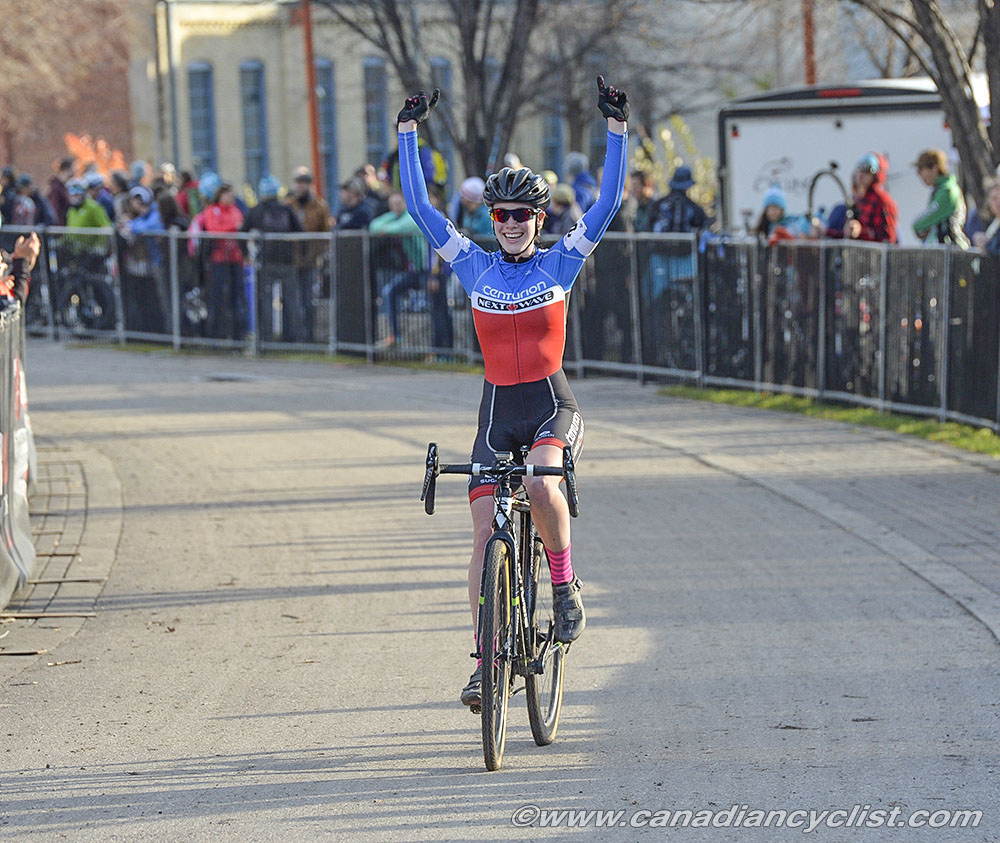 Ruby West wins U23
In the concurrent Under-23 women's race - the first time a championship jersey has been awarded for the category - Ruby West (Centurion Next Wave) dominated, finishing three minutes up on Dana Gilligan (Cycle Solutions), with Maggie Coles-Lyster (Local Ride) taking bronze.





In Masters women competition, Alana Heise (HSC-Terrascape) won the title over Meghan Osborne (Jasper Source for Sports) and Shawna Donaldson (Synergy Racing), as Alberta riders took all of the top-5 spots. Worthy of mention is the impressive field of over 30 riders.

Results
---
Related Photo Galleries

Cyclocross Nationals October 24/15 - October 24/15, Winnipeg, Manitoba


Youth Clinics
Master 30+ Women
Master 50+ Men
Master 40-49 Men
U23 & Elite Women
Elite Men
U23 & Junior Men
Master and Youth podiums
Master 30-39 Men
---