January 6/16 9:25 am - S.H.E. Cycling Program to Launch Team in 2017

Posted by Editoress on 01/6/16

A new Canadian elite level women's team will be launched in 2017, with the mission to give young women visibility and the opportunity to compete against North American and International elite cyclists, while inspiring and encouraging them to pursue their dream of becoming high level athletes.

The S.H.E. Cycling Program is an initiative of Claudine Gilbert, former team manager of the Canadian Mens UCI Continental team Silber Pro Cycling. In addition, the program welcomes the five time Canadian national champion, Audrey Lemieux as an ambassador and Director Sportive and Ralf Medloff, who has worked with different professional men cycling teams, as head mechanic on the North American and Asian pro circuit including Jelly Belly Pro Cycling, America's longest running professional cycling team.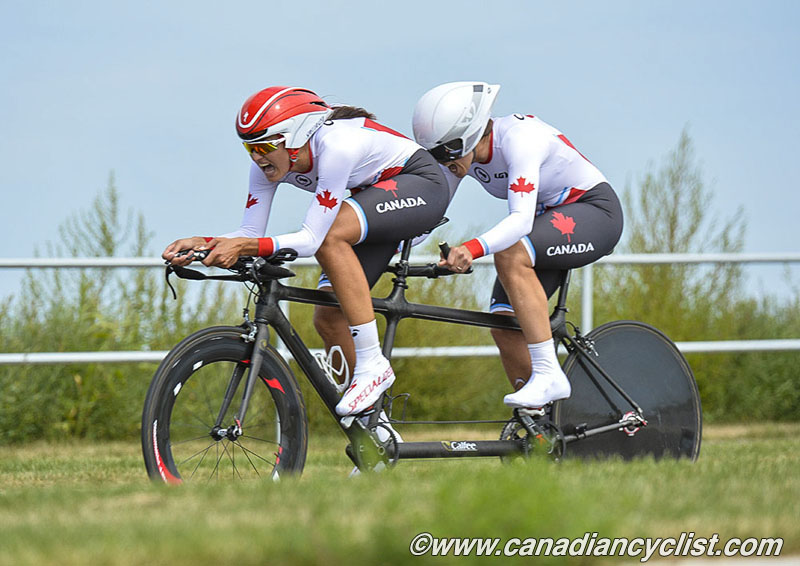 Audrey Lemieux piloting Robbi Weldon at the 2015 ParaPan Am ITT
"The program has the goal to compete at the Union Cycliste Internationale (UCI) Female Continental level for 2017. Entry into the UCI elite will elevate the Canadian female rider's [sic] status and provide access to compete in the premier cycling events around the globe, including World Cup races," says Gilbert.

"Canada has really good female athletes, but to often the young generation stops after the Junior level. We do not have enough elite teams to develop their potential. In 2015, Canada can count only three female trade team registered at Cycling Canada for the whole country.It's not enough and I want to change that," comments Gilbert.

The S.H.E. Cycling Program will use the upcoming year to focus on acquiring the needed corporate sponsorship. "It is too soon to launch a team for this season. We must have a solid foundation and partners who share the S.H.E. Cycling's vision and the Empowerment by Gender Equality." This is particularly important to the founder.

Ms. Gilbert spent the last 3 months in the United States to make contacts and look for opportunities regarding the project for 2017.

For more information or to contribute to the S.H.E. Cycling Program, visit www.shecycling.com or communicate with Claudine Gilbert at shecyclingprogram@gmail.com.
---
Related Photo Galleries
---