January 26/16 11:41 am - Peter Gilgan: A Passionate Supporter

Posted by Editor on 01/26/16

Mattamy Homes founder and CEO Peter Gilgan has stepped forward once again to support Canada's national track cycling program through a donation announced on January 21st. The funding, to be used over the next 12 months, will help to deliver key resources such as technical services, sport science, logistical support, as well as year-round accommodation for Canadian team athletes near the Mattamy National Cycling Centre velodrome in Milton.
The idea for the sponsorship came about because of "a conversation between [Olympic track medalist] Curt Harnett and myself," explains Gilgan, "around the idea of getting the athletes over the top. They need some support; they've got a great facility to train in and we are starting to see the results of that, which are completely off the chart, and above my expectations so early in the program."

The team has won six medals in the past two Track World Cup events, including the overall title for the Women's Team Pursuit squad. However, while this clearly indicates that the program is succeeding, Gilgan realized that more help was needed in the final months leading up to the Rio Olympic Games.

"They also need support to get them to the Games, to keep them training for the Games, so that they can live up to the potential that's inside them, it's the staff of life. I didn't realize it, but they are actually staying in one of our Mattamy houses and cooking in one of our Mattamy kitchens, and that's pretty exciting to me."

"The whole concept of it made sense; this whole idea that Canada can be competitive in cycling as a team is a pretty new idea. We've had great athletes before, like Steve Bauer and Curt himself, but they basically performed more as individuals than as part of a team. They almost thrived on the world stage despite their country, if you will."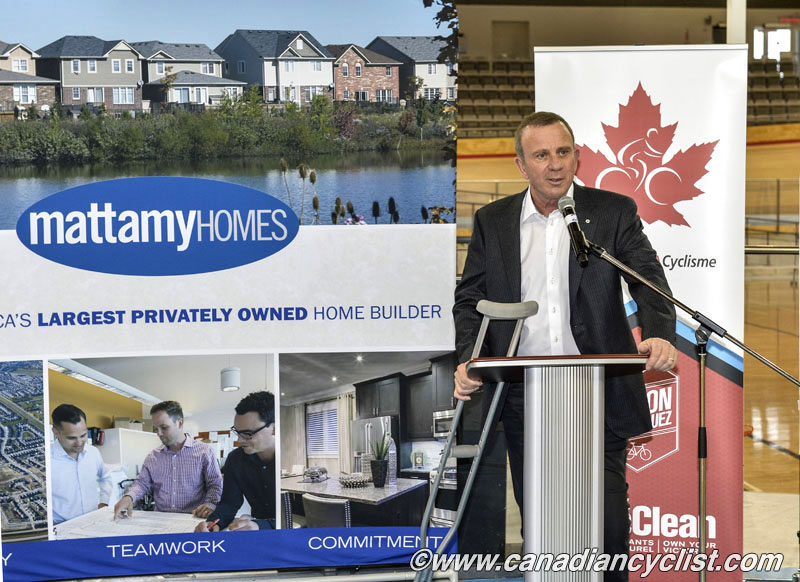 Peter Gilgan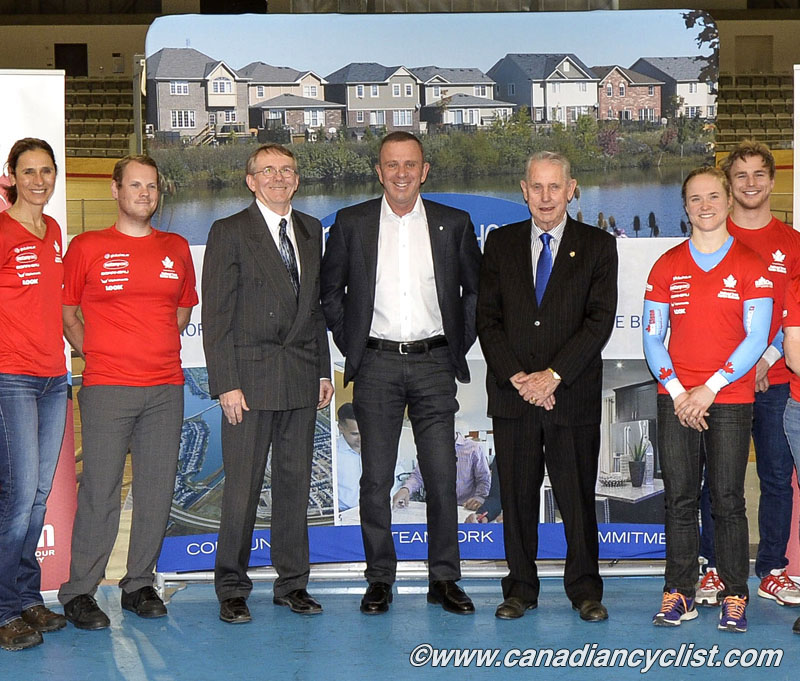 Peter Gilgan (centre)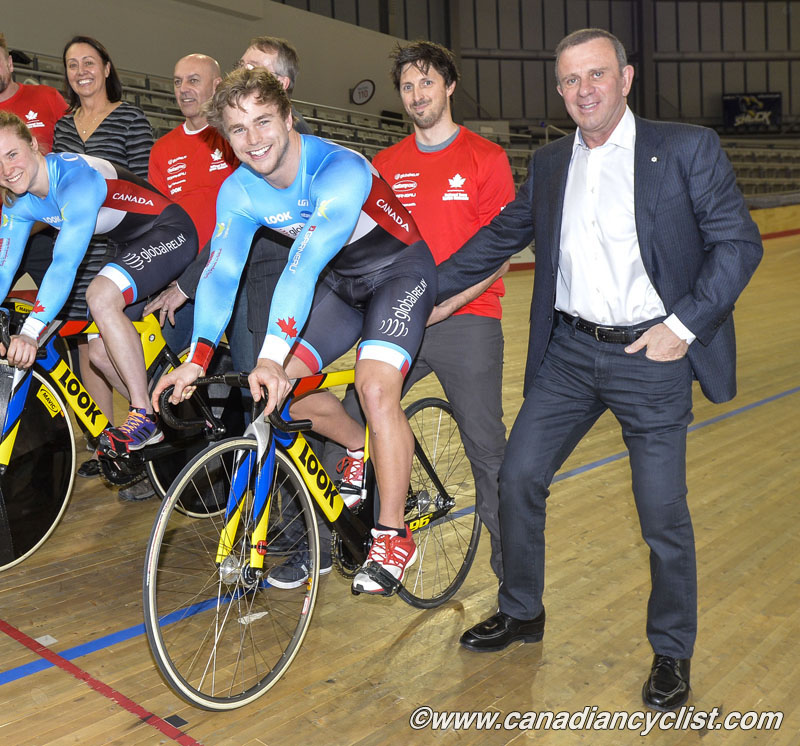 Peter Gilgan with members of Team Canada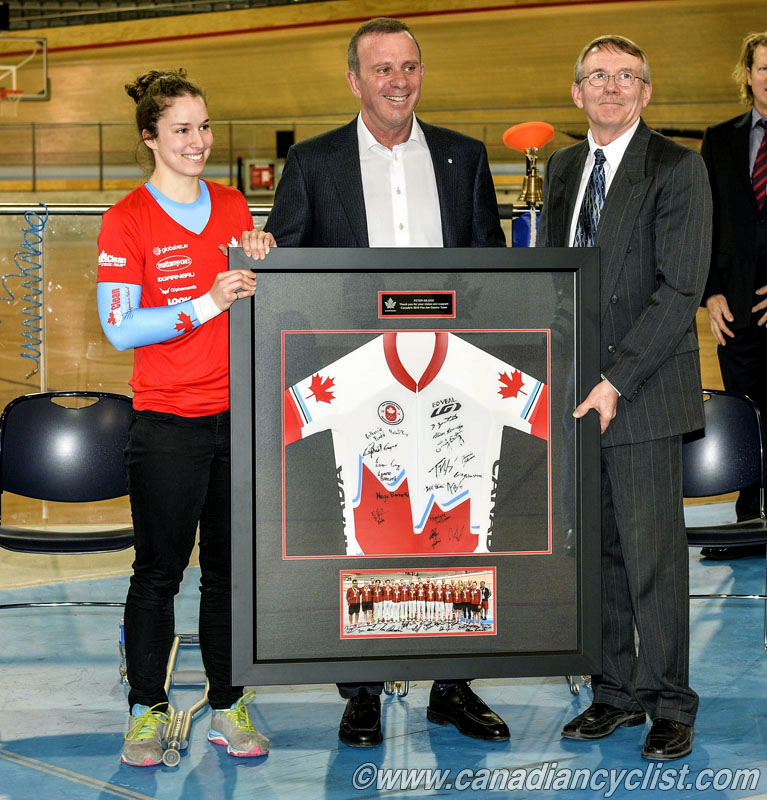 Peter Gilgan receives a framed signed jersy from Team Canada, presented by Monique Sullivan Greg Mathieu

"All of a sudden, the world has changed for Canadian cycling athletes," he continues, "and I don't think all of us have realized the extent of change that's occurring in real time, right now, with the ability of them to train here [in Milton]. It's going to take time for people to wake up and say 'Hey, we've got something special here'. We've got a facility, we've got great athletes, and we're going to see some great results over the next dozen years or so. We are going to see consistent great results."

This is not the first time Gilgan has stepped up to help support Canada's national team; he, and the company he founded, North America's largest privately owned residential builder, contributed a total of $9 million towards the construction of Canada's only international level velodrome, which hosted the track cycling events for the 2015 Pan Am and Parapan Am Games, and has since become the home of the national cycling team, as well as a recreational centre for the local community.

So why would a home builder invest in cycling? Gilgan says it is pretty simple: "There are two reasons, and one of them is because I love the sport myself. When you love a sport, and you appreciate the benefits that sport can bring to you, in terms of just having a better life, a better lifestyle, it's easier to make a commitment."

"The other reason is kind of related; cycling is a sport that anyone, of any age, can do - from two years to a hundred. I just think, without being too much of a zealot, that the more people who get involved in this sport at any level, whether it is recreationally or quasi-competitively, on a semi-regular basis ... it's better for the health and well-being of our entire country in so many different ways. In the personal health of the individual, to the environmental impact ... it's just a win all the way around. When I see people increasingly commute to work on their bikes, I am so thrilled to see that so many people are doing that. I'd like to see us continue to grow that aspect of the world of cycling."

"For me," he continues, "cycling in the last 20-odd years that I've done it as an adult has been a great excuse to see the world. Most of my vacation travel involves packing a bike and going somewhere, and seeing a part of the world on the back of a bike. I would argue that there is no better way to see a part of the world then sitting on the saddle of a bike. Whether it is the Caribbean, Europe, U.S., Africa, you name it; I've seen way more of the world on a bike then I have on any other form of transport. You are seeing things and experiencing things at the right level."

"I remember traveling in Asia a dozen years ago with my younger daughter. We went to eight cities and in each of those cities we just rented a bike and rode the city; that's how we saw it. It was an unforgettable experience; if we had just hired taxis to take us around it would not have been the same."

It's not just track cycling that Gilgan and Mattamy support, either. "A great example would be out in Calgary, where we co-sponsored a greenway around the whole city, which is about 130 kilometres of cycling/jogging/walking path that goes all the way around the city and connects to all parks. That's not for competitive athletes, that's for families and people of all ages to get out and enjoy part or all of it. Nothing against TV, but it's great to get out, on the saddle, and see the world.

While Peter Gilgan's involvement is prompted by passion, he also hopes that it will spur other corporations to recognize the benefits of getting involved.

"Sponsoring the team to the Olympics isn't going to sell one house," he agrees, "they are just not related, there is no business justification for what we are doing. It's philanthropy. But there are businesses whose products have an appeal for everyone - a clear example might be telecommunications, and you see it a lot in Europe, where telecommunications companies will sponsor professional teams because they realize it will get their name out there."

"My expectation is that in time there may be other businesses that can make a business case for greater support of our Olympians in cycling, as more people become involved in the sport, and as we continue to do better. Look at what we see right now, it's just wicked. Cycling's for everyone. The track is intimidating when you first get on it, but then it is just pure fun, pure adrenaline."
---
Related Photo Galleries
---