February 5/16 12:33 pm - Cannondale Enters Women's WorldTour

Posted by Editoress on 02/5/16

Cannondale, a premium brand of Cycling Sports Group, part of Dorel Industries, Inc., today announced a partnership with Cylance and Inspire Sports for Cannondale to become the official bike sponsor of the newly-formed Cylance Pro Cycling team. Cannondale's sponsorship of the team, which will compete on the inaugural UCI Women's WorldTour, marks the expansion of Cannondale's support of women's elite-level racing.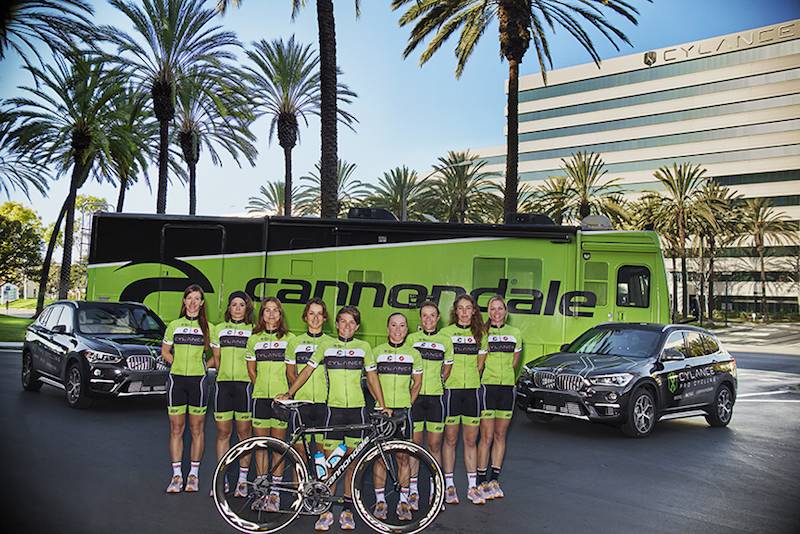 "Cannondale has sponsored some of the most famous and recognizable teams in cycling history and we are proud to increase our involvement in elite racing in 2016 with the addition of the Cylance Pro Cycling team," said Brian Immel, Vice President, Global Marketing, Cannondale. "We believe that these world-class athletes racing at the UCI Women's WorldTour level will be an inspiration to the growing global women's cycling community."

Cannondale will provide its complete range of award-winning race bicycles, including the all-new SuperSix EVO, Synapse and Slice RS to the team. Cylance Pro Cycling, a United States-based team, features an elite roster of athletes, including Americans Shelley Olds, Krista Doebel-Hickok, Alison Tetrick and Erica Zaveta; Valentina Scandolara and Rosella Ratto of Italy; Sheyla Gutierrez of Spain; Doris Schweizer of Switzerland; and, Katheryn Bertine of St. Kitts & Nevis. The team will race a full Women's World Tour calendar in 2016, with many of the athletes targeting the 2016 Olympics in Rio.

"Cannondale is a leader in the cycling industry, not only for their products but for their vision of furthering the sport of cycling," says Omer Kem, founder of Inspire Sports. "We believe our roster of elite athletes and Cannondale's exceptional bicycles epitomizes the perfect partnership for success."

"This partnership between Cannondale and Cylance brings together powerhouses in both professional cycling and cybersecurity - combining technology, art, strength and strategy to overcome complex challenges and achieve success," said Stuart McClure, CEO of Cylance. "The dedication, discipline, perseverance, and drive to win of these Cylance Pro Cycling team members is a perfect reflection of the Cylance culture and we are proud that they will each wear the Cylance jersey."
Press release
---
Related Photo Galleries
---