March 6/16 8:43 am - Pendrel and Gagne Win Season-Opener Canada Cup at Bear Mtn

Posted by Editoress on 03/6/16

Canada's national champions were the winners at the opening round of the Mountain Bike Canada Cup cross-country series on Saturday, at the Bear Mountain Resort on Vancouver Island.

Riders faced a combination of natural single track and long flowing descents with jumps thrown in. Race day was sunny and in the low teens for temperature, however, rain earlier in the week left sections of the track muddy and slippery.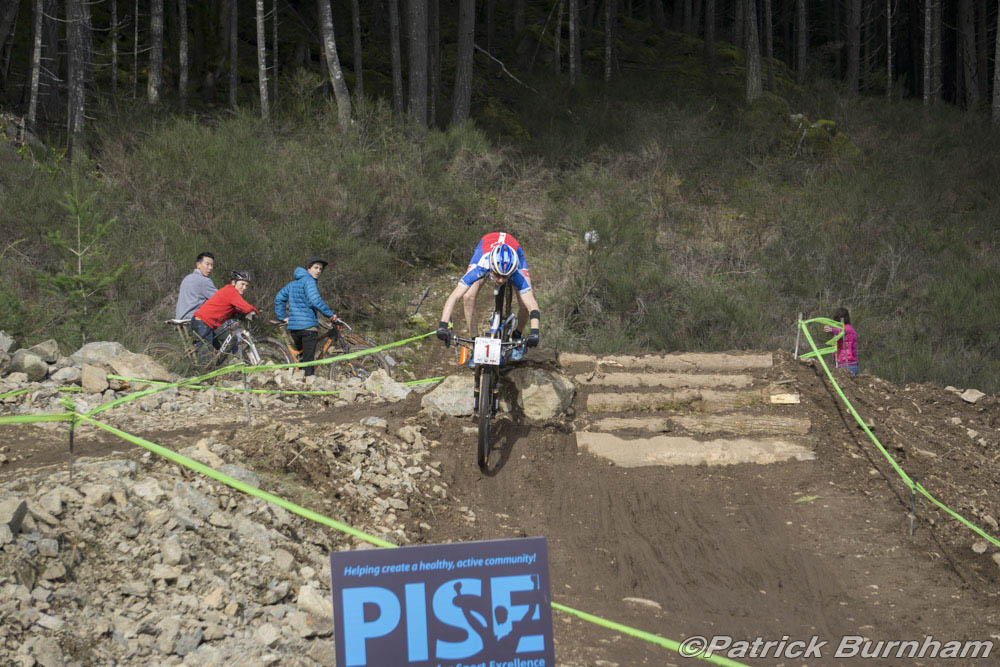 Pendrel negotiates the log drop
Catharine Pendrel (Luna), the current national champion and two-time world champion, won the Elite women's title with a time of one hour, 29 minutes and 54 seconds. Second was perennial rival and 2015 Pan Am Games champion Emily Batty (Trek Factory Racing) at one minute and 19 seconds. Pendrel put nearly 20 seconds into Batty on the first lap and steadily pulled away for the rest of the race. American Erin Huck (Scott-3Rox) took third. Catherine Fleury (Cyclone d'Alma) was the top Under 23 rider in sixth place.

"We just capped off a two week national team camp here," explained Pendrel, "and it's been phenomenal. To have a race here on a high quality course; it's definitely something I want to come back for."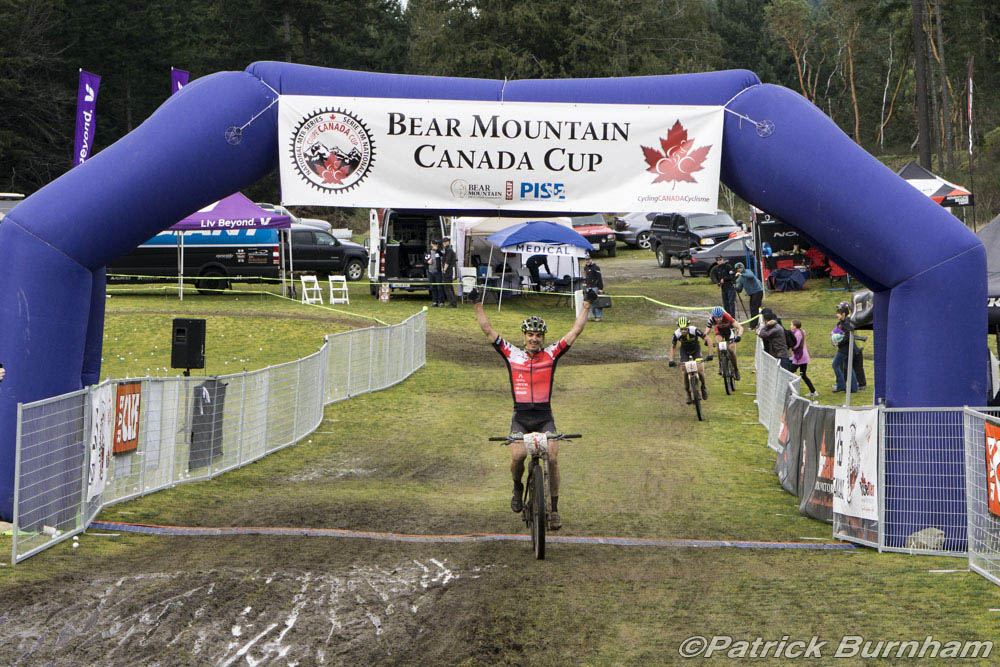 Raphael Gagne wins
The men's race was a three-way battle between national and Pan Am Games champion Raphael Gagne (Cannondale 360 Fly p/b Sugoi), Derek Zandstra (Scott-3Rox) and Leandre Bouchard (Cyclone d'Alma). Gagne led for most of the race, with Zandstra in second and Bouchard close behind. Zandstra then suffered a mechanical and had to stop at the pits, dropping him to third. The Scott-3Rox rider caught up to Bouchard and the two pulled to within nine seconds of Gagne by the finish. Marc-Antoine Nadon (Team Ontario) was the top Under 23 rider, in seventh place.

"We've had a chance to train here and get used to the slippery mud," said Gagne. "My hat's off to Derek, he unfortunately had a mechanical. It would have been really interesting to battle it out with him to the finish line. We've been training together for two weeks and the race finished with the top three within ten seconds of each other, so really close. It's my first race as a Cannondale rider, so I'm really happy to take the win for Cannondale-365."

"I had some trouble and had to pull into the pits," said Zandstra, "which put me into third. Then Dre [Leandre Bouchard] and I had quite a battle, which brought us pretty close to Raph."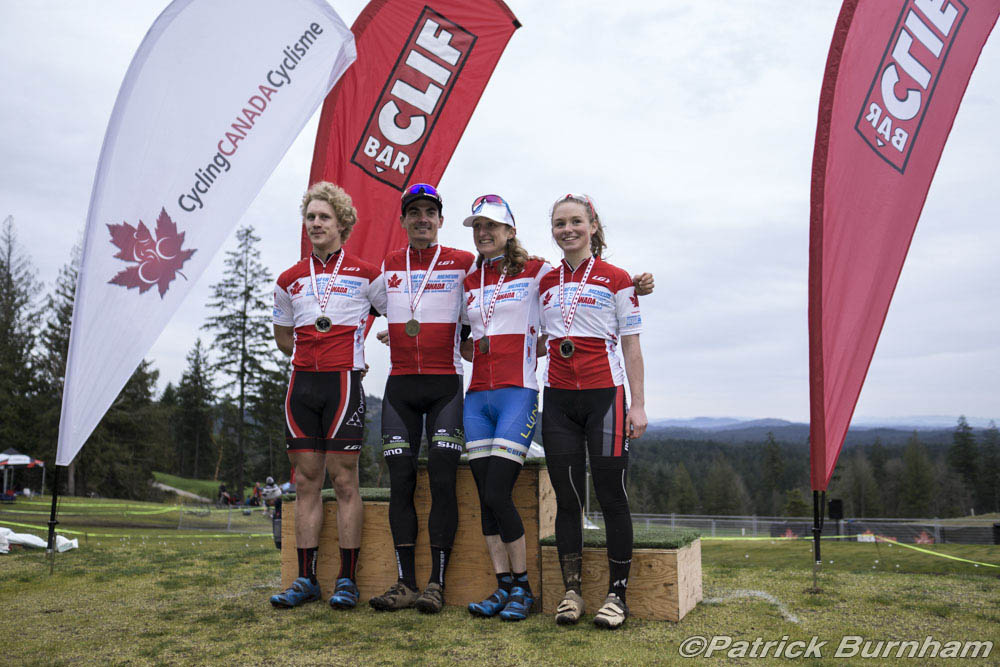 Canada Cup leaders
Quinton Disera (Team Ontario/Angry Johnny's) and Emily Handford (Rocky Mountain Factory) won the Junior Men's and Women's races, respectively.

The Canada Cup returns for Round 2 of the Cross-country and Round 1 of the Downhill at Mont Tremblant on May 22-23.
Results
---
Related Photo Galleries

Canada Cup #1 March 5/16 - March 5/16, Bear Mountain, Victoria, BC


Women
Men
---