April 3/16 12:29 pm - Larissa Connors and Raphael Gagne take the wins at Kenda Cup Round 3 at Fontana City

Posted by Editoress on 04/3/16

Larissa Connors (Team Ridebiker Alliance) and Raphael Gagne (Cannondale/360 Fly) won round 3 of the Kenda Cup West presented by Ridebiker Alliance at Southridge Park in Fontana City, California. The race was also the opening round of USA Cycling's PRO XCT.



Elite women
The Elite women set off on the first of their five laps of a hot and dusty course that features a paved climb that was sure to make its presence felt over the course of the race.

Catharine Pendrel (Luna Pro Team) was the first to attack the climb on the opening lap, opening up a nice lead and extending it through the subsequent descent. On the flat section that followed, Pendrel's teammate Georgia Gould and Connors made contact and it would be this lead group of three that settled in at the front for the remainder of the race. The second lap featured a similar course of events with the reformation of the leading group of three after the climb and descent.

The third lap saw Gould unable to stay in contact on the climb, leaving just Connors and Pendrel.

"I knew it was all or nothing on the fourth time up the climb. I had to keep Georgia from joining," said eventual winner Connors. "I just told myself that I couldn't get this lap back. When it's over, it's over. So I didn't leave anything out there!" That determination not only kept Gould from rejoining but eventually was enough to open up a decisive lead.

"I just had really good legs, flawless equipment and it was just the perfect day of bike racing," continued Connors. "The course was perfect. I really enjoyed the climbs and just did the best I could on the descents to stay away until the finish."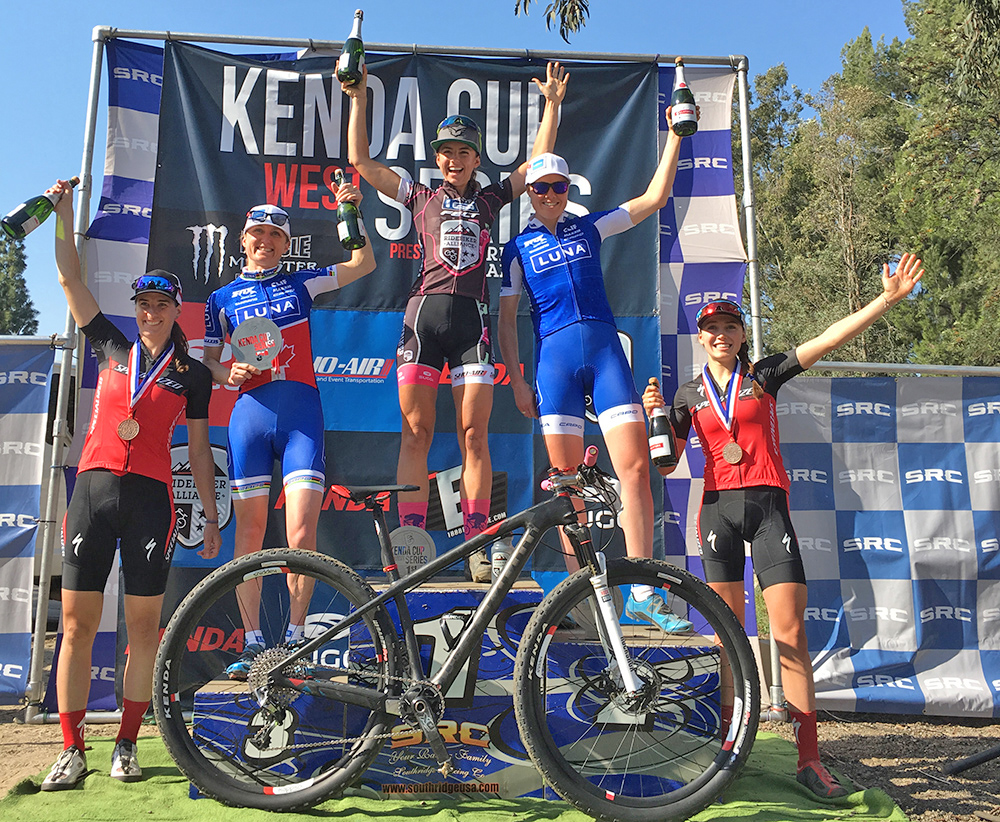 L-R: Lea Davison, Catharine Pendrel, Larissa Connors, Georgia Gould, Kate Courtney
Elite men
The men set off for one more lap than the women, while the Southern California temperature continued to rise on the dusty and rocky course.

Switzerland's Nicola Rohrbach (Goldwurst-Power/Felt) took an early lead and was first to hit the singletrack after the paved climb. "It was a bit slower start than I'm used to in Europe," said the Swiss talent fresh off of second place at South Africa's Cape Epic. "I think maybe we didn't want to tire so soon, knowing the heat would eventually get us!"

Todd Wells (SRAM/TLD) was active early as well, before fading on the second lap which led a leading group of Rohrbach, Derek Zandstra (Scott 3Rox) and Gagne. This group built on their lead throughout the race until the penultimate lap when Rohrbach upped the pace to prevent any attacks. Unfortunately for him, Gagne not only had an attack in mind, but a decisive one, as he powered away on the final time up the paved climb to open up a ten second gap entering the singletrack.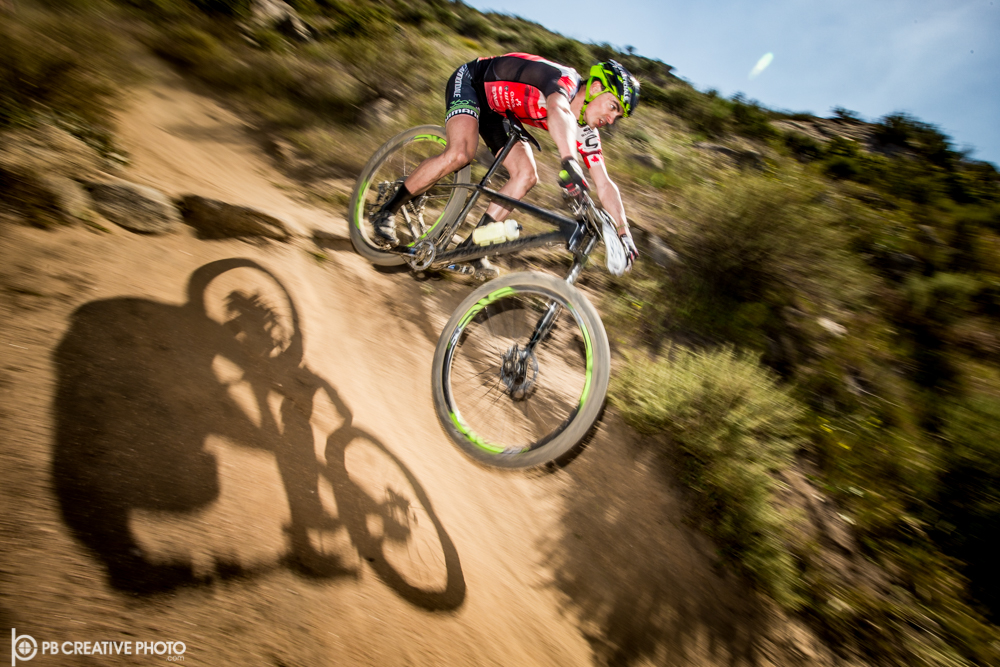 Raphael Gagne (Cannondale/360 Fly)
Rohrbach kept the pressure on, chasing Gagne with everything he had and eventually crossed the line those same ten seconds behind the Canadian.

"I'm very happy to start on a good note for my new team," said Gagne after the podium celebrations. "I always love racing in California. And it's always fun to race here in Fontana. I was at altitude for ten days, which isn't a whole lot but certainly helps. And heading into the next two big races in California it's nice to see that I'm going well in the heat!"

"Nobody really wanted to work for the first three to five minutes today, which is understandable. For that I didn't mind being a the front for tactical reasons. I had a goal to stay in the top five so with the high winds on the canal side it really helped to keep the front group together. We had good cooperation and everyone pulled. In the end, I'm happy to come away with a nice win!"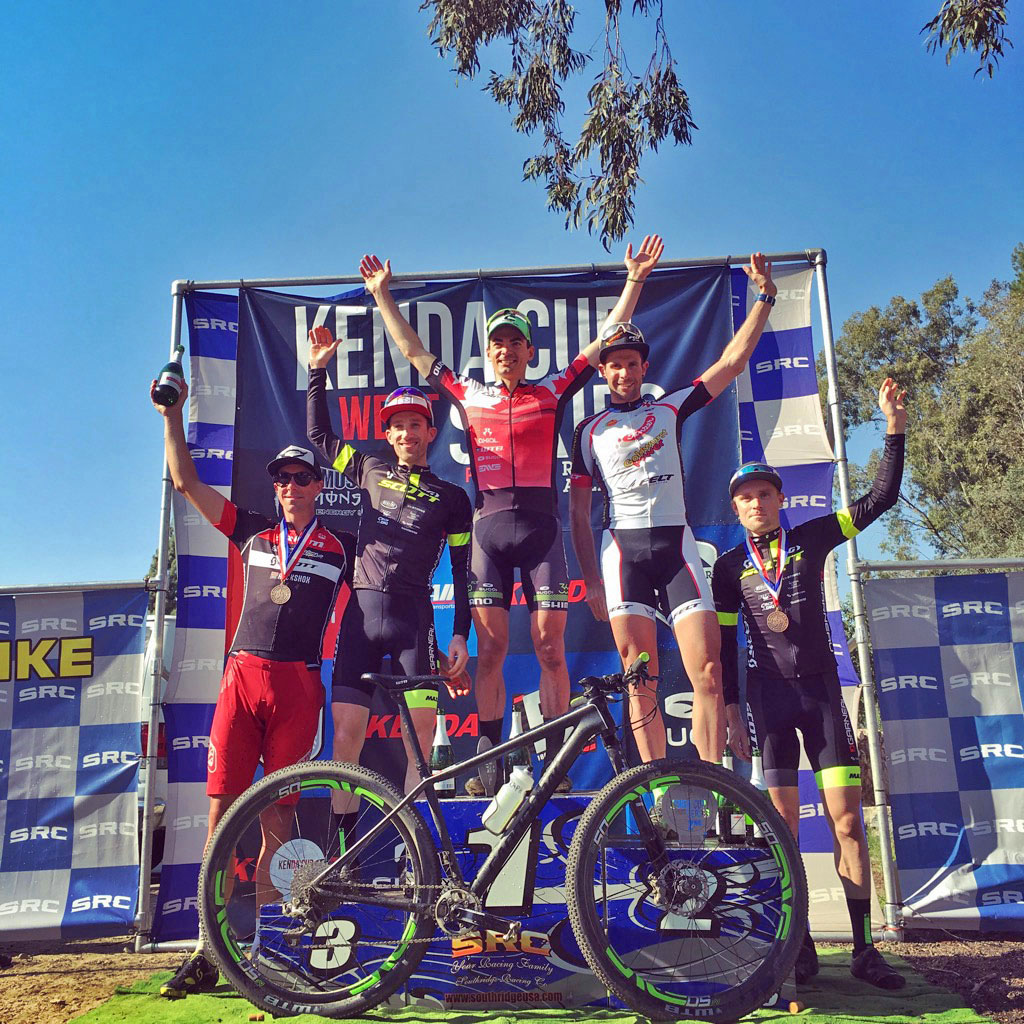 L-R: Todd Wells, Derek Zandstra, Raphael Gagne, Nicola Rohrbach, Cameron Jette
Bonelli Park 2 April 9
After Fontana, the field returns to Bonelli Park for a UCI Category HC race in San Dimas, California on Saturday, April 9. That event will also be the first round of the USA Cycling's US CUP, a four-race series offering the highest amount of UCI points in the US and a key factor in Olympic team selection.
Press release
Results
---
Related Photo Galleries
---