April 16/16 21:19 pm - Rally Cycling Sweeps US Team Time Trial Nationals

Posted by Editoress on 04/16/16

Rally Cycling swept the USPRO Team Time Trial championship on Saturday in Greenville, South Carolina, with dominating rides by both the men and women's teams. Canadians featured prominently in both races. The day was marked with strong winds that required power and throttle control to master the 33 kilometre out-and-back course.

"This is a great result by both squads," said Performance Manager Jonas Carney. "The guys did an extended racing block in Europe and those efforts are starting to pay off. It's the first USPRO Team Time Trial victory for the men and it highlights the depth and strength of the team. The women's squad was also impressive today. This is the first time they have ever raced a team time trial together so to win a national title is incredible."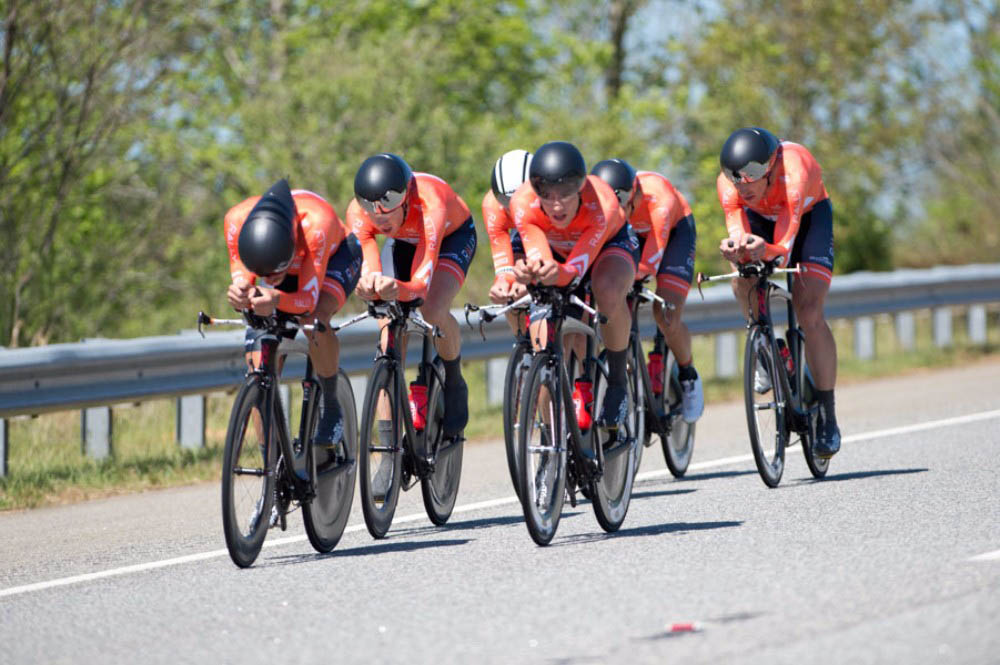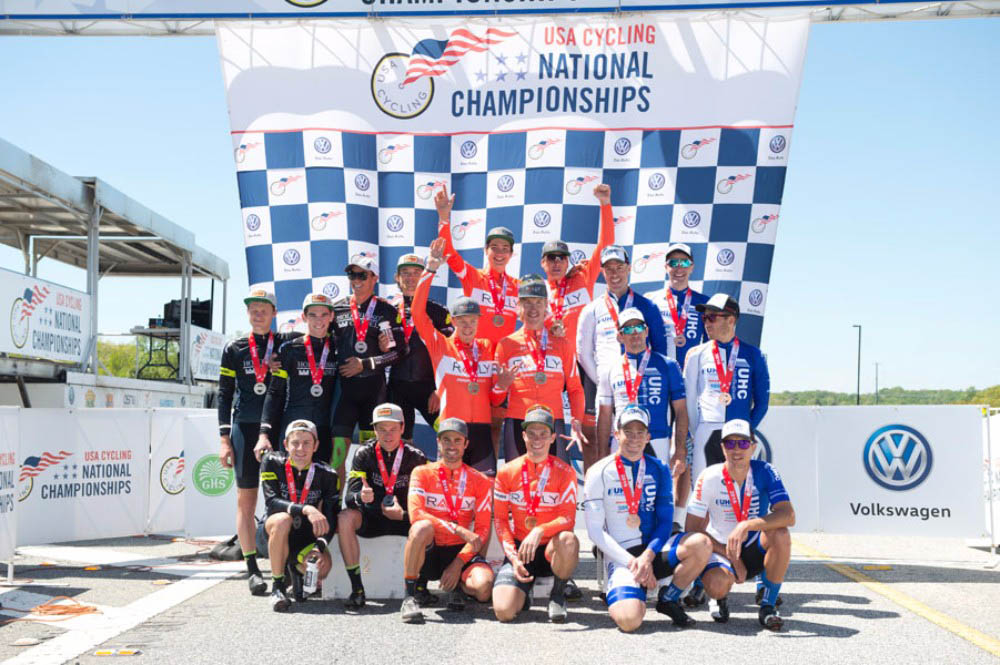 Tom Zirbel and Danny Pate anchored the men's squad with Jesse Anthony, Rob Britton, Adam De Vos and Evan Huffman adding horsepower to the team. With a brisk tailwind on the way out, time advantages were small, with Rally Cycling only a few seconds up on last year's champions at the halfway point. Once facing the wind, the team put the power down with Zirbel, Anthony and De Vos driving the pace. The team ended the day with a blistering time of 37:47 - 16 seconds faster that Holowesko / Citadel. The UnitedHealthcare team crossed the line another 1:00 down to claim the final podium spot. The win is the first National Team Time Trial title for the squad and its significance resonated with the team and individual riders.

"I have been road racing for a long time - I did my first nationals in 1999 and never won one," said long time team member Jesse Anthony. "To win a national title on the road is really special. The team did a lot of team time trial workouts this season and it's great how everyone contributed to this win."

Rally Cycling's women's squad came into the race as defending champions and refused to relinquish its crown. In Greenville to defend the 2015 title were Jasmin Glaesser, Kirsti Lay, Heather Fischer, Jessica Prinner, Katherine Maine and Emma White. The team started noticeably faster than any other squad, with White having to sprint back to her teammates after slipping a pedal on the start line. With White on board the squad rode extremely well together to finish in a time of 44:04 - four seconds ahead of the UnitedHealthcare team. The Visit Dallas DNA squad rounded out the podium.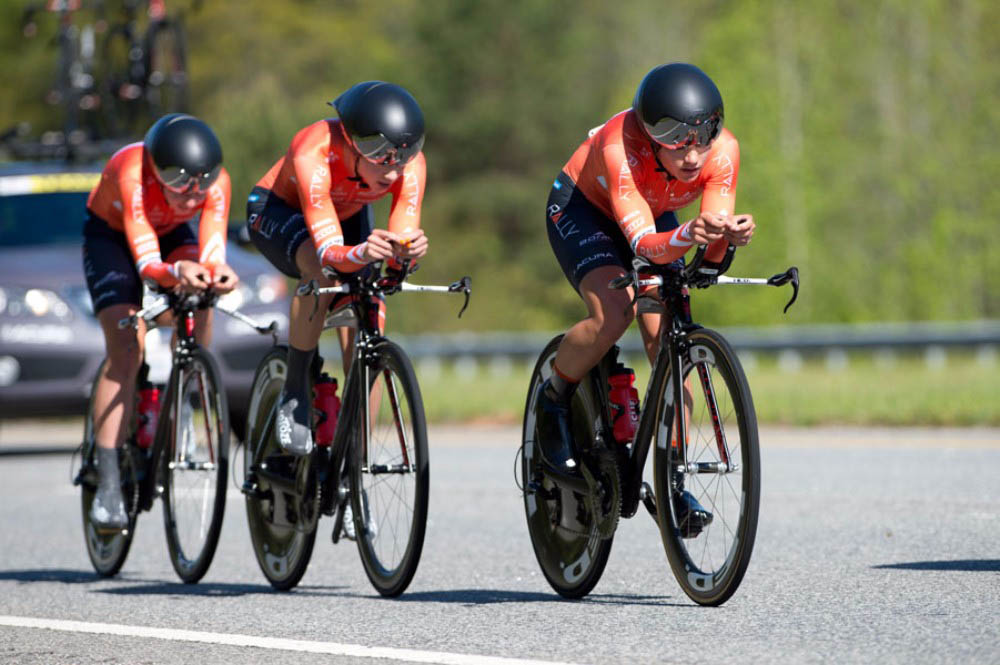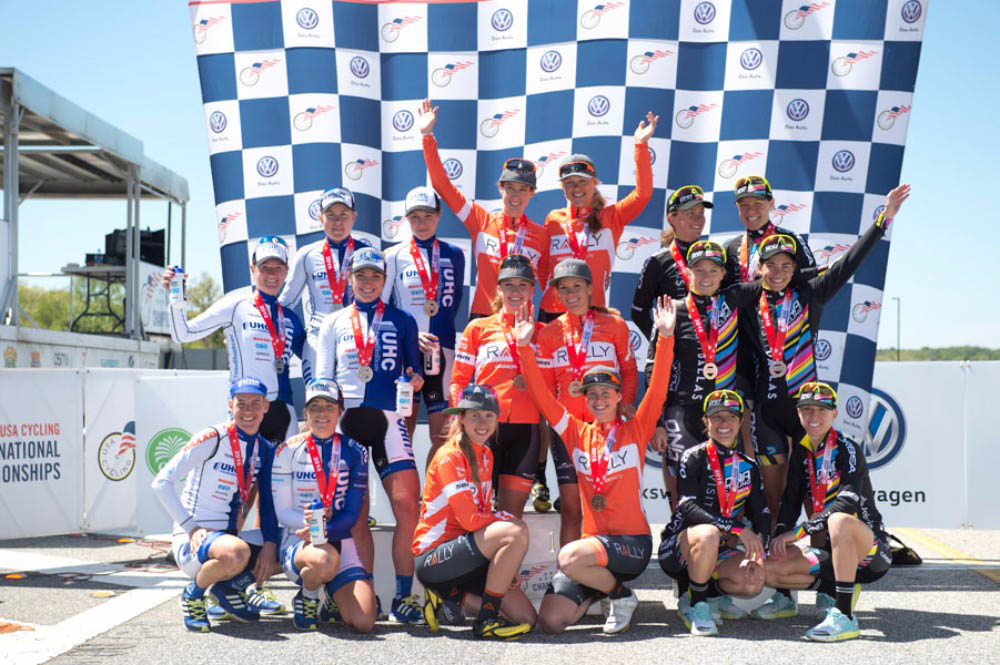 "We came into this race with a brand new team and we were not really sure how it was going to turn out," said Fischer." The team really came together and pulled off the win. Along with the win at Fort McClellan, the team has good momentum that we can carry for the rest of the season."

Women
1 Rally Cycling (Fischer/Glaesser/Lay/Maine/Prinner/White), 44:04:03
2 UnitedHealthcare (Ewart/Higgins/Simmonds/Slappendel/Tamayo,Villumsen), 44:08.43
3 Visit Dallas DNA Pro Cycling (Heintz/Laughlin/Mangello/Miller/Orton/Sanders), 46:16.17

Men
1 Rally Cycling (Anthony/Britton/de Vos/Huffman/Pate/Zirbel), 37:47.50
2 Holowesko | Citadel Racing Team (Carpenter/Clark/Flaksis/Krasilnikau/McCabe/Rhim), 38:03.68
3 UnitedHealthcare (Alzate Escobar/Eaton/Hegyvary/Magner/Menzies/White), 39:04.22
---
Related Photo Galleries
---