May 22/16 15:17 pm - Albstadt World Cup: Pendrel 3rd, Zandstra Career best

Posted by Editoress on 05/22/16

Catharine Pendrel (Luna) led Canadian results on Sunday at the second round of the Cross-country World Cup in Albstadt, Germany, with a third place in the Elite women, which moves her up to second in the overall standings. Derek Zandstra (Scott-3Rox) also had a strong day, recording the best World Cup result of his career with 16th in the Elite Men.

Albstadt is a hard course, with steep climbs and technical descents. Many a rider has gone out hard only to fade badly in the final laps. This year, riders faced sun and heat, instead of the usual rain and mud.

Women
Annika Langvad (Specialized) proved that her win in Cairns at the opening round of the cross-country World Cup was no fluke, with a dominating performance in Albstadt.

Langvad rode away from the rest of the field on the first lap, after riding with a select group at the front on the start loop. She quickly went over a minute clear by the second lap, and then cruised to victory without too much difficulty.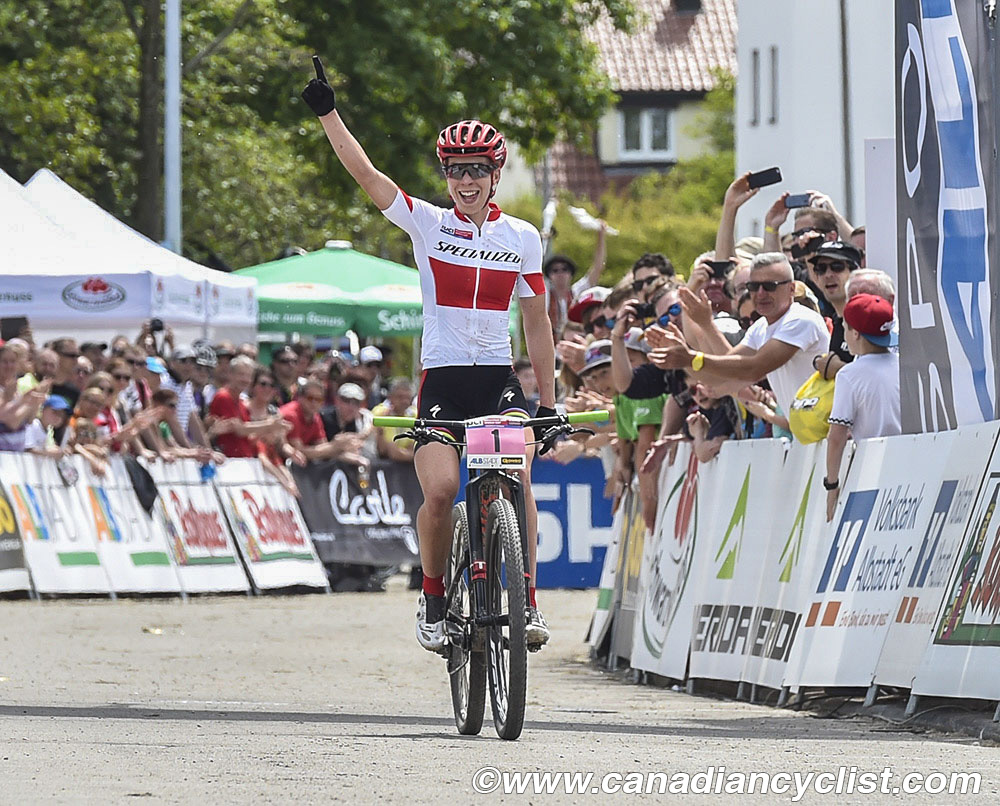 Behind, Jenny Rissveds (Scott-Odlo) was at the front of the chase until she crashed hard on a descent, bloodying her right knee. She lost a number of spots and appeared to be out of contention.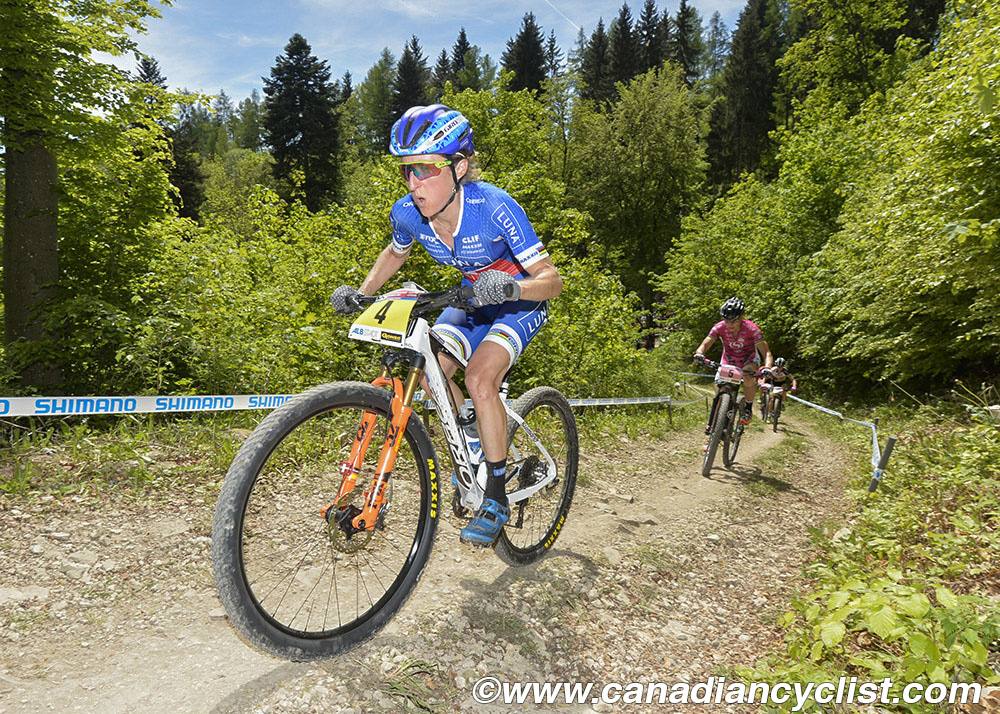 The chase was taken up by Pendrel, Sabine Spitz(Sabine Spitz Pro Team), Gunn-Rita Dahle Flesjaa (Multivan Merida) and Linda Indergand (Focus XC). Missing was defending World Cup champion Jolanda Neff (Stockli); a late scratch after becoming ill overnight before the start.

"Winning [in Cairns] gives me a lot of confidence," admitted Langvad. "I was a bit surprised that Jolanda wasn't here; she didn't start. I was expecting a close fight with her. When that didn't happen I just settled into my own pace. I didn't expect to take that amount of time on every single lap. I just slowed down just to feel comfortable and ride within my limits. And then when I heard I had two minutes so I decided, 'hey, let's just enjoy this and celebrate'."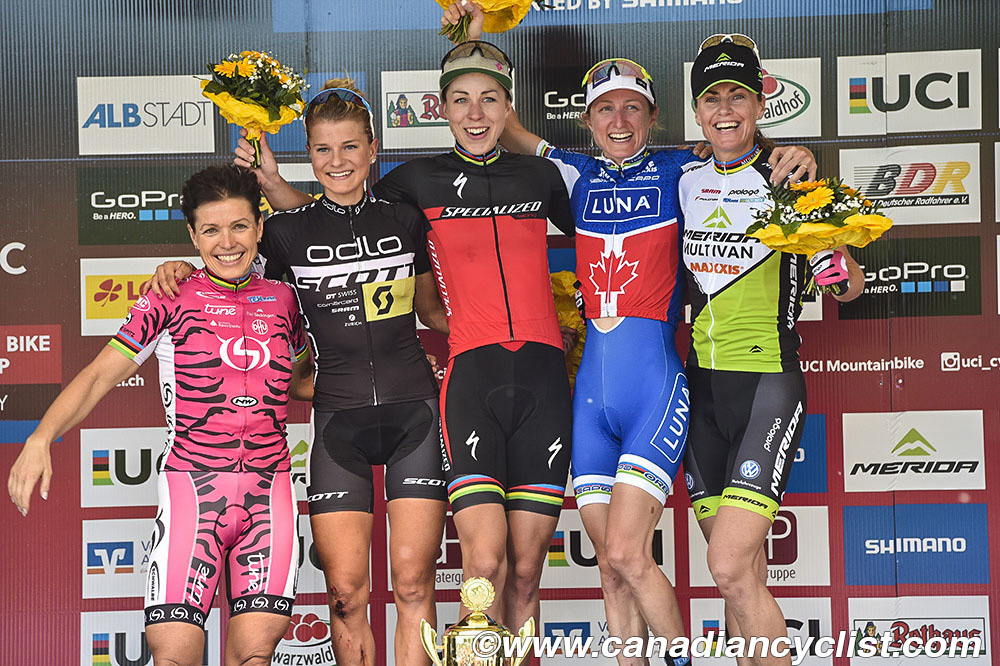 Indergand was the first to come off the chase, as Pendrel set a tough pace on the climbs. Dahle Flesjaa was the next to fall back, and finally Spitz was dropped on the fourth lap. However, Rissveds was making a remarkable recovery through the field, setting the fastest splits in the final two laps, and caught Pendrel on the last lap to take second.

"It was a hard race," admitted Pendrel, "but it's the best my body has ever felt in Albstadt, so I'll take that as a good sign that my form is there. So I'm excited to take my form to La Bresse [the next round], and see if I can keep moving up. Sometimes when you are in a group you can forget to race for the front, so I tried to just mentally ride as if I was at the front and that allowed me to get a gap, until Jenny caught me on the last lap."
Interview with Catharine Pendrel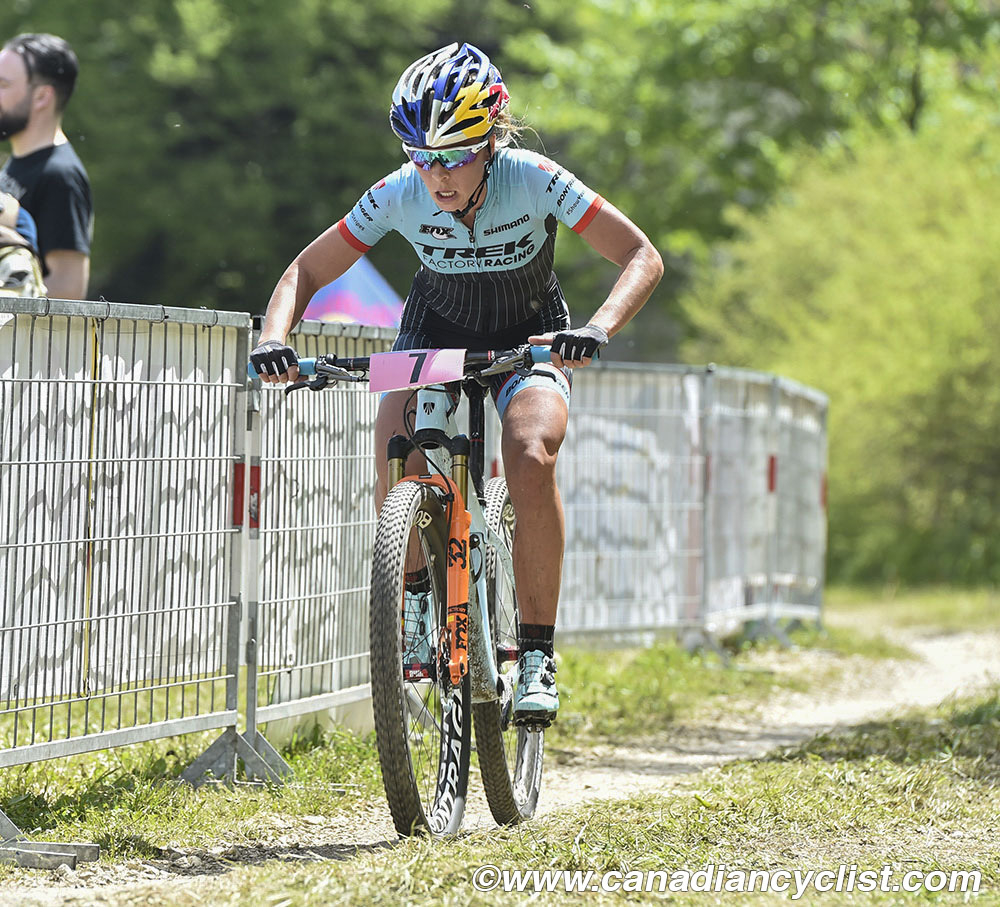 Emily Batty (Trek Factory) was riding in the top-10 early in the race, but faded slightly in the later laps before recovering to finish 12th. First year Elite rider Haley Smith (Team Canada) finished 42nd, followed by Sandra Walter (Team Canada) in 47th - both finished on the same lap as the leaders. At two laps down were Cindy Montambault in 63rd and Rebecca Beaumont in 64th.

Langvad leads the standings with a perfect score of 500 points. Pendrel moves into second from fourth with 310 points, followed by Rissveds with 290. Batty drops from seventh to ninth in the overall standings.


Men
Nino Schurter (Scott-Odlo) finally won the one World Cup that has been eluding him, when he took the win in Albstadt. However, it was not an easy win; he won over archrival Julien Absalon (BMC) in a sprint by only half a bike length.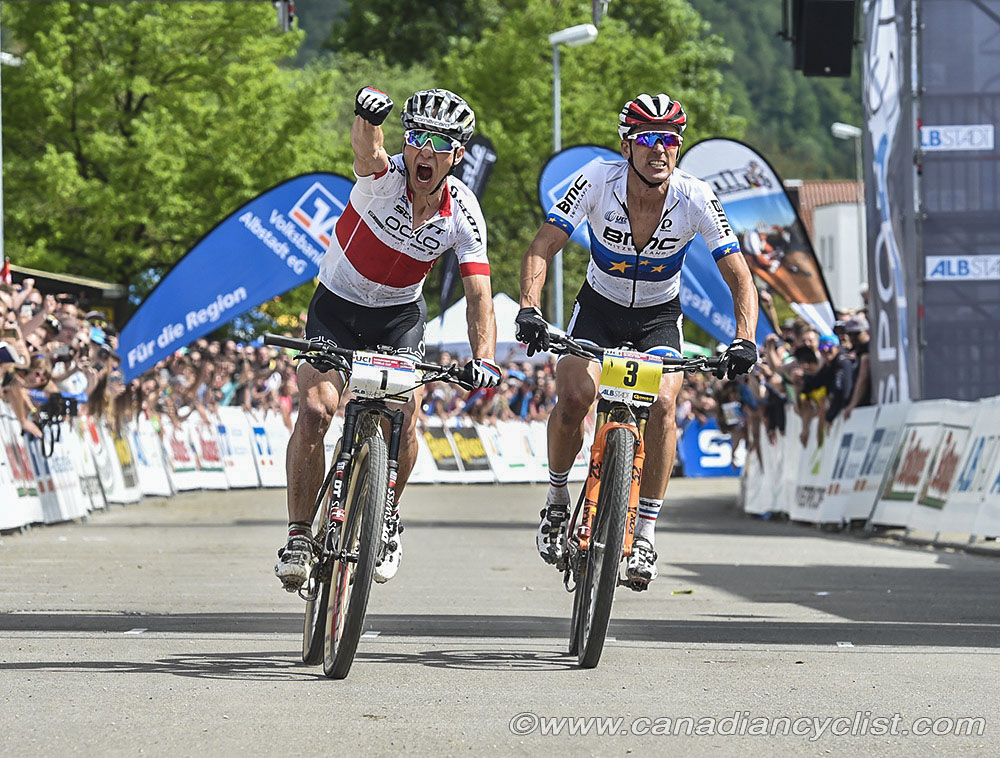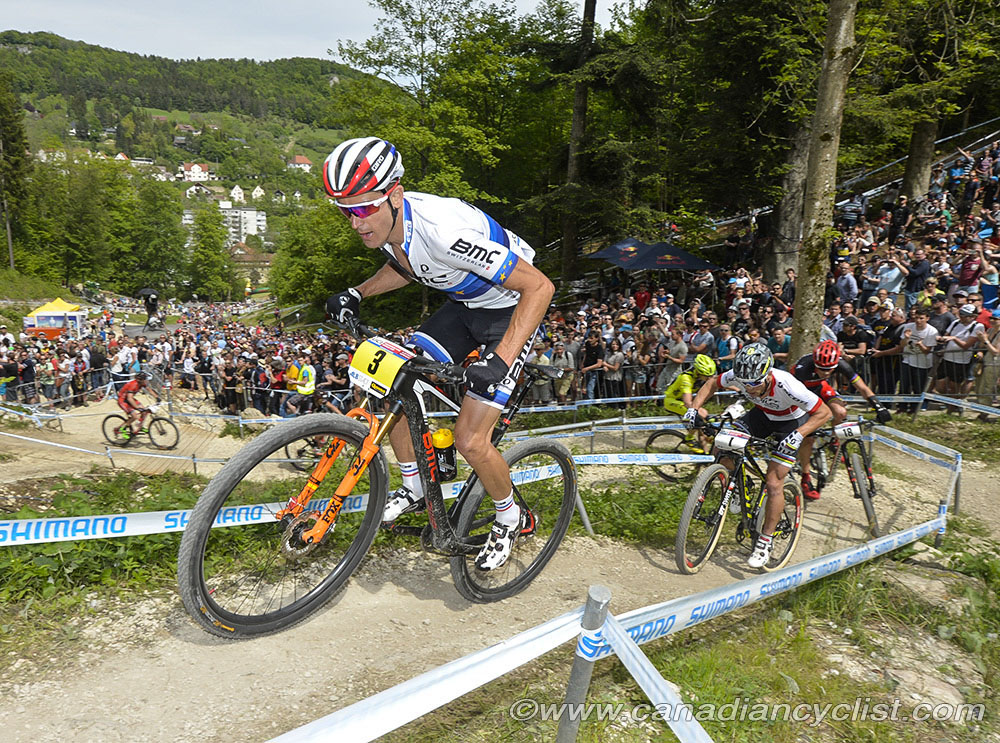 The men's race quickly came down to Schurter and Absalon, as it usually does. The pair rode wheel to wheel for the entire race, and neither could drop the other. Behind, a chase group formed, consisting of Maxime Marotte (BH-SR Suntour-KMC), Jaroslav Kulhavy (Specialized) and Lars Forster (BMC). Forster was dropped by the other two, and then Marotte finally dropped Kulhavy with a lap and a half to go.

On the final lap, Schurter and Absalon took turns attacking each other, but neither could open a gap. Last year, Schurter took chances on the final descent and crashed, handing the victory to Absalon, so this year he waited for the sprint out of the final corner onto pavement. Absalon led out of the corner, but Schurter clearly had a stronger kick and came around his rival in the final five metres.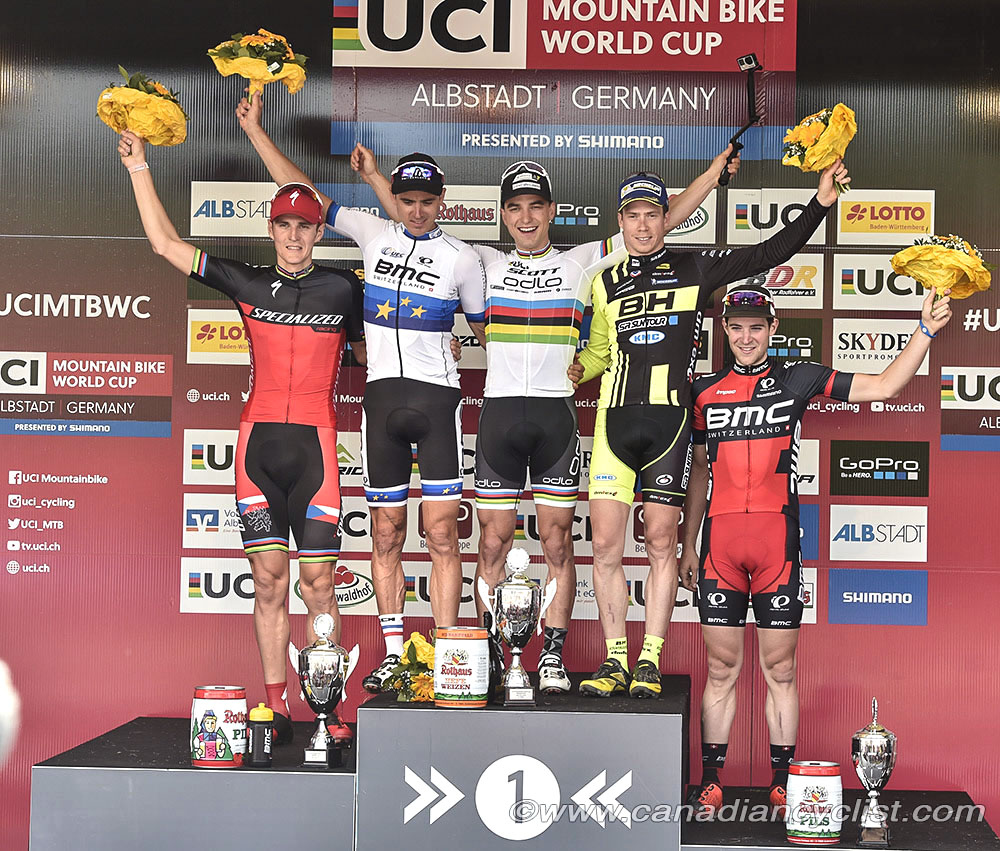 "Yeah, that was really close," said Schurter. "It was a great race for me, it was a tough battle with Julien, and I would say we were both the same [fitness]. I knew maybe I had a chance on a sprint, so, yeah, it worked out pretty good for me. I tried once or twice to get away, to see, but I never really got a gap. Julien also tried to drop me on the climb. I would say we were both the same strength, and I knew on a sprint finish I could maybe beat him. That straight finish is also long enough and I was lucky to win it in a sprint."

"It was so close today," said Absalon. "Close to winning a sprint against Nino, so I'm happy for that. It is a pity because it was only a few centimeters maybe? I did my best, I tried on the climb to attack him and I was fast on the downhill but a sprint...."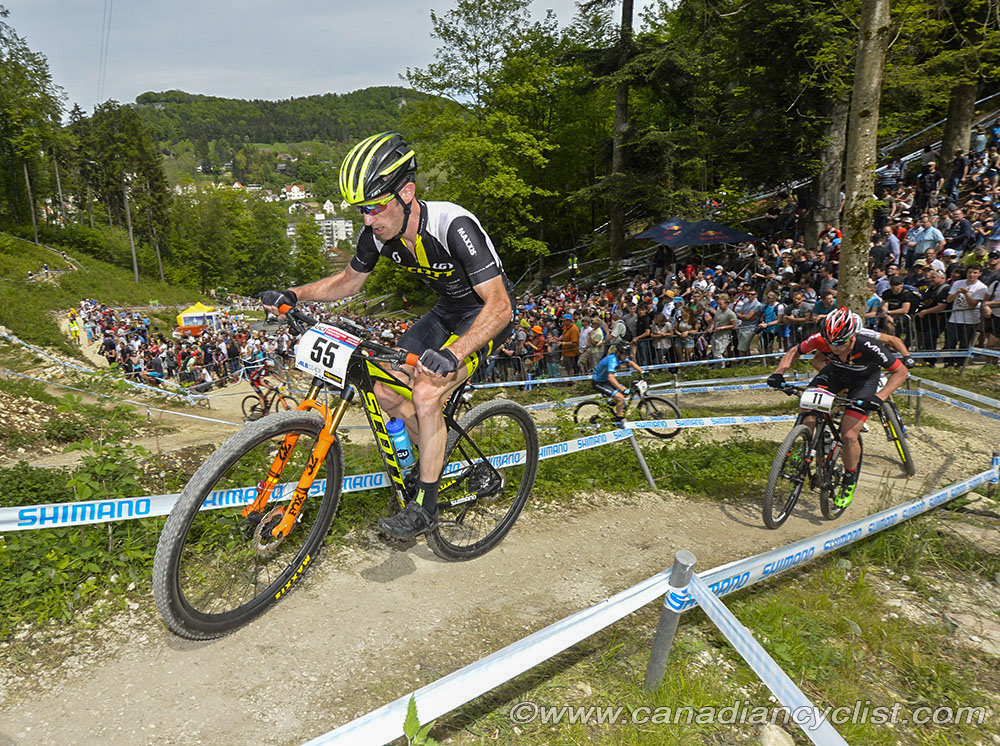 For the Canadian riders it was a race of pacing. Zandstra moved up steadily through the race, moving into the top-20 at the halfway mark as he passed a fading Raphael Gagne (Team Canada). Gagne would manage to limit his losses by finishing 28th in the field of nearly 150 riders. Other Canadians did not fare as well, with Geoff Kabush (Scott-3Rox) in 81st and Evan Guthrie (Norco) in 96th. Guthrie had mechanical issues in the first 200 metres and had to run to the pits, while Leandre Bouchard (Team Canada) - a top-20 finisher in Cairns - broke his chain and abandoned shortly afterwards.

"This is definitely my best World Cup," commented Zandstra. "I had a 15th at World Championships in 2014, but this my best World Cup, especially in Europe. Last year at this race I kind of redlined myself at the beginning and paid for it, so this year I was a lot more cautious. The first couple of laps I didn't feel like I was going too hard, because I knew it was going to hurt at the end, and it did. But I held on and I'm pretty happy."
Schurter leads the standings with 500 points after his second straight win. Absalon moves into second in the standings at 360 points, tied with Marotte. Gagne drops from 12th in the standings to 15th, while Zandstra moves up from 29th to 20th.

In the Under-23 Men's competition, Peter Disera (Team Canada) was the top Canadian, in 39th place. Marc Andre Fortier (Team Canada) was 56th, Felix Burke (Team Canada) 82nd, and Alexandre Vialle (Team Canada) 86th. Samuel Gaze (Specialized) took his second consecutive win, to extend his lead in the overall standings.
Results
---
Related Photo Galleries

Albstadt World Cup May 21/16 - May 22/16, Albstadt, Germany


U23 Women
Elite Women
Elite Men
U23 Men
---