June 13/16 14:09 pm - Miller Third, Iles Second at Leogang DH World Cup

Posted by Editoress on 06/13/16

Both the Women's and Men's Downhill World Cup leaders extended their leads in the Mountain Bike World Cup, on Sunday, by winning the fourth round in Leogang, Austria. Rachel Atherton (Trek Factory Racing DH) won the 30th World Cup of her career in the women's competition and, equally significant, her tenth consecutive World Cup victory, setting a new record for consecutive wins, and breaking the previous mark set by the legendary Anne-Caroline Chausson of France. In the men's competition, Aaron Gwin (YT Mob) took the 16th World Cup win of his career, now only three wins behind the record of Greg Minnaar (Santa Cruz Syndicate).

Canadians finished on the podium in both the Women and the Junior Men, with Miranda Miller finishing third in the women - a career high - and Finnley Iles (Specialized Gravity p/b SRAM) second in Junior Men, to add to his lead in the overall standings.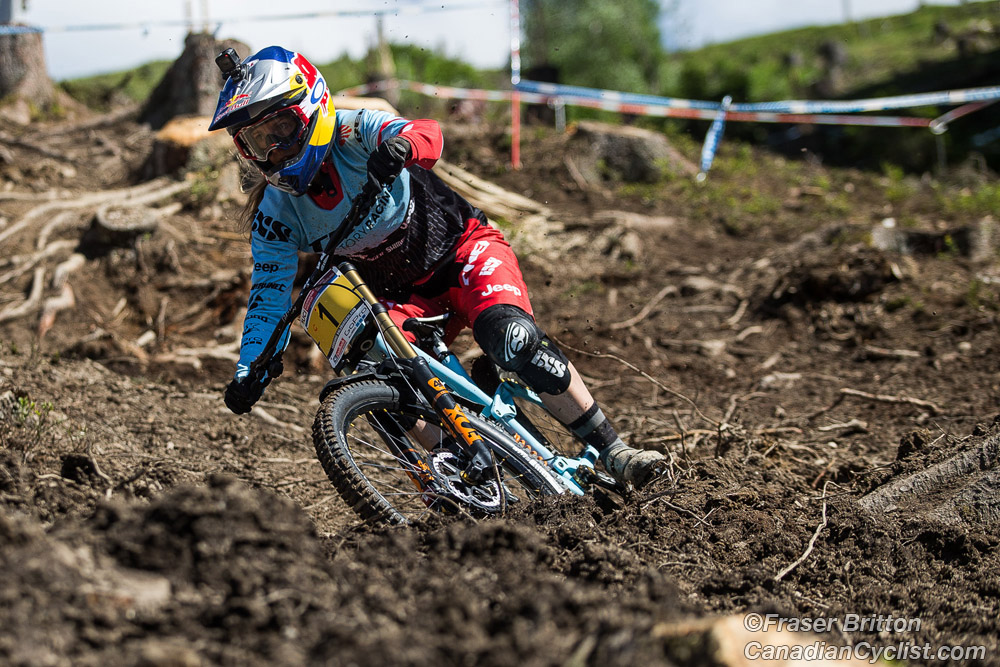 Rachel Atherton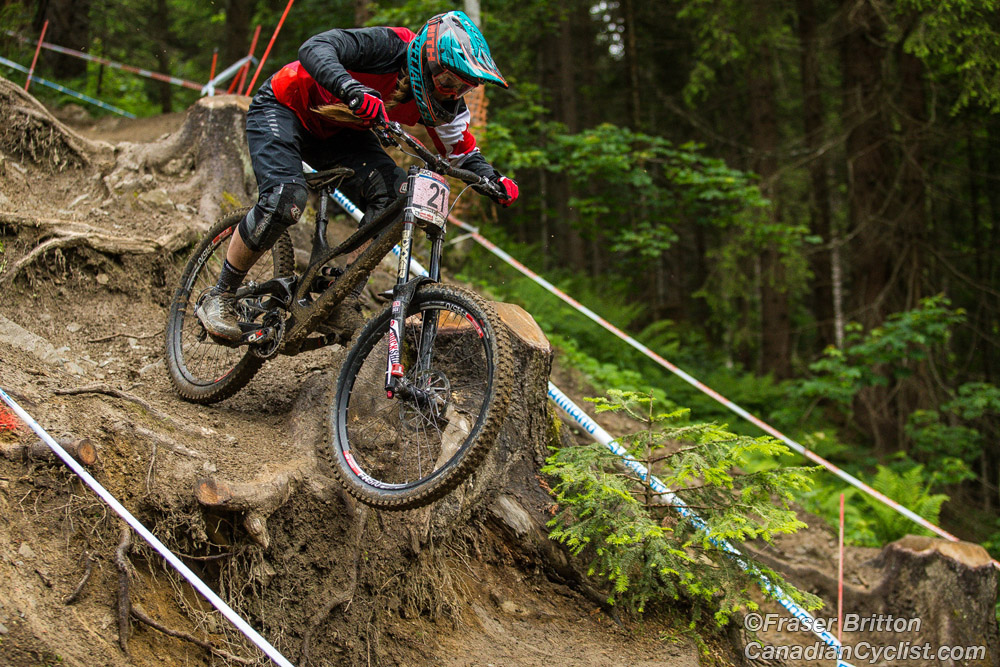 Miranda Miller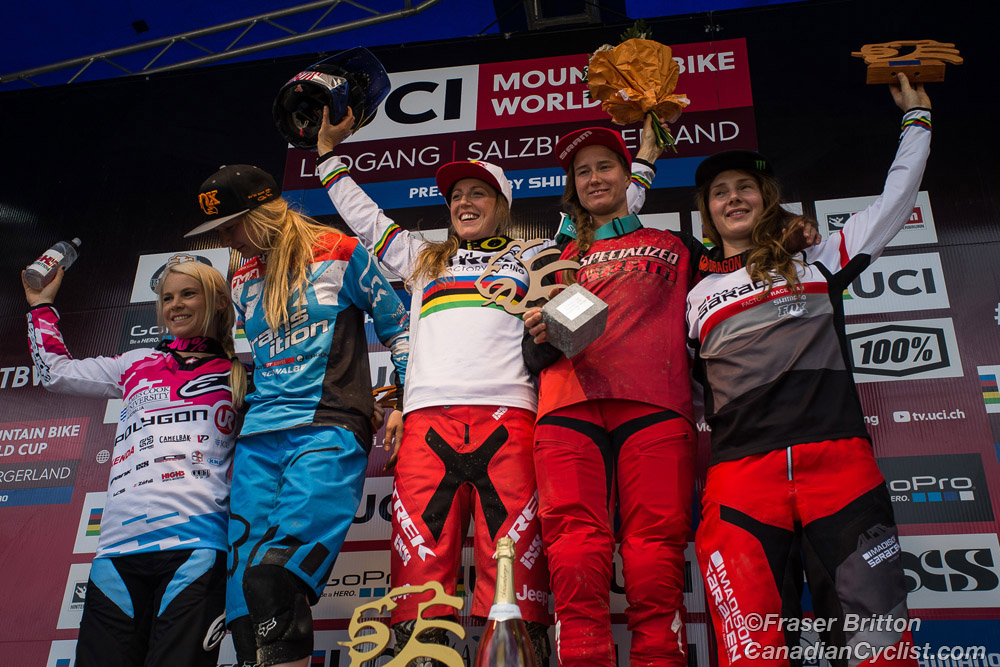 Podium: Hannah, Seagrave, Atherton, Miller, Carpenter
Atherton beat Tahnee Seagrave (Transition Factory Racing/FMD) by over five seconds for her fourth victory of the season, with Canada's Miranda Miller finishing third and Australian champion Tracey Hannah (Polygon UR) fourth. Atherton now holds a 300 point lead over Manon Carpenter (Madison Saracen), with Hannah a further 30 points back. Miller, taking her first points of the season, sits 12th after her third place.

"Yeah, ten wins in a row ... it feels amazing," said Atherton. "That was the best I rode the course all week. I had such a loose run, it was really wild. I knew I had to pull out all the stops. I felt the pressure today, and the nerves a little bit ... I'm pretty relieved."

"It's my best World Cup result ever," confirmed Miller. "I felt during my run that I was either going too hard or then holding back a bit, but I was consistent, so it was good, I'm happy. This morning [the track] was kinda of shitty, then it got way better. We got lucky, I think. It reminds me of riding at home."

World Cup leader Aaron Gwin was the final starter for the men after qualifying fastest. Gwin was the only rider to go under three and a half minutes, and 3.131 seconds ahead of Loris Vergier (Specialized Gravity p/b SRAM), who had the best result of his career. Australian's Troy Brosnan (Specialized Racing) took third, a further second back. the top Canadian was Mark Wallace (Devinci Global Racing), in 40th, followed by Forrest Riesco in 62nd. In the overall standings, Gwin padded his lead, and now has 810 points, 160 ahead of Brosnan, with Danny Hart (MS Mondraker) in third at 518 points. Wallace is 27th and Riesco 62nd.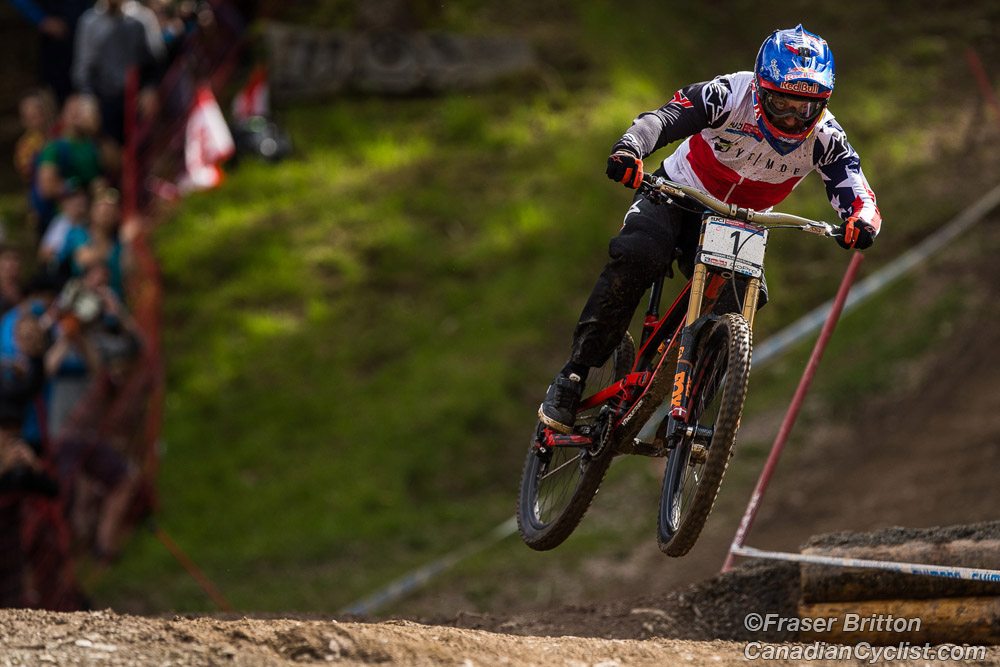 Aaron Gwin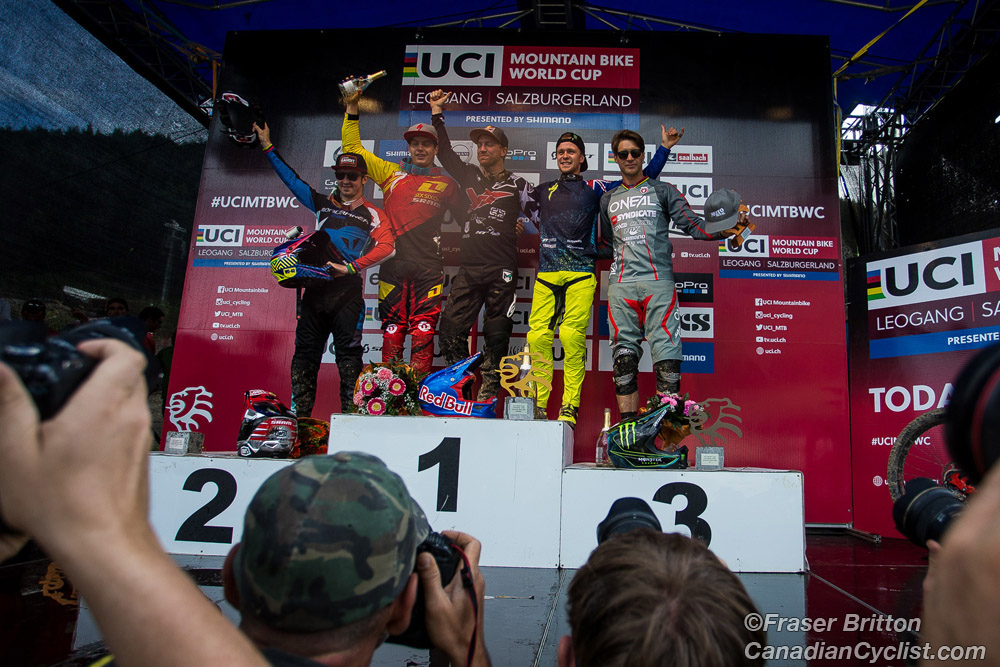 podium: Hart, Vergier, Gwinn, Brosnan, Minnaar
"The track was amazing," said Gwin. "It was so good that last run ... I like this place. I've had a few years of rough luck, but everything stayed together today, so it's pretty awesome. I finally feel like I laid down a good one. I just really want to win races, that's why we race. That's what it's all about, and I'll just let the overall figure itself out at the end of the year."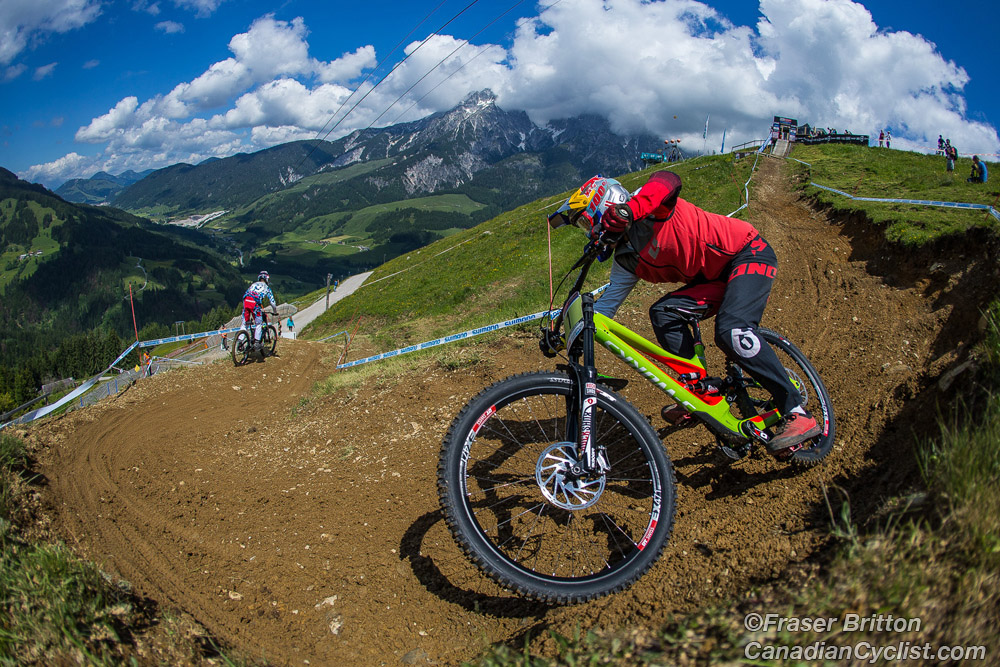 Finnley Iles
Gaetan Vige (Commencal/Valnord) won the Junior Men's competition, 0.625 seconds ahead of World Cup leader Finnley Iles. Canada's Henry Fitzgerald (Steve Peat Syndicate) was 15th. Iles continues to lead the standings with 160 points, followed by Vige at 135. Fitzgerald is 26th.
Results from Final

---
Related Photo Galleries

Leogang World Cup June 11/16 - June 12/16, Leogang, Austria


Women, Jr and Elite Men
---