October 12/16 12:55 pm - Alberta Cross - Velocicross/United CX Double-header

Posted by Editoress on 10/12/16

Velocicross & United CX p/b - Velocity CC, United Cycle, Cycle-Smart and CX Alberta

Saturday, October 8 - Sunday, October 9 / Fulton Park - Edmonton, AB

This past weekend saw the first taste of winter descend upon Edmonton, AB as riders in all categories of the Velocicross/United CX double-header took on a challenging course in near freezing temperatures and increasing snowfall.

With enough run-ups, barriers, switch-backs and off-camber sections to put even the most experienced racers to the test it was as much a battle of attrition against the course and elements as it was against one's fellow competitors.

Tire choice, pressure and mechanical good-fortune were largely influential in the outcome of both Saturday and Sunday's races in the scenic Fulton Park, with some of Canada's top CX talent coming out to sharpen their skills before the upcoming national championships and European campaigns.


Saturday's Open Women race saw current provincial cyclocross champion Shantel Koenig (Redbike) and Alana Heise (HSC - Garneau) distancing themselves from the field in the opening laps and settling in for an exciting duel that played out for the remainder of the race, with Koenig eventually pulling away to take the win. Heise's solid performance was good enough to claim second spot on the podium while Caitlin Callaghan (Hardcore CC) took her first Open Women's podium result with third place.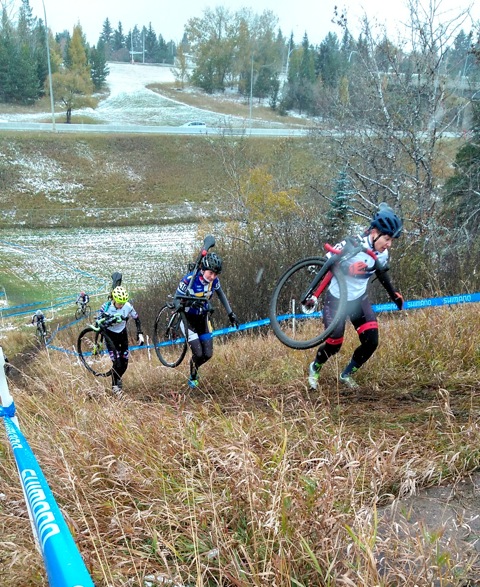 Provincial CX champion Shantel Koenig (Redbike) leading a trio up the slick run-up in the Open Womens race on Saturday.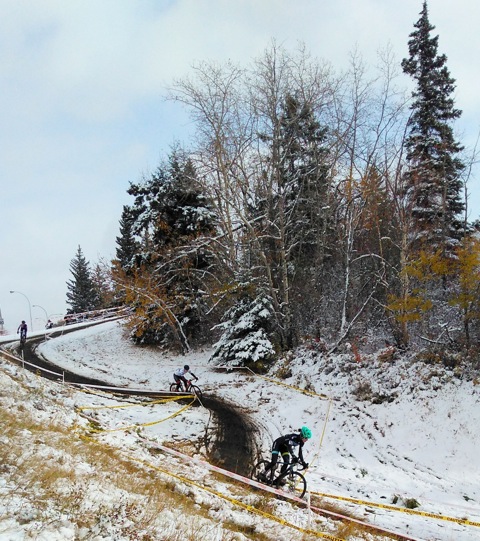 Sidney McGill (Focus CX Team Canada) off to an early lead on lap one of the Open Womens race on Sunday, in which she would go on to take a clear victory.
Sunday's race saw even more snowfall and the return of recent Jingle Cross world cup competitor, Sidney McGill, who put her finely tuned bike handling skills to good use. McGill took an early lead over the rest of the field and never looked back as she extended her gap to her chasers with each lap. Saturday's victor Koenig put in another solid performance to take the second step on the podium ahead of an on-form Alana Heise.

The Open Men's race on Saturday was a showcase of Aaron Schooler's (Focus CX Team Canada) abilities in adverse weather conditions, as he consistently put time into his fellow racers in the slick off-camber sections of the course. Putting in a strong ride to claim second was recent Cross Vegas and Jingle Cross competitor Mike van den Ham (Garneau - Easton Cycling) who admittedly had the wrong tire choice for the day. Rounding out the podium was the ever consistent Andre Sutton (Hardcore CC).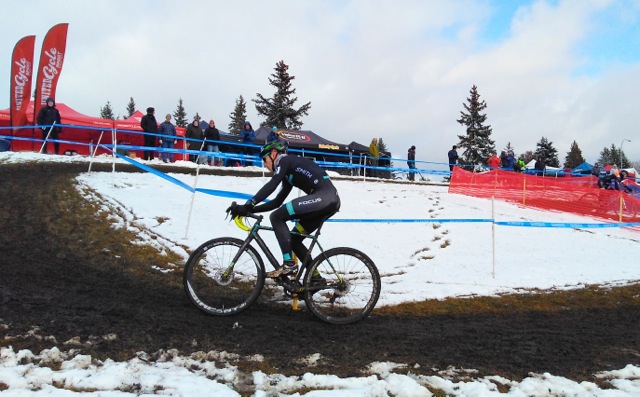 Michael van den Ham (Garneau - Easton Cycling) looking for traction in the mud on his way to victory in the Open Mens field on Day 2 of racing in Fulton Park.
Sunday was a reversal of roles at the head of the race as Mike VDH took control early on and spent the remainder of the contest lapping up the rear end of the field and distancing himself from second place finisher Aaron Schooler. Andre Sutton put in another technically astute ride to claim the third podium step for a second day in a row.

Courtesy Andrew Davidson
Results from Velocicross held on Saturday October 8th
Open Women

1 Shantel Koenig (redbike p/b tuffy's discount nut and bolt emporium)
0:44:40
2 Alana Heise (HSC Garneau)
at 0:03
3 Caitlin Callaghan (Hardcore CC)
4:48
4 Sonia Utting (Topgear)
5:19
5 Abbey McGill (Juventus)
6:39
6 Christina Hirota (bicisport)
0:14:39
7 Natascha Piciga (Giant Toronto/Liv pb powerwatts)
-1 lap
8 Laura MacLean (Juventus)
-1 lap
9 Tanya Hopping (Cyclemeisters/bow cycle)
-1 lap
10 Emily Lynes (iWill Helmet Awareness Cycling Team)
-1 lap
11 Jennifer Wilson (DBA)
-1 lap
dnf Bridget Linder (Cyclemeisters/Bow Cycle)
dnf Ashley Bunnin (Deadgoat Racing!)
DNS Sidney McGill (Focus CX Team Canada)

Open Men

1 Aaron Schooler (Focus CX Team Canada)
1:04:49
2 Michael van den Ham (Garneau - Easton Cycling)
at 1:27
3 Andre Sutton (Hardcore CC)
3:26
4 Jamie Lamb (bicisport)
4:09
5 Ryan Hopping (Cycllemeisters/ Bow Cycle)
5:26
6 Sean Germaine (Juventus)
5:55
7 Paul Ignatiuk (Hardcore CC)
6:11
8 Mike Sarnecki (Kokanee Redbike)
7:19
9 Shawn Bunnin (Deadgoat Racing!)
7:43
10 David Yexley (Independent)
7:51
11 Paul Tichelaar (Velocity)
9:06
12 Jeffrey Neilson (Terrascape Racing)
-1 lap
13 Evan Wishloff (River Valley Health - Pedalhead)
-1 lap
14 Andrew Rockwell (bicisport)
-1 lap
15 Mark Jung (redbike)
-1 lap
16 Ethan Palamarek (CABC)
-1 lap
17 Marc Freemantle (Real Deal / D'Ornellas P/B Garneau)
-1 lap
DNF Michael Verveda (Juventus)
DNS Brian Robinson (Redbike)

Full results


Results from United Cycle CX held on Sunday October 9th
Open Women

1 Sidney McGill (Focus CX Team Canada)
0:47:42
2 Shantel Koenig (redbike p/b tuffy's discount nut and bolt emporium)
at 0:56
3 Alana Heise (HSC Garneau)
2:54
4 Caitlin Callaghan (Hardcore CC)
6:05
5 Lesley Baldwin (Fiera)
7:17
6 Natascha Piciga (Giant Toronto/Liv pb powerwatts)
lapped
7 Christina Hirota (bicisport)
lapped
8 Emily Lynes (iWill Helmet Awareness Cycling Team)
lapped
9 Jennifer Wilson (DBA)
lapped
DNS Bridget Linder (Cyclemeisters/Bow Cycle)
DNS Laura MacLean (Juventus)
DNS Abbey McGill (Juventus)
DNS Nancy Burden (redbike)
DNS Sonia Utting (Topgear)
DNS Ashley Bunnin (Deadgoat Racing!)

Open Men

1 Michael van den Ham (Garneau - Easton Cycling)
1:00:43
2 Aaron Schooler (Focus CX Team Canada)
at 1:19
3 Andre Sutton (Hardcore CC)
4:24
4 Sean Germaine (Juventus)
4:45
5 David Yexley (Independent)
4:49
6 Jamie Lamb (bicisport)
5:53
7 Ethan Palamarek (CABC)
6:30
8 Paul Ignatiuk (Hardcore CC)
6:57
9 Shawn Bunnin (Deadgoat Racing!)
7:41
10 Cameron McKnight (Pedalhead Road Works)
lapped
11 Brian Robinson (Redbike)
lapped
12 Andrew Rockwell (bicisport)
lapped
13 Mark Jung (redbike)
lapped
14 Michael Verveda (Juventus)
lapped
15 Shaun Adamson (Velocity)
lapped
DNF Evan Wishloff (River Valley Health - Pedalhead)
DNS Marc Freemantle (Real Deal / D'Ornellas P/B Garneau)
DNS Paul Tichelaar (Velocity)
---
Related Photo Galleries
---