February 10/17 11:46 am - Team Colavita/Bianchi Gather in Arizona for Pre-Season Training Camp

Posted by Editoress on 02/10/17

Cold weather, wind and rain were no match for the anticipation of Team Colavita/Bianchi's 2017 season, as their winter training camp began in Scottsdale, Arizona. The camp, held January 18-24, was the first time the team had the opportunity to spend quality time interacting with one another while spending time with their sponsors on the road. Canadian Gillian Ellsay has joined the team for 2017.

Colavita returns, along with Bianchi, as the title sponsor for 2017. The olive oil company is the longest running sponsor of a women's professional cycling team, since 2003.

"Getting the opportunity to direct this program is something I don't take lightly," Mary Zider said, returning director sportif. "It's an honor to lead such an incredible group of riders and human beings. As a rider, it's an honor to wear the Colavita jersey. This program has had Olympians, World Champions, and a National Champion within the 15 years of sponsoring cycling. That speaks volumes about Colavita and what this program stands for. It's a legendary program that will forever be known in the sport and it's a jersey we all wear with pride and continue to hold the rope for."

The squad includes only two returning riders from 2016, Whitney Allison (USA) and Emma Grant (GBR). Activities planned throughout the week allowed the new riders and staff to begin to build the important family bond and chemistry that will help to foster teamwork throughout the season.

Newcomers to the team include Aussie's Kendelle Hodges and Jessica Mundy, Canadian Gillian Ellsay, American's Abby Mickey, Amber Pierce and, missing from camp, American Ellen Noble along with newly signed rider, Astrid Gassner from Austria. Noble was busy earning her second U23 National Cyclocross title, followed up by a personal best, finishing second at Worlds! At 21-years of age, Gassner, is looking to develop her cycling career with the team, while managing her final year of studies towards a science degree in Italy.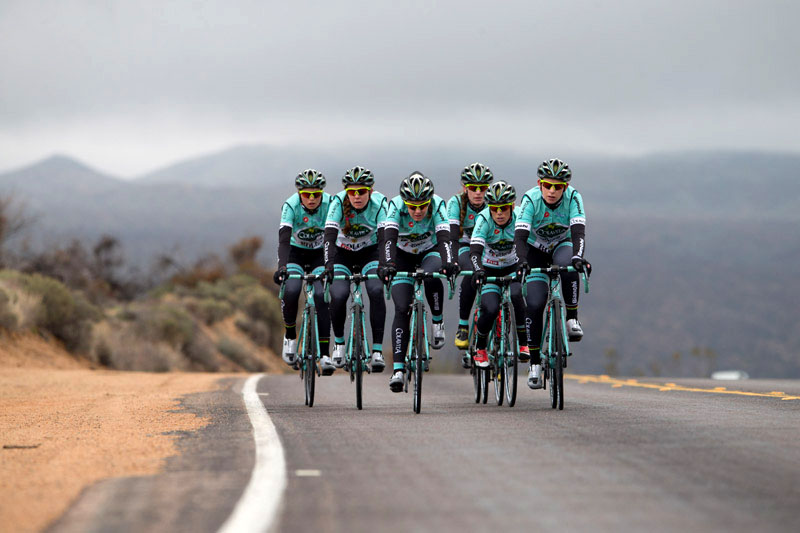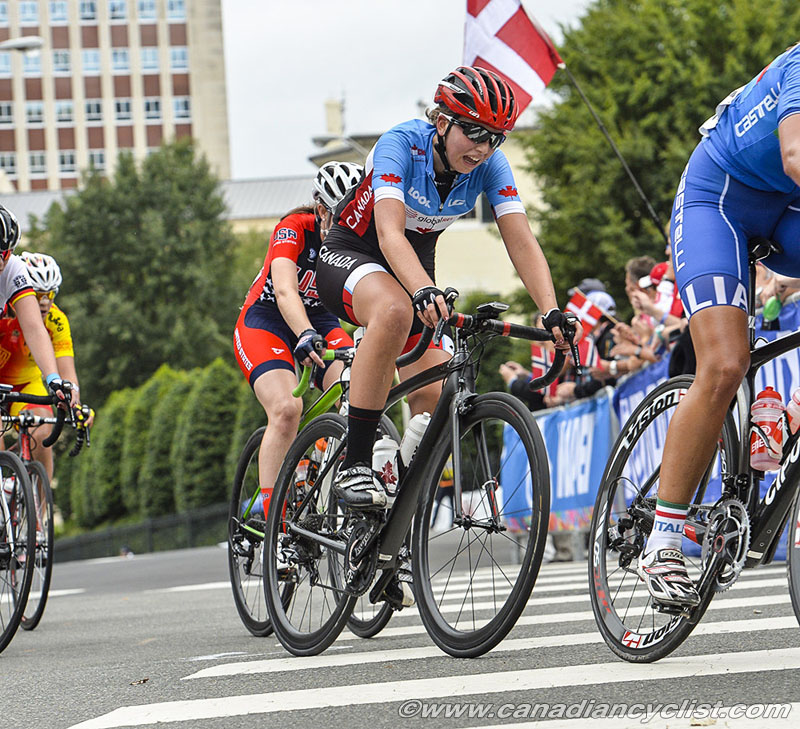 Gillian Ellsay
"At our first team meeting on Day 2 of camp, the foundation and framework was established for this team," Zider said. "This is done intentionally so riders can really understand and embrace what this program's philosophy is all about. I do my best as the director to create a family-oriented environment that promotes a positive environment. It showed as the week went on, riders really started to feel comfortable and confident with their fellow teammates."

Each rider had responsibilities throughout the week to help build on that, with riders being paired to make meals and others to clean up. In addition, Zider had a surprise for the team - a visit to the Escape Room in Phoenix.

"The word 'TRUST' is used a lot within this program and it was evident that bond to earn their teammates trust, had started," Zider added. "At camp, the riders tackled some off the bike team building activities like the Escape Room, where the riders were locked into a 'Bank Heist' and had to figure their way out in under one hour."

Under cloudy skies and rare thunderstorms that hit the Phoenix metro area for most of the week, the team managed to remain in good spirits. While the week was exciting getting to explore the roads around Scottsdale and for team bonding, it was also a somber one. Camp was the first time staff and riders were together after the tragic loss of newly signed rider, Canadian Ellen Watters. The team has chosen to wear decals on their helmets and bike frames to commemorate her memory so that she will never be far from their minds as they race throughout the season.

The team will kick-off the season with a European race campaign beginning February 25th at the Omloop Het Nieuwsblad in Gent, Belgium, through March in the Netherlands at Drentse Acht Van Westerveld on the 12th.

2017 Team Roster

Whitney Allison (USA)
Gillian Ellsay (CAN)
Astrid Gassner (AUS)
Emma Grant (GBR)
Kendelle Hodges (AUS)
Abby Mickey (USA)
Jessica Mundy (AUS)
Ellen Noble (USA)
Amber Pierce (USA)

Guided by: Director Sportif, Mary Zider (USA)
Head Mechanic, Andrea Smith (USA)
Team Soigneur, Gitte Sørensen (DEN)
Press release
---
Related Photo Galleries
---