February 18/17 19:37 pm - Canada Qualifies Second in Women's Team Pursuit

Posted by Editoress on 02/18/17

Team Canada had mixed results on Day 2 of the UCI Track World Cup in Cali, Colombia. The Women's Team Pursuit squad qualified second, keeping them in contention for the medals on Sunday. Kate O'Brien did not advance past the quarterfinal round of the Women's Sprint, while Hugo Barrette was knocked out of the first round of the Men's Keirin. Steph Roorda was scheduled to race the Women's Scratch Race but will not to better prepare for the Team Pursuit.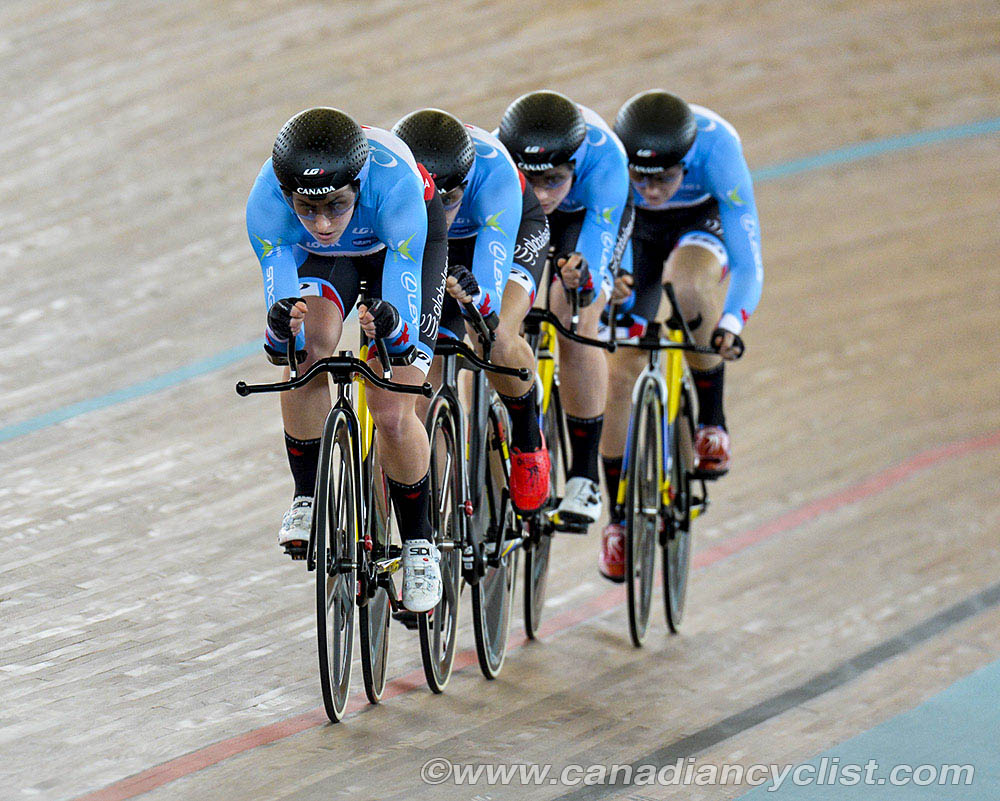 Canada brought a mixture of veteran and development riders to the Team Pursuit, with Rio bronze medalist Laura Brown (Vancouver, BC) and Steph Roorda (Vancouver, BC) joined by NextGen athletes Kinley Gibson (Edmonton, AB) and Ariane Bonhomme (Gatineau, QC). The team qualified with a time of four minutes and 25.705 seconds, 0.635 seconds behind Italy. On Sunday, a further round of racing will determine who races for the medals.

"Team Canada's qualifying ride was a solid start to the team pursuit competition," said Craig Griffin, national coach for the women's track endurance program. "We performed close to expectation and with a couple of minor tweaks should be able to improve on this time at some point in the competition. I'm really pleased with both Ariane and Kinley's contributions to the ride. While relatively new to this level of racing, they rode like seasoned pursuiters. A testament to the work being done with our NextGen program. Racing Australia in this next round won't be easy and it never has been. They're experienced and tough competitors so we will be taking it one ride at a time."

In the Women's Sprint competition, O'Brien (Edmonton, AB) qualified with the fourth fastest time of 11.024 seconds, less than one-thousandth of a second out of third. She won her one-eighth final against Juliana Gaviria of Colombia, but lost in two straight rides against Daira Shmeleva of Russia in the quarterfinal round. O'Brien ended the competition ranked fifth overall.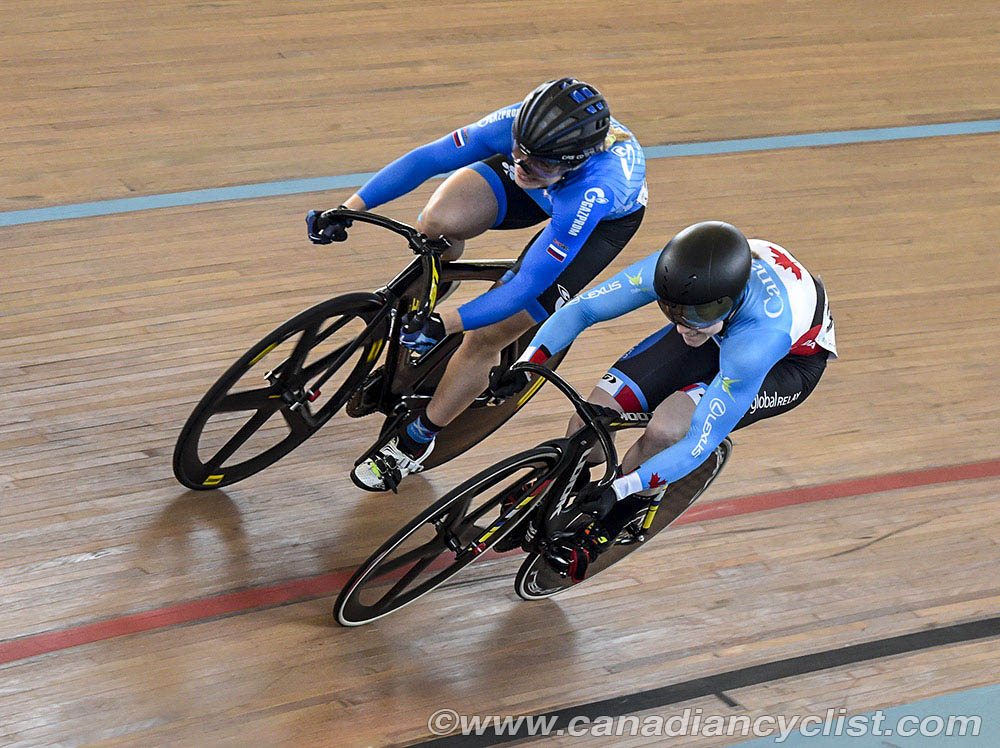 "I wasn't sure how today was going to go," admitted O'Brien, who has not raced internationally since the Olympic Games, six months ago. "You always hope for better, but I have found Cali a challenging track. I was three-tenths faster [in qualifying] than last year, so I can't complain too much. The first race [in the quarterfinals], let's just say I screwed it up. I lost sight of her [Shmeleva] and she took the pole position. I did what I wanted to in the second ride and she just won. Sometimes you get beaten."

Hugo Barrette of Iles de la Madeleine, QC, finished third in his first heat of the Keirin, one spot out of qualifying for the next round. In the Repechage heat he was also third and did not advance further.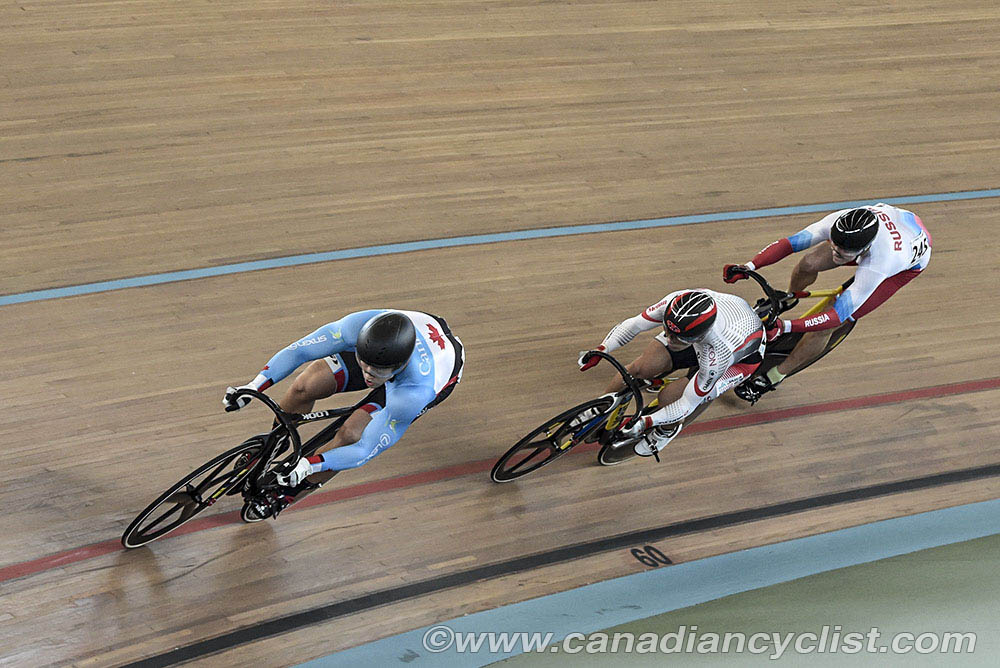 Barrette admitted that he did not fare well with the new format of the Keirin, which increases the distance that the riders race without the pace motorcycle.

"I don't think it's Keirin anymore," said Barrette, "they have changed the event completely and it just doesn't fit me anymore. I'm sad to say that because I was doing good in the Keirin [previously]. But I was going to focus on the Sprint for Tokyo [2020 Olympics] anyway. I'll finish the season in the Keirin, but that will be it."

"Now it's a mixture of sprint and endurance and that's not a style I'm good at right now. I could be, but it is so specific that I would have to give up on the Team Sprint and Sprint, and I'm not going to do that."
---
Related Photo Galleries
---