March 8/17 18:51 pm - Catharine Pendrel - Still Focussed, Still Winning

Posted by Editoress on 03/8/17

Canadian mountain bike pro Catharine Pendrel is coming off one of the strongest season in her extremely impressive career. In 2016, the Kamloops-based rider won the Olympic bronze medal after a dramatic come-from-behind ride. She also won the World Cup overall title, including winning the legendary Mont-Ste-Anne round for a record fourth time in her career. Pendrel's other palmares include two world champion titles and another two World Cup overall titles, plus 12 World Cup wins, the Commonwealth Games title, a Pan Am Games title and numerous Canadian national titles. She just started the 2017 season with another win, at the opening round of the Canada Cup series, in Bear Mountain, Victoria.

Catharine - known as Kika - began cycling at age 16, following in the footsteps of older brother Geoff, who was a member of the national Downhill mountain bike team. When she moved to the west coast from Harvey Station, New Brunswick, to attend the University of Victoria, Catharine continued cycling, and was first selected to the national team for the world championships in 2004.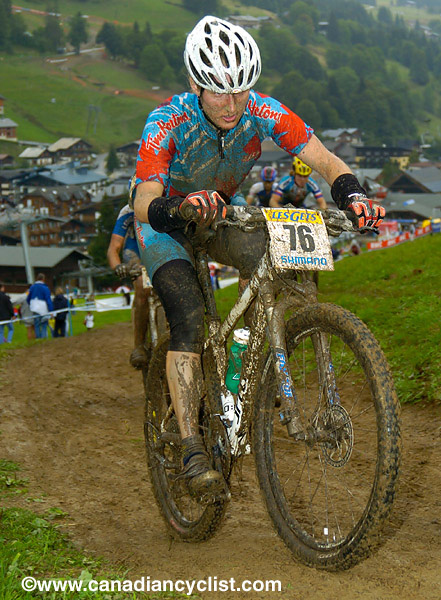 2004 MTB World Championships, Les Gets, France
"I had finished university before I got seriously involved. Growing up in New Brunswick I just wasn't exposed to mountain biking until I was older, and I wasn't exposed to a real training environment until I moved to B.C. I didn't realize that people actually trained in the winter! For me, it was just something you did when the snow melted until the snow came again [laughs]."

"So it was when I moved to British Columbia, and specifically UVic [University of Victoria] that I met Dan Proulx [her coach and subsequently the national team coach], who was the coach of the triathlon club and became my coach. I learned about training through the winter and when I did it I found out I could be a lot better!"

"My brother definitely is the one that got me into cycling, and both of us in New Brunswick started as cross-country riders; it was a way to explore. He got me into racing and, after a while, he decided he was moving to gravity racing. But that was after he had introduced me to racing and the Canada Cup circuit. I don't think I would have found the sport and found racing without him."

Pendrel credits past stars like Alison Sydor, Marie-Hélène Premont and others for helping to motivate her.
"I think that part of the reason that Canadians have always been successful is that we have always had examples that Canadian women could be at the forefront of mountain bike racing. Those women were the inspiration of where I could take it. But there were all the other women who were in the top-20, the Trish Sinclair's, the Kiara Bisaro's, that were showing me the way and showing me how to get to that next level. It wasn't just the real top dogs."
2008 Beijing Olympic Games
Pendrel first went to Worlds in 2004, but in 2008 at the Beijing Olympics she found herself battling for the bronze medal with Russia's Irina Kalentieva in the last half lap, finishing fourth.

"It was a really exciting race for me. I went into those Olympics just wanting to do my best. It was my second year of racing the World Cup series, and I felt like everyone had way more experience, and I thought that everyone was going to bring something special for that event. But it turned out that just focussing on the process meant that I was racing neck-and-neck with Irina for a couple of laps. I made a mistake and that allowed her to get by me, but it was super exciting and I was proud of that performance, and is definitely what motivated me for the next quadrennial."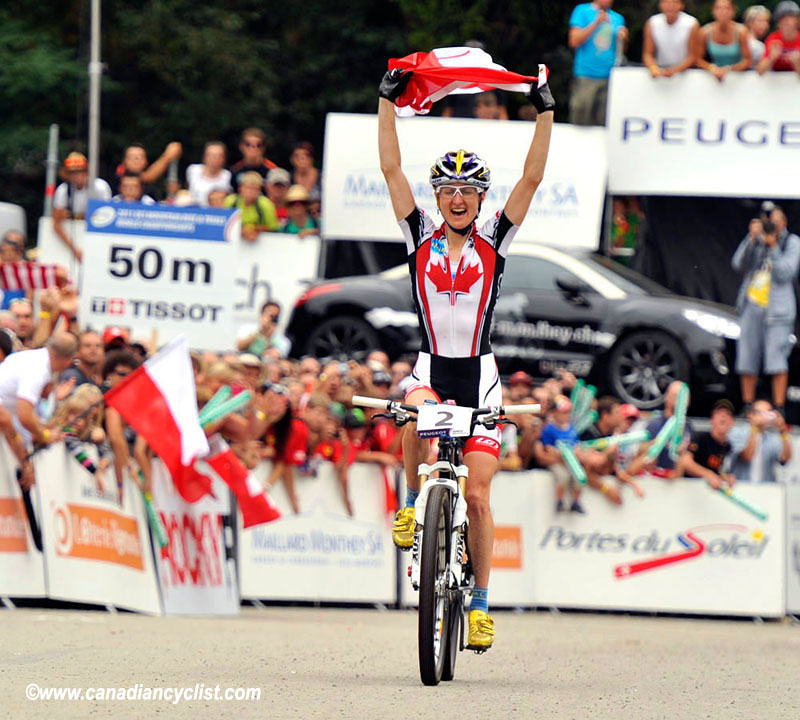 2011 World Champion
It was after Beijing that Pendrel really moved into the top ranks, with her first world title coming in 2011, in Champery, Switzerland.

"I would have to say that 2011 was just this amazing season. Myself and Julie Bresset [France] trading first and second at every single World Cup except for one that season. It was a really amazing experience of riding momentum and in believing you could take it to the next level."

"The Olympics [in 2008] was the race for me that showed me I could race at the next level, it was confirmation that other successes weren't a fluke and that I could be there."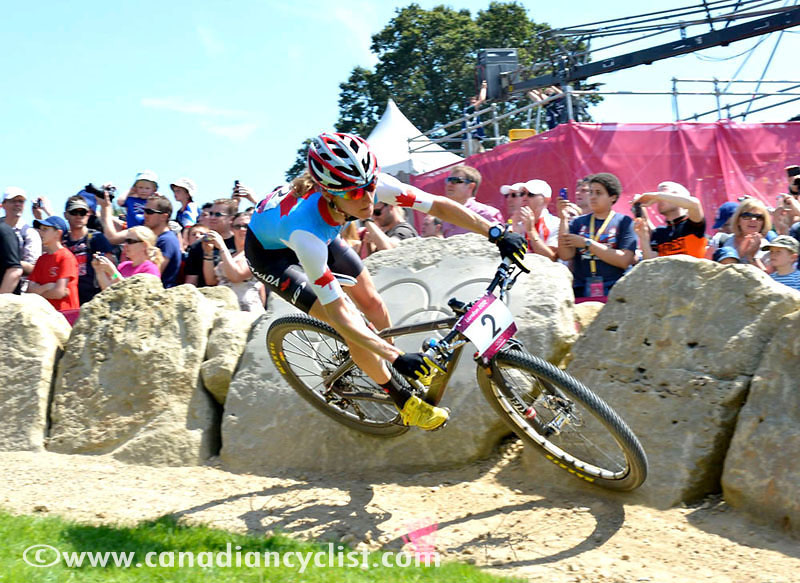 2012 Olympic Games, London
In 2012, Pendrel went into the London Games as the reigning world champion and one of the clear favourites for a medal. However, disappointingly, she finished ninth.

"It was one of the hardest things I've had to deal with in my career. But I think you saw something similar with [Danish rider] Annika Langvad this year, where a rider can be dominant early season [Langvad won the world title and early rounds of the World Cup, prior to the Olympics] and the year before, and sometimes that can work against you. It can fatigue you in other ways. I was primed up on the [2012] Olympics for over a year going into them, and I think by the time I got there I was a little mentally and maybe physically depleted."

"I think I could have had a stronger performance than I did, but being medal focussed, because it was a strong possibility, I think my race got derailed a bit. In the moment, it felt totally physical, but at those events there is so much going on that, maybe with a stronger headset going in, being more prepared for something like that happening, I could have handled it better. I should have been more process-focussed, but I got a little medal-focussed. I was able to take that new mindset with me into Rio, and make sure that adversity didn't derail my race, and make it it even better."

Making the commitment to do a third Olympics is more than most athletes can do.

"I was lucky that my team [Luna, now Clif Bar] offered me a four year contract in 2012. So I had this amazing team supporting me to go there. But it did take me one to two years to decide that I wanted to, because it's pretty scary to invest that much into something and to have it go so sideways on you [like it did in 2012], and you don't want to risk that again. But, eventually, I came to the conclusion that it was more of an opportunity to get it right then a chance that you might fail."

"I wanted to give myself an opportunity to be the best in the world, because that's what I love doing, and I still felt that I was capable of that. So, for me, confidence-wise and getting back to the mindset that I needed, 2014 was really pivotal. The Commonwealth Games win ... going to a major Games as the favourite and coming out on top, and then backing that up with another world championship win, that was pivotal."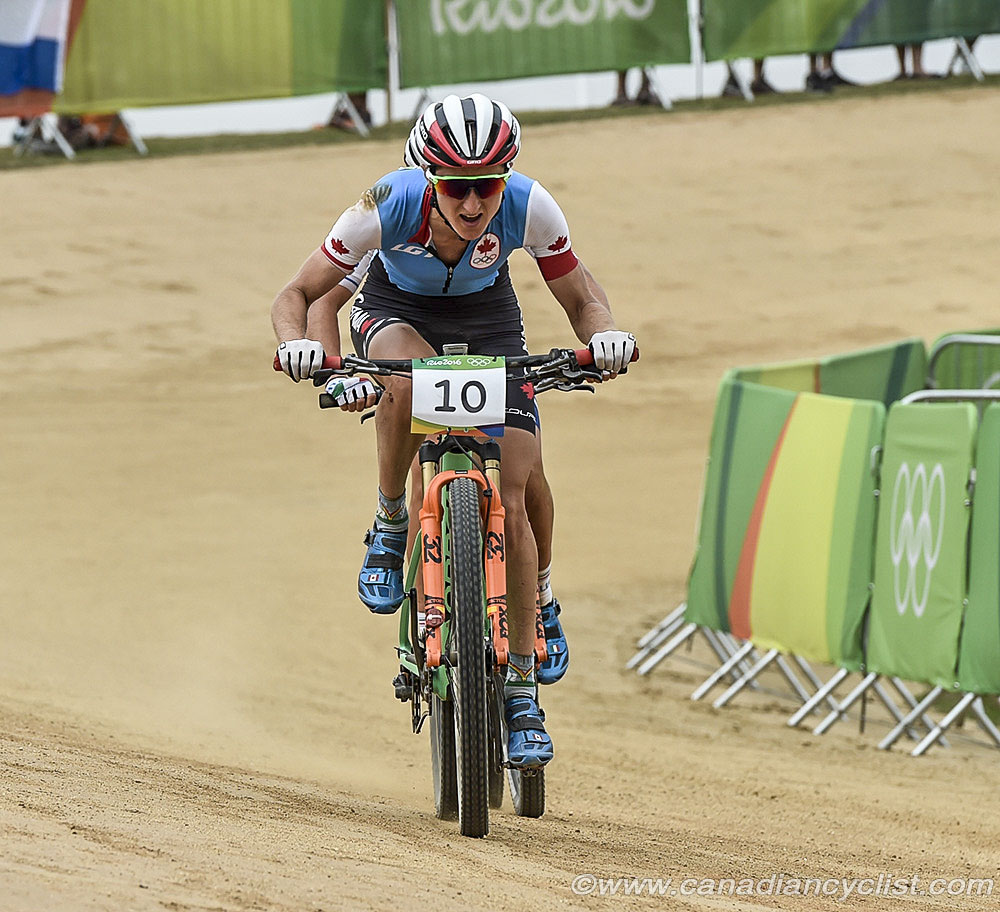 2016 Rio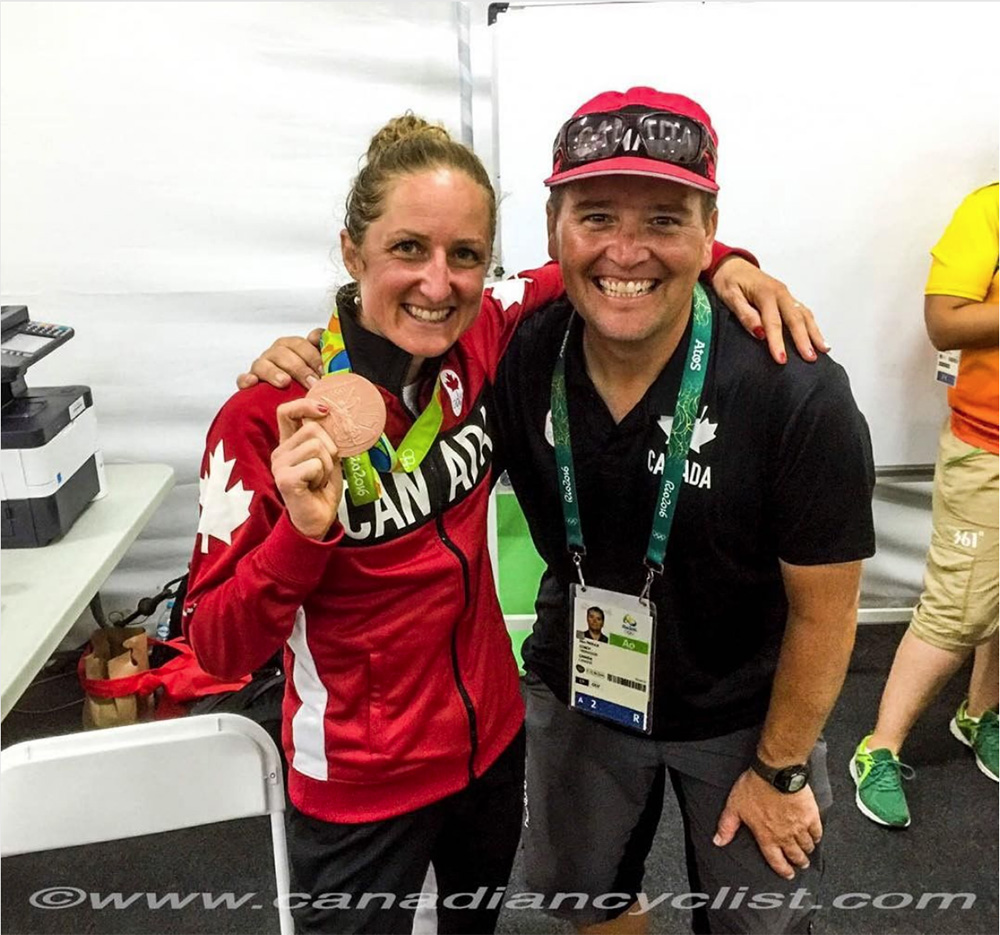 Catharine Pendrel with Dan Proulx
In Rio, Pendrel's race didn't start well, with a crash on the opening loop that put her near the back of the field.

"No, it didn't start well! There were a lot of things that went wrong in that race, actually. I was in a crash as we went from the start loop into the first lap, when I crossed wheels with someone. It was ironic, because I've never crashed in the start of a World Cup race, and I did at my third Olympics!"

"I immediately thought back to Beijing; I had watched the video of that race a couple of weeks before. I had gone from fifth from last - like it was in Rio - to fighting in a bronze medal position. So I knew it was possible. I didn't count on my gears stopping working, but our team was so prepared that I knew our mechanic, Adam Trotter, was going to get things sorted out; whatever I had done in the crash he was going to resolve it."

"It was certainly overwhelming to come through at the end of the first lap and be a minute and 15 seconds down, but I knew from London that I didn't want to cross the finish line thinking 'I can't believe I have to wait four more years to get it right'. So, I just wanted to do the most that I could with whatever amount of race I had left, and I still had 75 minutes to get it right."

"I started chasing down as many people as I could and then, eventually, did move into a bronze medal position. I had attacked on the last lap and got 25 seconds [on fellow Canadian Emily Batty], and then about 200 metres from the finish line I came into a jump and got sideways in the air, and I was on the ground ... from then on it was just full-on intensity - just 'get up, get to the finish line as fast as you can'. It was an incredibly intense way to finish a race. It went from 25 seconds to two seconds at the finish."

"Both of us poured our hearts into that race, and both of us had beautiful and amazing performances. You don't really absorb what happened after you cross the finish line, and it's not until you see your family and the reflection of emotion in their faces, that you are 'okay, that just happened'. I think I gave everyone in my family a heart attack, crashing in the final couple of minutes, but it all ended up well in the end. I just felt so proud of winning a medal in that race because definitely a lot of things didn't go right, but I put in the effort and just stayed focussed, and came out with a medal in the end."

So how does an Olympic medal change things, especially for someone who has won world titles, World Cups and the Commonwealth Games?

"The difference is that when I go to the grocery store, people recognize me now [laughs]. Definitely, there's a lot more recognition for an Olympic performance then for a world championship. It can make life a bit more busy, but I think it's good. It's one of those accomplishments that you always have, and it's a unique opportunity. In London I was supposed to be one of the athletes to help bring Canada's medal total up, and then in Rio I got the opportunity to bring home the last medal that we won of the Games, equalling our best ever performance. It was a really exciting thing for me to be a part of as an individual and the team. We had worked so hard to have everything perfectly in place in London and we didn't see the results of all that hard work, but we saw it at the Commonwealth Games, and the Pan Am Games [in 2015, where Pendrel took silver behind Batty], and now in Rio. I think it was just a huge day for the whole team, because we had all worked hard for that, and finally things came together."

Now it is the start of a new Olympic quadrennial, so the question is: will Catharine Pendrel continue for another Olympic cycle, to Tokyo in 2020?

"Definitely I'm super satisfied with what I've done in my career. I do have a two year contract [2017-18] with the Clif Bar team to race World Cups, and I'm still very focussed on Worlds. I'd love to add a third world championship to my accolades."

"But four years is a long time, and I don't know 100% what I want to be doing. I'm racing this year, and as long as I can still improve - and I feel that I still have lots of progression I can still make - that as long as I love it and have the passion to train as hard as you need to train, and have discipline to perform at that level, that it's something I'm still interested in doing. But we'll see what opportunities come in the next four years."

So how does Catharine feel about now being the rider that younger members of the national team look up to; just like she did with Alison, Trish, Kiara and others?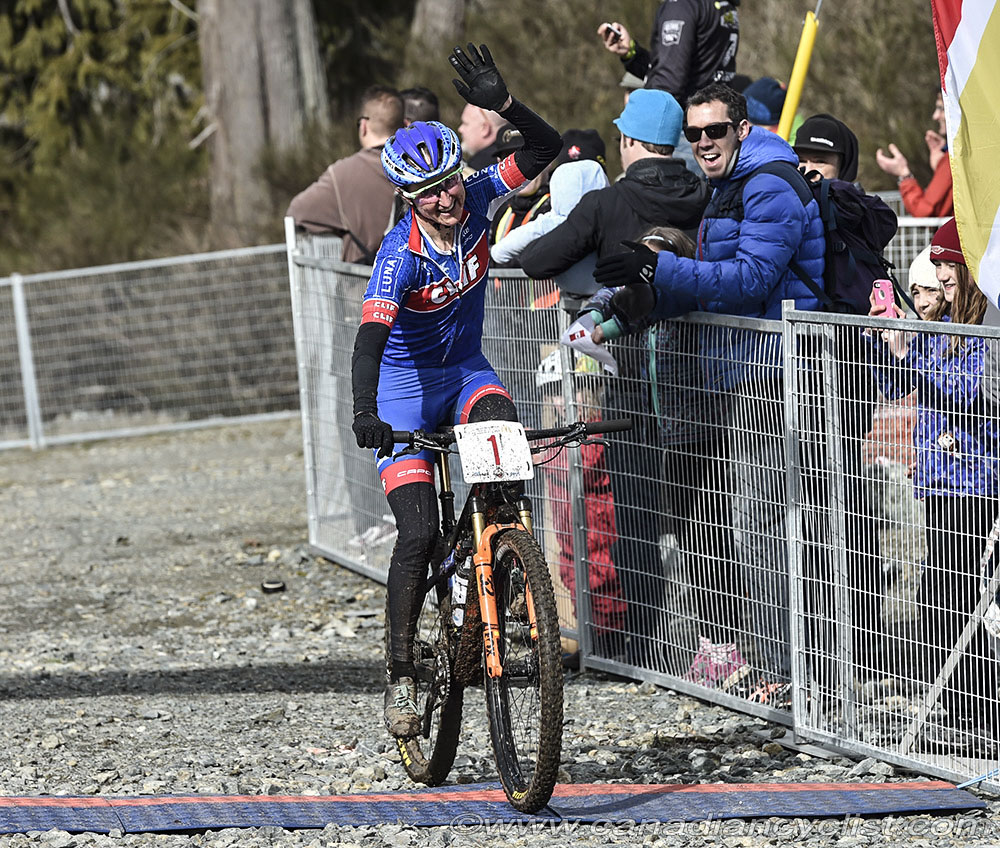 Winning 2017 Canada Cup #1 at Bear Mtn
"Haley [Smith] told me I'm not allowed to retire, because she's not ready to take over quite yet [laughs]. Training with the other women here on the national team has been amazing, because the level of women's riding has increased astronomically. I'm just so proud of the way everyone's riding, and it's really exciting to be a part of this team. If I don't go to Tokyo as an athlete, I'd love to be there supporting the team in some capacity. I have a lot of experience, and I want to see our whole team do well and Canada have another successful Olympics."

"It's exciting, I think we've got a lot of really talented women and men coming up through the field and a really strong program. I'm excited to see where that goes in the next couple of years."
---
Related Photo Galleries
---