July 2/17 13:58 pm - Batty 5th at World Cup #3

Posted by Editoress on 07/2/17

Canadian champion Emily Batty (Trek Factory) took her first World Cup podium of 2017 on Sunday at Round 3 in Vallnord, Andorra, with a fifth place result in the Elite Women. Peter Disera (Norco Factory) finished just off the podium in the Under-23 Men's race, with a seventh place result.

[Note: We have a number of interviews, which will be posted shortly]

Vallnord, in the Principality of Andorra, in the Pyrenees mountains between France and Spain, has hosted multiple World Cups and the world championships in 2015. The course features steep climbs and technical descents, but the key difficulty for most riders is the altitude; at 1900 to 2000 metres, too hard an effort puts a rider into oxygen debt and they will pay for that later in the race.

Both Elite races followed a similar pattern, with the World Cup leader dropping the rest of the field on the first lap and staying away to take a victory that solidified their hold on the leader's jersey. Meanwhile, there was a battle behind for the remaining podium spots.

In the six lap women's race, Yana Belomoina (CST Sandd American Eagle) took her second straight victory, and the second of her career. Behind, XCO and Marathon world champion Annika Langvad (Specialized) and Gunn-Rita Dahle Flesjaa (Team Merida Gunn-Rita) rode together until Lap 5, when Langvad dropped Dahle Flesjaa to solo in for second. Dahle Flesjaa hung on for third, ahead of Linda Indergand (Focus XC), with Batty taking fifth. Batty had caught and dropped Indergand but, with a less than half a lap to go, the Canadian crashed, allowing the Swiss rider to get by her.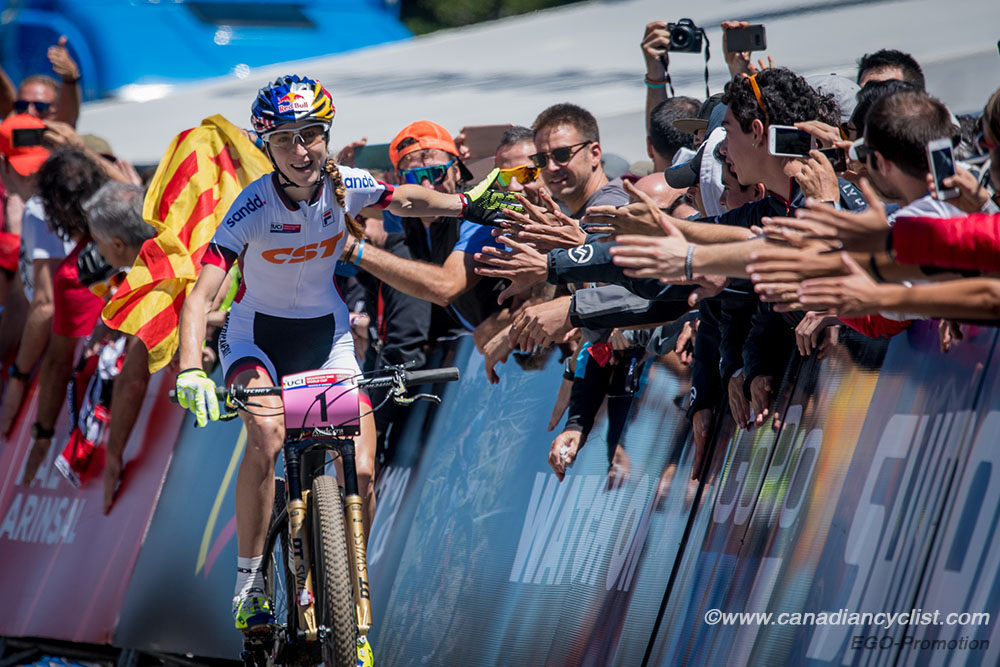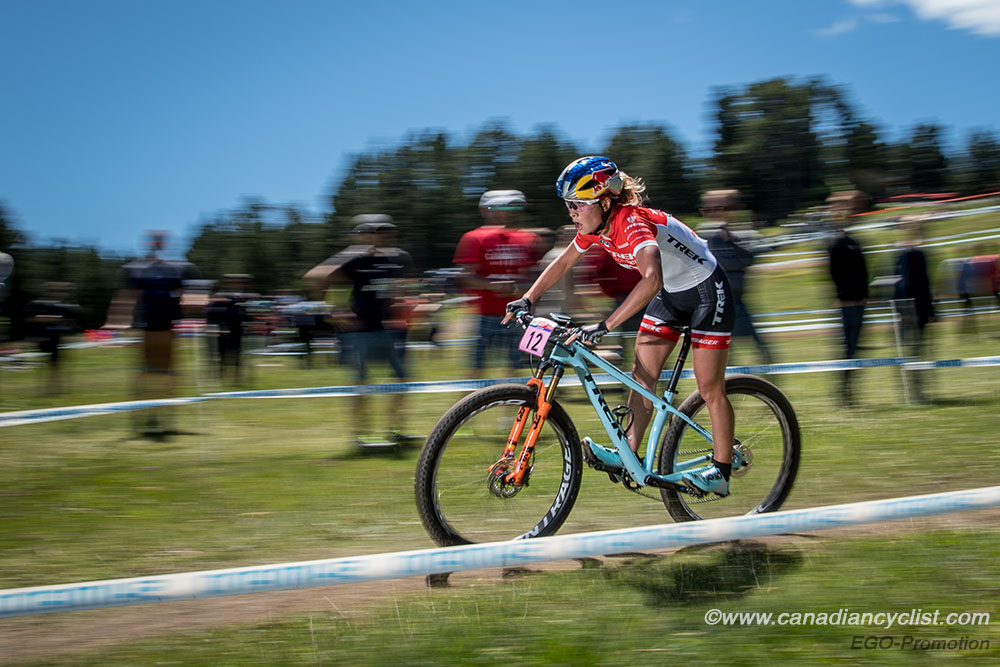 Emily Batty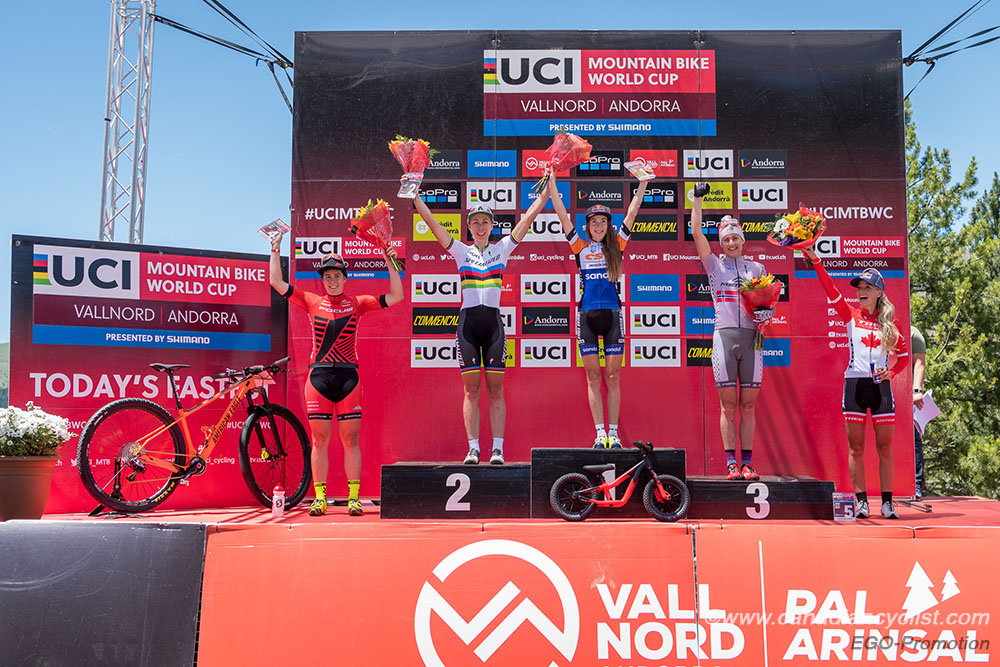 Women's podium
"I'm enthusiastic with riding myself onto the World Cup podium after my performance at the first two rounds was far below my expectations," said Batty. "My Trek Factory Racing team and everyone has been working hard around me, and I'm happy to deliver a result. Maybe the post-Olympic hangover is real, and up until these last few weeks, I never felt like mind and body had been clicking in training and racing. I had a clean race today despite a last lap crash that lost me fourth place. I had been working hard the entire race and that likely caught up to me. I'm happy that my performance is moving in the right direction for the latter half of the season. I wanted to use this race to regain some confidence, hopefully build on this result in Switzerland and see what I can do in Mont-Saint-Anne, Canada, for round five of the World Cup."

In other Canadian results, defending World Cup champion Catharine Pendrel (Clif Pro Team) had a rare off day finishing 16th, Sandra Walter (Canadian National) was 28th, Haley Smith (Norco Factory) was 32nd, Rebecca Beaumont was 36th, Catherine Fleury (Canadian National) was 42nd and Cindy Montambault (Canadian National) was 47th.

Belomoina has now extended her lead to 640 points, with Langvad jumping from third to second with 524 points and pushing Maja Wloszczowska down to third with 480 points. Batty moves up from 12th to 10th in the standings and Pendrel remains in 17th place.

"It was a great race, a very good day for me," said Belomoina. "After winning in Albstadt [Round 2], it gave me so much motivation to keep this leader's jersey. I have a better lead now [in the overall standings], but there are still three races to go, and I hope that I can hold on to the jersey."

In the Elite Men's race, defending World Cup overall champion Julien Absalon (BMC) was missing from the start line after breaking his collarbone in a training crash. However, this race was owned by world and Olympic champion Nino Schurter (Scott-SRAM), who holds a perfect win record this season, with Vallnord his third straight victory. Schurter powered away from the rest of the field on the first lap of the seven lap race and had opened almost a minute lead within a lap. He easily held this gap until the final lap, when he backed off to cruise in to victory, his 23rd World Cup win.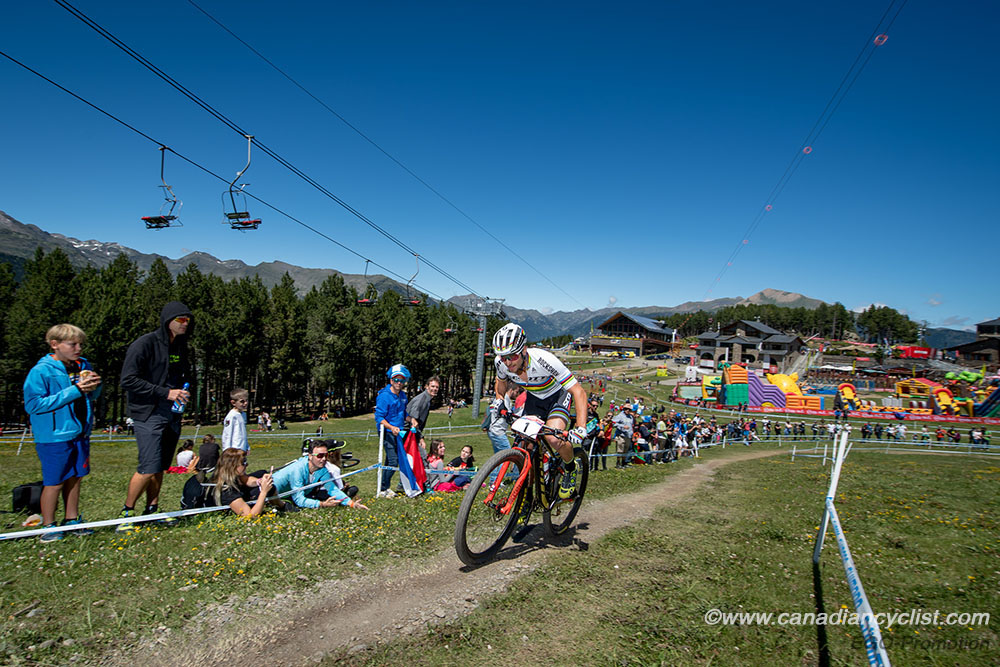 Nino Schurter (Scott-SRAM MTB Racing Team) attacked from the gun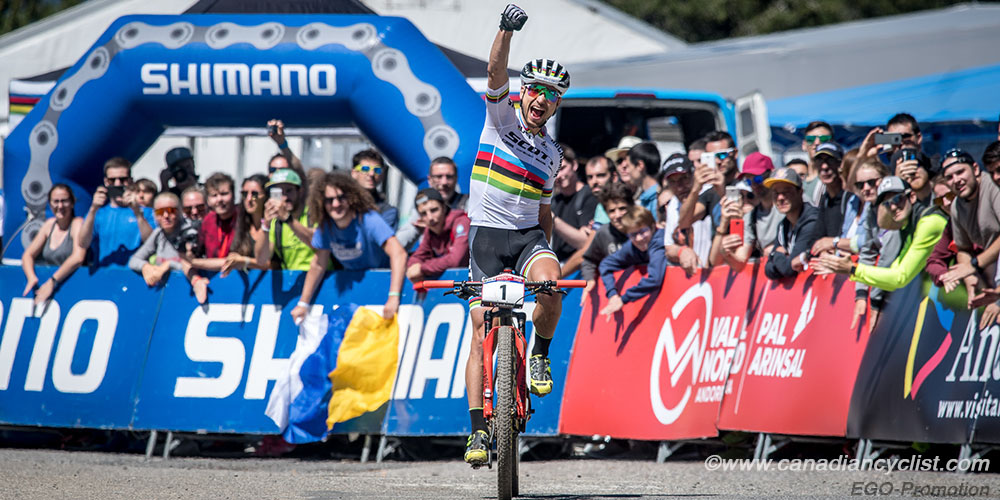 Nino Schurter (Scott-SRAM MTB Racing Team) wins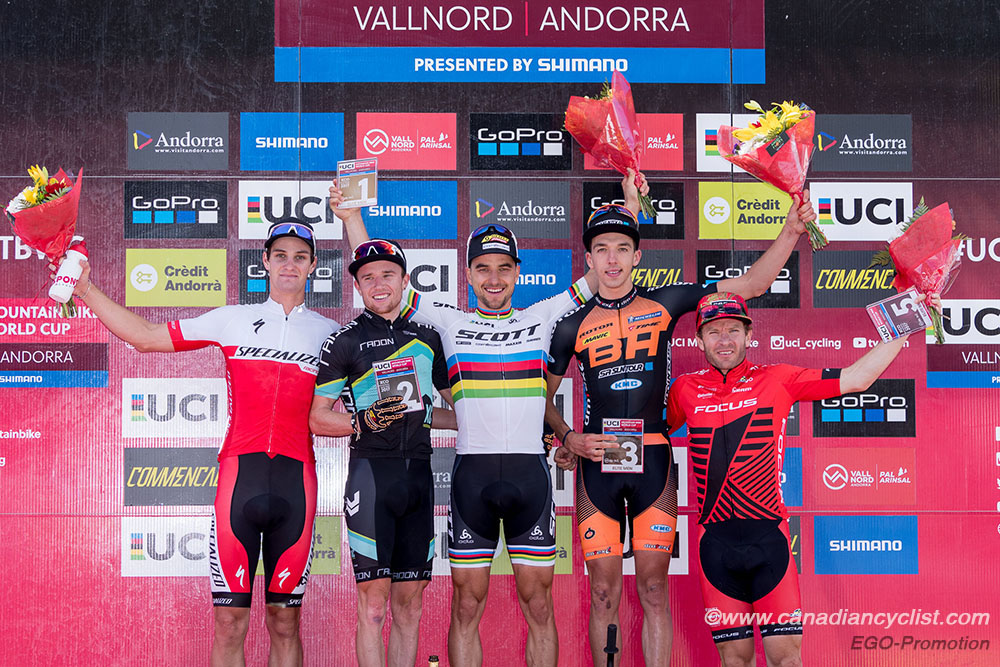 Elite Men's podium
"I'm super happy," said Schurter. "I love this course; it's super technical and I really feel home here. I had an awesome start and was at the front from the beginning. Here at altitude it's really important to pace your race, and when I had the gap I was able to do my own race. It was a perfect race for me. With three World Cup wins it is already an amazing season, and I just hope it can get better and better."

Behind, an initial chase group of ten was gradually whittled down through attrition - with the exception of Number-2 ranked David Valero (MMR Factory) who flatted while leading the chase. Eventually the chase came down to three riders - Mathias Flueckiger (Radon Factory), Jordan Sarrou (BH SR Suntour KMC) and Sam Gaze (Specialized). Gaze was dropped on the last lap when the other two began attacking, and Flueckiger outsprinted Sarrou for second.

Canada had only two riders in the Elite Men's race for this round, with Leandre Bouchard (BH SR Suntour KMC) finishing 26th and Andrew L'Esperance (Canadian National) finishing 69th.

Schurter now has a perfect score of 750 points, and is close to uncatchable in the standings. Valero, despite his flat and finishing 22nd, remains in second with 412 points, just two points in front of Maxime Marotte (Cannondale Factory). Bouchard is the top Canadian, moving up to 22nd overall from 25th, with national champion Derek Zandstra (Cannondale-3Rox) dropping to 37th from 23rd after missing this round. Zandstra is staying close to home as he and his wife expect their first child shortly.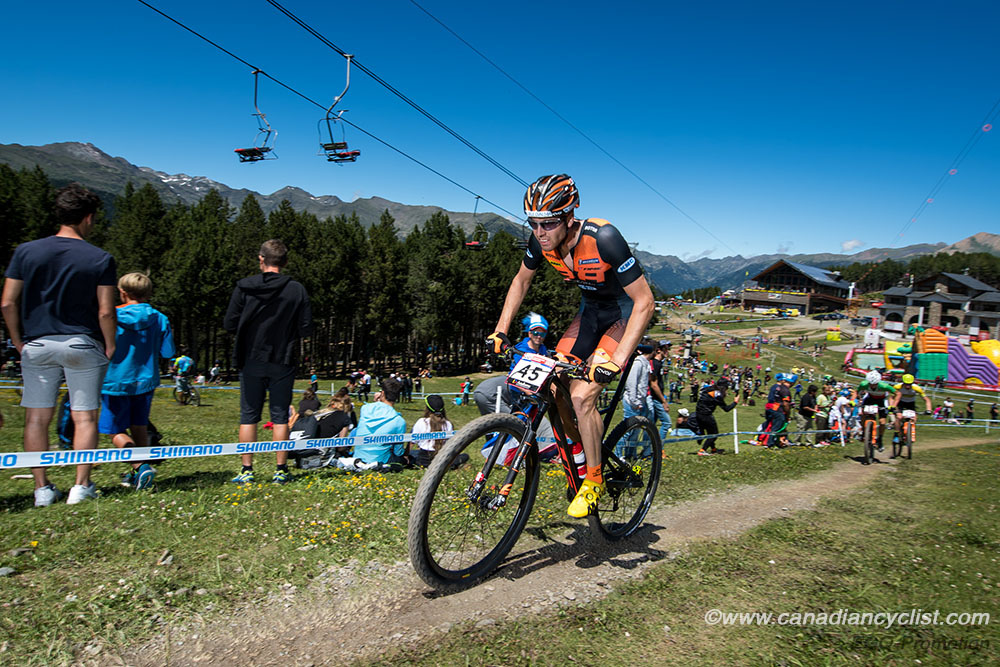 Leandre Bouchard (BH SR Suntour KMC)
"So, I did a good race with a stronger second part of the race," commented Bouchard. "I paid the price for a fast start in Laps 2 and 3, but after I recovered, I was able to stay with the riders and then pass them in the last laps when I found my pace. The altitude definitely makes it harder and challenging. I'm happy to finish close to my goal of top-20 and to see consistency in my season."

In the Under-23 Men's race, Simon Andreassen (Specialized) and Martins Blums (ZZK) opened a gap on the first lap over a chase group containing Disera and four others. Blums faded after the fast start while Alan Hatherly of South Africa moved up from the chase to join Andreassen on the fourth lap, but lost the sprint for the win. Disera, suffering from an upset stomach, dropped back as the chase group splintered, but still hung on for seventh place; another top-10 result to go with his third place in Round 2. Other Canadian results were Sean Fincham (Canadian National) in 38th, Marc-Andre Fortier (Canadian National) in 48th, Quinton Disera (Norco Factory) in 55th, Raphael Auclair (Pivot Cycles-OTE) in 67th and Felix Belhumeur (Pivot Cycles-OTE) in 68th.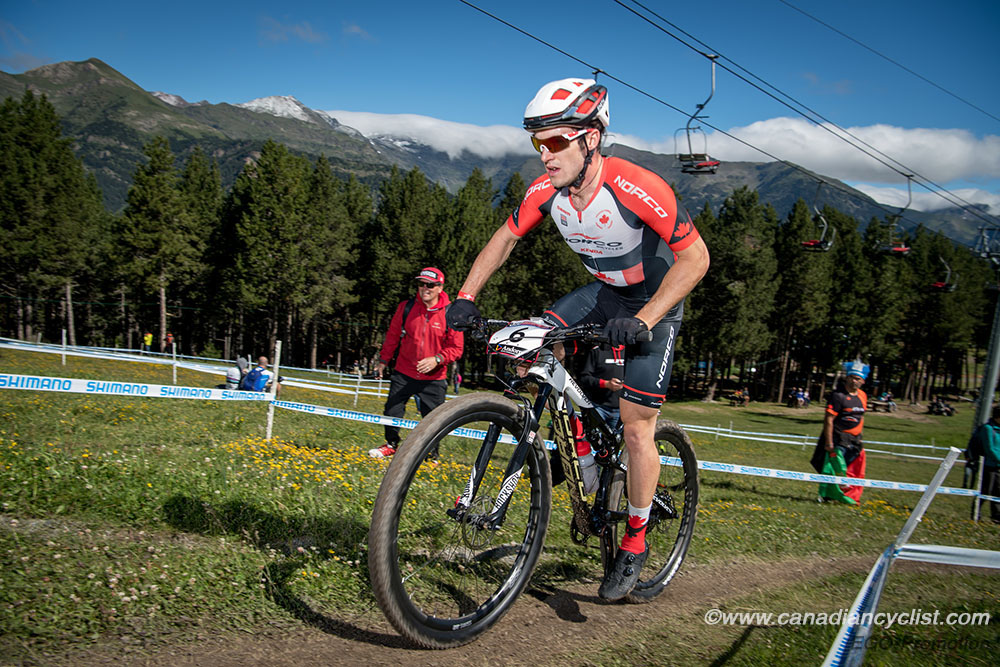 Peter Disera (Norco Factory)
"It was an immensely hard day here in Andorra with the altitude, slippery conditions and me not totally feeling 'on'," said Disera. "I rode a good race with a few mistakes, but the real hinderance came from the body; just felt like I couldn't get my superman legs online. Still, in the end, 7th is not a bad day and it boosts my confidence that I am a top-10 rider with podium potential. Looking forward to next week in Switzerland, where I can put my Norco Revolver FS through the ringer!"

In the overall standings, Blums continues to lead with 170 points, while Disera improves from sixth to fourth at 117 points.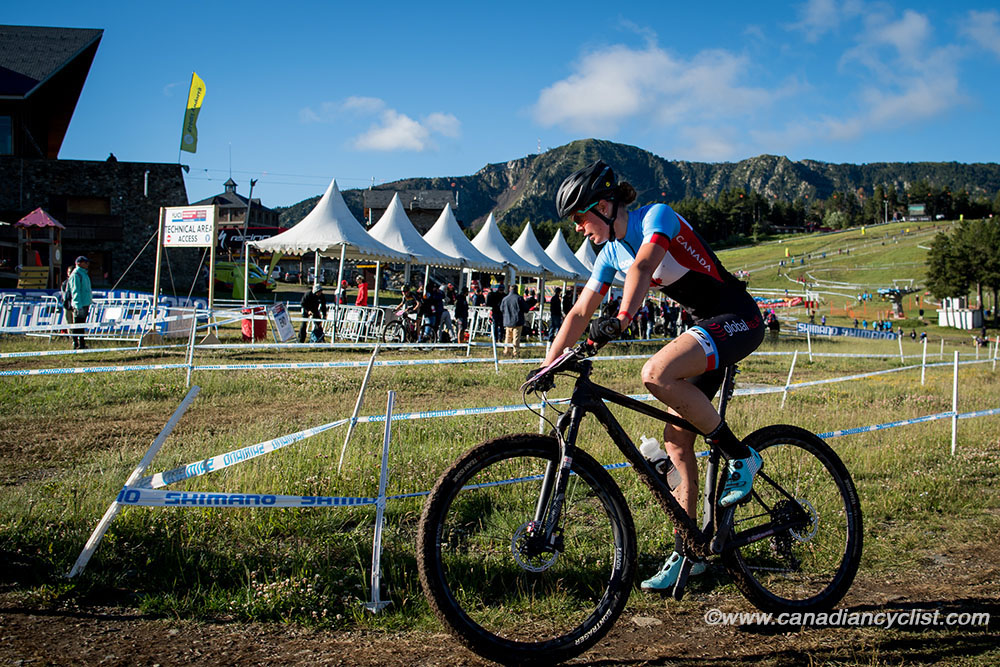 Soren Meeuwisse
The Under-23 Women's race, European champion Sina Frei (JB Brunex Felt) dropped World Cup leader Kate Courtney (Specialized) on the second lap to take the win, with Great Britain's Evie Richards finishing third. Canadian champion Soren Meeuwisse (Canadian National) was the top Canadian rider in 35th place, followed Amelie Simard in 42nd. Anne Julie Tremblay did not finish. Courtney continues to lead the standings with 230 points, followed by Richards at 220. Tremblay is the only Canadian with points, in 24th place.
Results
---
Related Photo Galleries
---