November 6/17 9:26 am - Canada Begins Track World Cup Season with Silver Medal

Posted by Editoress on 11/6/17

Canada won a silver medal over the weekend at the opening round of the 2017-2018 UCI Track Cycling World Cup in Pruszkow, Poland. In addition to the silver medal won in the Women's Team Pursuit, Canadian riders had three other top-10 results.

The women's Team Pursuit squad of Allison Beveridge, Ariane Bonhomme, Annie Foreman-Mackey and Kinley Gibson qualified second and won their next heat to make to the gold medal final against top qualifier Italy. In the 4000 metre final, Canada took the lead for much of the first half of the race. Italy then took the lead as the Canadian team faded in the second half, to win by 2.028 seconds.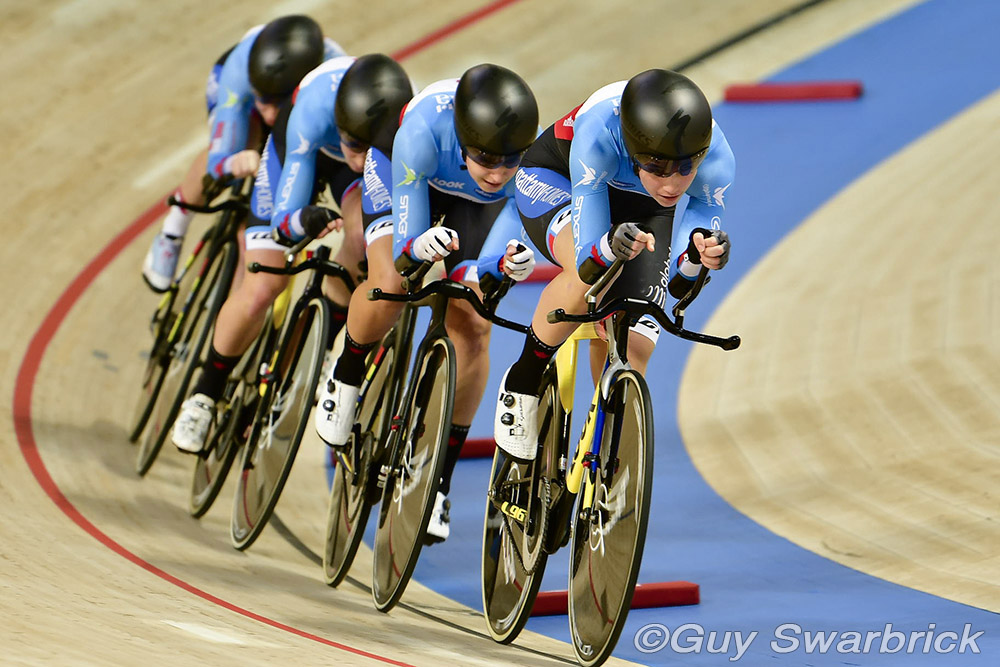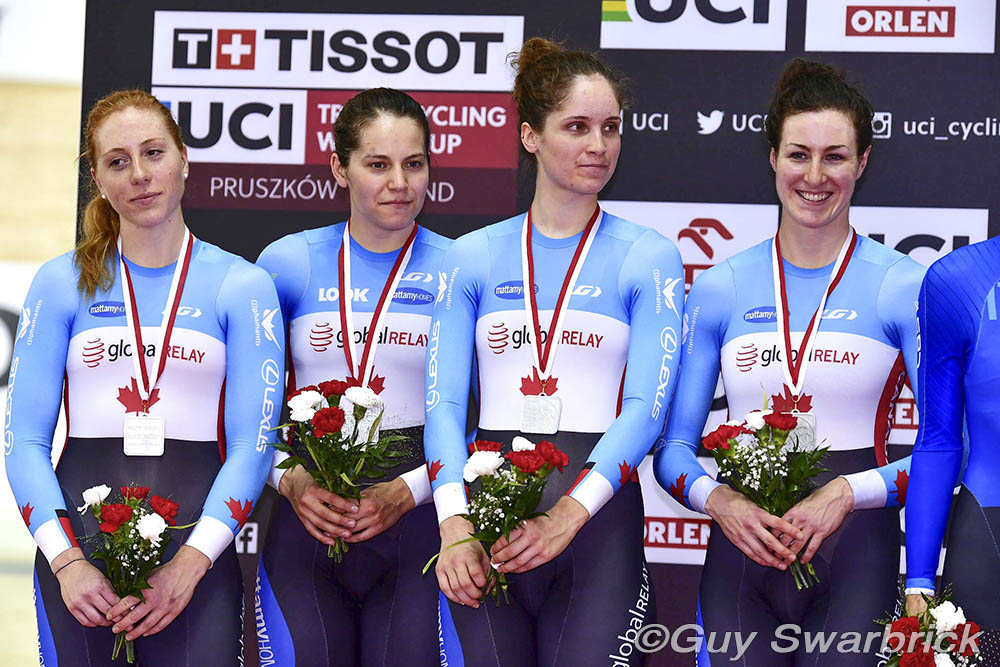 In other results, Beveridge and Gibson teamed up to finish fifth in the Madison, Foreman-Mackey was seventh in the Individual Pursuit and Beveridge was ninth in the Scratch Race. Maggie Coles-Lyster, who won the world title in the Points Race as a Junior earlier in the year, finished 19th in her first international Points Race competition as an Elite-aged rider.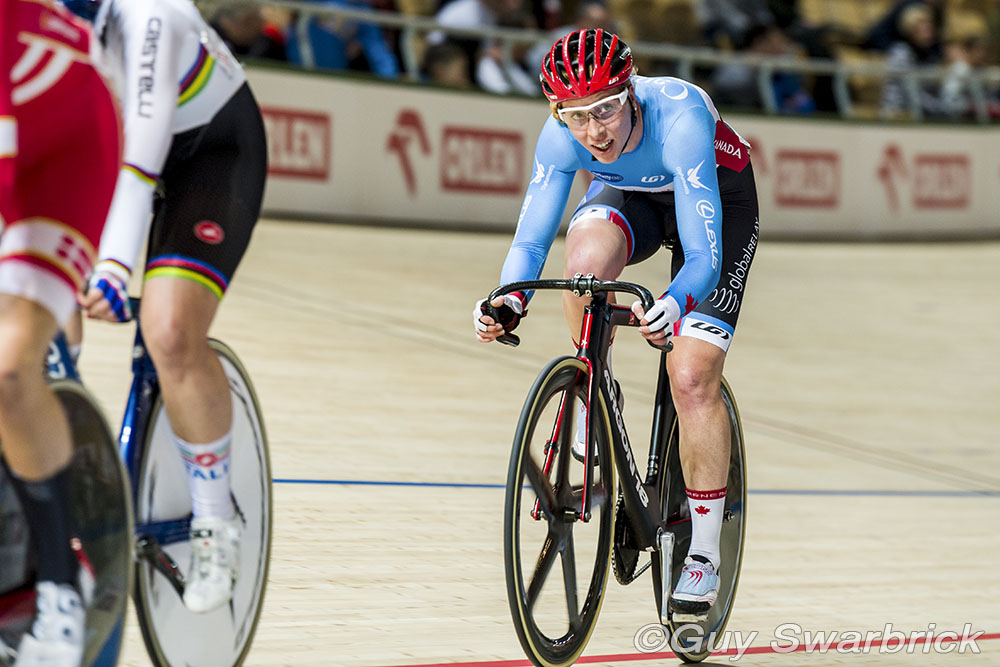 Allison Beveridge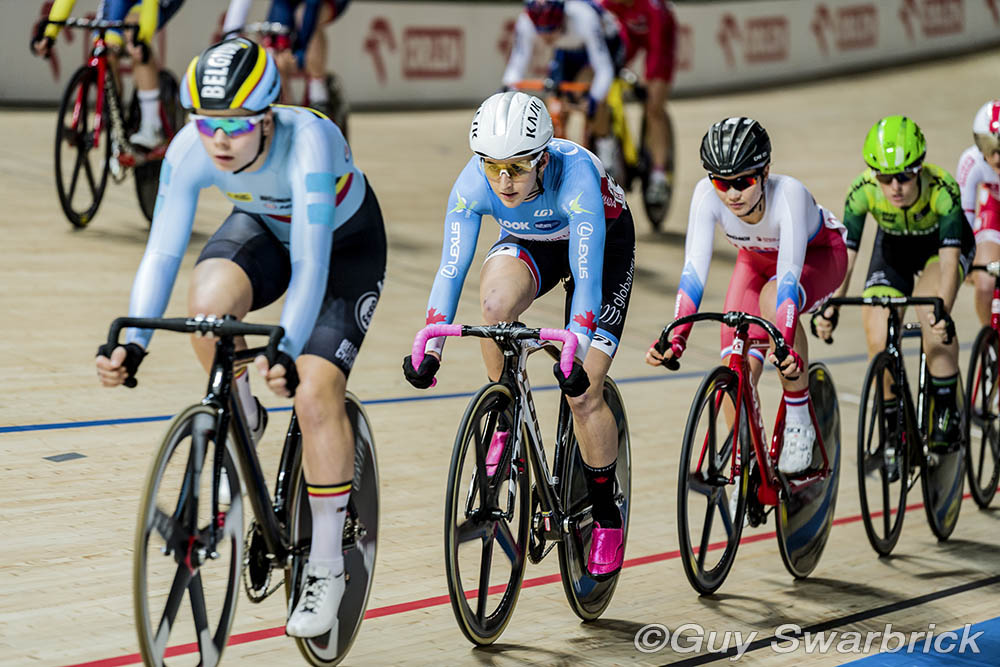 Maggie Coles-Lyster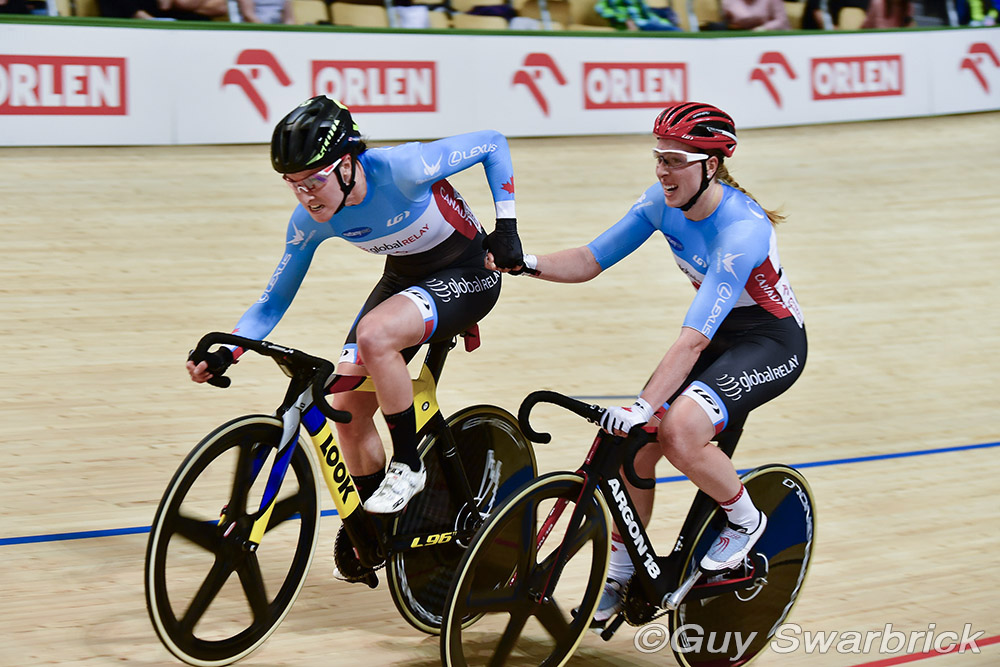 Kinley Gibson and Allison Beverige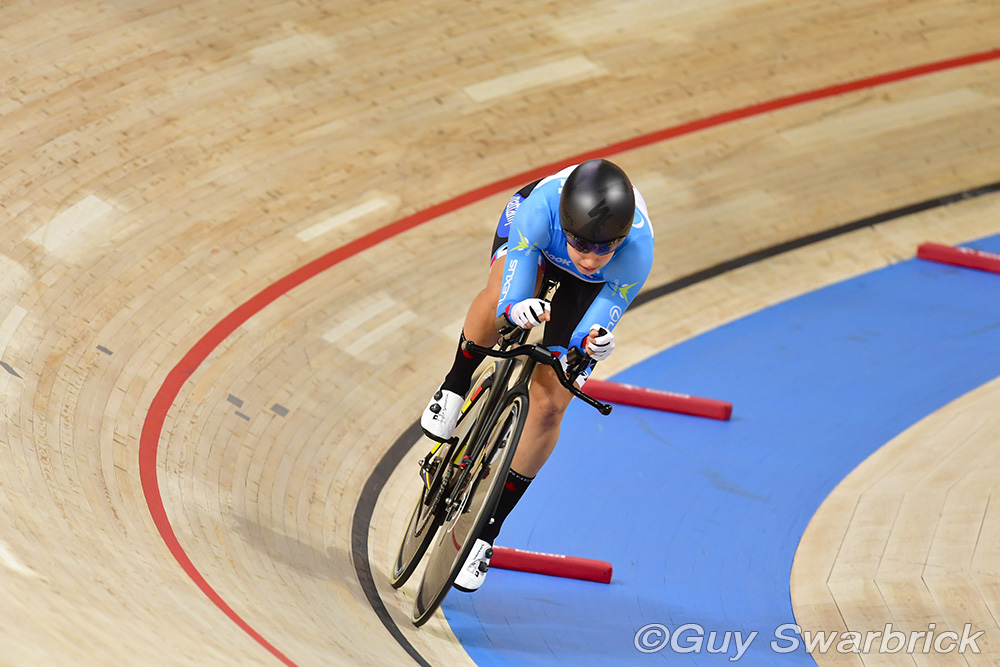 Annie Foreman-Mackey
"It was only two months ago that I raced at Junior Track Worlds," said Coles-Lyster, "and I felt ready to make the jump. It was time to move on to this level and it was definitely a challenge. It felt surreal to be racing against multiple world champions, and just racing with them I learned so much. I just need more experience at elite racing and harder training over the next couple of years to be able to get to the front and factor in the points. I feel I have a good tactical sense of the race to get in proper position, but I just need a bit more strength to be in the sprints for points."

Craig Griffin, Women's Track Endurance Coach at Cycling Canada, said "This first World Cup in Poland was extremely successful in terms of performances and overall objectives. The team was a blend of existing and young talent, specifically the addition of NextGen athletes Kinley Gibson and Ariane Bonhomme in the team pursuit line up, and Junior World points race champion Maggie Coles-Lyster."

"Catching our breath to race in the middle of a hard training block wasn't the ideal prep, so we set top-five performances in the Team Pursuit and Madison as primary goals, along with grabbing valuable UCI points and gaining experience. We checked all of these boxes and I'm very encouraged with our performances and the athlete development process we have in place. We now head back to training camp in Milton with some great momentum for our home World Cup at the end of the month."
Results
---
Related Photo Galleries
---