January 24/18 9:34 am - Commonwealth Games Team Announced

Posted by Editoress on 01/24/18

Cycling Canada and Commonwealth Games Canada have announced a team of 18 riders (9 women/9 men) for the cycling events at the XXI Commonwealth Games, to take place April 5-14 in Gold Coast and Brisbane, Australia.

Canadian cyclists have a long tradition of medal-winning performances at the Commonwealth Games, including three medals at the Glasgow Games in 2014. At the Gold Coast Games, athletes will compete in Track, Mountain Bike and Road cycling events.

"The Commonwealth Games is a really special event," said Team Leader for cycling Kris Westwood. "On the one hand it's a highly competitive event that gives our veteran athletes a shot at career highlight performances; on the other hand it's an opportunity to give valuable major Games experience to our future Olympians -- this will be the first Games experience for nearly half our delegation. In track cycling, with Australia, Great Britain and New Zealand competing, the field will be world-class, so it's really exciting to return to the Commonwealth Games and see the progress we've made since Glasgow in 2014. Four years ago, the men's Team Pursuit program was just getting off the ground; now, we're heading to the Games with a seasoned, competitive squad. Meanwhile, the addition of the women's Team Pursuit to the program gives us an event to shine in, and we can expect strong results in Mountain Bike as well."

"Whether it's on the road, on the velodrome track, or down the mountain, the fast-paced sport of cycling is always captivating," said Chef de Mission Claire Carver-Dias. "With three medals four years ago, and a returning medalist in Emily Batty on the team, our 18 Canadian athletes are bound to contend for top spots at the Commonwealth Games once again in Gold Coast."

Mountain Bike

Canada has been a dominant force in Mountain Biking at the Commonwealth Games since it was introduced at Manchester in 2002; having won every gold medal in the women's competition and a total of 8 of 18 medals awarded. Three Canadian riders will represent Canada at the Gold Coast, led by Emily Batty of Brooklin, Ontario, the silver medalist at the 2014 Commonwealth Games, Pan Am Games champion in 2015 and fourth at the Rio Olympics in 2016. Batty will be joined by rising star Haley Smith of Uxbridge, Ontario, for the women's race, and Rio Olympian Leandre Bouchard of Alma, Quebec, for the men's competition.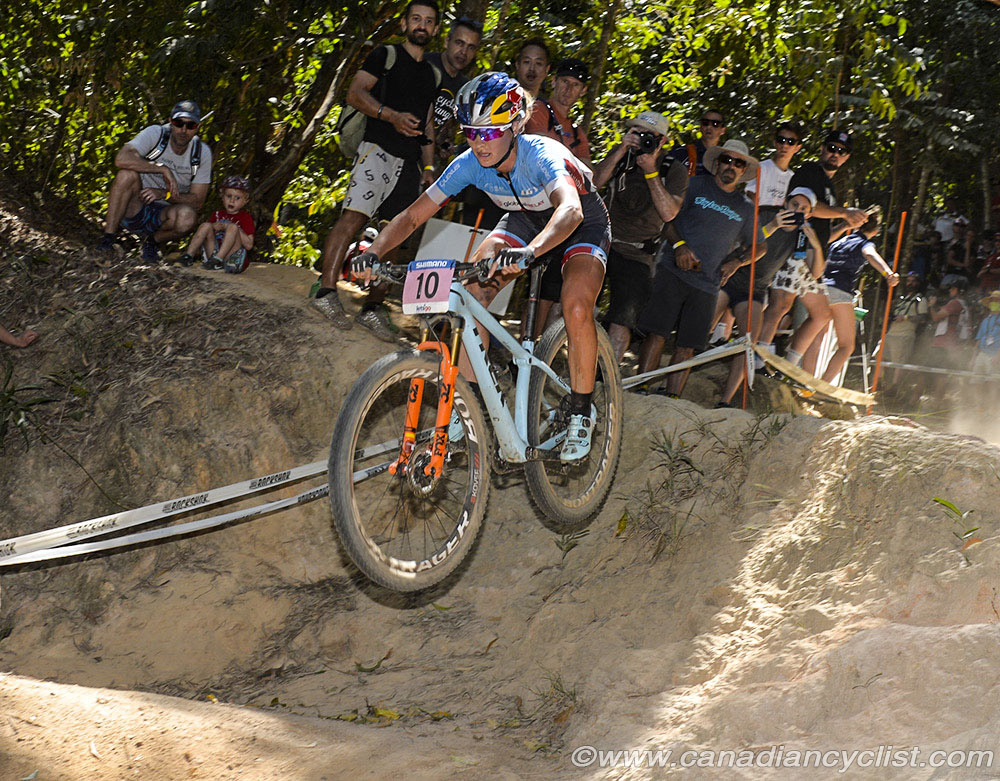 Emily Batty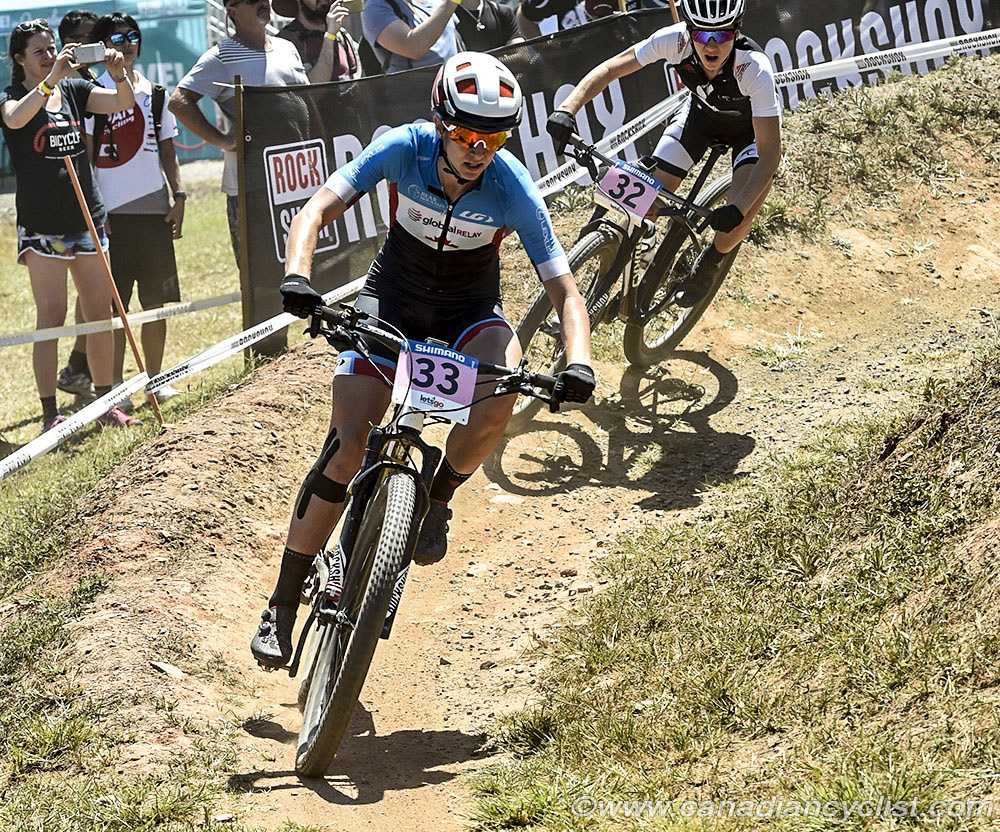 Haley Smith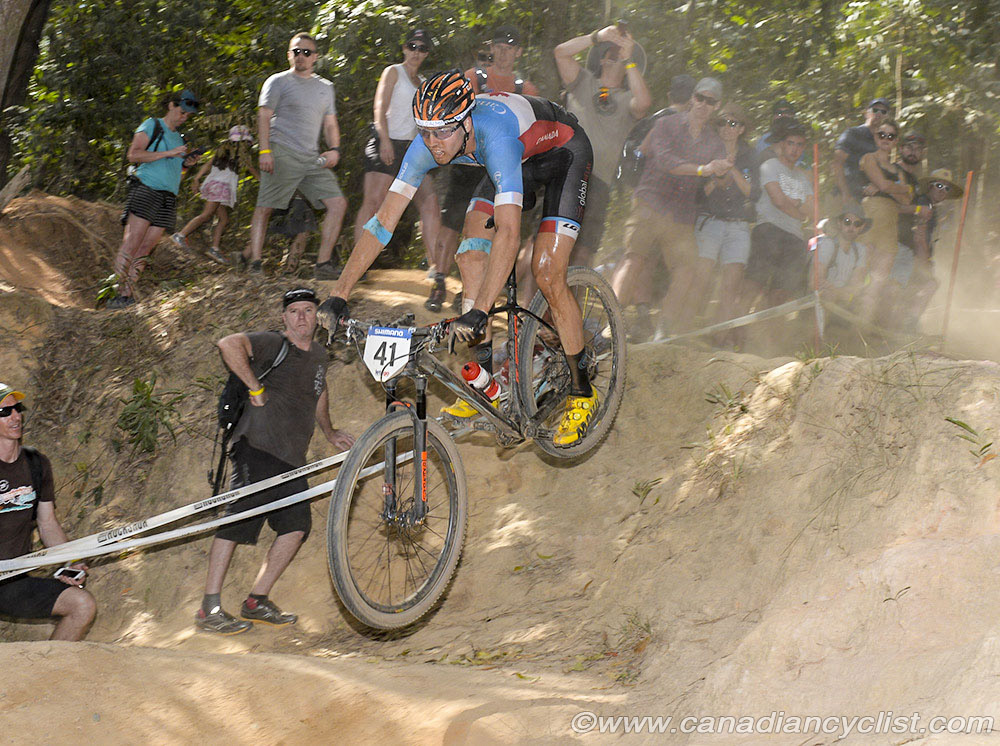 Leandre Bouchard

Emily Batty, currently at a pre-season training camp with the national team, said "With the 2018 race season looming on the horizon, I come into the season with new motivation, and the Commonwealth Games will be a great race to begin with. I've made some major changes this year, and it will be interesting to see how some of those changes translate to racing and, in particular, a significant Games event. To represent Canada on the international stage is an absolute honour as always, and one I will never take for granted. The competition will be tough, but we have a fantastic team and teammates that increase our chances for success. I also have some reconnaissance data from my Trek Factory Racing Team to better prepare me, plus my fitness and the motivation to win, and I hope to showcase that in Queensland in two months time."

Our medal prediction: A minimum of two medals, possibly three. Batty's biggest challenge will be Annie Last of Great Britain, who had a stellar season 2017, with her first World Cup win and a silver medal at the Worlds in Cairns, Australia. Batty was seventh, despite a bad crash and a gashed knee. Haley Smith was a strong 16th with Australia's own Rebecca Henderson 20th. The men's race should be a battle between Australia's Dan McConnell (9th in Cairns), Anton Cooper (New Zealand) - the defending Commonwealth Games champion and 16th in Cairns - and Bouchard (24th). Plus Samuel Gaze of New Zealand, the Under-23 world champion last year in Cairns.

Women's Mountain Bike
Emily Batty - Brooklin, Ontario
Haley Smith - Uxbridge, Ontario
Alternate: Sandra Walter - Coquitlam, BC

Men's Mountain Bike
Leandre Bouchard - Alma, Quebec
Alternate: Peter Disera - Horseshoe Valley, Ontario

Notes

- the addition of the Team Pursuit for women and the total quota limit of 18 athletes meant only one male mountain bike spot was available.
- Catharine Pendrel, the defending Commonwealth Games women's champion, declined selection.
- The mountain bike team will have a pre-Games camp in Victoria, BC.


Track & Road

The cycling events will start on April 5th with five days of track competition. There will be a total of 20 medal events - four of which are Para. Canada will have no entries in the Para events, since it conflicts with the Canadian track championships and preparation for Défi Sportif and the opening round of the World Cup. Selections for the individual events will take place closer to the Games. The Road events will close out the cycling competition, with the track endurance athletes filling the roster for the women's and men's road races and time trials.

Track Events
• Sprint
• B&VI Sprint (Para)
• 500m (W) / 1000m (M) Time Trial
• B&VI 1000m Time Trial (Para)
• 3000m (W) / 4000m (M) Individual Pursuit
• 4000m Team Pursuit
• 25 km (W) / 40 km (M) Points Race
• 10 km (W) / 15 km (M) Scratch Race
• Team Sprint
• Keirin

Canada is particularly strong in the women's Team Pursuit, winning bronze medals at the past two Olympic Games, as well as a gold medal in World Cup competition this season. The team will be anchored by Calgary's Allison Beveridge, a member of the World Cup winning squad, as well as the reigning national road champion. The men's program, while much newer, finished second to the world champion silver medalist New Zealand squad in World Cup competition this season.

Women Team Pursuit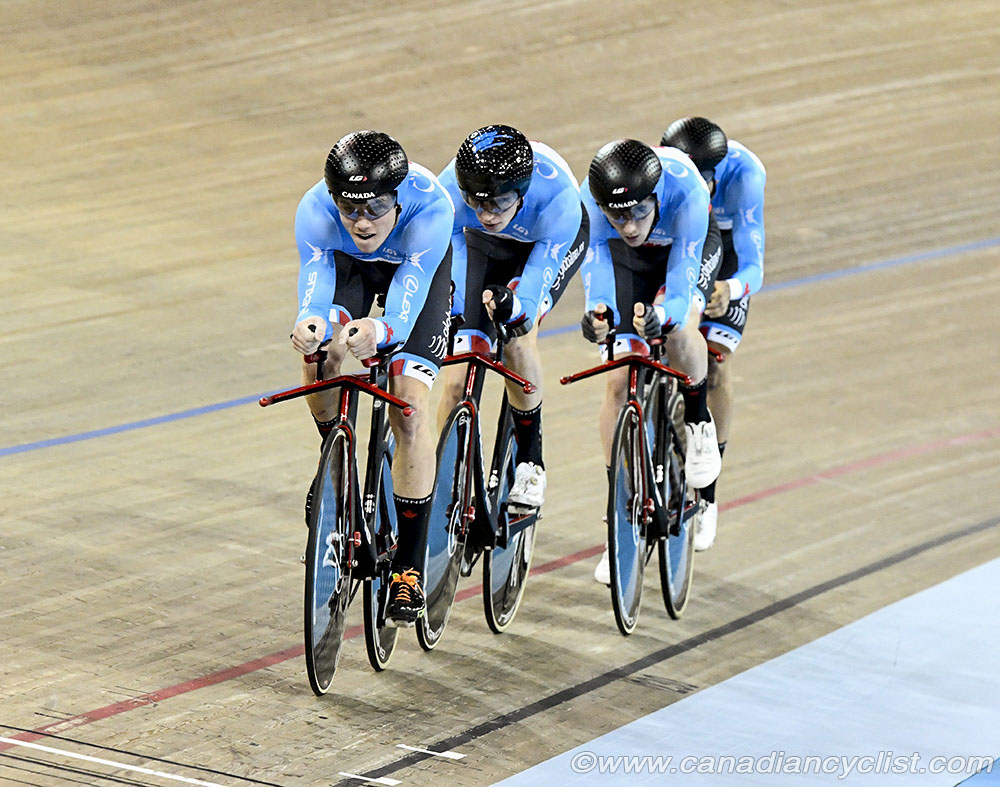 Men Team Pursuit

"I'm really looking forward to my first Commonwealth Games," said Beveridge. "The Games are quite close to the world championships, which are always a major goal and will provide some challenges, but preparation for both are coming along well and the team is getting closer on and off the bike. It's a good mix of events with the Team Pursuit now in the Games for women, so it'll be a lot of fun to prepare for. Hopefully, the team will also be able to have some individual strengths shine through in the various events."

"I'm thrilled with our Games team line up," said Women's Track Endurance Coach Craig Griffin. "It's a great balance of youth in Ariane [Bonhomme] and Kinley [Gibson], and experience with Steph [Roorda], Allison [Beveridge] and Annie [Foreman-Mackey]. These Games provide an important opportunity to embrace and experience a major Games environment as we continue to build and strengthen our squad for Tokyo. I'm confident we can deliver medal winning performances on the track and also be in the mix for the road events."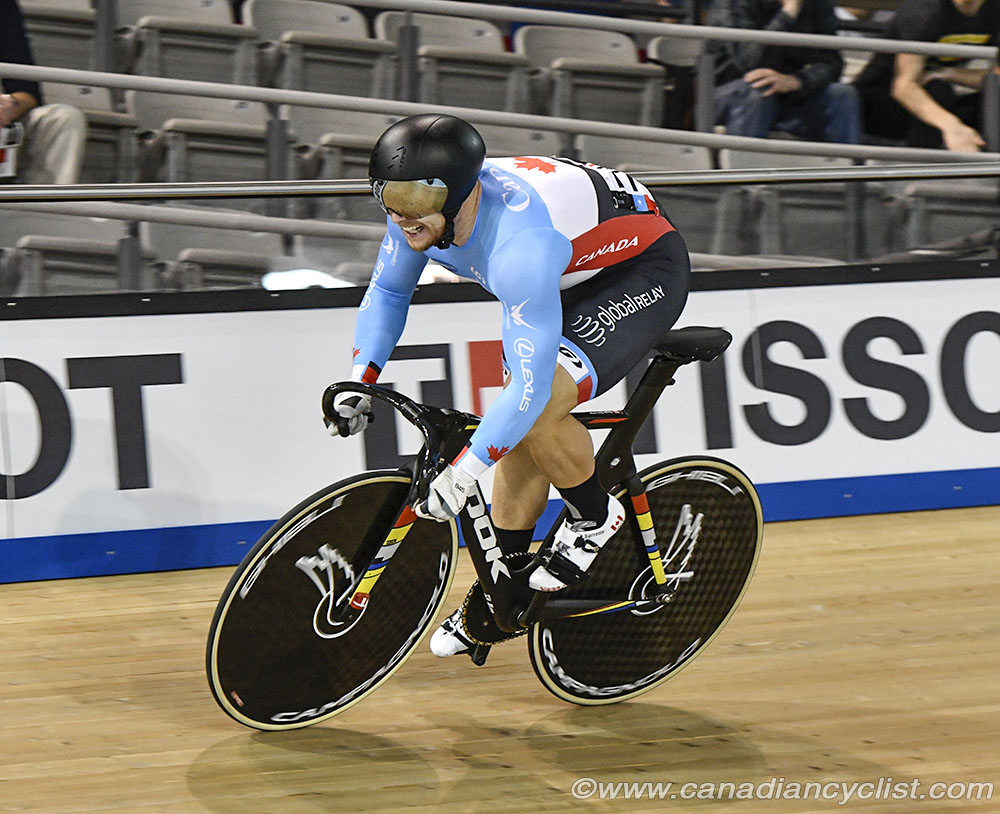 Hugo Barrette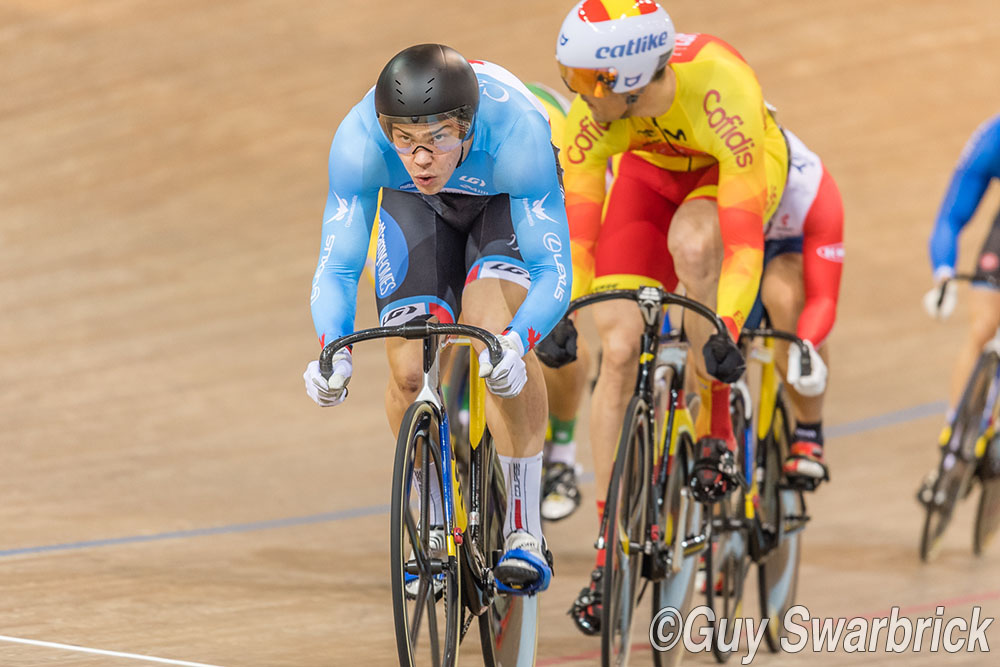 Stefan Ritter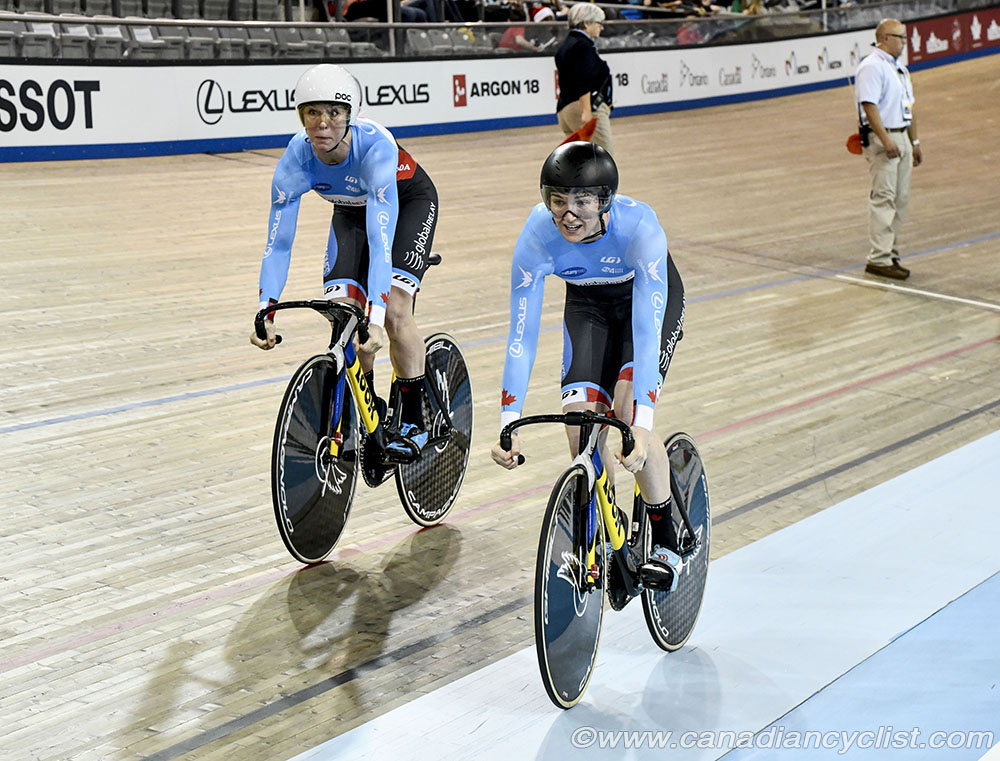 Tegan Cochrane (L) and Amelia Walsh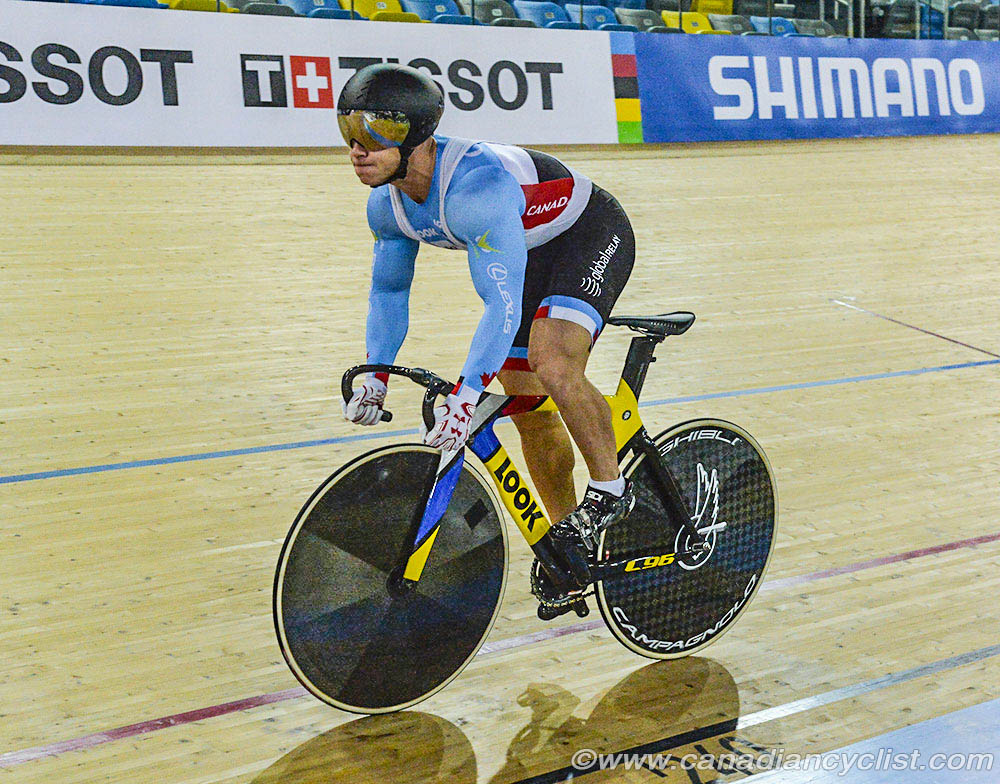 Patrice St-Louis Pivin
The Sprint events on the track will see Canada boast two World Cup medalists; Hugo Barrette and Stefan Ritter. Ritter could do particularly well in the 1000 metre time trial (Kilo), where he still holds the Junior world record.

Our medal prediction: Minimum four medals, possibly as many as seven. Australia and New Zealand will definitely be sending 'A' squads for the track (Australia has chosen the Commonwealth Games as their focus instead of the Worlds). While Great Britain is a world leader on the track, they usually don't have the same emphasis at the Commonwealth Games as they do at the Olympics. Plus, the team is split up among England, Wales, Scotland, Isle of Man, Jersey Islands, etc.

Notes

- Jasmin Duehring and Kirsti Lay have a calendar conflict with their road programs and declined selection.
- The women's endurance squad will have their pre-Games camp in New Zealand, while the men's endurance and sprint squads will prepare in Milton.

Women's Track Endurance & Road
Allison Beveridge - Calgary, Alberta [Team Pursuit, Road Race]
Ariane Bonhomme - Gatineau, Quebec [Team Pursuit, Road Race]
Annie Foreman-Mackey - Kingston, Ontario[Team Pursuit, Individual Time Trial, Road Race]
Kinley Gibson - Edmonton, Alberta [Team Pursuit, Road Race]
Stephanie Roorda - Vancouver, BC [Team Pursuit, Individual Time Trial, Road Race]
Alternate: Devaney Collier - Edmonton, Alberta

Men's Track Endurance & Road
Aidan Caves - Vancouver, BC [Team Pursuit, Road Race]
Michael Foley - Milton, Ontario [Team Pursuit, Road Race]
Derek Gee - Ottawa, Ontario [Team Pursuit, Individual Time Trial, Road Race]
Adam Jamieson - Barrie, Ontario [Team Pursuit, Individual Time Trial, Road Race]
Jay Lamoureux - Victoria, BC [Team Pursuit, Individual Time Trial, Road Race]
Alternate: Bayley Simpson - Lindsay, Ontario

Women's Sprint
Tegan Cochrane - Kelowna, BC
Amelia Walsh - Ayr, Ontario
Alternate: Lauriane Genest - Levis, Quebec

Men's Sprint
Hugo Barrette - Iles de la Madeleine, QC
Stefan Ritter - Edmonton, Alberta
Patrice St-Louis Pivin - Sherbrooke, Quebec
Alternate: Joel Archambault - St-Christine, Quebec
---
Related Photo Galleries
---