March 14/18 9:01 am - Registration Opens for Masters Nationals & Robert Cameron Law Cycling Series

Posted by Editoress on 03/14/18

Registration is now live for the Robert Cameron Law Cycling Series p/b Lexus Victoria and the Global Relay Canadian National Masters Cycling Championships as these two mega-events join forces June 1-3, 2018.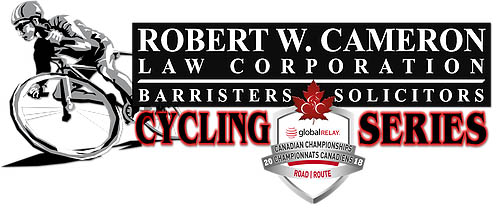 "We are only three months away and the momentum is building for what will be an epic cycling event here in Victoria," said Race Director, Jon Watkin. "Racers from across Canada will experience three days of spectacularly scenic yet challenging racing events in Metchosin, Oak Bay, and downtown Victoria."

"With such a majestic location, we are very proud to be hosting our Canadian Masters Road Championships in beautiful Victoria, B.C." said Cycling Canada CEO, Pierre Lafontaine.

"Cycling is a life-long sport and having so many Masters athletes competing in this event demonstrates that age knows no barriers when looking to new challenges. We are excited to help stage a memorable event for our Master athletes."

Racers will be soaking up the splendor of a scenic waterfront when the Series kicks off on Friday, June 1st, with the Specialized Time Trial at Clover Point and Dallas Road. The time trial competitors will start individually at one-minute intervals, racing two laps of a technical 10 kilometre out-and-back course on Dallas Road and Beach Drive.

On Saturday, June 2nd, the racers will take to the hills of Metchosin en masse to test their mettle on a grueling 10k kilometre circuit which has served as a past course for the BC Road Cycling Championships.

"We affectionally call it a race of attrition," says Watkin. "The first lap typically features the fearless and bold breaks - then it just comes down to endurance and power. The winners will truly be deserving of a National Cycling Championship Jersey."

The Robert Cameron Law Cycling Series reaches a crescendo on Sunday, June 3rd, with the Russ Hay's Grand Prix Criterium around the BC Legislature. This race - the "Nascar" of cycling road racing - takes racers wheel-to-wheel and shoulder-to-shoulder around a fast four-corner circuit in front of thousands of cheering spectators. Racers will complete multiple laps while negotiating turns at over 60 kilomettres per hour while sprinting for lap prizes called "primes".

Kids ages 3-10 will be able to take part in the Kids Bike Challenge, where they will be joined by Canadian Olympians to ride along the race circuit.

The final event of the series is the Broad Street Cycles Fixed Gear Criterium, where cycling goes rogue with racers using bicycles that have no brakes and use only one "fixed" gear. Hoyne Brewery will have a beer garden on hand to close off the weekend of cycling action.

To register and for more information visit www.victoriabikerace.com

Summary of Events

June 1 - Specialized Time Trial on Dallas Road - Canadian Masters Time Trial Championships
Categories: Men & Women Masters, U13, U15, U17, U19, Novice, Cat 4, Cat 3, Cat 2, Cat 1

June 2 - Metchosin Cycling Classic - Canadian Masters Road Championships
Categories: Men & Women Masters Only.

June 3 - Russ Hay's Grand Prix - Canadian Masters Criterium Challenge
Categories: Men & Women Masters, U13, U15, U17, U19, Novice, Cat 4, Cat 3, Cat 2, Cat 1

June 3 - Kids Bike Challenge
Boys and Girls ages 3-10

June 3 - Broad Street Cycles Fixed Gear Crit
Categories: Open Men and Women

To Register, visit HERE.

---
Related Photo Galleries
---