March 26/18 17:34 pm - Commonwealth Games Profile - Ariane Bonhomme

Posted by Editoress on 03/26/18

Ariane Bonhomme will attend her first Commonwealth Games at Gold Coast as a member of the women's squad that will race on the track and the road. This will be her first major Games. Bonhomme, from Gatineau, Quebec, will turn 23 just before the Games begin.

"I started cycling when I was a short track speed skater, trying to find something fun to keep in shape during the summer time. I was in Grade 6 when I did my first road race. I soon fully transitioned to cycling due to a knee injury that kept putting me on the back burner in short track."

"I've always been very competitive, so reaching the national team was a clear path for me. I've always wanted to go to the Olympics since I was very young, so it was very natural to make it a goal of mine from the first couple times I started racing bikes."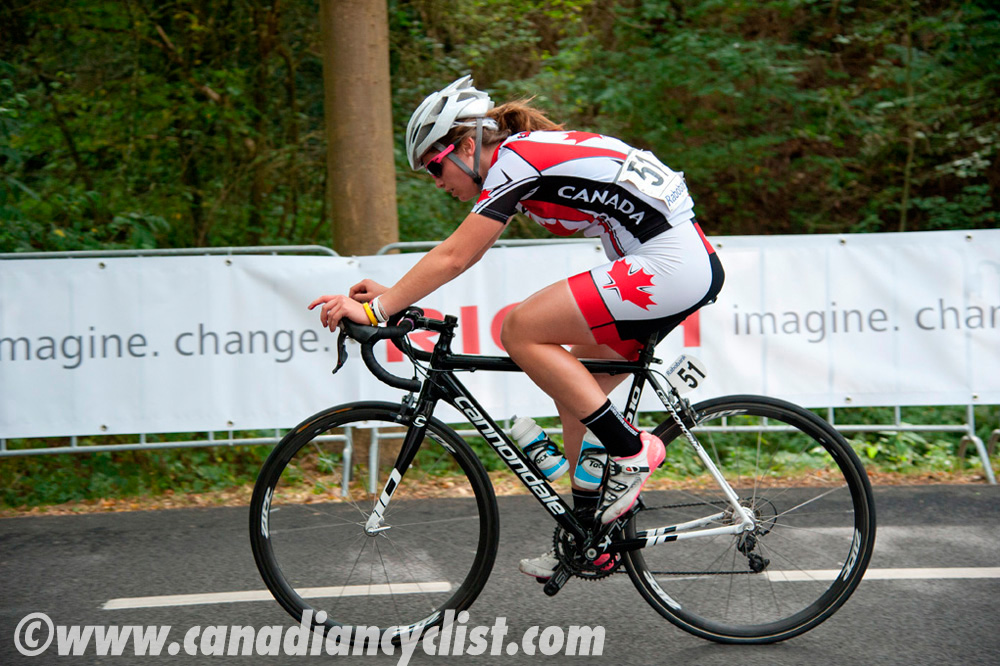 2012 Road Worlds Junior Women Road Race
Bonhomme first represented Canada as a Junior at the 2012 Road Worlds, finishing 69th. She joined the Elite ranks in 2014 and immediately began racing in the top domestic races such as GP Gatineau and the Delta Road Race, as well as the national championships, riding with the local Ottawa-based The Cyclery team. However, she also joined the NextGen women's endurance track program when it started for the 2015-16 season.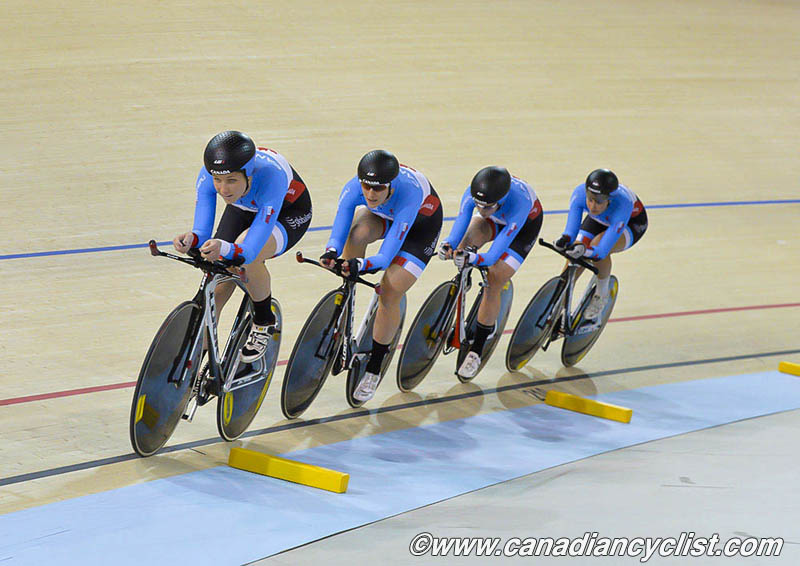 Leading Canada 2 at the 2015 Milton International


2016 Grand Prix Gatineau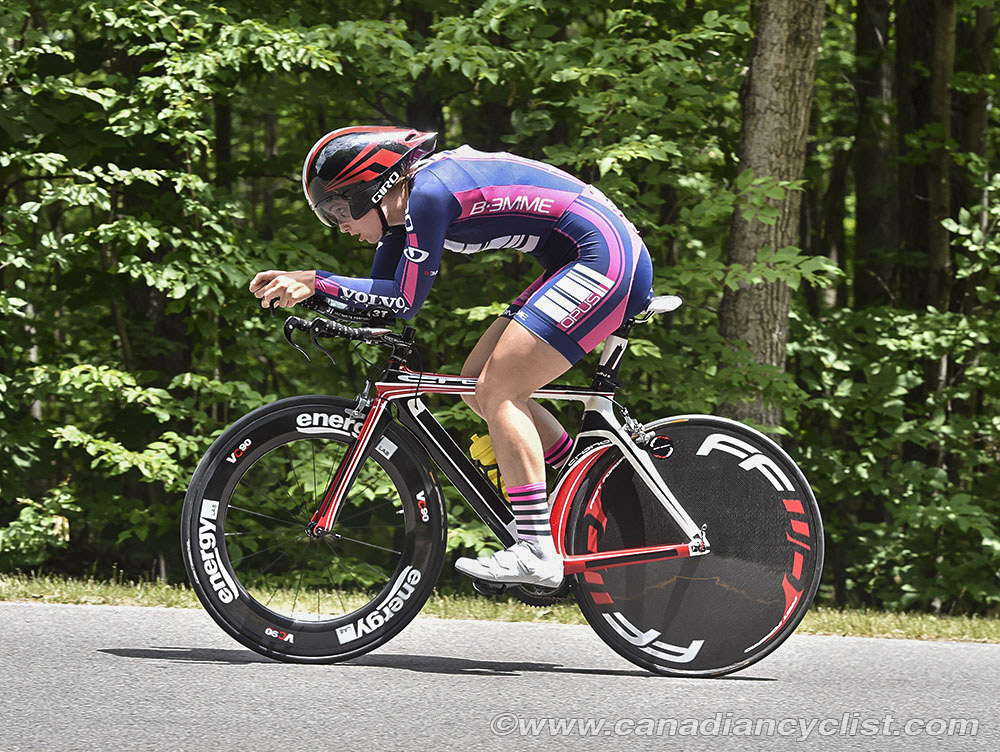 2016 U23 Women's ITT winner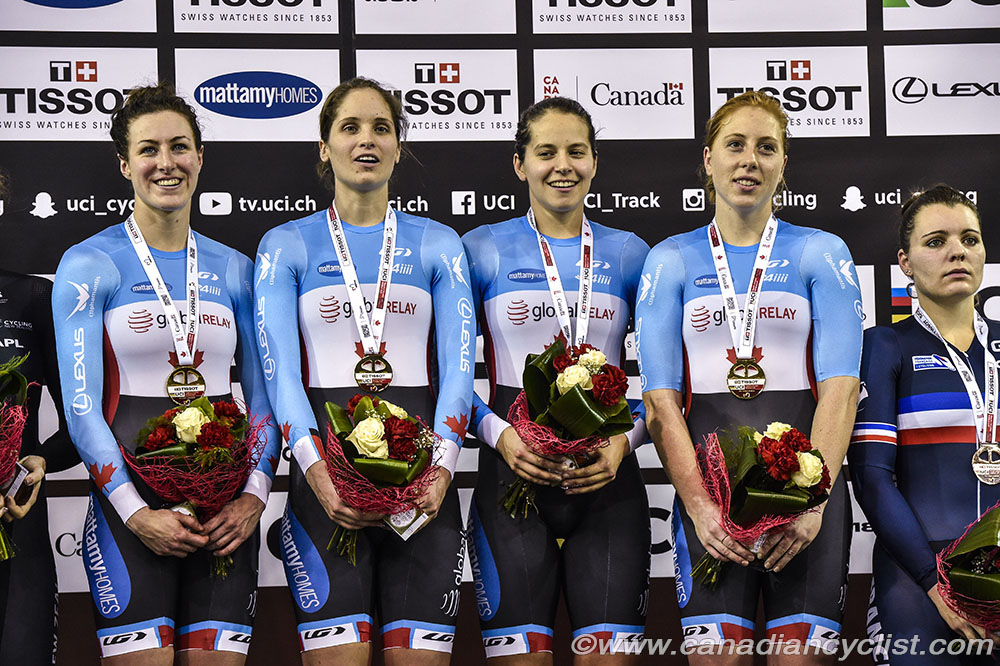 Member of the Gold medal Team Pursuit squad at the Milton World Cup 2017
In 2016, she represented Canada at the Pan Am track Championships in Aguascalientes, Mexico, winning a gold medal in the Team Pursuit and a bronze medal in the Points Race. In 2017, she became one of the first riders to graduate to the Olympic Pool and began to represent Canada at World Cups, as part of the Team Pursuit squad that won a silver medal in Poland and a gold medal at the Canadian team's home track in Milton last December.

"Obviously, some of the victories or good results I've had are some important moments in my cycling career, like winning the gold medal in the Team Pursuit at the Milton World Cup, but I think the most important moments are the ones that no one really ever hear of."

"The moments of injuries or struggles to get results that could have easily end up in quitting the sport. I've had my fair share of these moments, from broken bones to concussions or overtraining, and it's that key moment when you realize that this is temporary, that with a good support network you can get out of this and that it will be all worth it when you get to stand on the podium with three of your best friends that makes it all worth it."

"I've always had a very strong support system around me, from my parents, to my friends and [NextGen coach] Jenny Trew and Chris Reid with The Cyclery team and I could never thank them enough for believing in me."

Most recently, Ariane was on the Canadian Team Pursuit squad that finished fourth at the world championships this year.

"World Championships were an amazing experience! It's something that I've always dreamt about and being there for the first time was pretty surreal and amazing. Racing alongside these three very talented and experienced riders was also so much fun. I was grateful to have them to walk me through the process. It was obviously heartbreaking to finish just outside the podium, but it sure gives us fire in our belly to redeem ourselves at the Commonwealth Games."

For Ariane, the Commonwealth Games represent another step in her development as an athlete.

"I am very excited to participate in my first major Games! The whole team has been very helpful into giving us information about how it is going to work. We are all pretty excited to get to the Gold Coast and get the show going. We are ready to race hard!"
---
Related Photo Galleries
---