April 16/18 9:12 am - Records Fall at Under-17 and Junior Canadian Track Championships p/b Lexus

Posted by Editoress on 04/16/18

National records were broken over the weekend at the 2018 Canadian Track Championships p/b Lexus for Under-17 and Junior athletes, which took place at the Mattamy National Cycling Centre in Milton, Ontario, on April 13-15. The Para-cycling Challenge also took place during the weekend.

Five Canadian records were broken, including three in Team Sprint, for the Under-17 Men (Team Ontario - Dylan Bibic/Andrew Scott/Tyler Rorke), Under-17 Women (Team Ontario - Nicole Bradbury/Madison Demptster) and Junior Men (Cycling BC - Tyler Davies/Ethan Ogrodniczuk/Riley Pickrell). Additional national records fell in the Under-17 Women's 500 metre time trial (Madison Dempster, Midweek Cycling, Ontario) and Under-17 Women's Sprint 200 metre time trial (Madison Dempster, Midweek Cycling, Ontario).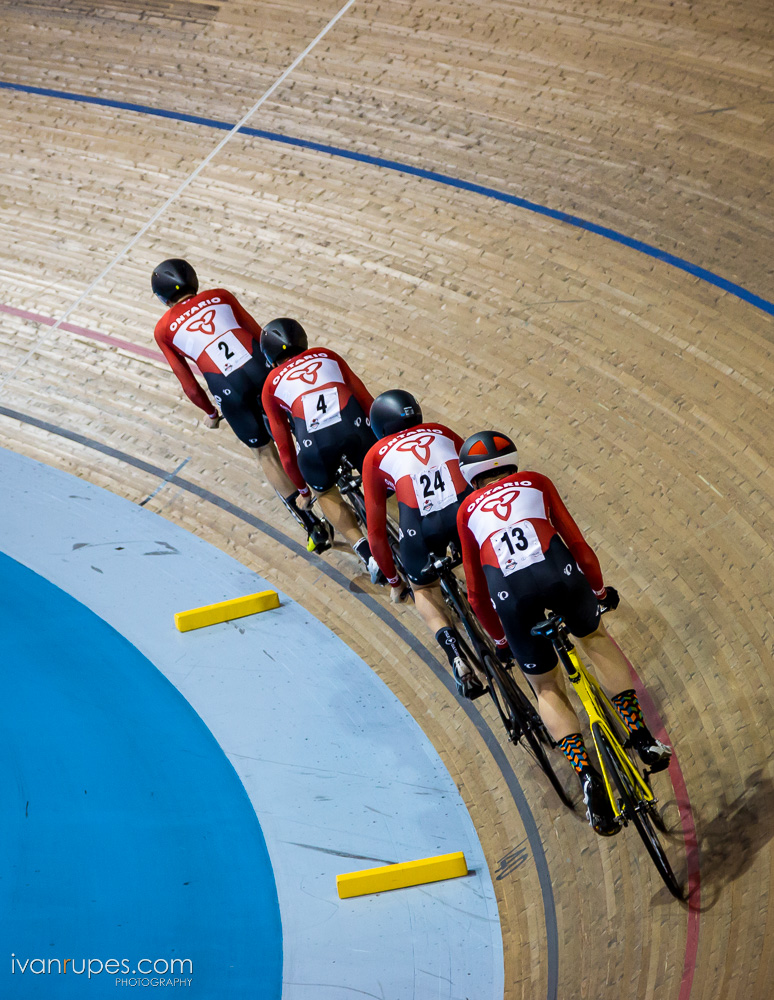 Ontario took the most national titles, with 19, followed by British Columbia at 14. The only other provinces to score multiple titles were Quebec with three and Alberta with two.

Individually, multiple athletes dominated their categories. Ontario's Dylan Bibic (Midweek CC) won an incredible seven gold medals in Under-17 men, winning every single event except Sprint and 500 metre time trial, where he also medaled. Cycling BC's Sarah van Dam was as dominant in Junior Women, also winning seven national titles, while her team mate Riley Pickrell took six titles in Junior Men. One won four titles - Ontario's Madison Dempster (Midweek CC) took four Under-17 women's titles in the Keirin, Sprint, Team Sprint, 500 TT. Three athletes won three titles - Nicole Bradbury (NCCH p/b Franklin Templeton), and Under-17 men Andrew Scott (Midweek CC), plus Cycling BC's Ethan Ogrodniczuk.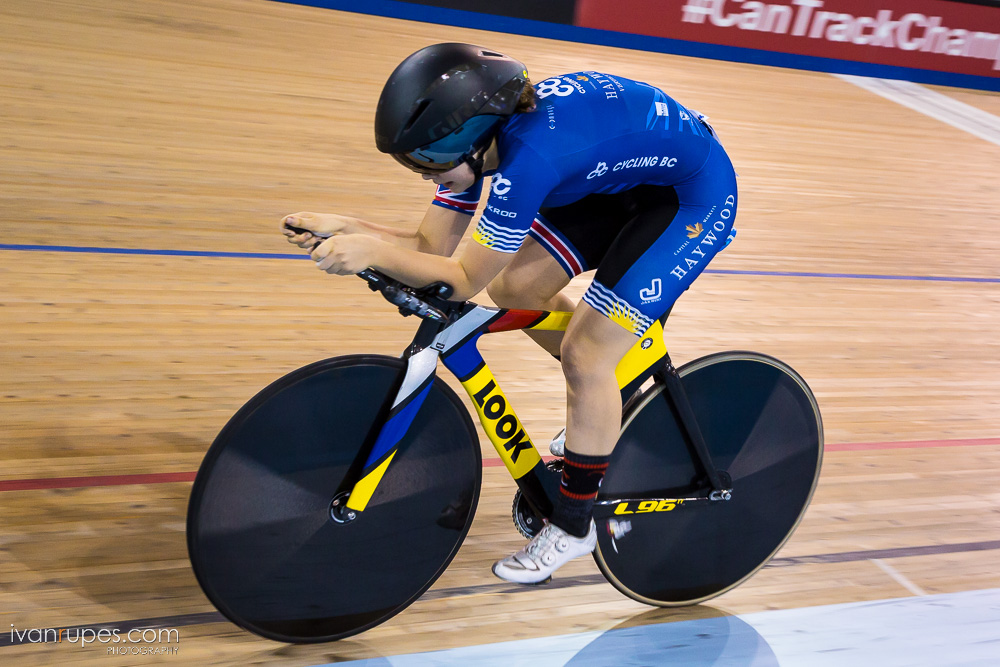 Sarah van Dam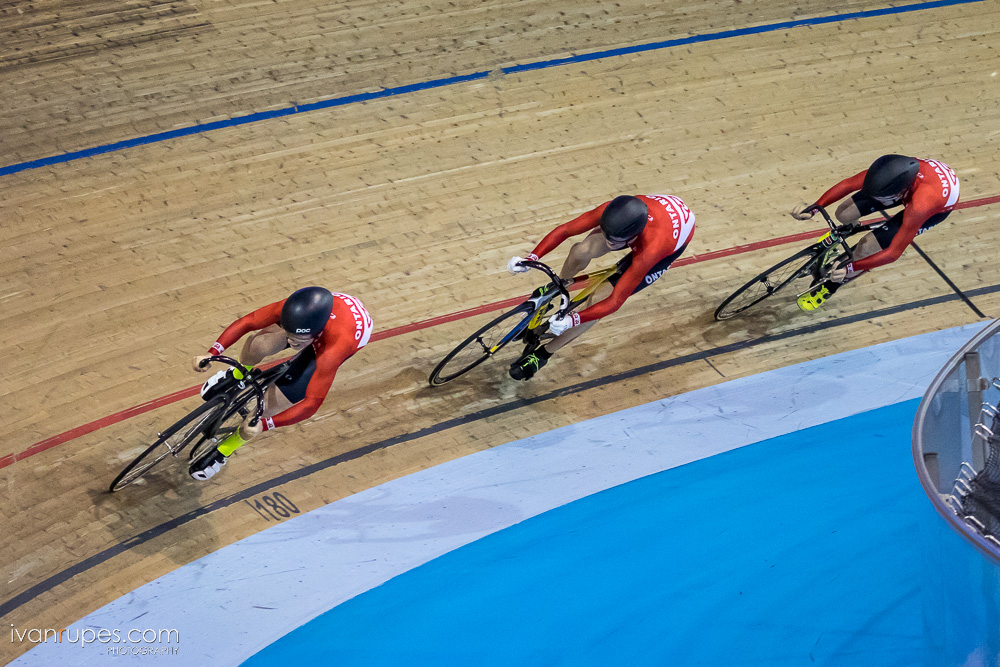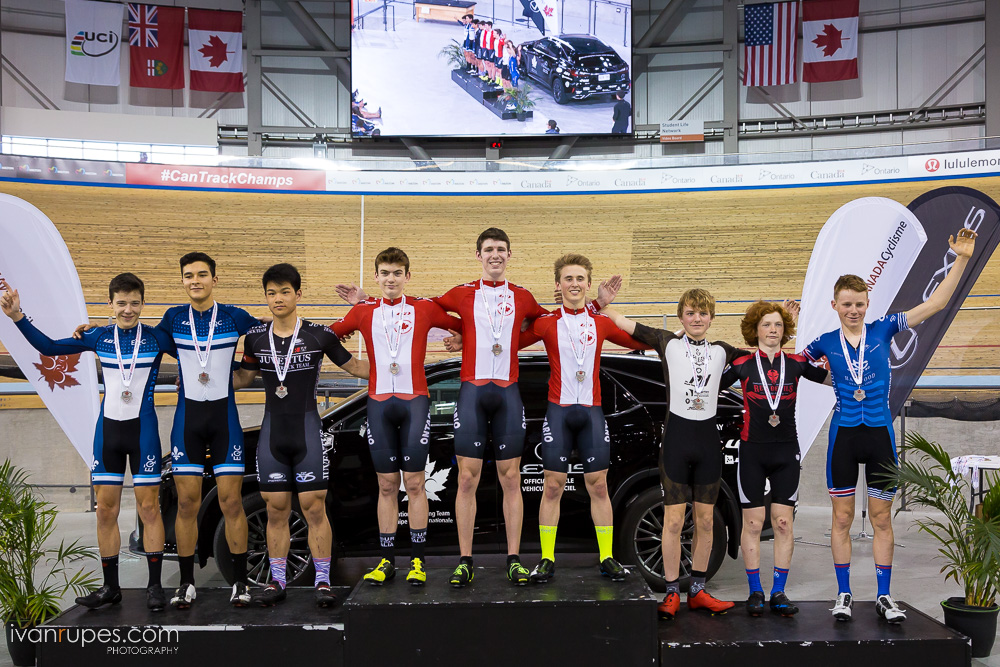 Team Sprint, Under-17 Men (Team Ontario - Dylan Bibic/Andrew Scott/Tyler Rorke) broke the national record
Dylan Bibic, who is still only 14 years old, said, "It was a good weekend. I don't have the really fast acceleration for the sprint events; I like to get going while I'm already up to speed, so the sprints were challenging for me. I expected to get on the podium for most events, but I didn't expect to get as many first places as I did."

Sarah van Dam, racing in her first year as a Junior rider, stated, "It's pretty unreal. I came into this competition thinking that there were so many good riders here, so I was just taking it race by race. I just worked on good positioning for every race and it turned out well. I knew I came here near the top, but I didn't know I was going to be at the very top; there's so many strong riders here."

Riley Pickrell also moved up to Junior for this season. "I came into the weekend expecting to do well, and I think I achieved what I came to do. I was moving up a category [to Junior], so I thought the competition would be as hard as it was. I'm super excited about the Canadian record [in the Team Sprint]. My team mates and I have been working hard all winter for it, nailing the exchanges, and it all came together."

In the Para events, the C4 1000 metre time trials and individual pursuits were won by Canadian Rio Paralympian Marie-Claude Molnar (Equipe du Quebec) for the women, and John Terrell of the United States for the men. The men's tandem 1000 metre time trial and individual pursuit were both won by the Quebec duo of Matthieu Croteau Daigle and his pilot Benoit Lussier, while Kavisha Barran and her pilot Petrina Tulissi won the women's 1000 metre time trial, and Stela Trudeau with her pilot Carrie Cartmill won the women's individual pursuit.

Jessika Grand Bois, Technical Director for the Championships, said, "I am always excited about these Championships. There is something amazing about seeing these athletes race at that level and see them progress through the years, as well as witnessing the camaraderie between them and the support of their family. We are happy to see the fields grow every year and saw some amazing racing this weekend."
Results
---
Related Photo Galleries
---