May 18/18 6:40 am - UCI World Cup Resumes in Albstadt

Posted by Editoress on 05/18/18

After a two month break, the XCO (cross-country) World Cup resumes this weekend with Round 2 in Albstadt, Germany. This is the sixth time Albstadt has hosted the World Cup, and it will offer some firsts - first time the Short Track (XCC) will be added to the program, and first race since Julien Absalon announced his retirement.

Absalon announced earlier in the week that he is retiring, effective immediately, due to ongoing problems with asthma that have been getting worse and require medication [see our report and link to interview HERE ]. It was in Albstadt that he scored his 30th World Cup win, and he retires with a record 33 World Cup victories, two of them in Albstadt (2014 and 2015).

Short Track (XCC)

The XCC is an addition to the cross-country series, and will affect the starting positions for the Elite women and men races, as well as offering a significant number of World Cup points that will impact the standings. The top-16 from Round 1 at Stellenbosch, plus the next 24 on UCI world rankings (NOT World Cup rankings) will participate in this event on Friday evening. In addition to the World Cup points on offer, the top-16 finishers in each of the women's and men's races will take the first two rows of the start line for XCO on Sunday, providing a significant advantage.

Canada has three riders in the women's Short Track - Catharine Pendrel (Clif Pro Team) will start sixth (front row), Emily Batty (Trek Factory) will start 13th (second row) and Haley Smith (Norco Factory) will start 31st (fourth row). The only significant woman missing is Helen Grobert (Cannondale Factory), who is fourth in the rankings, and is out for an unspecified illness. Canada has no men in the top-40 (Leandre Bouchard is highest ranked at 43rd), so no entrants in the men's race. All of the top-40 men are at Albstadt.

The 1.7 kilometre course includes the start of the cross-country circuit on pavement and grass past the tech zone, followed by a section of the singletrack near the end of the circuit and the pavement finish. The number of laps will be decided after the first lap (like cyclo-cross), but is likely 8-9 laps for the men and one less for the women. Heavy rain earlier in the week has made for sticky mud on sections of the course.

For the women's race, the favourites include Jolanda Neff (Kross Racing), Pauline Ferrand Prevot (Canyon Factory) and Linda Indergand (Focus XC). Pendrel can be a strong starter, so could do well. For the men, World Cup leader Sam Gaze (Specialized) is a very fast starter, as is world champion Nino Schurter (Scott-SRAM). Another name to watch will be Mathieu van der Poel (Corendon-Circus), the cyclo-cross star who has now moved over the XC full time. van der Poel has a wrist injury (broken scaphoid), which has been pinned, so the XCC will be a chance to see if it affects his performance.

Cross-Country (XCO)

The Albstadt XCO course is one of the most physically demanding on the World Cup circuit, with lots of steep climbing on its 4.132 kilometres. If it remains muddy, it will become a race of attrition.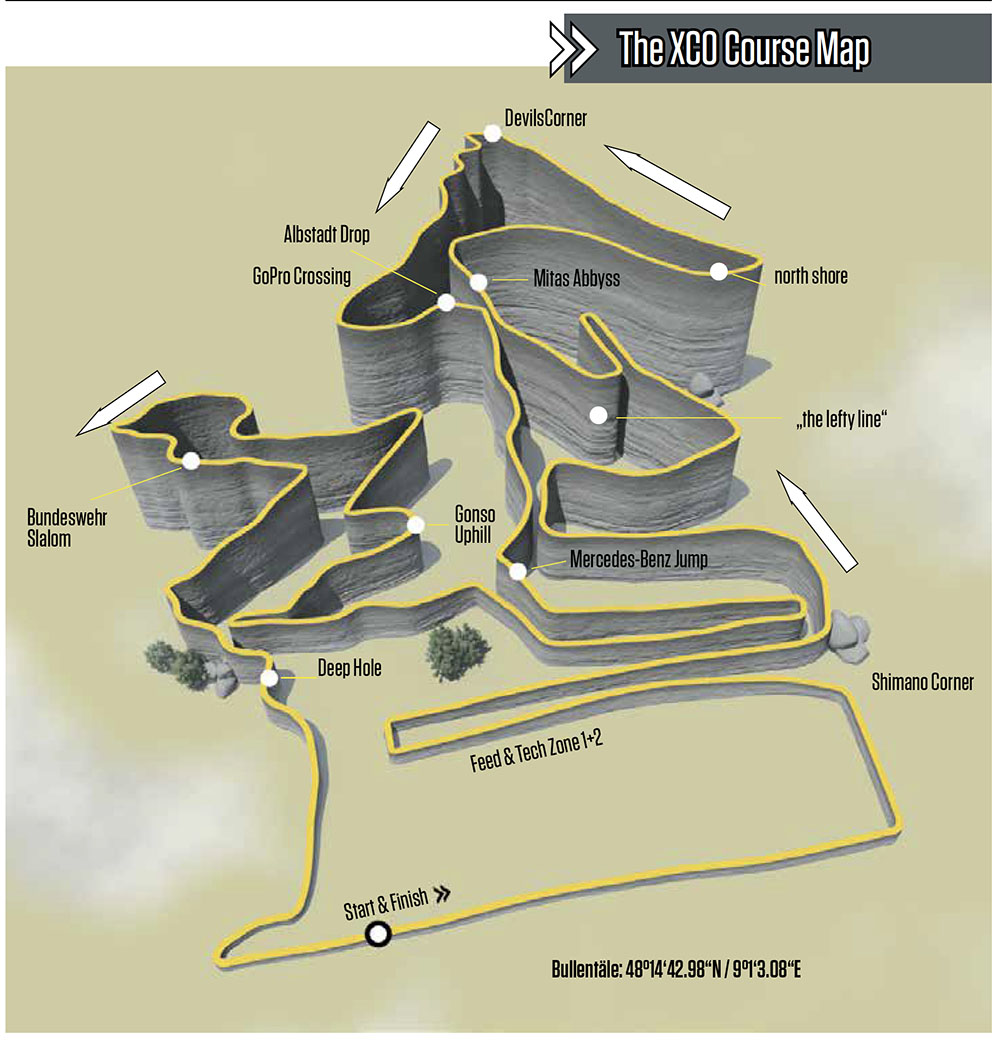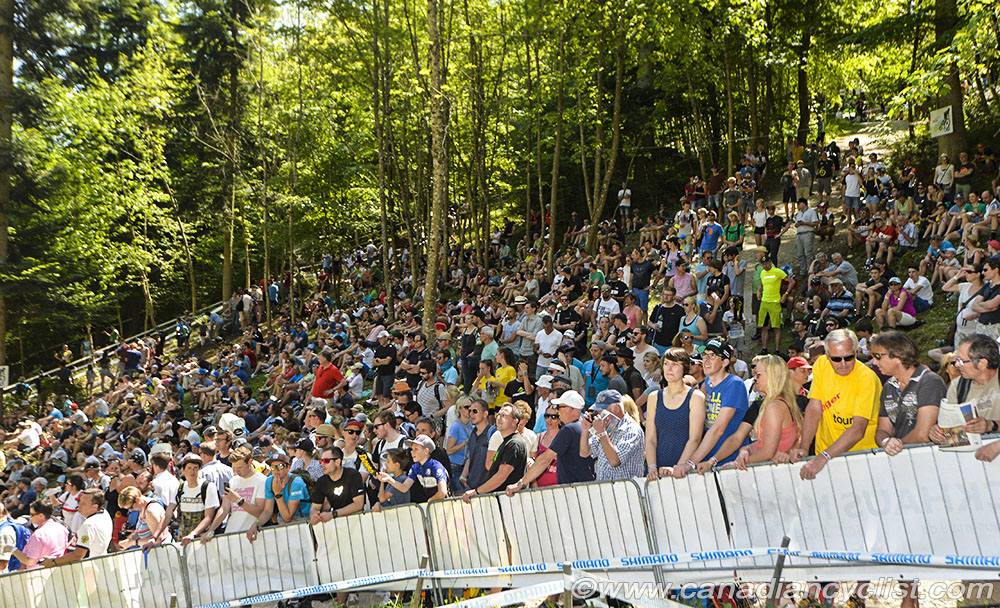 Albstadt draws huge crowds
Last year's winner, Yana Belomoina (CST Sandd American Eagle) took her first World Cup win in Albstadt, and went on to win the overall title, however, a crash last Fall during a road race resulted in a broken femur and she missed the first round in Stellenbosch, so this will be her first chance to assess her condition at the highest level. Annika Langvad (Specialized) won in Stellenbosch, and here in Albstadt in 2016, so is among the favourites, as is second place Stellenbosch finisher Ferrand Prevot. Others to watch include world champion Neff and Annie Last (KMC-Ekoi-SR Suntour).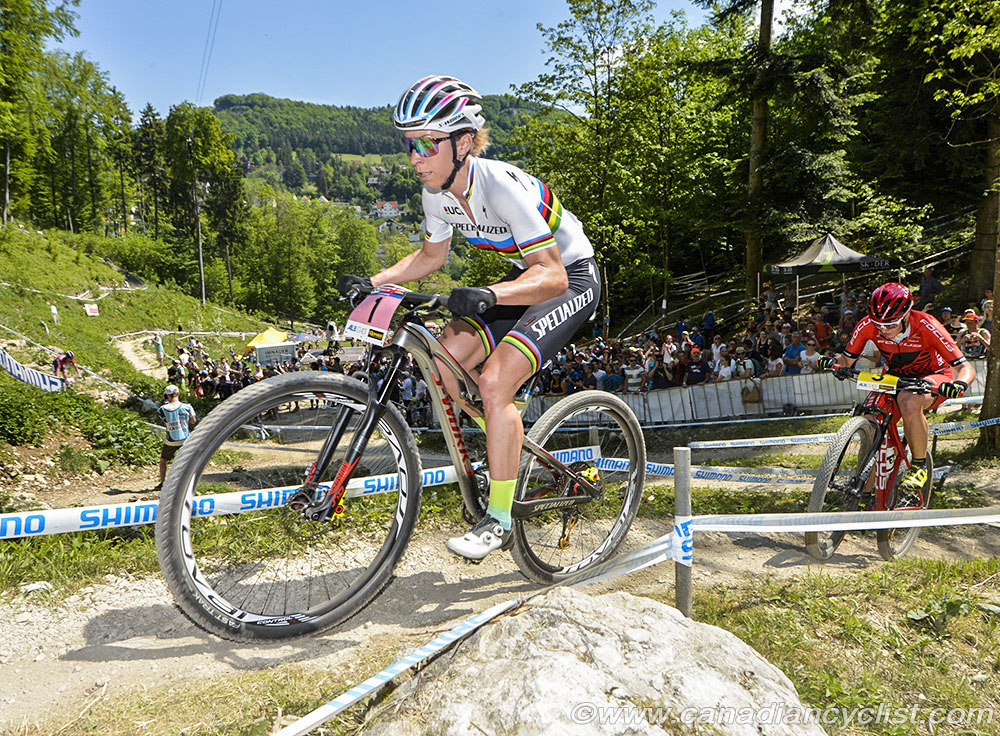 Annika Langvad nearing the top of the climb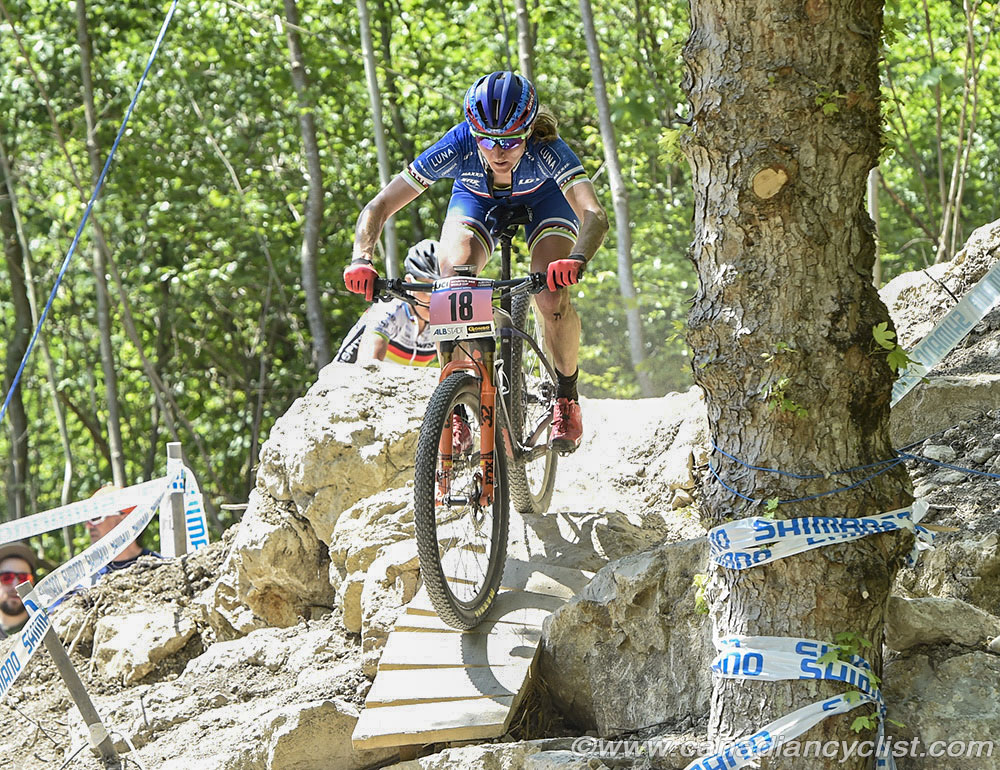 Catharine Pendrel
Canada has six women in the Elite race, led by Pendrel, Batty and Smith. Other Canadians include Sandra Walter (Canadian National), Cindy Montambault and Catherine Fleury (Canadian National)

For the men's race, it will be Gaze, Schurter and van der Poel leading the favourites list. Schurter has won the last two, with van der Poel second last year, and Gaze won the Under-23 race in 2016. Others to watch include Maxime Marotte (Cannondale Factory) - third at Stellenbosch - and Anton Cooper (Trek Factory), who was sixth at Stellenbosch and third last year here in Albstadt.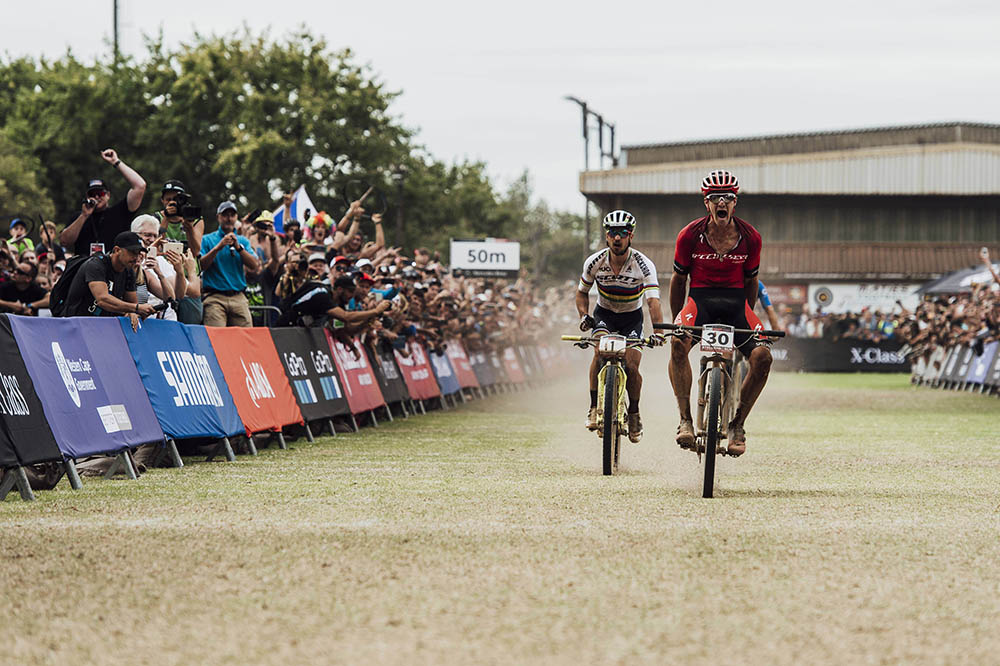 Sam Gaze defeated Nino Schurter in Stellenboch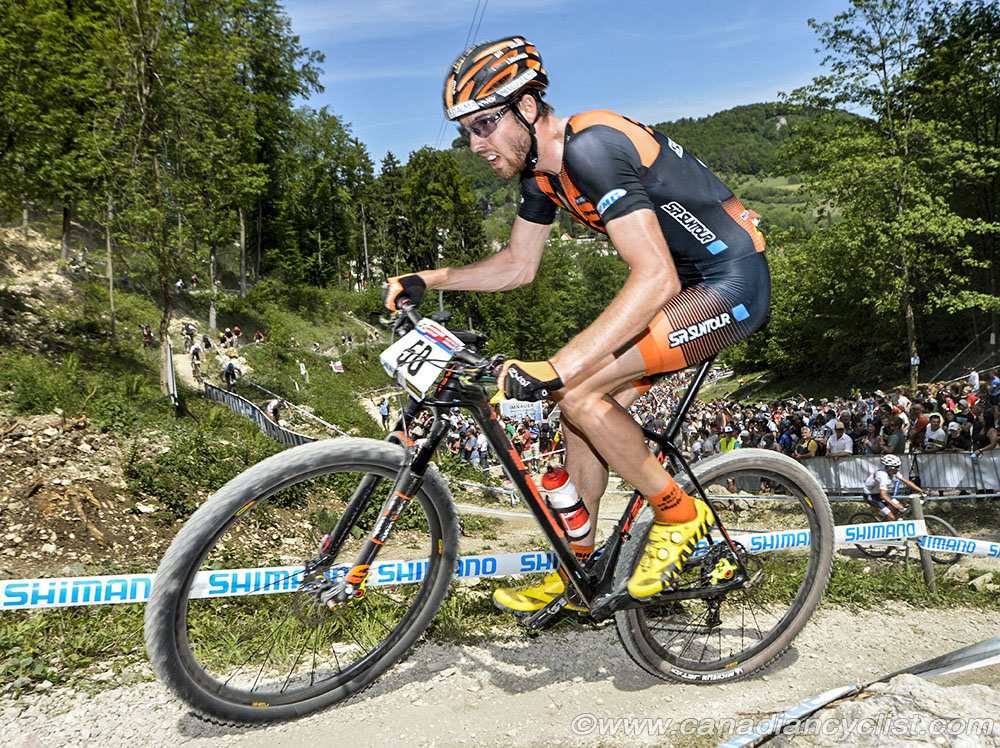 Leandre Bouchard
For Canada, there are four men in the Elite race, led by Leandre Bouchard (KMC-Ekoi-SR Suntour). Other Canadians include Peter Disera (Norco Factory), Andrew L'Esperance (Canadian National/Forward Racing) and Raphael Gagne (Silverback OMX).

In the Under-23 races, Canada has 11 riders. In the women, there are Juliette Tetreault, Anne-Julie Tremblay (Canadian National), Mackenzie Myatt (Canadian National) and Laurie Arseneault. For the men, there are Quinton Disera (Norco Factory), Marc-Andre Fortier (Pivot Cycles-OTE), Sean Fincham (Canadian National), Raphael Auclair (Pivot Cycles-OTE), Felix Belhumeur (Pivot Cycles-OTE), Gunnar Holmgren (Canadian National) and Brody Sanderson (Canadian National).
Canada Brings 8 Riders to MTB World Cups
---
Related Photo Galleries
---