May 27/18 12:34 pm - Emily Batty 4th at Nove Mesto World Cup

Posted by Editoress on 05/27/18

Canada took its first podium of the 2018 World Cup season on Sunday, with Emily Batty (Trek Factory) finishing fourth in the Elite women's race at Round 3 in Nove Mesto, Czech Republic.

Following a weekend of muddy and slick conditions in Albstadt, Germany, riders were presented with the exact opposite at Nove Mesto - dry and extremely dusty.

Women

The women's race quickly came down to two riders - Round 1 winner Annika Langvad (Specialized) and World Cup leader Jolanda Neff (Kross Racing). The two went to the front on the first lap and pulled away on the climbs. Pauline Ferrand Prevot (Canyon Factory) and Batty had their own battle behind for third place.

Langvad was clearly stronger on the climbs and Neff was the same on the descents, so they began every lap together, and coming into the finish it was the same. Langvad attacked first at 150 metres and gapped Neff to take her second win of the season. Ferrand Prevot took third, with Batty fourth and Maja Wloszczowska (Kross Racing) finishing out the podium in fifth.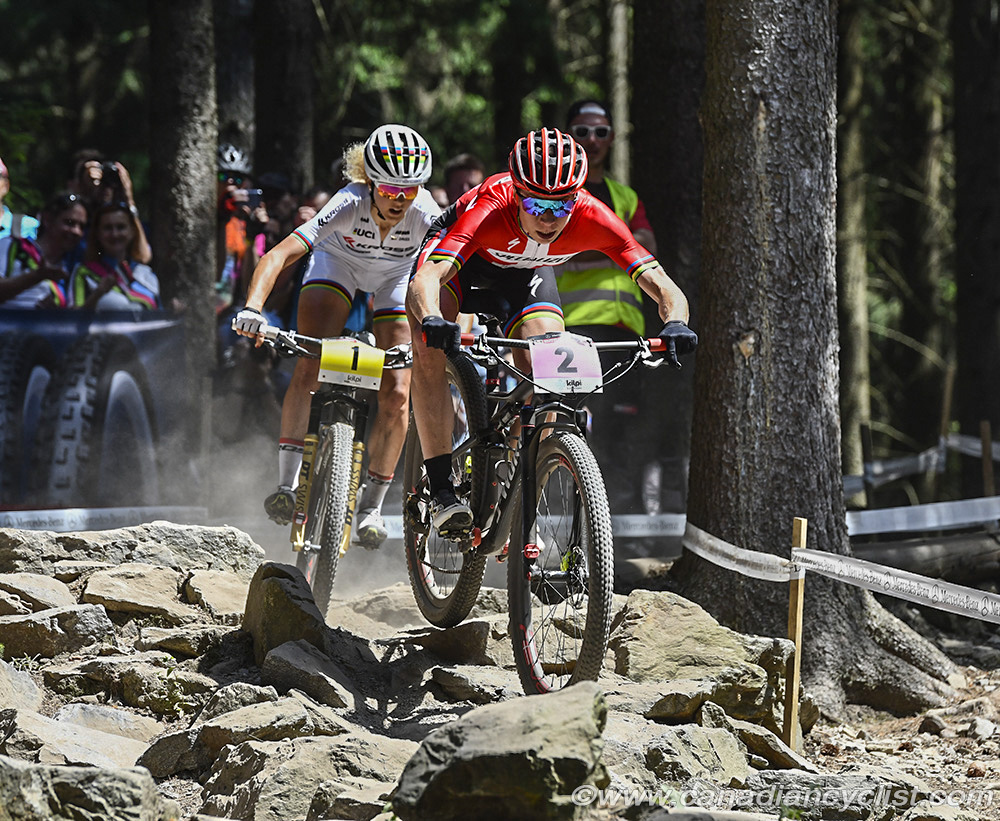 Anika Langvad and Jolanda Neff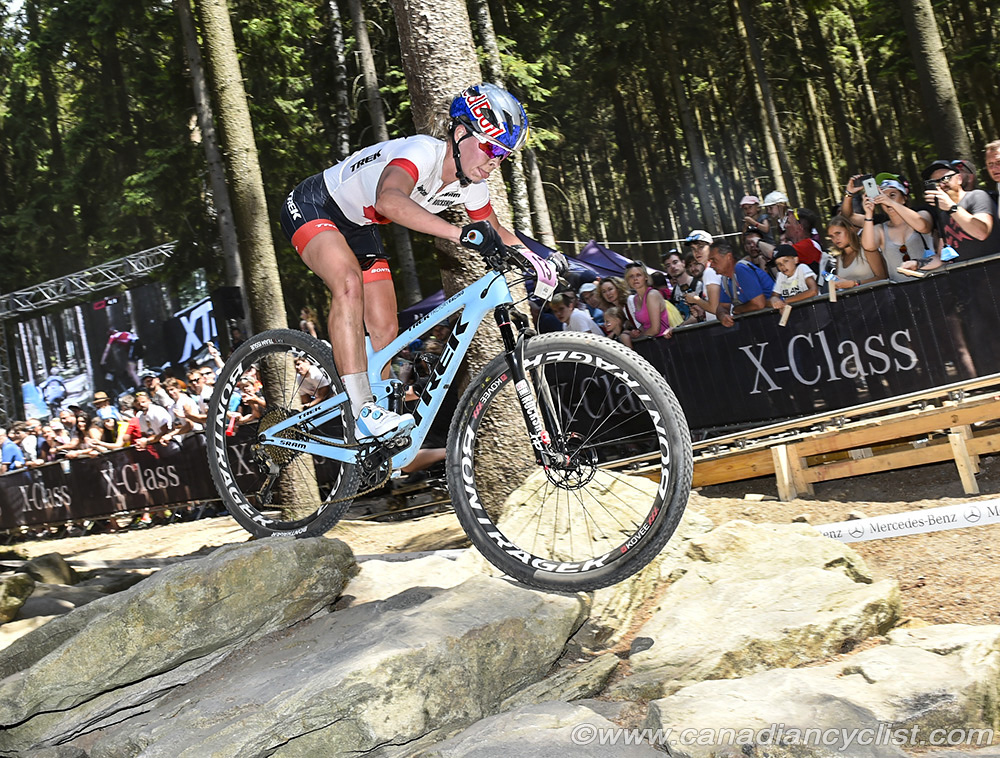 Emily Batty
Photo galleries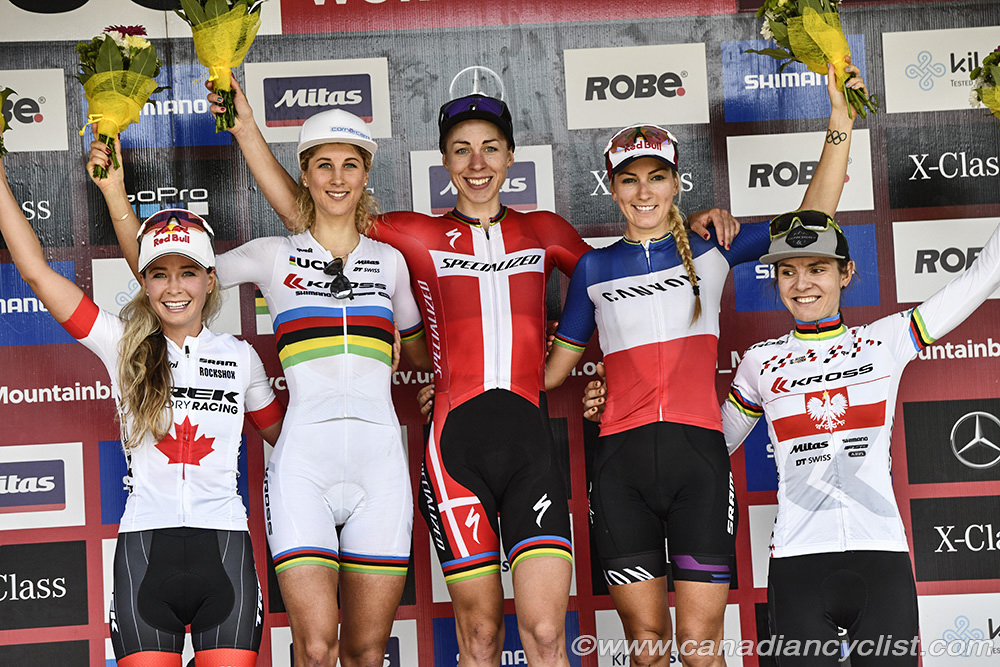 "I was never sure about anything out there," revealed Langvad. "It was such a tactical race and super hard. I got a little gap at the beginning, but then I had to pay for that hard effort. I thought 'you need to sit up a bit and catch your breath. Just feel good again.' When I did that Jolanda came back. I'm usually sure what I have in my legs, but that last lap I was so sure she was going get a gap on me. Based on the Short Track, I knew that I had to commit to the sprint. So I did and it worked. I'm so overwhelmed by this race, it was fantastic."

"Top five is pretty spectacular when you've had some downer months," said Batty. "It just feels good to be able to showcase my potential. I've had a good result here before [bronze medal at the 2016 world championships], so I knew it was possible. This track is 'full gas' then full technical; it is physically so demanding ... it rides a lot like Ontario! You need to be a strong rider to get a decent result here."



Haley Smith (Norco Factory) had another strong race, finishing 14th, while Catharine Pendrel (Clif Pro Team) fought back from a semi-flat tire that dropped her to 50th after the first lap to finish 22nd, one spot in front of Sandra Walter (Team Canada), who had her second strong weekend of racing. Other Canadian results were: Cindy Montambault in 33rd and Catherine Fleury (Team Canada) in 67th.

Langvad takes the Series lead with 798 points, followed by Neff at 760 and Ferrand Prevot at 586. Batty moves up to 10th from 13th, while Pendrel drops to 15th from 12th. Smith jumps to 22nd from 34th and Walter from 37th to 33rd. Montambault drops one spot to 40th.
Dan Proulx, national mountain bike coach, summarized the two event project: "This was a successful race campaign - Albstadt and Nova Mesto. As a program, it shows that we're continuing to strengthen and improve in a number of different areas. Obviously, a podium from Emily Batty is a good confirmation that we're heading in the right direction and that's supported by the massive progression demonstrated by emerging athletes like Sean Fincham [17th at Nove Mesto], Haley Smith, and Peter Disera [22nd at Albstadt]. It was also nice to see a first year U23, Gunnar Holmgren, come here and perform strongly - setting a new team passing record at Nove Mesto. Sandra Walter also rode well and achieved a life time best [15th Albstadt]. We still have a lot of work to do but we have a good system in place and a great team that makes the learning process more efficient. I'm excited about our athletes and the potential they have."
Men

The third round for the men saw two lead changes in three days, with Nino Schurter (Scott-SRAM) losing the lead to Mathieu van der Poel (Corendon-Circus) in the Short Track (XCC) on Friday and then regaining it on Sunday with his second win of the season in the Cross-country (XCO).

The race began with chaos, as three crashes happened within the first 150 metres. The worst affected of the top riders was Mathias Flueckiger (Thomus RN Racing), who went down hard, hitting his face and losing contact with the front of the race. He would eventually abandon.

The next to be hit with misfortune was XCC winner Sam Gaze (Specialized), who flatted on the start loop, far from the tech zone. By the time he got going again he was more than three minutes back and also abandoned.

At the front, it was Schurter and van der Poel setting the pace, with Lars Forster (BMC) chasing a few seconds back. This lasted until the third lap, when van der Poel crashed in a dusty corner. His left arm was clearly bothering him as he slowly remounted and rode for one more lap before eventually dropping out.

"I saw he [van der Poel] started to struggle a little bit," said Schurter, "so I thought: "let's see if he can respond to another attack". Then I heard he crashed and injured his arm again. I'm sad for him and hope he's back soon."

This left Schurter at the front with Forster, who was dropped on the fourth lap as Anton Cooper (Trek Factory) and Maxime Marotte (Cannondale Factory) bridged across. these three stayed together for the rest of the race until Marotte was dropped by a few seconds in the final half lap.

The finish came down to a drag race between Schurter and Cooper for the final 150 metres, with both throwing their bikes across the line, and then waiting for the photo finish camera to confirm that Schurter had won by a tire width, his 28th World Cup victory.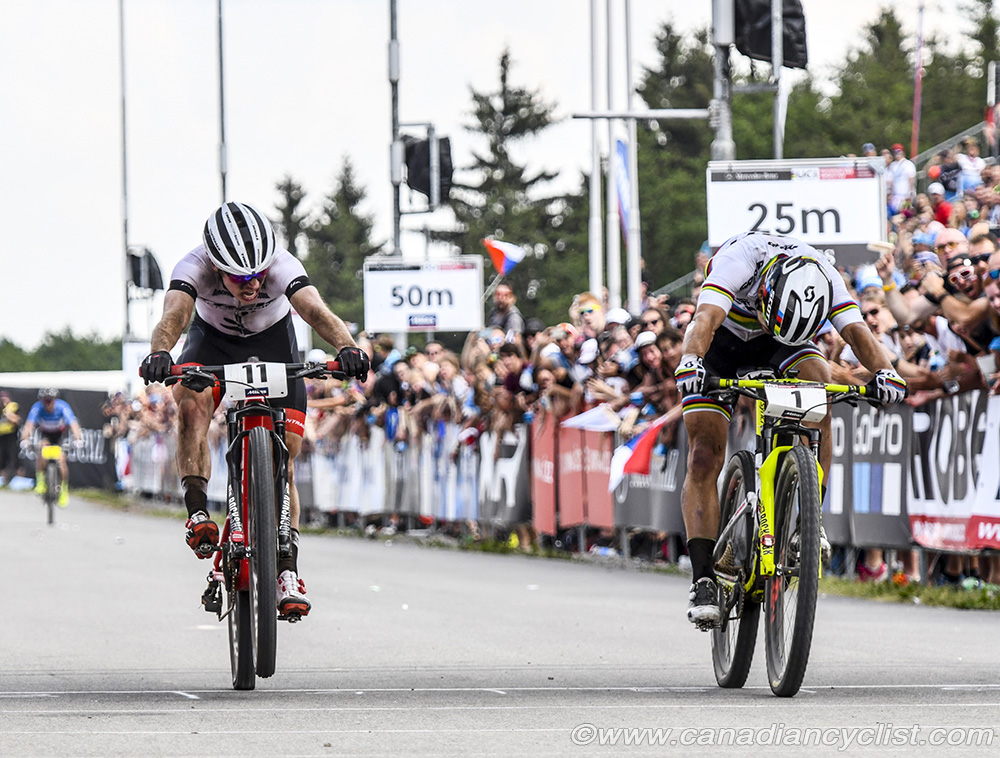 Photo finish sprint for Schurter and Cooper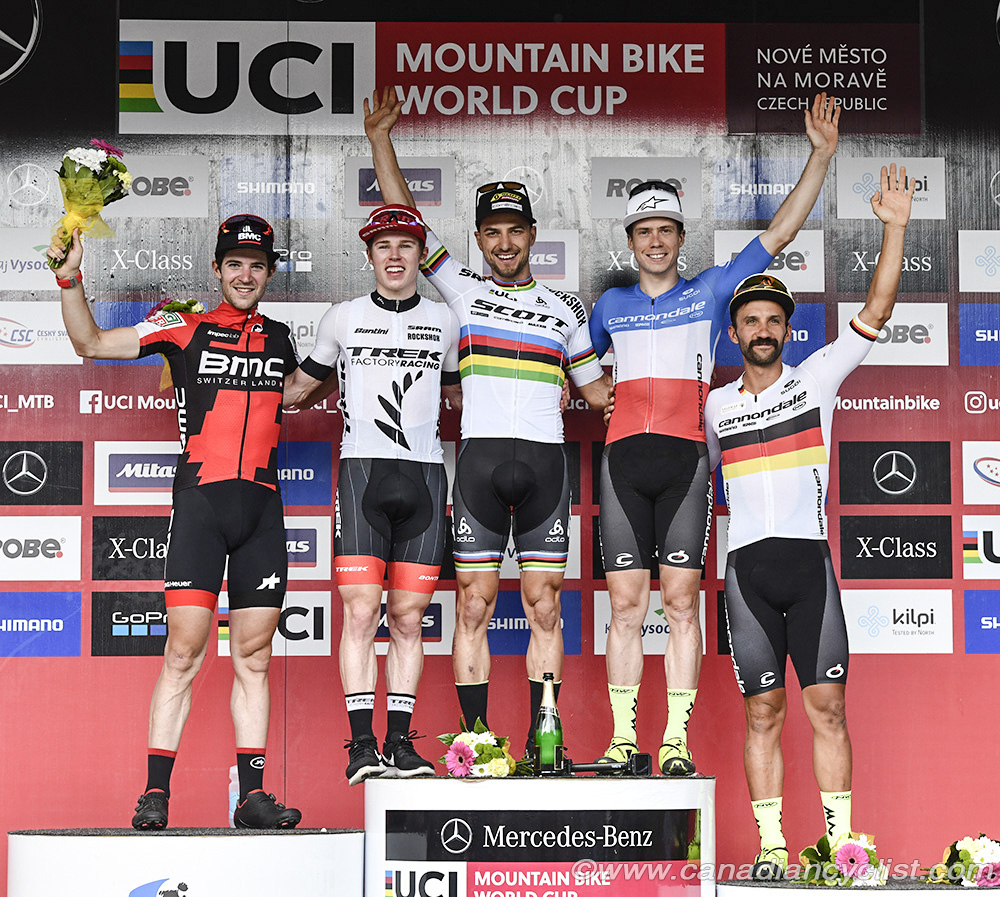 "First I thought I had him," said Schurter, "then I saw him coming on the right. That's the hardest sprint I ever did. I love this track, it suits me quite well and I felt pretty good today. I wasn't able to get away from the other guys, so it was a crazy finish."

The top Canadian for the day was, for the second week in a row, Canadian national champion Peter Disera (Norco Factory) in 45th, finishing just two spots ahead of Raphael Gagne (Silverback OMX). Disera rode consistently in the mid-40s, while Gagne moved up steadily from the mid-70s. Other Canadian results include: Leandre Bouchard (KMC-Ekoi-SR Suntour) in 68th and Andrew L'Esperance (Team Canada) in 70th.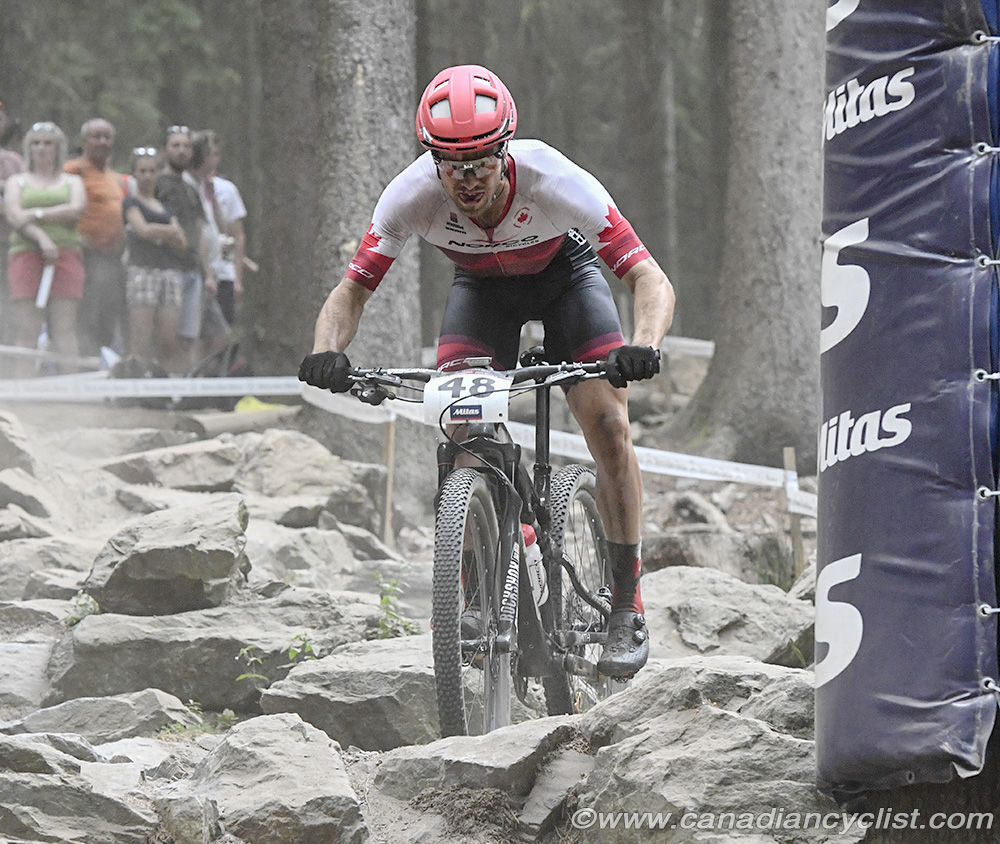 Peter Disera
"It was pretty nasty out there," commented Disera. "The course is so bombed out and super powdery. It was hard on the bikes and the body; I was cramping pretty bad in the last lap. I'm definitely disappointed; last week un Albstadt was a very good performance, and this week it just didn't come together mentally and physically."



Schurter moves into a commanding lead in the standings with 780 points, while Marotte jumps ahead of van der Poel to second with 573 points. van der Poel is third at 535, followed by Gaze at 475 and Cooper jumps from 11th to fifth at 459 points. Disera drops from 38th to 42nd and Bouchard from 39th to 52nd. Gagne moves up from 76th to 67th, and L'Esperance down to 84th from 75th.
---
Related Photo Galleries
---