June 3/18 15:19 pm - Seagrave & Pierron Win DH World Cup #2

Posted by Editoress on 06/3/18

The Downhill Mountain Bike World Cup resumed with Round 2 in Fort William, Scotland, on Sunday after a break of over a month. For Canada, both Mark Wallace (Canyon Factory) and Finn Iles (Specialized Gravity) made the top-20 in the Elite men, while world champion Miranda Miller (Specialized Gravity) was 14th in Elite women. In Junior men, Lucas Cruz was the top Canadian in sixth after qualifying fourth.

Fort William has become a classic of the Downhill circuit; the longest course on the World Cup, placing great physical demands on the riders, who must have endurance as well as technical skills to do well. Heavy rain the night before the Final soaked the ground, affecting many of the lines.

Rachel Atherton (Trek Factory), a three time winner at Fort William, set the standard for women in qualifying, and the changed conditions after rain proved to be so significant that no one would beat her qualifying time in the Final. Great Britain's Katy Curd set the first sub-5:30 time for the women, which would hold up until Marine Cabirou (VoulVoul Racing) took the lead with six riders to go. Tahnee Seagrave (Transition/MUC-Off), at three to go, then smashed Cabirou's time, but was still three seconds slower than Atherton's qualifier.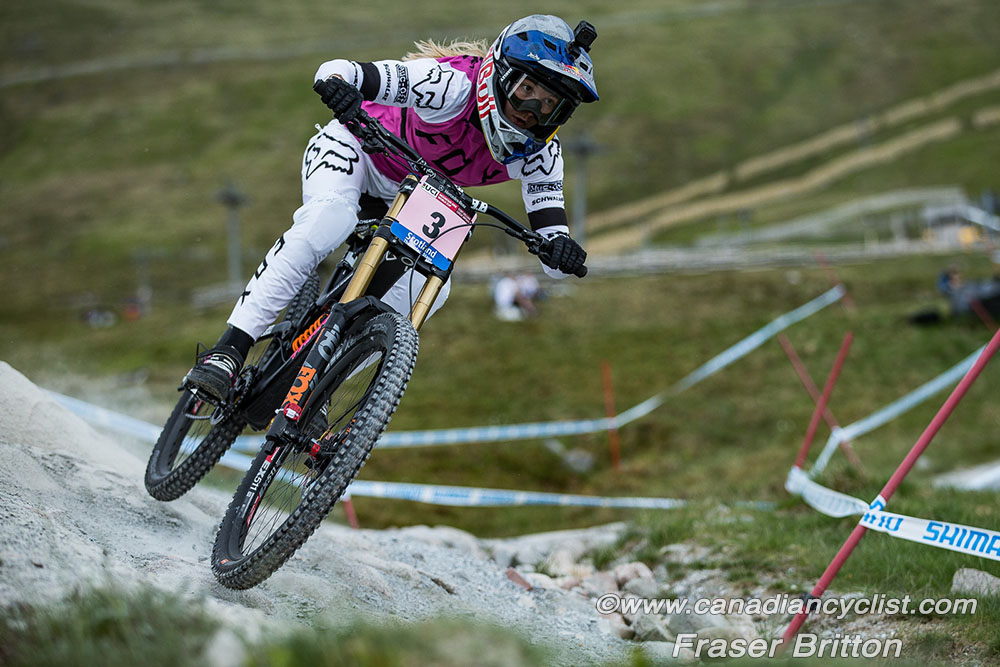 Tahnee Seagrave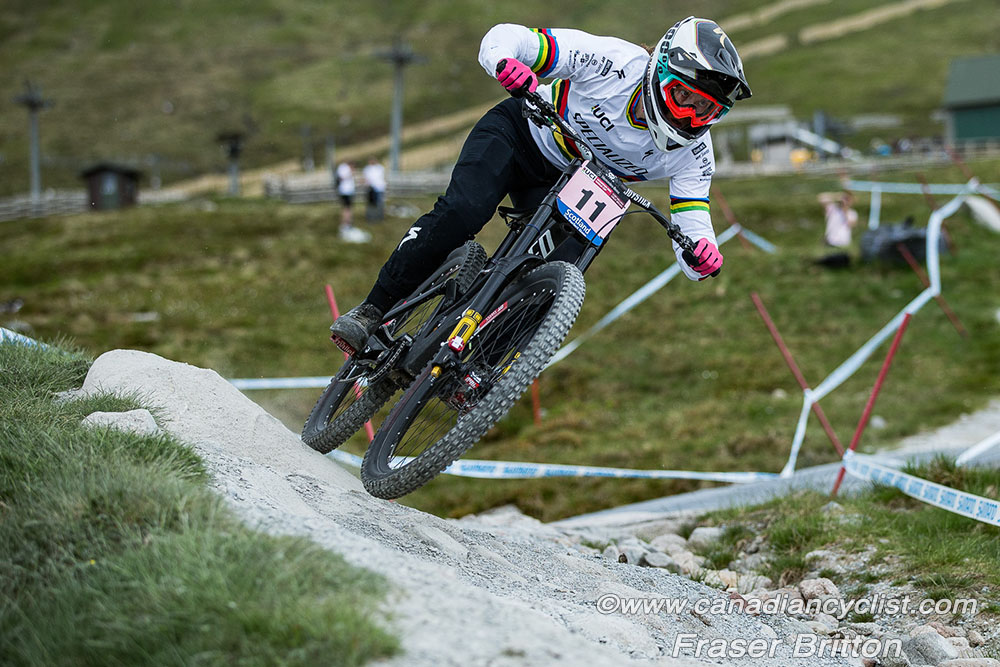 Miranda Miller
World Cup leader Myriam Nicole (Commencal/Vallnord), the second fastest qualifier, was nine seconds up on Seagrave, but crashed in the rocks, still managing to slide into second place with only Atherton to go. Unfortunately for Atherton, she snapped her chain out of the start and then crashed further down, but remarkably still finished third, ahead of Cabirou. It is the fourth World Cup win for Seagrave, but her first at Fort William.

"I never thought it would happen, winning here," said Seagrave. "Honestly, I crying all morning after yesterday [qualifying], where I had a decent run but didn't perform to what I expected. Without the crashes [by Nicole and Atherton] it would have been a tighter race, but I'm happy. I've had horrible luck here in the past, so to just get down in one piece was a goal, and to take the win as well is a huge bonus."

"Snapping the chain out of the start gate shocked me a little," said Atherton. "Then my hand and foot came off and I was ... 'Oh shit, I've got to carry on'. So I carried on as hard as I could, pumping and speed tucking wherever I could, but the bike works differently without a chain and I slid a bit on a root and crashed."

The overall standings are unchanged, with Nicole at 430 points, Atherton 30 back and Seagrave at 386 points. Miller drops to 13th from 11th.

The men's race also had it's share of crashes and mechanicals, with World Cup leader Aaron Gwin (YT Mob) crashing during the Final while in the lead after a flat in qualifying, and fastest qualifier Luca Shaw (Santa Cruz Syndicate) breaking his chain out of the start gate.

Unheralded Reece Wilson of Great Britain had a unexpectedly strong ride to take the lead halfway through the men's field, with a time that would hold up through rider after rider, until Amaury Pierron (Commencal/Vallnord) finally displaced him with seven riders to go. Third fastest qualifier Loris Vergier (Santa Cruz Syndicate) took second and fourth fastest qualifier Troy Brosnan (Canyon Factory) third, just ahead of Wilson. It is the first World Cup win for Pierron.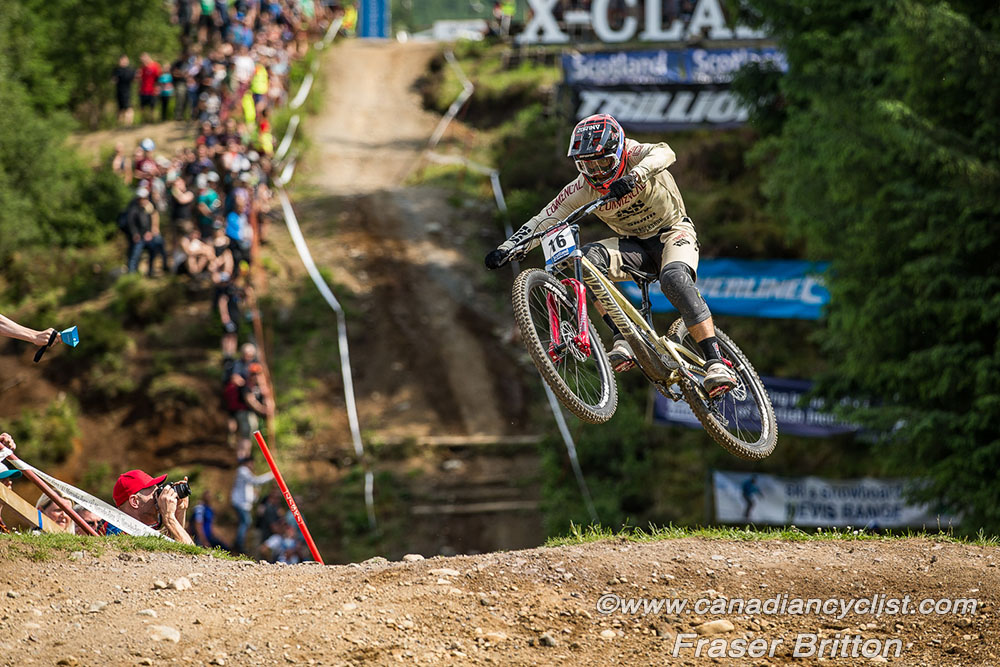 Amaury Pierron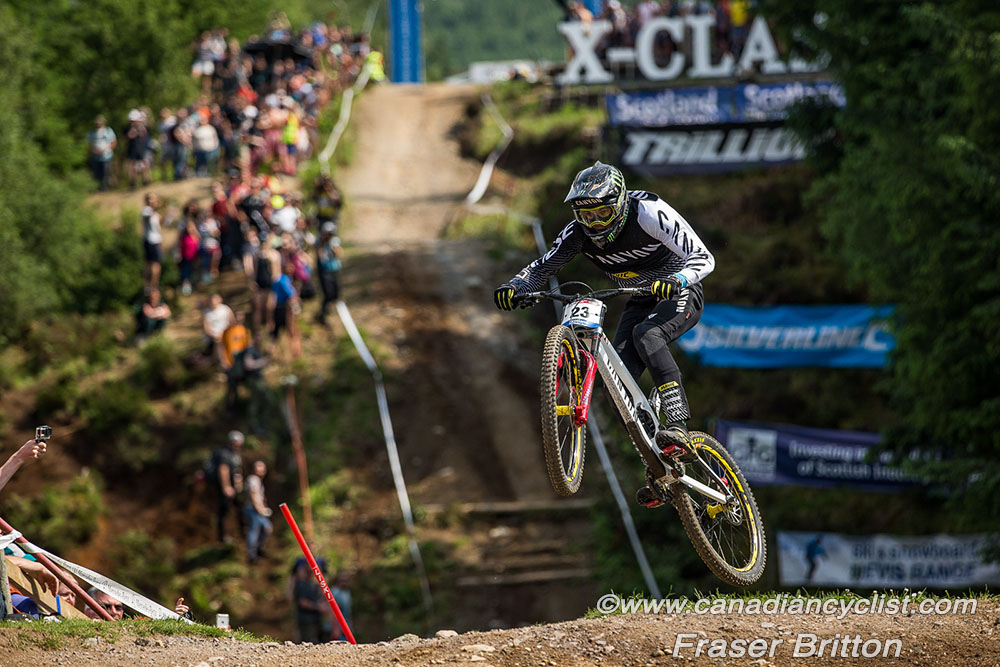 Mark Wallace
"It's awesome to win after a lot of hard work this winter," said Pierron. "It's a new team and changes with my trainer ... a lot of people are behind me this year, and the bike was just perfect. I'm so happy. I made a mistake at the top, but then I just tried to keep it smooth until the bottom, where I gave more than everything."

Gwin continues to lead the standings with 279 points, only four in front of Vergier, who jumps from tenth to second, with Pierron moving up to third from 16th, a further two points back. Wallace drops to 24th from 23rd, while Iles jumps from 57th to 32nd in the standings.
Results
---
Related Photo Galleries
---