July 7/18 19:58 pm - Seagrave & Pierron Win World Cup DH #4 - Wallace & Iles Make Top-10

Posted by Editoress on 07/7/18

Round 4 of the UCI Downhill World Cup in Val di Sole, Italy, on Saturday, saw some familiar faces on the podium, with Tahnee Seagrave (Transition Bikes/MUC-Off) taking her second victory of the season in the Elite women's category, and Amaury Pierron (Commencal/Vallnord) his third straight win in the men's. Canada had two men in the top-10, with Mark Wallace (Canyon Factory) finishing just off the podium in sixth, and Finn Iles (Specialized) in eighth. The only other Canadian man to make the Elite Final was Henry Fitzgerald (Norco Factory) in 25th, while Lucas Cruz was 16th in Junior men..

Heavy rain before the start of qualifying on Friday played havoc with the results, but by race time on Saturday the track was drying out and getting dusty and loose.

Rachel Atherton (Trek Factory), despite a poor qualifying run that saw her start mid-field, had moved into the overall World Cup lead after Myriam Nicole (Commencal/Vallnord) was unable to race due to a back injury suffered in a training crash. In the Final, Atherton was back to her usual form and set a time over nine seconds faster than any previous rider. No one would come close to her in the remaining five riders except for Val di Sole defending champion Seagrave, and even she was over a second and a half back at the final intermediate time check. However, Seagrave took the last section much faster and was able to reverse her deficit to win by a slim 0.123 seconds. Monika Hrastnik of Slovenia, the fastest qualifier took third, her best ever World Cup result. World champion Miranda Miller (Specialized), the only Canadian rider in the women's field, did not qualify for the Final after crashing in qualifying.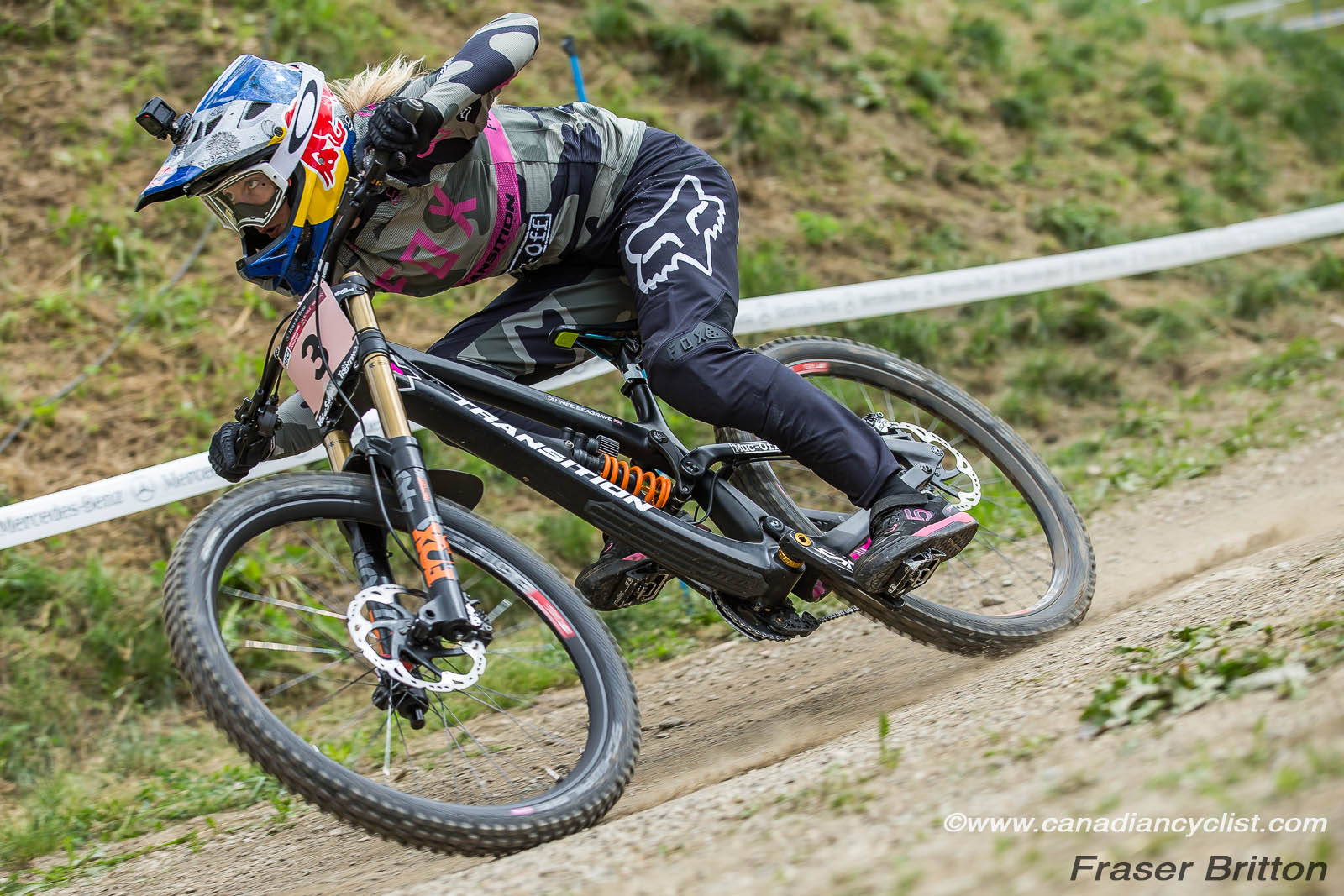 Tahnee Seagrave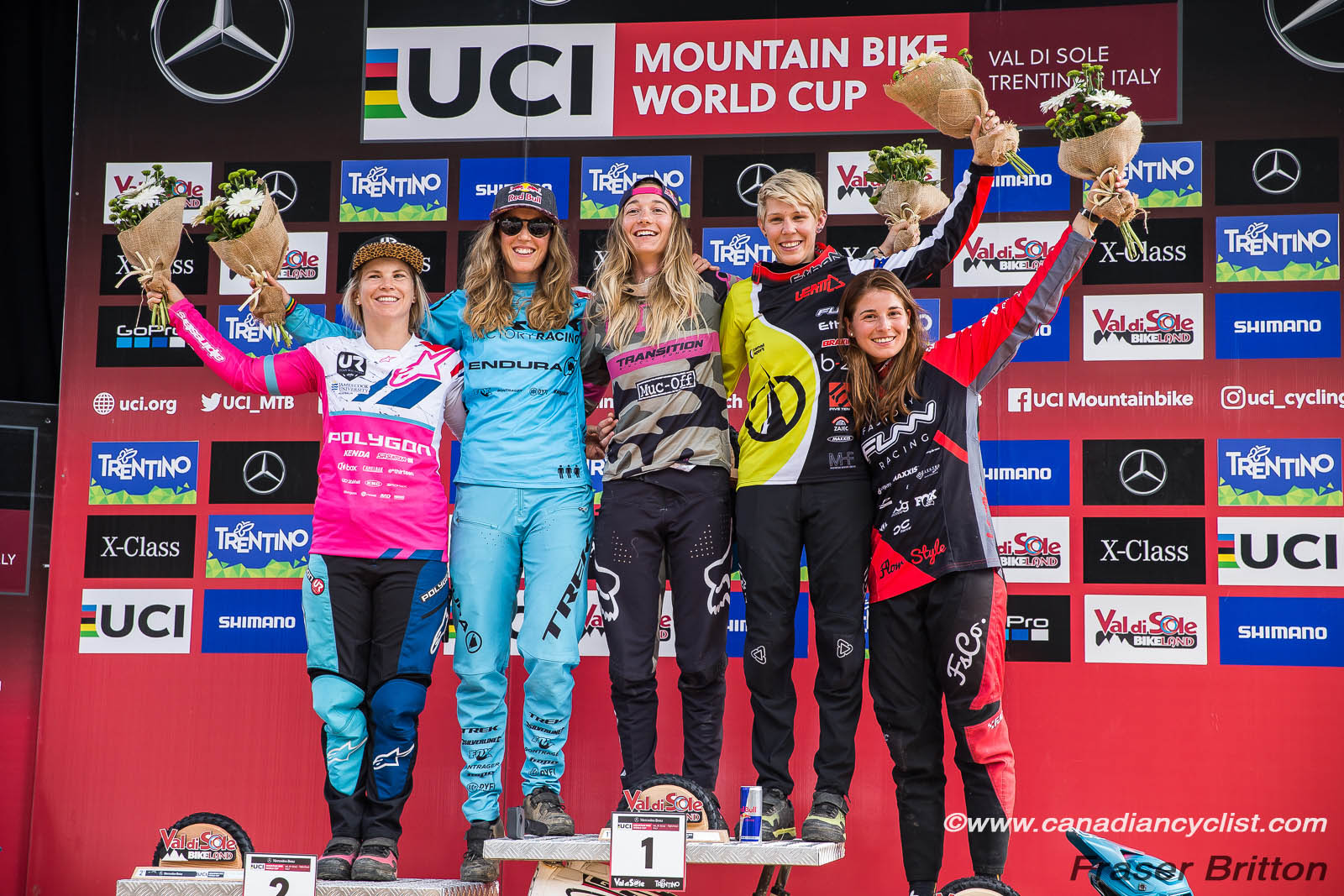 Women's Podium
"I was so tired by the time I got to the bottom, but I knew that section is where I've always been weak here," explained Seagrave. "So I just pushed, and I could hear that I was really close [to Atherton's time], so I just full on sprinted my ass off."

Atherton moves up from second to first in the overall standings with 776 points, followed by Seagrave at 676 points. Former Series leader Nicole drops to third with 610 points.

"This is just such a wild track and it was hard to know what it was going to be like after the rain," said Atherton. "It was actually really dry with big holes. I pushed as hard as I could all the way down and I was fastest until the last bit, so I think I pretty much emptied myself on the track. I guess I just rode too hard and didn't have anything left at the finish."

The men's qualifying saw a similar impact from the muddy conditions as the women's, with multiple crashes, including Aaron Gwin (The YT Mob), who re-injured his left thumb in practice, and could only manage 31st in the Final. One rider who did not appear to be affected by the conditions was Pierron, who qualified first. Thomas Estaque of France, with 22 riders to go, set the first sub-3:40 time, with rider after rider failing to break it. World champion Loic Bruni (Specialized) at seven to go was on track to do so until he slid out. Finally, at five riders to go, Laurie Greenland (MS Mondraker) took the lead by 1.9 seconds, and held it until Pierron, the final rider down, beat Greenland's time by half a second to take his third consecutive victory.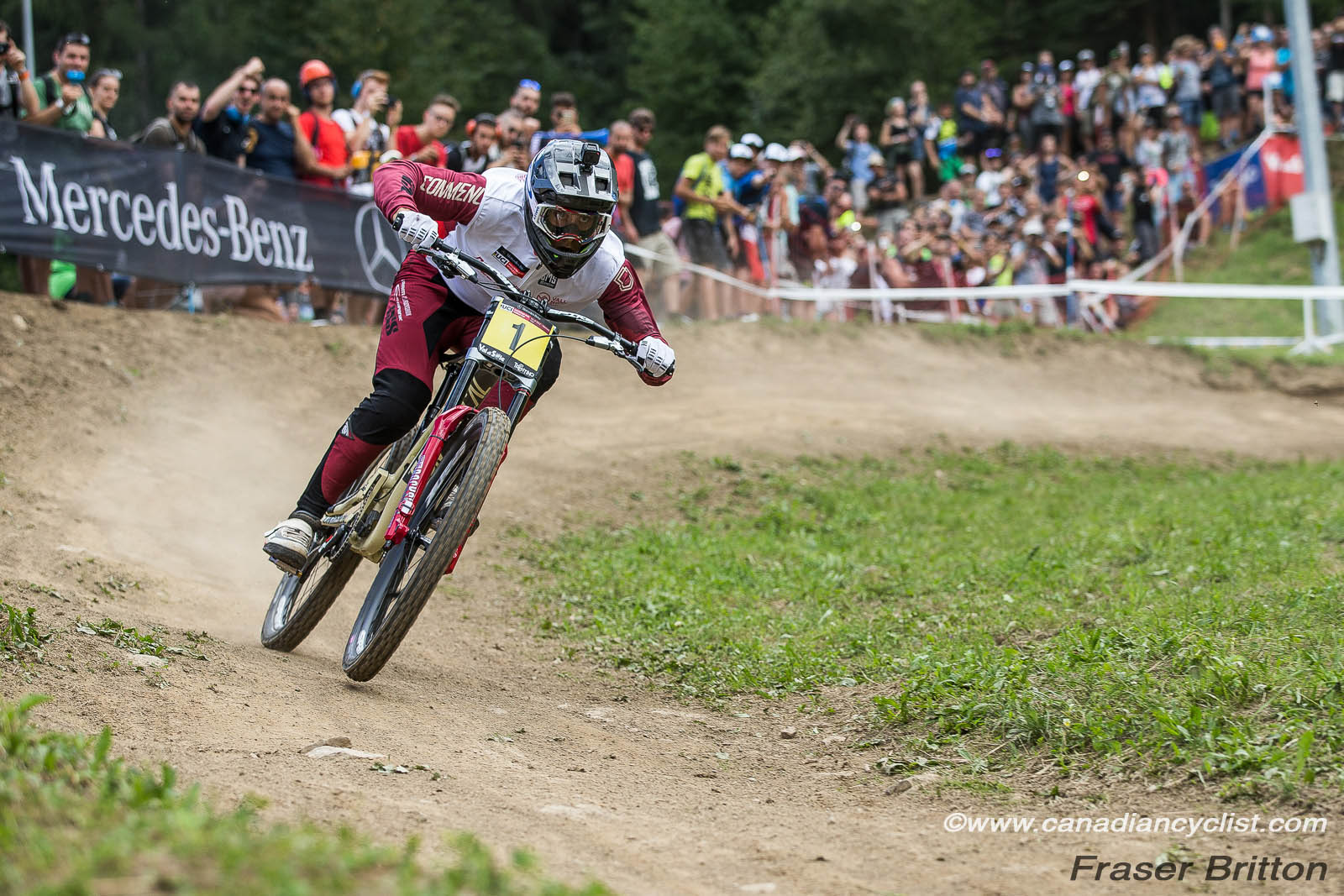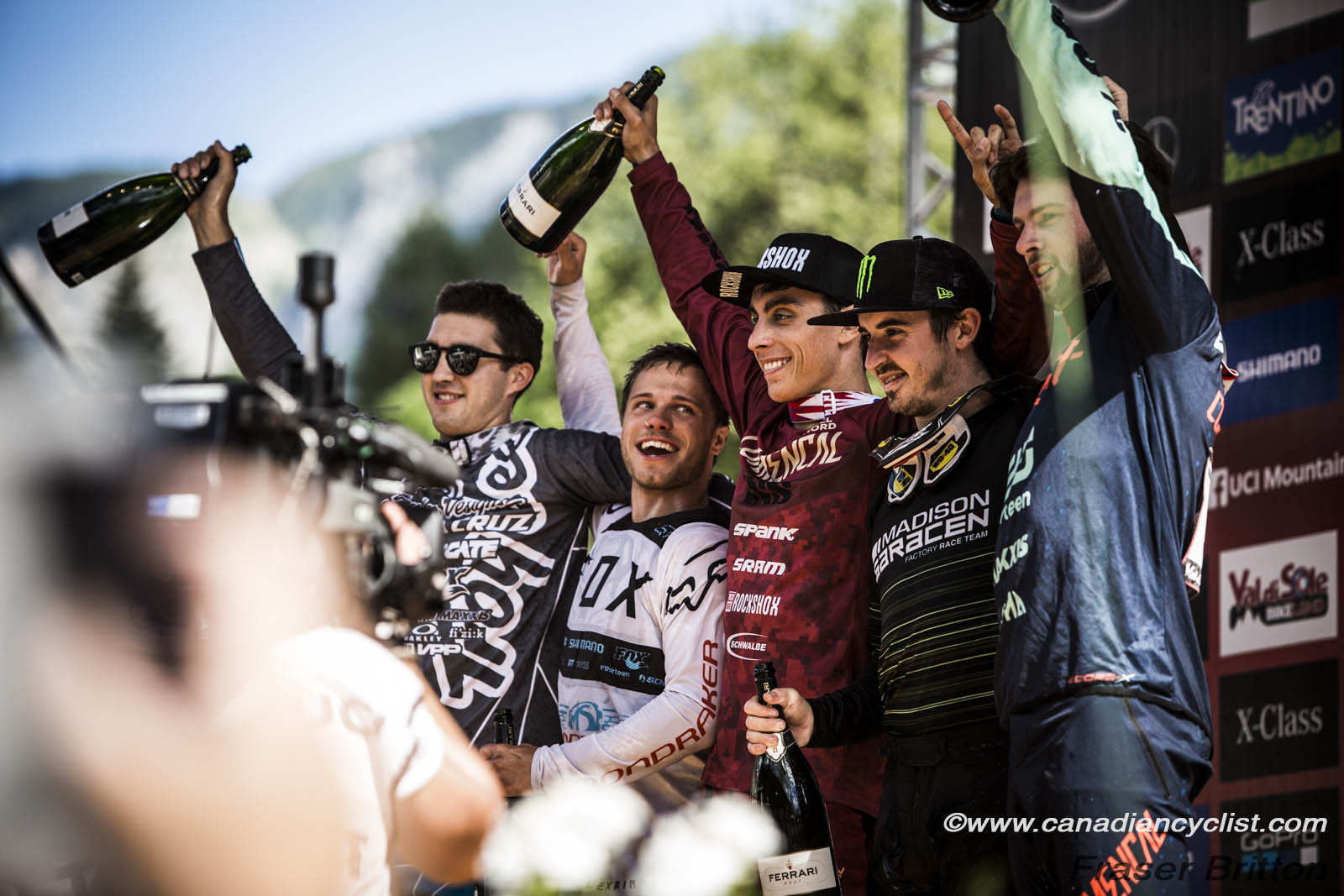 Men's Podium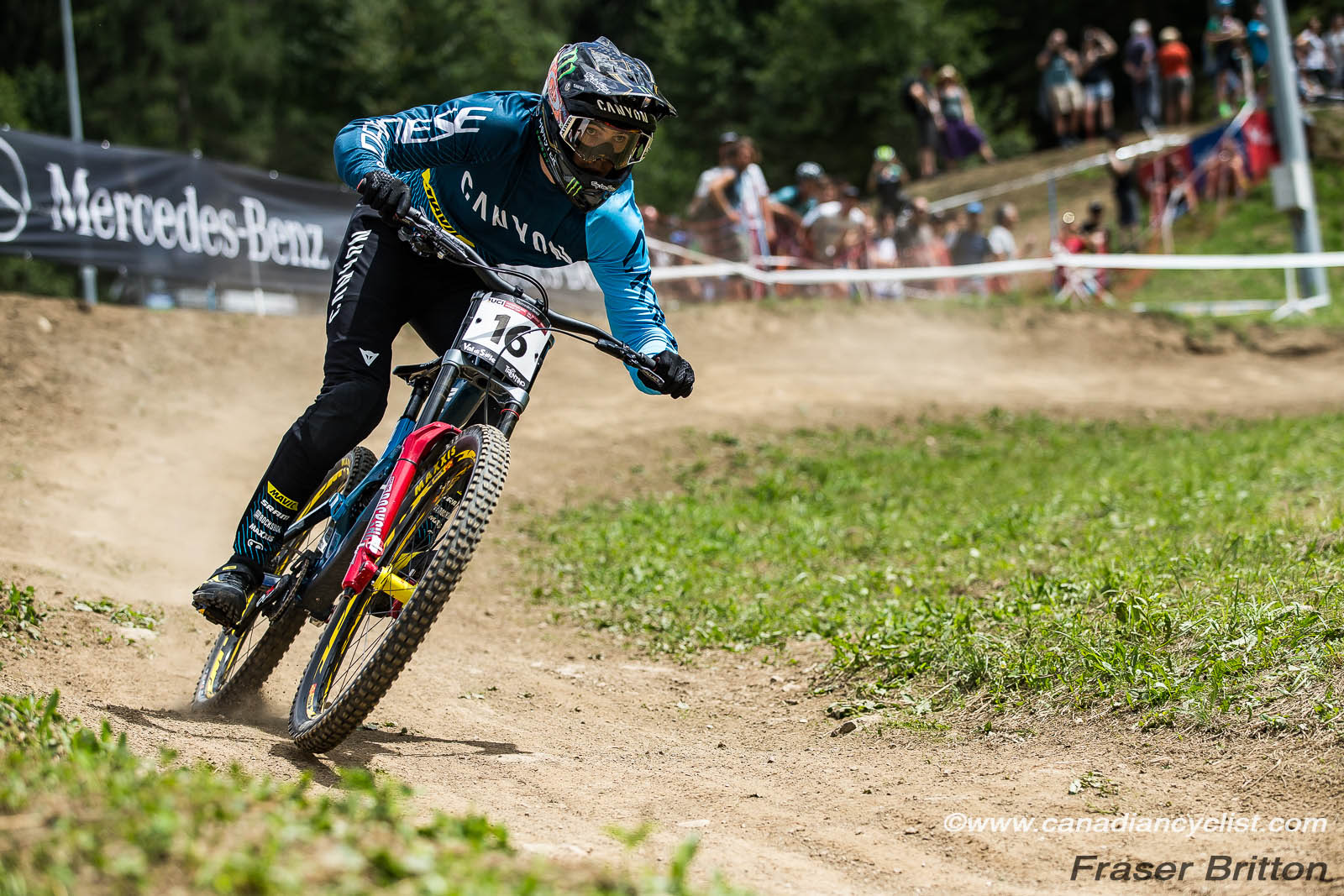 Mark Wallace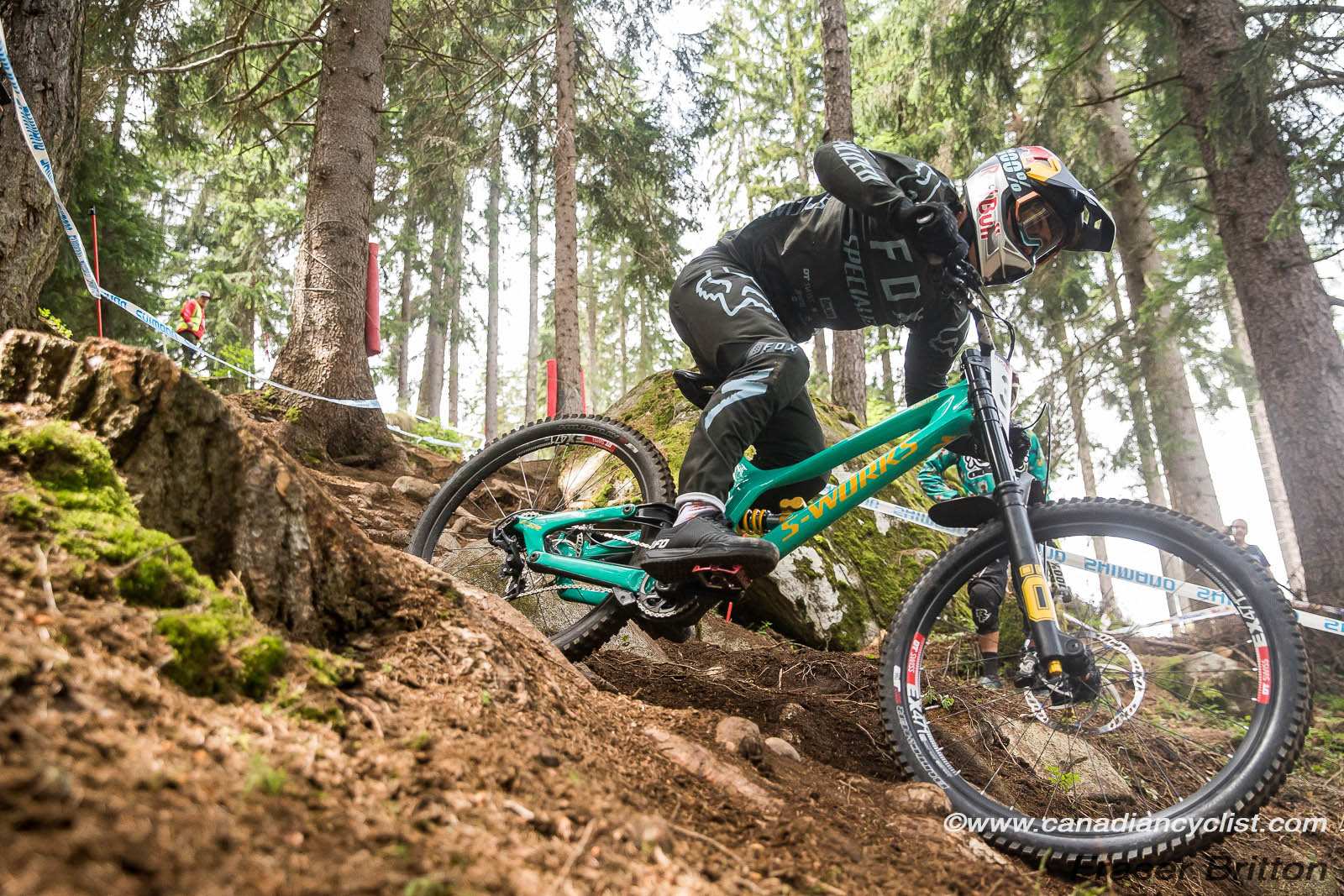 Finn Isles
"I didn't feel like I was on a good pace," said Pierron. "I tried to be smooth because the track is super demanding, physically and technically; with a small mistake you can crash. But to win my third one in a row ... wow, I'm so happy."

Pierron further solidified his lead in the standings with his win and now has 753 points; 262 more than Greenland, who jumps from fifth to two overall. Troy Brosnan (Canyon Factory) drops to third, a further three points back, and Gwin to fourth, another nine points behind.
---
Related Photo Galleries
---