August 11/18 19:29 pm - Atherton & Bruni Win MSA Downhill, Pierron Locks Up Men's Overall

Posted by Editoress on 08/11/18

Rachel Atherton (Trek Factory) took her second win of the season and Loic Bruni (Specialized) his first on Saturday, at Round 6 of the UCI Downhill World Cup in Mont-Ste-Anne. With her win, Atherton padded her lead in the women's standings, while Amaury Pierron (Commencal/Vallnord) mathematically wrapped up the men's title by finishing fourth.

Mont-Ste-Anne is one of the longest and roughest courses on the World Cup circuit, dropping 600 metres over a 2900 metre run. Ducking in and out of the forest, riders contend with roots, rocks and dust on an over four minute run.

In the women's race, Slovakia's Monika Hrastnik, the European champion, set the first sub-5:30 time, but was immediately bumped by Mariana Salazar (Dorval AM), who was in turn displaced by Marine Cabirou (Voul Voul Racing). Australian champion Tracey Hannah (Polygon UR) moved into the lead next, with Myriam Nicole (Commencal/Vallnord) set to come down after her. Nicole had a mechanical problem knocking her out of the race, leaving just Atherton and fastest qualifier Tahnee Seagrave (Transition/MUC-Off) to ride.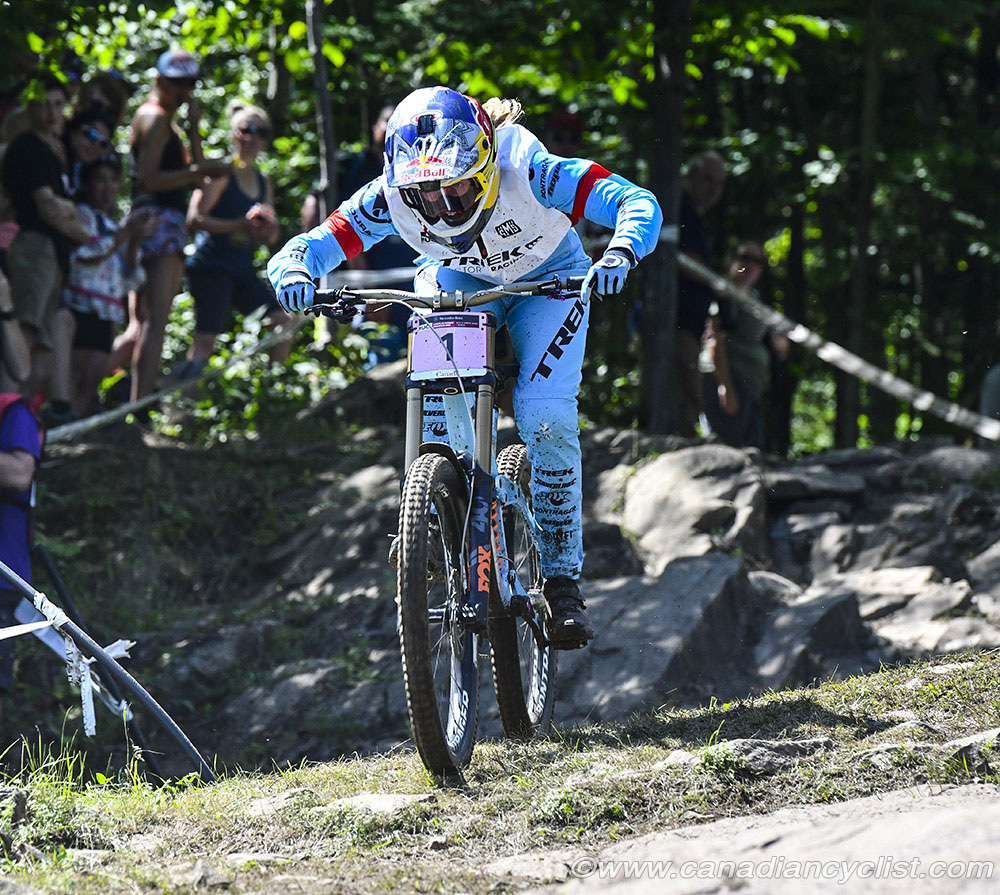 Rachel Atherton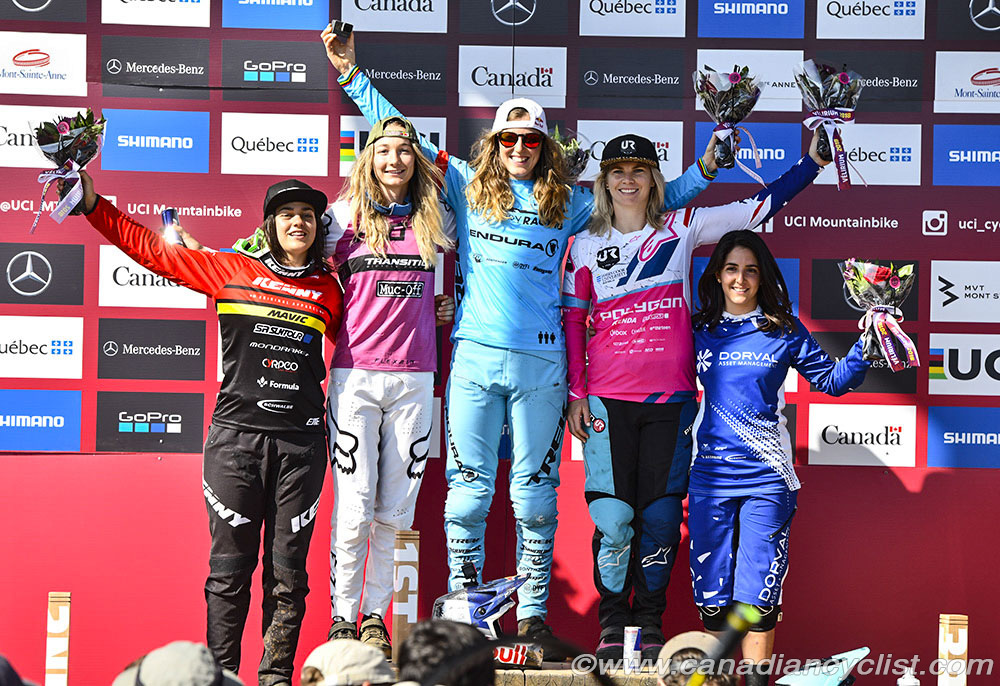 L to r: Marine Cabirou, Tahnee Seagrave, Rachel Atherton, Tracey Hannah, Mariana Salazar
Atherton was clearly on a strong run, over ten seconds ahead of Hannah at the first split, and 20 seconds up at the finish, the first rider to break five minutes, with a time of 4:51.443 . Seagrave was two seconds down at the first split and finished five seconds back at the end. Canada's only entry in the final, world champion Miranda Miller (Specialized), finished eighth.

Atherton's win was her fifth at Mont-Ste-Anne, matching the record of Sabrina Jonnier.

"This is such a good track and so much fun," said Atherton. "It's been a hard year, since Tahnee's been kicking ass, but we've been working on suspension setup a lot. But then the rain on the first day shortening practice has made it a hard week for everyone. I knew I was going to have to bring my 'AAA' game to beat Tahnee. I just went out there to have fun on my bike; this place has been on the World Cup forever ... I remember watching Steve Peat winning here, and thinking ... 'I want to be like you'."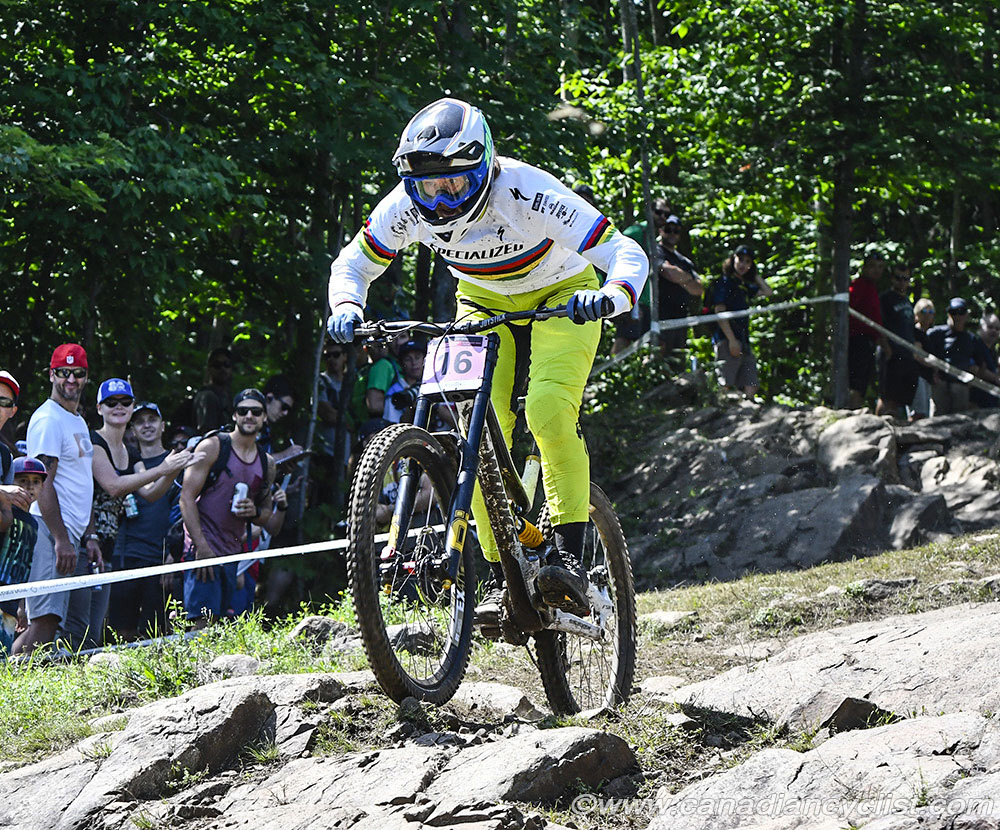 Miranda Miller
With one round remaining, the women's title is still open to Atherton and Seagrave, with only 110 points between them. Hannah remains in third, 321 points back, with Nicole dropping to fifth and Hrastnik moving ahead of her in fourth. Miller moves up to 14th from 16th.

In the men's race, Angel Suarez Alonso (The YT Mob) set the first sub 4:20 time, halfway through the field. His time would hold up until the final 20 riders, when Charlie Harrison (Intense Factory) took off 1.6 seconds. Harrison stayed in the Hot Seat until seven riders to go, when Loris Vergier (Santa Cruz Syndicate), the Number Two ranked rider in the World Cup standings, took the lead. However, Vergier's time in the Hot Seat was over almost as soon as it started, with the next rider down, Australian champion Troy Brosnan (Canyon Factory), knocking a further three seconds off the leading time.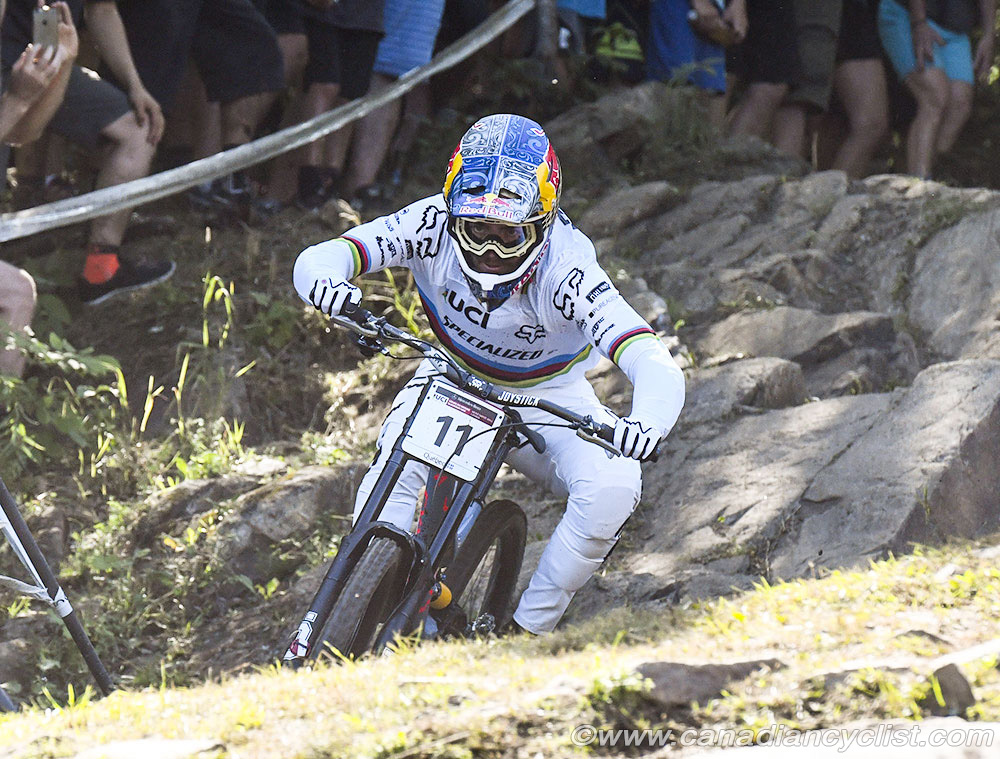 Loic Bruni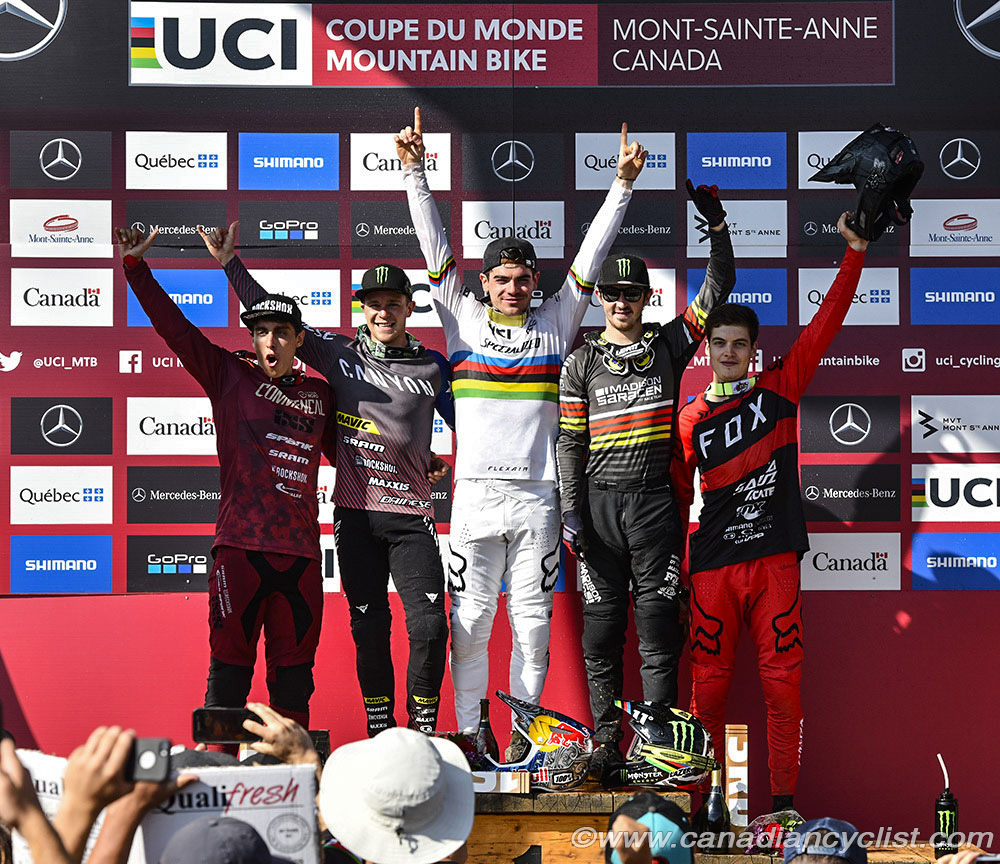 L tor: Amaury Pierron, Troy Brosnan, Loic Bruni, Danny Hart, Loris Vergier
Pierron, who had qualified third fastest, crashed hard in his final training run, and couldn't crack Brosnan's time, but the next rider, world champion Bruni, managed to go three-tenths of a second faster, leaving only fastest qualifier Danny Hart (Madison Saracen) to ride, and the British rider could only manage to slot in third. Top Canadian for the day was Mark Wallace (Canyon Factory) in 13th.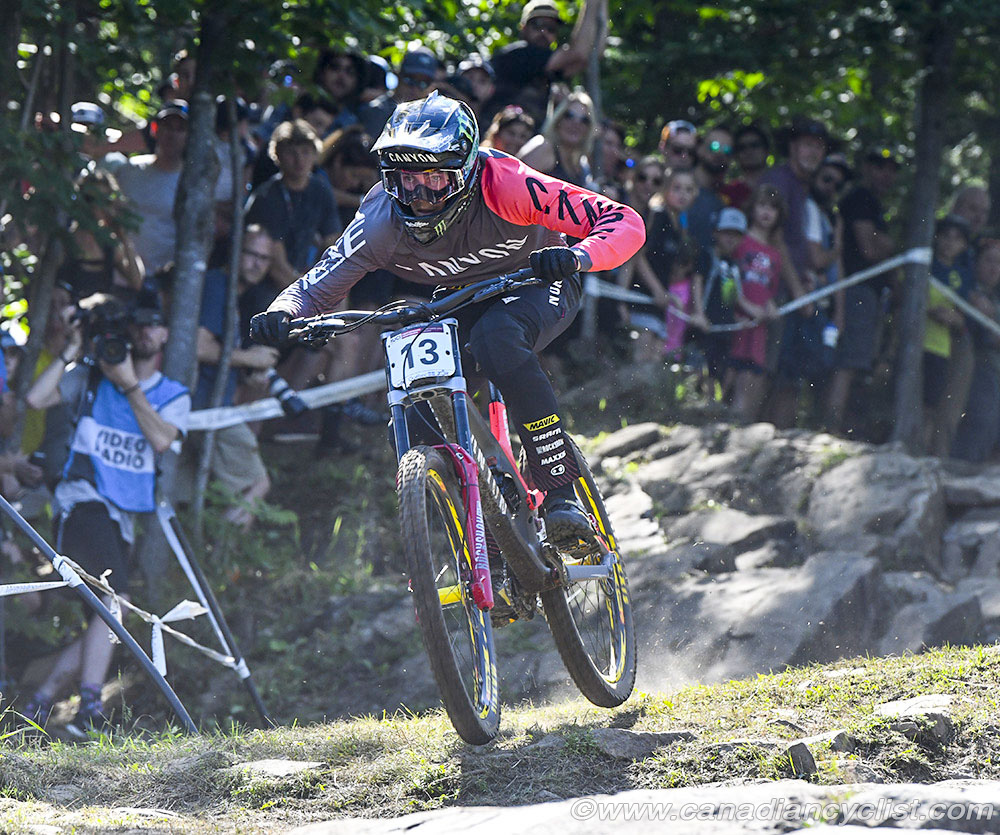 Mark Wallace
"This was unexpected really," admitted Bruni. "It is my first [World Cup] win since Cairns, two years ago. So many things have been happening; my struggle with injury ... I think I forgot how to do it, and here I touched it, finally. It feels insanely good!"

Remarkably, Bruni's win is the first by a French man at Mont-Ste-Anne since Fabien Barel back in 2005.

Pierron, who won his first World Cup this season, has now won the World Cup title. "It's crazy, a dream come true. But it wasn't just me, it was all the people around me; my team, my sponsors, my family. The [training crash] was horrible; all I could think about was the overall ... I felt really bad right after the crash, but after a few minutes it started to get better."

With his fourth place, Pierron locked up the overall title with one race remaining. His 1088 points is 309 ahead of Vergier, who is a slim four points in front of Hart and Brosnan, tied at 776 points. Wallace jumps up one place to 12th, with fellow Canadian Finn Iles (Specialized) displaced down to 13th.

In the Junior categories, Valentina Holl of Austria won her sixth consecutive women's race, with only Canadian entrant Piper Allman finishing fourth. The men's race went to France's Thibaut Daprela, his third in a row and fourth for the season. Top Canadian finisher was Elliot Jamieson in sixth place.
Previous
Mont-Sainte-Anne World Cup: Elite Men and Women DH Final results

Mont-Sainte-Anne World Cup: Junior Men and Women DH Final results
Mont-Sainte-Anne World Cup: DH Qualifying results
---
Related Photo Galleries
---