October 26/18 14:04 pm - Canada Sets Another National Record in Team Pursuit at Milton

Posted by Editoress on 10/26/18

Team Canada had a bittersweet morning session on the second day of competition at the Track World Cup in Milton, on Friday. Both the women's and men's Team Pursuit squads finished fifth, each missing the medal round by three-tenths of a second. The men's squad broke the Canadian national record less than 24 hours after previously setting a new mark.

The women's squad of Ariane Bonhomme, Annie Foreman-Mackey, Kinley Gibson and Steph Roorda rode against the Japanese team, catching and passing them, on the way to setting a time of four minutes and 20.855 seconds, nearly three seconds faster than the time they set i qualifying the previous evening. It would be 0.304 seconds slower than Germany, who will race New Zealand for bronze, while Great Britain goes against Italy for gold.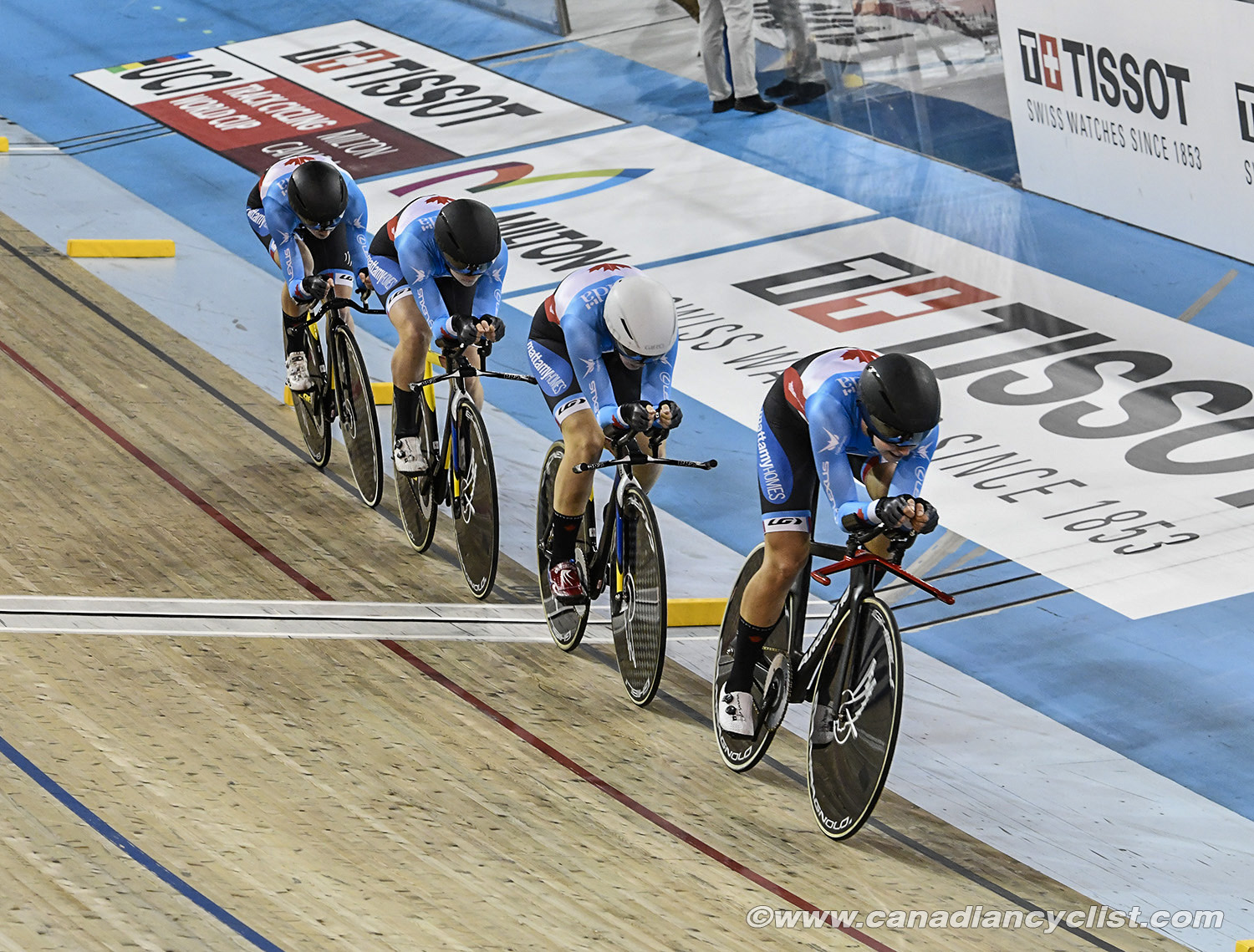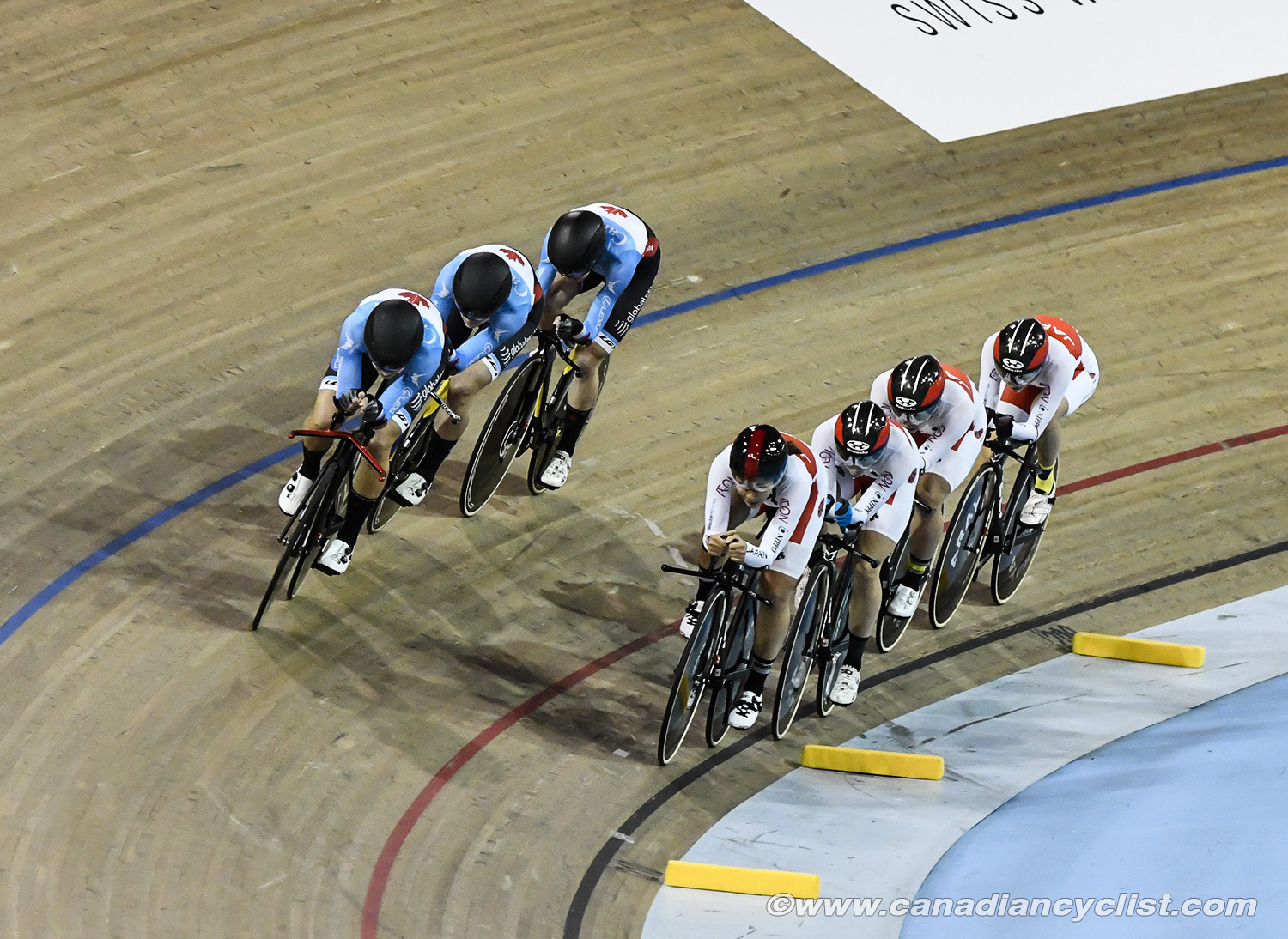 Catching Japan
"It's a bit disappointing," admitted Foreman-Mackey, "obviously we wanted to be in the medal rounds. But I think we can be happy with how we rode. We executed well, tried out some new strategies and tried some people in new positions. The catch [of Japan] cost us a little bit of speed, so ... bittersweet. We're happy with how we rode, but we've definitely got more in there."

In the men's competition, Canada swapped out Adam Jamieson for Aidan Caves, after Jamieson started to get sick overnight. Orginally, Michael Foley was supposed to be replaced by Caves, since Foley is scheduled to do the Omnium as well, on Saturday. However, the Canadian lineup became Caves, Foley, Derek Gee and Jay Lamoureux. The team set a time of three minutes and 56.352 seconds, 0.579 seconds faster than the record they set the evening before. Unfortunately, that was approximately six-tenths of a second slower than Great Britain, who will ride for bronze against France, while Denmark and the British trade team Huub Wattbike Test Team battle for gold.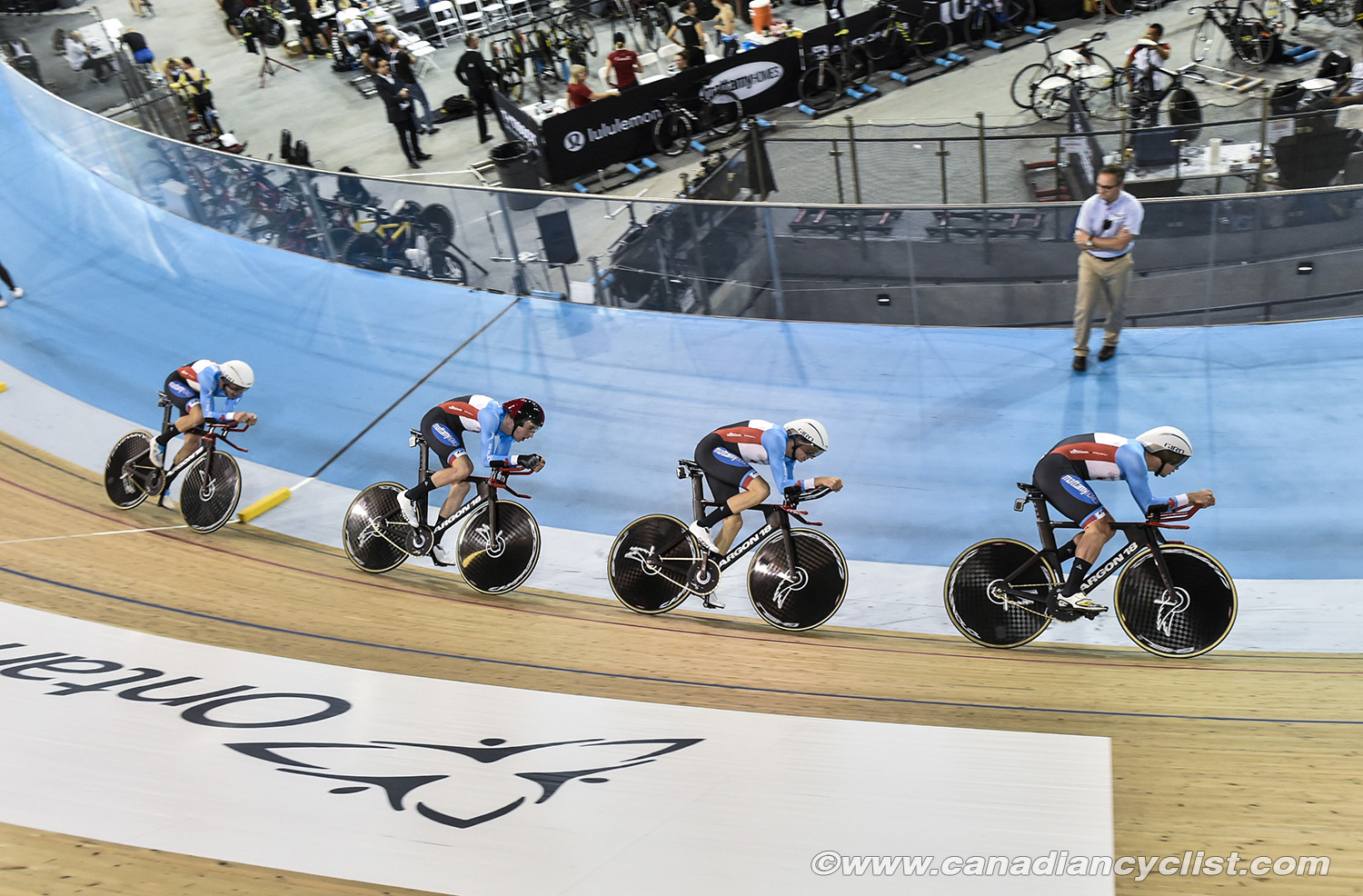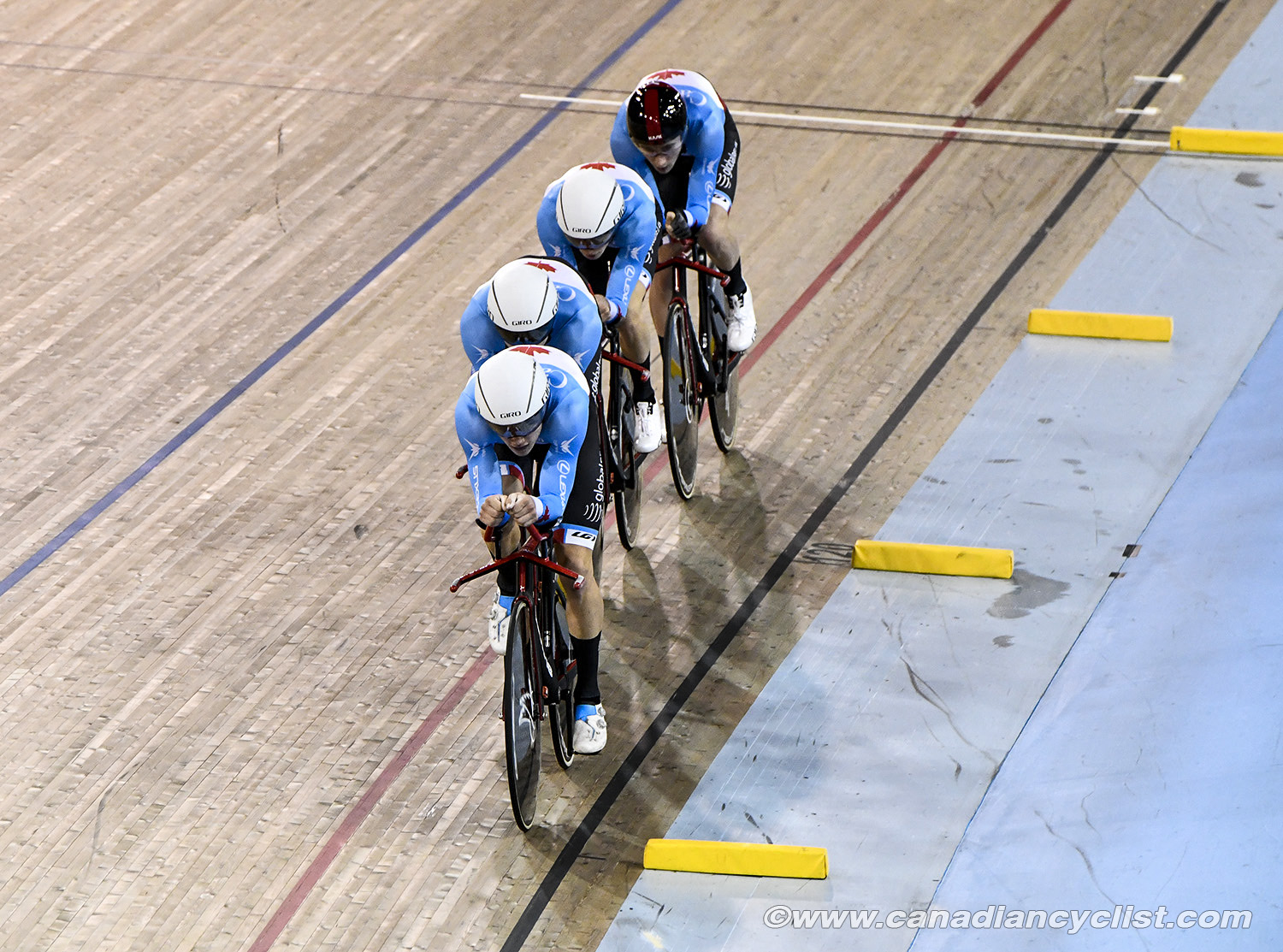 "It's hard to miss the medal round by such a slim margin," said Lamoureux, "but we set another Canadian record, so I think everyone's pretty happy. With the coaching change, we are working on the more technical aspects and being faster in the last kilometre, and I think it's helped us go a lot faster."

In the women's Team Sprint qualifying, the Canadian duo of Amelia Walsh and Lauriane Genest set a time of 34.110 seconds for 12th place. They finished 1.417 seconds behind top qualifier Australia. The top eight teams moved onto the next round.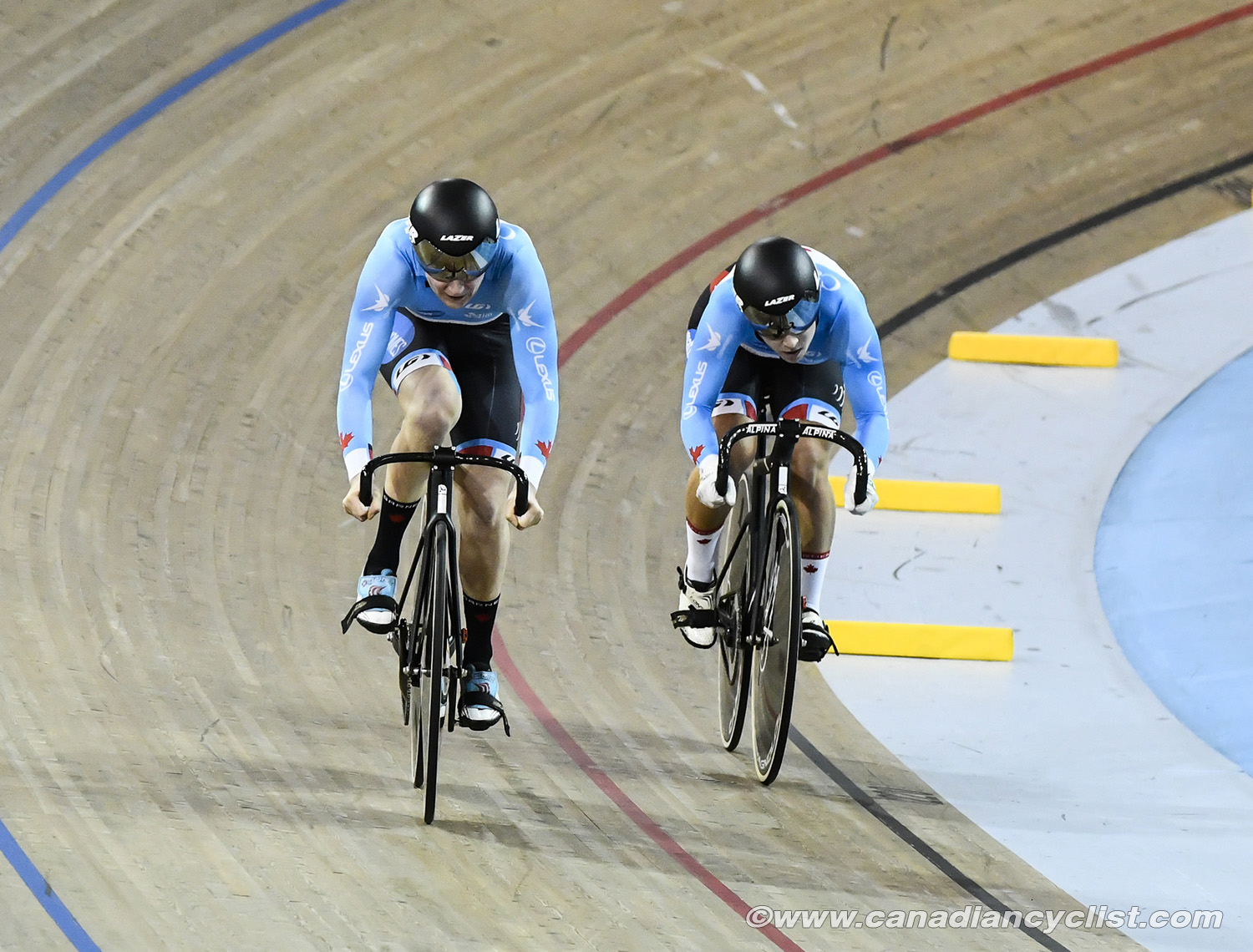 "The ride was okay," said Walsh, "but I feel I could have gone faster in the start. Lauriane and I are still pretty new riding the Team Sprint together, and are still figuring each other out a bit. I think with a few tweaks in the exchange and Lauriane managing her distance to me better, we'll be able to get our time down."

Results

New Canadian Record on Opening Day of Milton Track World Cup
---
Related Photo Galleries
---