October 30/18 17:59 pm - Shelley Gautier Para-Sport Foundation Fundraiser

Posted by Editoress on 10/30/18

A fundraising event for the Shelley Gautier Para-Sport Foundation will be held on Sunday, November 18th, in Toronto. The Canadian para-cyclist just completed a perfect season, winning every round of the Road World Cup, the world championships and national championships.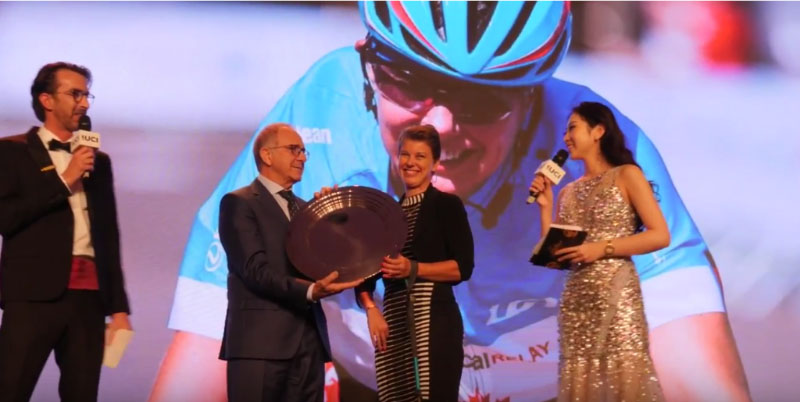 Shelley was recently honoured at the UCI Gala in Guilin, China, for her accomplishments, and will receive a 'Perfect Season' award from Cycling Canada at the Toronto event from former world champion and Cycling Hall of Fame member Gordon Singleton.

The event will also feature the premiere of Highway to Health, a travel show that explores how individuals and communities have been able to use different approaches to health to better their lives, overcome barriers and allow them to promote health in their own local and global communities. It will appear on the Bell network. A segment of the program, featuring Shelley, can be viewed Here.

"It is part of a series on good health, and we're showing everybody that you can be healthy and disabled by riding a bike. It's a great way to get people out of their homes, get them active and exercising, and involved in their community. We'll be doing a red carpet premiere."

The event will be held at the Northern Maverick Brewery (115 Bathurst Street, Toronto), between 11:00 am and 3:00 pm. The Shelley Gautier Para-Sport Foundation works to break down barriers for people with disabilities, enabling them to participate in sports activities, create awareness of adaptive sports, remove stereotypes, and develop resources that encourage adaptive sports for people with disabilities. This fundraiser is aiming to raise $5000 at the event to purchase six tandem bicycles for the visually impaired, so that they empower themselves to take their health into their own hands.

Tickets are $10 in advance, and can be purchased Here. They can also be purchased at the door for $15.

Can't make it to the premiere? There are still many ways that you can help out! For more information on the Foundation, visit the website. You can donate to the Shelley Gautier Para-Sport Foundation Here.

"I started the Foundation because I saw there was a need. I wanted to organize something to get more disabled people out cycling. What we did was fundraise for bicycles, tricycles, handbikes and tandems, and showed people in the community that it could be done. It operates by loaning para-cycling equipment, so people with disabilities can be more integrated into their communities. Now, we are getting communities to run programs themselves. [The foundation currently has contracts with the Niagara Region, Brantford, Whitby and Bromont, Quebec]."

---
Related Photo Galleries
---