November 10/18 23:00 pm - Rochette & van den Ham Win National 'Cross Titles

Posted by Editoress on 11/10/18

A total of 11 national titles were awarded on Saturday at the Canadian Cyclo-cross Championships p/b Shimano in Peterborough, Ontario, with riders facing snow and bitterly cold wind, taking the windchill down to -8C.

The marquee Elite titles went to the two favourites - Maghalie Rochette (CX Fever Specialized) for the women, and Michael van den Ham (Garneau Easton) for the men.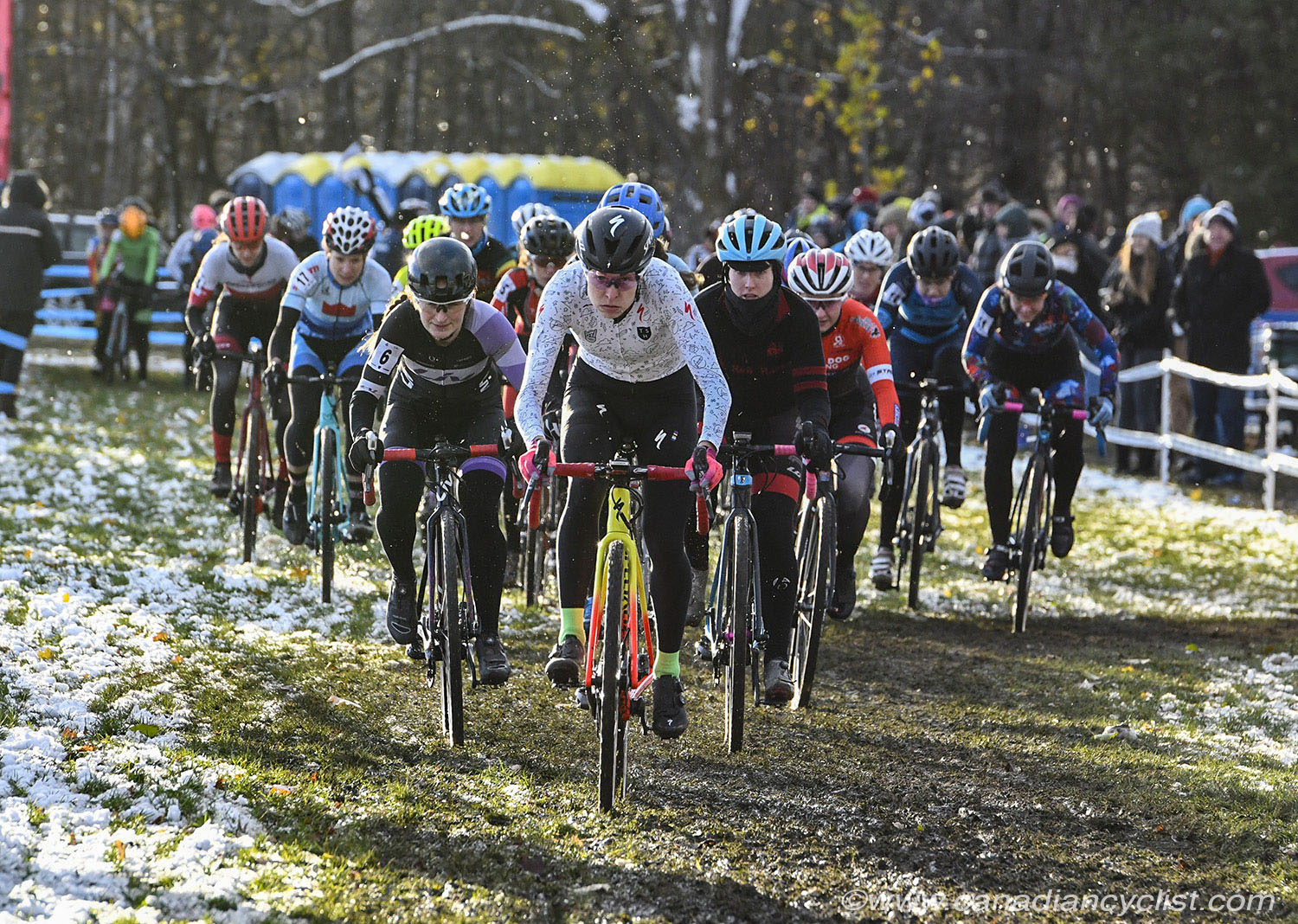 Maghalie Rochette leading at start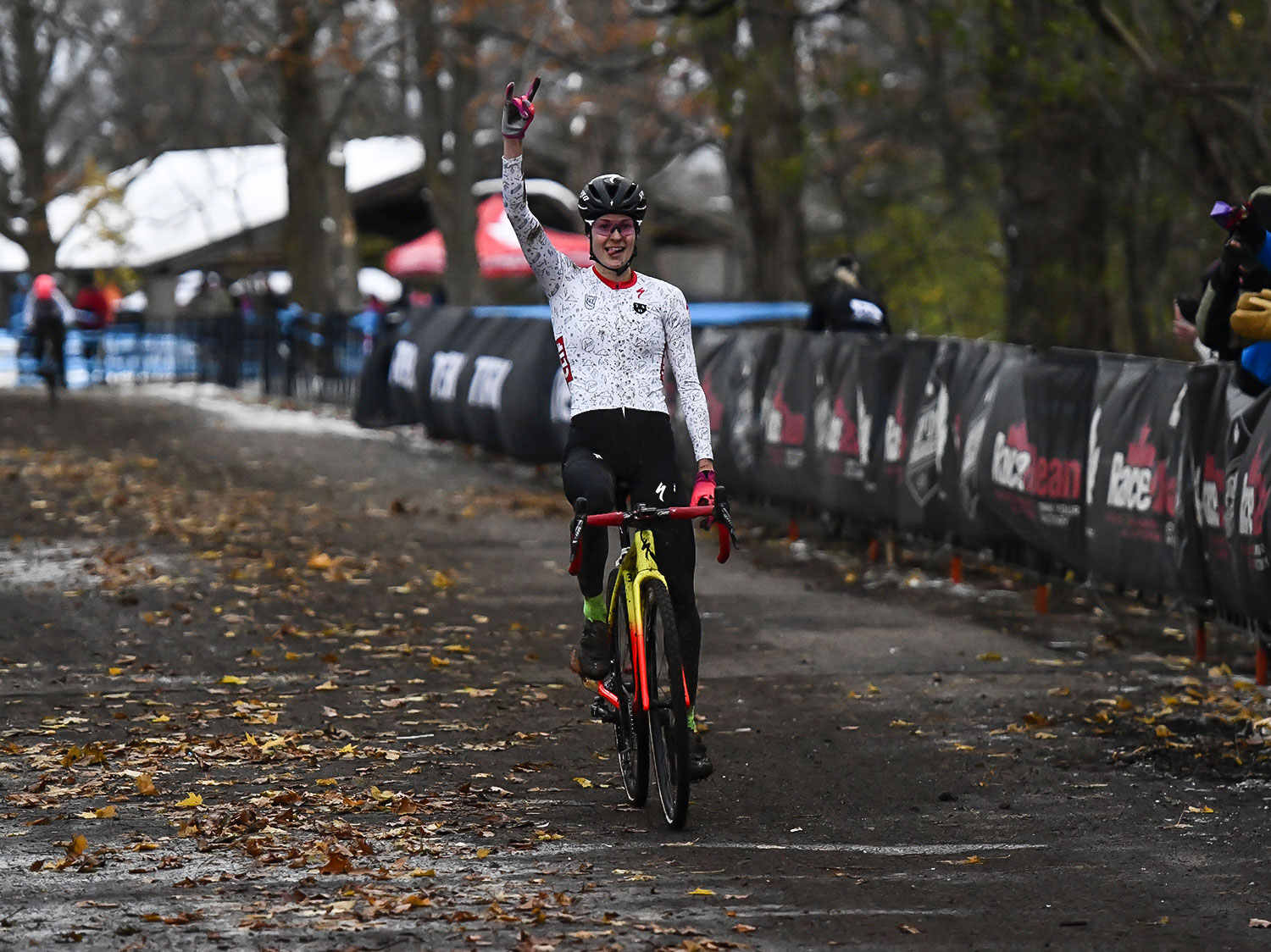 Maghalie Rochette wins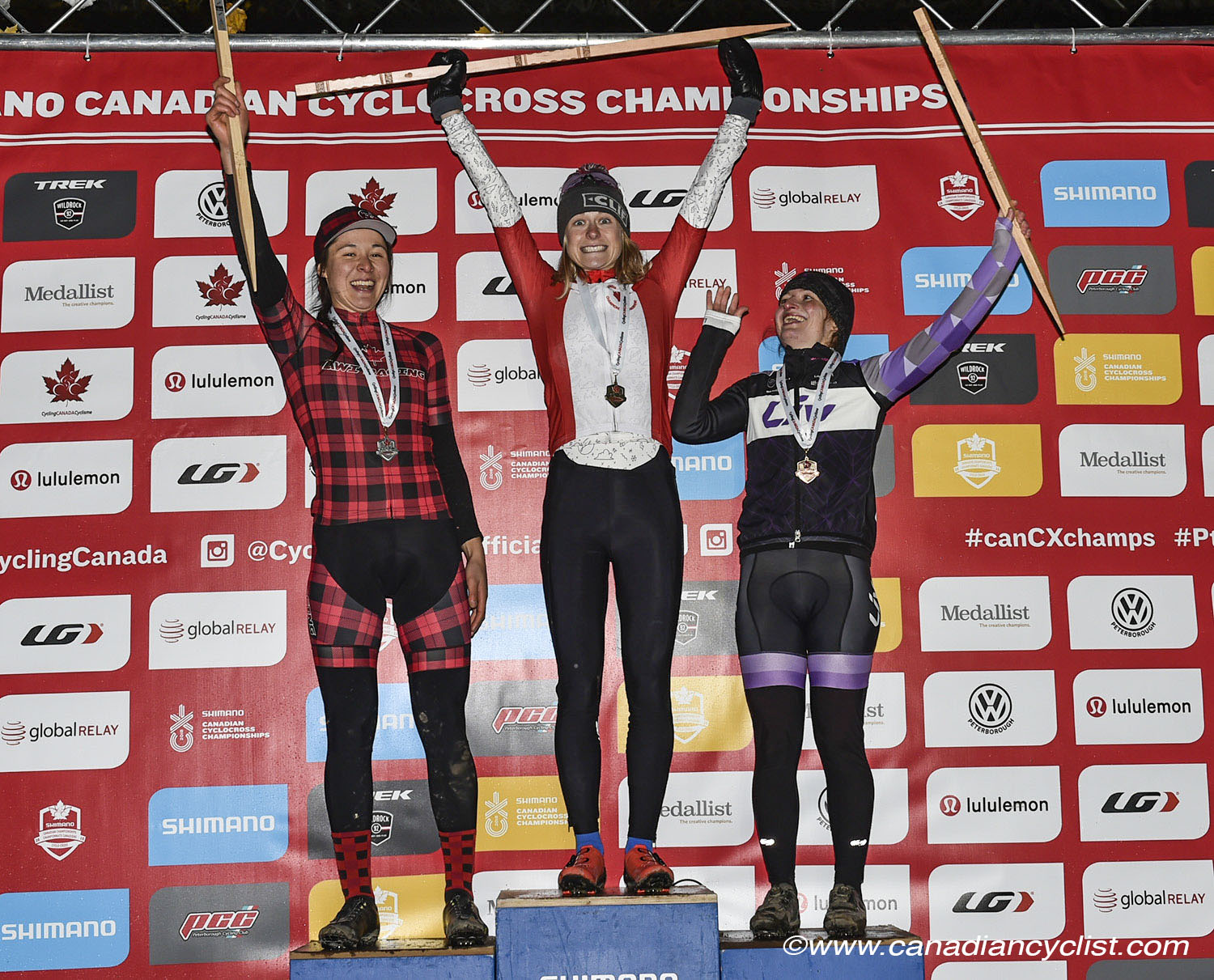 Elite Women's podium: l to r- Jenn Jackson, Maghalie Rochette, Sandra Walter
"It was cold out there," agreed Rochette, "but it was perfect for the Canadian national championships. It is a challenge riding in the cold - it's difficult for the breathing and you tighten up ... you just have to keep pushing hard because that is the only thing that will warm you up. The track was muddy, but it was so cold that it was starting to freeze; some turns were slippery mud, some were icy ... it was a challenge all race."

Rochette took the lead in the first kilometre and never looked back, eventually winning by over a minute. Behind, mountain bikers Jenn Jackson (AWI Racing p/b The Crank and Sprocket) and Sandra Walter (Liv Cycling Canada) battled for silver all race, with Jackson eventually pulling clear in the final lap.

The 2015 national champion Raphael Gagne (Silverback-OMX) had his usual fast start to get the holeshot, with defending champion van den Ham chasing along with five-time champion Geoff Kabush (Yeti Maxxis Shimano) and Marc-Andre Fortier (Pivot-OTE). Van den Ham got a gap on the other two chasers to get by Gagne first, with the other two also passing the early leader. Kabush was steadily closing on van den Ham through the final laps after coming back from a flat, but couldn't quite manage to close the gap, finishing six seconds back, with Fortier taking the bronze medal.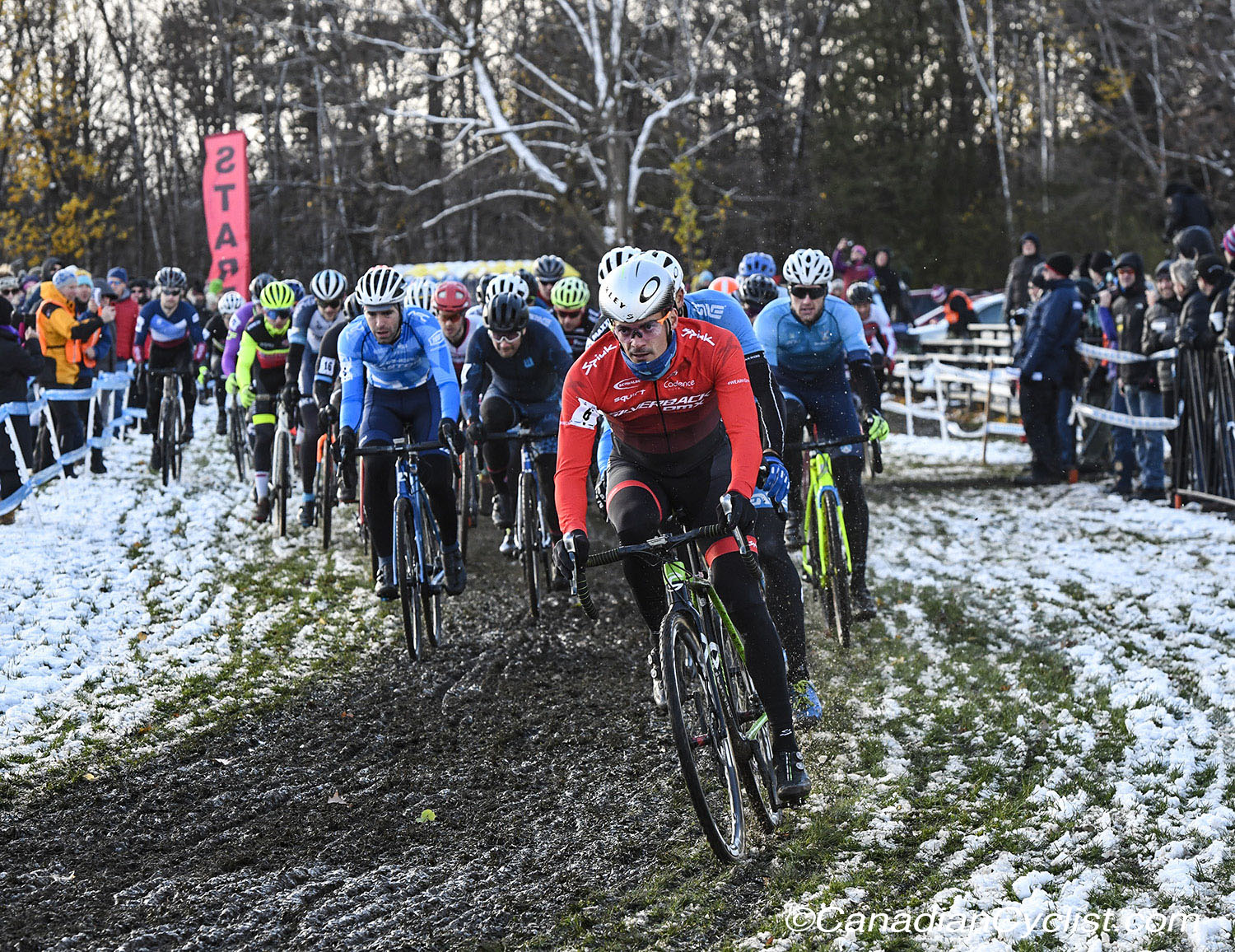 Raphael Gagne gets the hole shot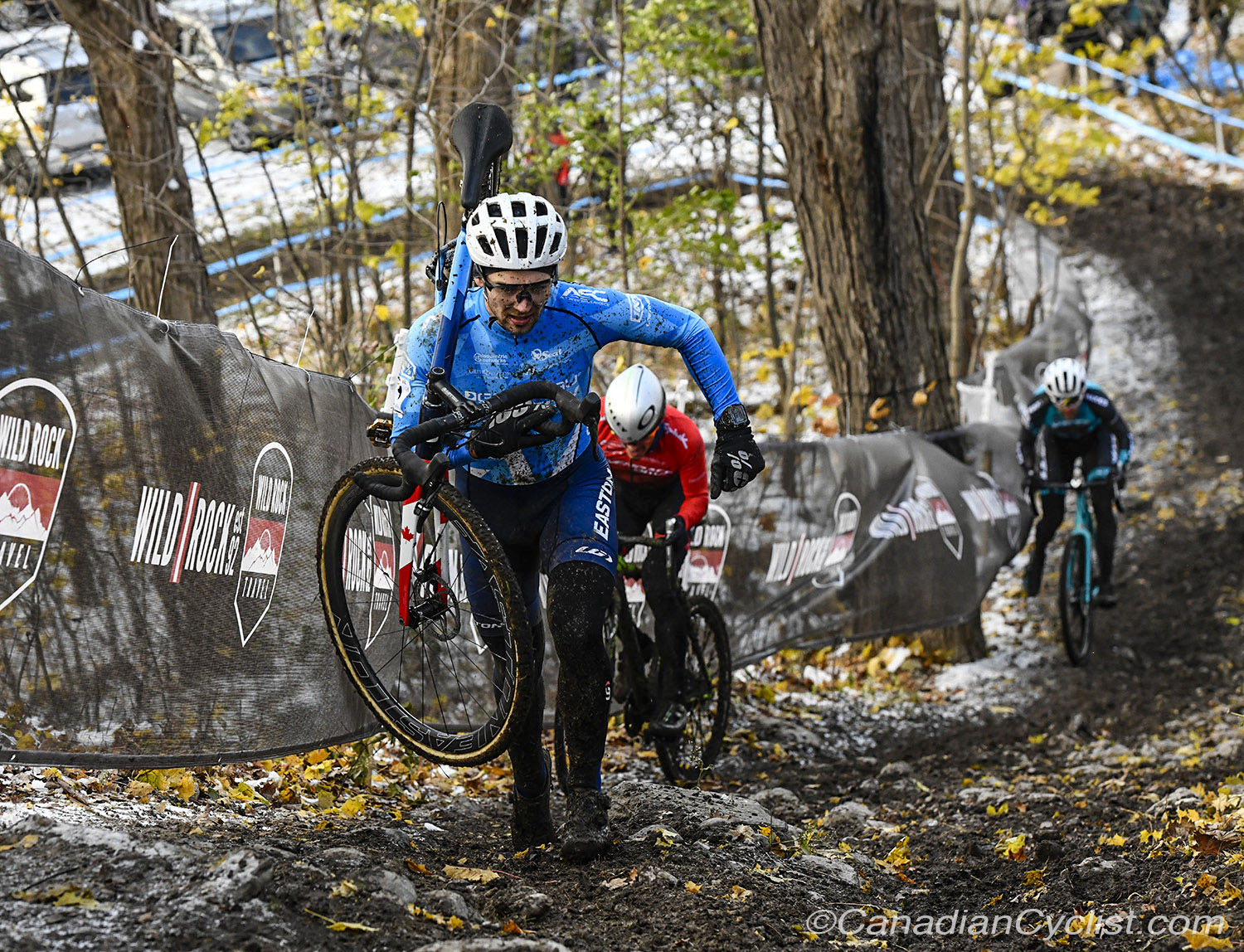 Michael van den Ham (Garneau-Easton) leading Raphael Gagne (OMX- Silverback)and Geoff Kabush (Yeti/Maxxis) on the run up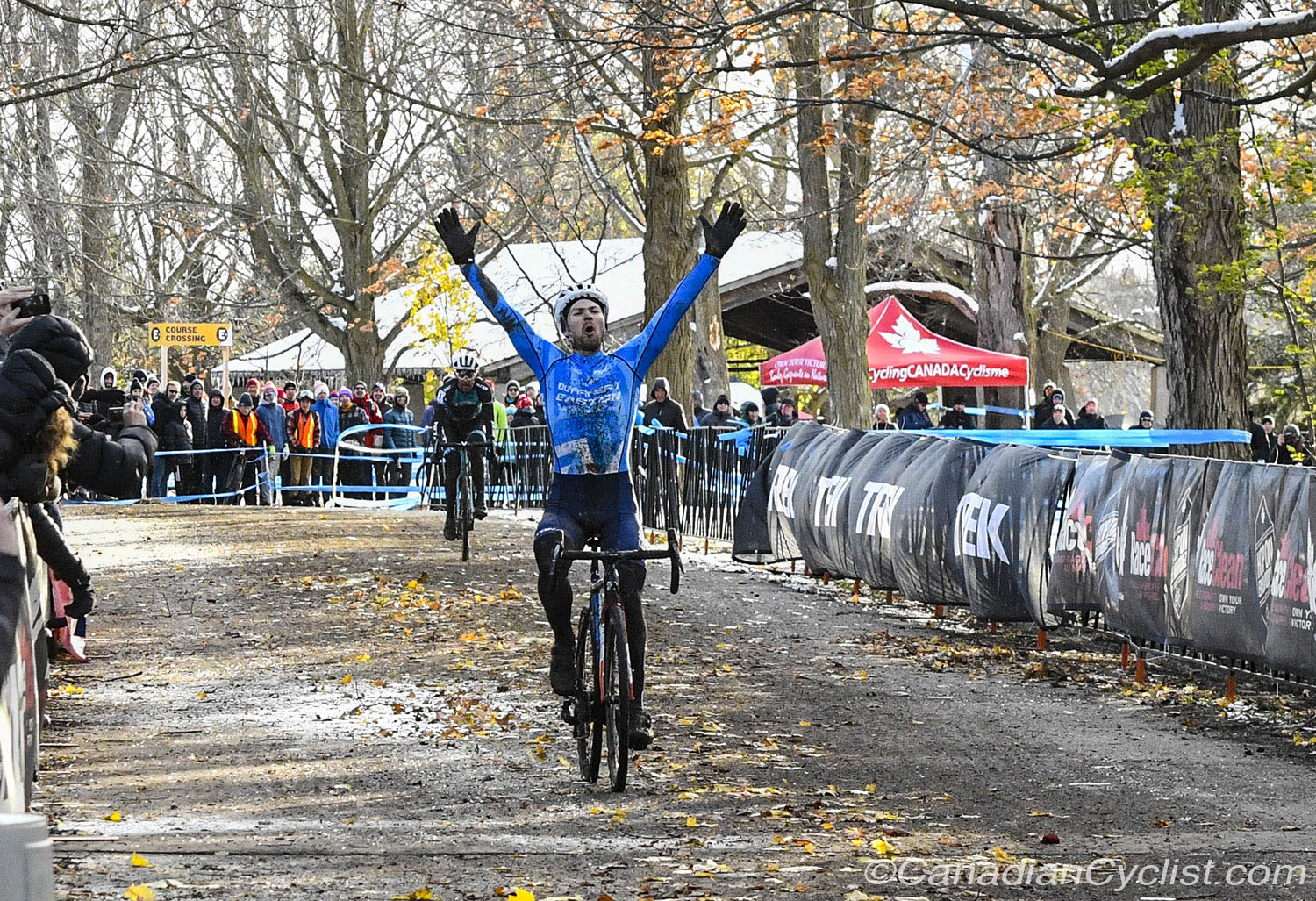 Elite Men's podium: l to r- Geoff Kabush, Michael van den Ham, Marc-Andre Fortier
"The track was changing all the time," said van den Ham. "The sun would come out and it would start to thaw, and then it would get cloudy and start to freeze again ... so the conditions were changing throughout the day. All you could do was show up, race the course and see what happens. I knew Raph [Gagne] would have a fast start, but I was pretty confident I could bring him back. I think it played to my advantage because Geoff [Kabush] is a fast finisher, so getting that gap was key to holding him off at the end. It stung a bit [losing the Pan Am title last weekend], so I'm very happy to have pulled this off."

"I was pretty excited when I saw the forecast and course," said Kabush, who came to the Nationals off a win at The Iceman Cometh in Michigan last weekend. "Michael's been riding super strong, but I thought I had a chance. I was riding super smooth and rode up to his wheel about halfway, but unfortunately I had a flat and had a long ride to the pit. I lost 20-25 seconds and after that I was closing it down, but I needed another half lap."

In the Under-23 categories, Ruby West (Specialized Ten Speed Hero) successfully defended her women's title with a dominating performance, while Gunnar Homgren (Hardwood Next Wave) rode away from the field to take the men's title. Carter Woods (Naked Factory Team) won the Junior men's title, catching all but the first three of the Under-23 men who had started a minute ahead of him.


Results
---
Related Photo Galleries
---