May 14/19 9:32 am - Interview - National MTB Head Coach Dan Proulx

Posted by Editoress on 05/14/19

Dan Proulx has been the Mountain Bike Head Coach for the Canadian team for almost a decade, and over that time period it has been one of Canada's most successful high performance programs, with athletes winning world titles, World Cups, Olympic, Pan Am and Commonwealth Games medals. We sat down with Dan prior to the start of the World Cup season to talk about the mountain bike program as it prepares for the season at the start of this important Olympic qualification period.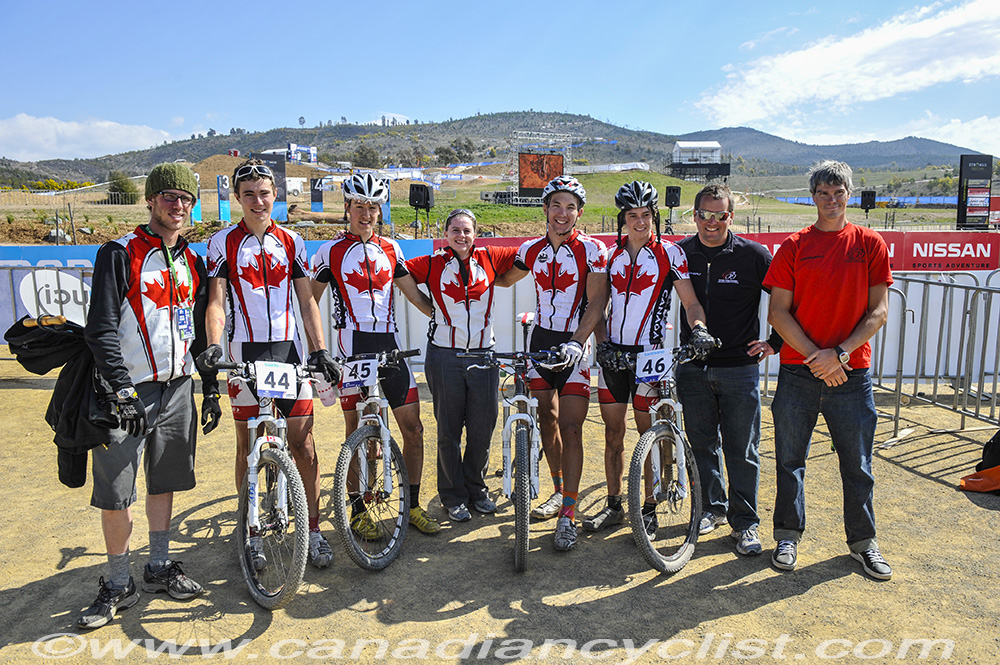 2009 Cairns World Championships, Proulx, 2nd from right with Canada's Junior Men's XC team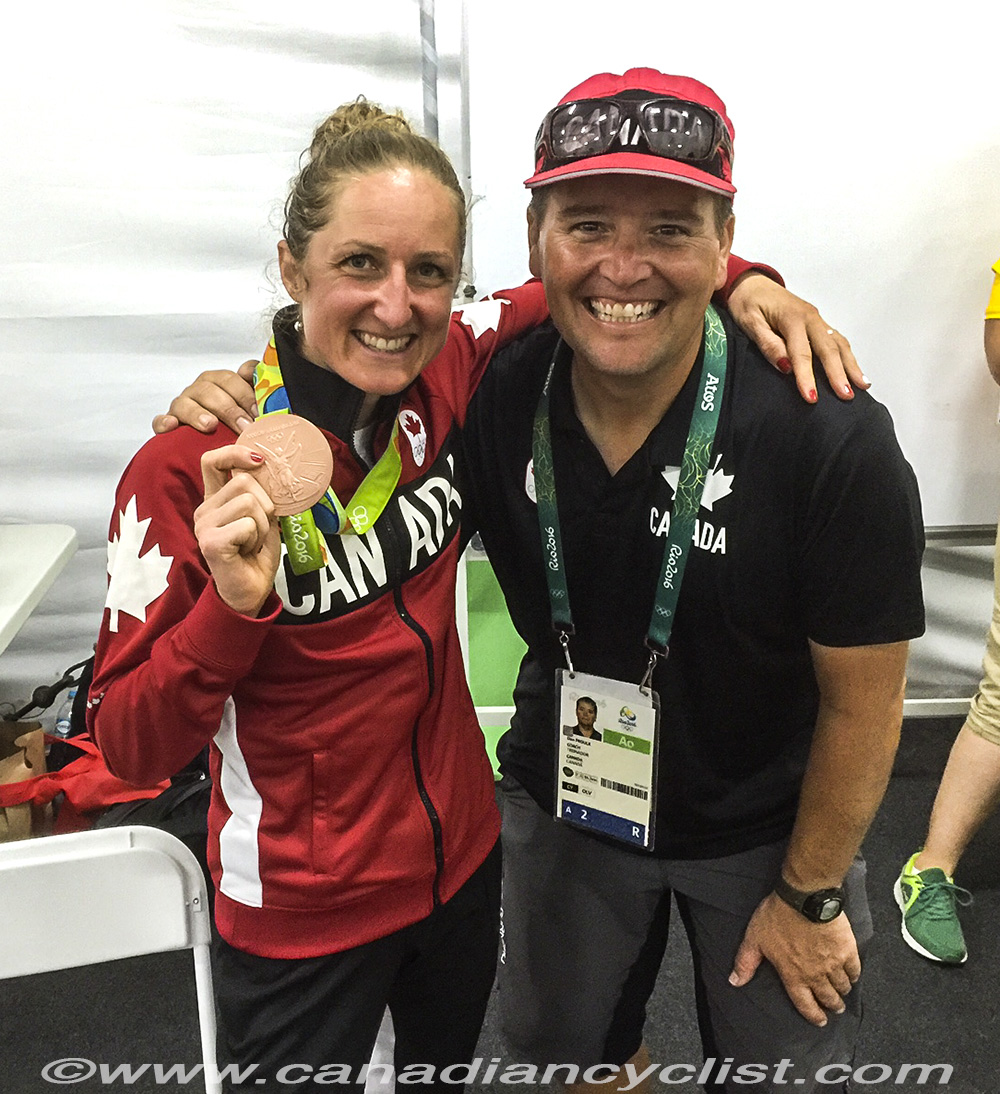 Rio 2016 with bronze medalist Catharine Pendrel
Canadian Cyclist: Right now, Canada seems to be in a pretty good place as far as depth goes, especially with younger athletes coming up through the system.

Dan Proulx: I think the goal has always been to create an environment where champions are inevitable - that's a quote from Olympian Adrian Moorhouse. I think the riders we have, have done a good job of maintaining a welcoming environment in the sport; performing well, but also being encouraging to the younger riders - I think they have made mountain biking cool again. The success we've had over the years, especially on the women's side, is continuing to draw people into the sport.

CC: In the past, on the men's side, we have not usually had the same depth as the women, which has made it a struggle with Olympic qualifying when we have had to rely on one or two riders. But we seem to be improving in that regard lately.

DP: I think back to a meeting at Mont-Ste-Anne last year, and we had all the guys sitting around a table. At that point, it was looking like we might not even qualify one spot; it was looking really grim. We talked about how the allocated spots for men had changed [spots were added for women, which means less for men] and that it will take the same amount of work to get one spot as it did in all the previous Olympics, where we had two spots. We also talked about how with the men, typically, when we go to earn points, only one of them shows up at a time. I think the guys took that to heart, and it seems at the beginning of this season, they seem to be all into it and encouraging each other, and we are having three or four guys showing up for races and earning points. That's a better situation; we've already moved up a little bit [in the rankings, to 12th, which is good enough for one spot] and our expectation is that we will be able to get one spot [Note: Canada has now pre-qualified one spot with Raphael Gagne's Pan American championship title]. We can hope for more if we do a good job but, realistically, we are looking at one spot. We need to be top-7 [in nation rankings] to get two spots, and that's a tall order.

Where the men are ranked now, in any previous Olympics, probably would have gotten them two spots. They are riding better and they have been training over the winter; I definitely see a difference in their performance levels already. We'll see how that carries into the World Cup season.

CC: There's a number of athletes who are essentially privateers - even Catharine Pendrel now. Is this going to change the way projects are done?

DP: I think it will work out. We do have some athletes on privateer programs, but at the same time, teams like Norco and Pivot have stepped up and included more Canadians. So, I think the net effect won't be that different from previous years, we'll just have some 'changing of seats'. Everybody that needs to be at a World Cup is still going to find their way there and will have good support.

CC: The world championships are back in Canada, so that obviously puts extra focus on the event.

DP: Home Worlds is like mixed blessing! We are at home so we have a super amount of support, but that can also turn into a feeling of pressure. We will just do our best to keep it as normal as we can, but that said, we do want to race well. An exciting thing that we are doing is opening all the quota spots. So, we will have what I call our regular team of 26 riders, and the remaining spots go out to privateers; they will have a minimum level of support, but they get to race. There will be a lot of maple leafs out on the course, just like last time [2010].

One really cool thing from 2010, when we had all those kids doing Worlds, was the positive ripple effect. It infused the program with good athletes for several years after. I think that's the actual benefit of hosting at Mont-Ste-Anne. It's a course that suits us well; we have Catharine [Pendrel] and Emily [Batty] who have both excelled on that course. So, we have some good opportunities to do well and will just have to see if they can put it together on the day.

CC: I was talking with Sandra Walter [see Sandra Walter - Still Racing, Still Getting Better], and she pointed out that this would be her third time at Mont-Ste-Anne for Worlds - 1998, 2010 and now 2019.

DP: Sandra's an interesting case. I think now, when you look at her career, Sandra stacks up as one of the best. It's taken a long time to develop that and it's never been easy for her, but not only has she represented us three times at Worlds at Mont-Ste-Anne, actually she is one of a handful of riders that has consistently cracked the top-20, and last season was her best season when she did it three or four times. I think that puts her in a pretty rare league.

CC: Talking about Tokyo ... that's the big goal, as it is every four years. We are at the start of the qualifying period, but how do we stack up compared to when we were qualifying for Rio four years ago?

DP: For the women, I think we are about the same or maybe even a little bit better [currently in third, just behind the United States, with Switzerland well ahead of everyone in first]. The tricky bit is that I think the U.S. is willing to outspend us and out points chase us; I think they will go to the ends of the earth for the points for that third starting spot. We've decided that our objective is to do this on performances and not chasing points. So showing up at World Cups and getting a good enough performance out of three riders that we don't need to chase [all the small races]. But that said, our goal is performance always, so we are not trying to secure that third spot as a goal, it will be a byproduct of doing well. So it is based on how do we get closest to medal performances [at the Olympics], and not just how many riders we are sending.
---
Related Photo Galleries
---