May 24/19 8:53 am - Strong Canadian Contingent Looks to Improve at Nove Mesto World Cup

Posted by Editoress on 05/24/19

One week after the XCO World Cup opened in Albstadt, Germany, Round 2 will take place at Nove Mesto na Morave, Czech Republic. Nove Mesto is a regular stop on the World Cup and a favourite with many riders. It is a beautiful location in a pine forest with lots of climbing and multiple technical features. The fan base that comes out is one of the best on the World Cup circuit. Rain was forecast, but the weather is starting to look better for the weekend.

Canada has the same large contingent as last week, including Junior riders Carter Woods (Rocky Mountain Factory) and Emilly Johnston (Pendrel Racing). For the Elite riders, the action starts this evening (local time) with the XCC (Short Track). Canada has five riders participating: one man - Peter Disera (Norco Factory) - and four women - Haley Smith (Norco Factory), Catharine Pendrel (Team Canada), Emily Batty (Trek Factory) and Sandra Walter (Team Canada).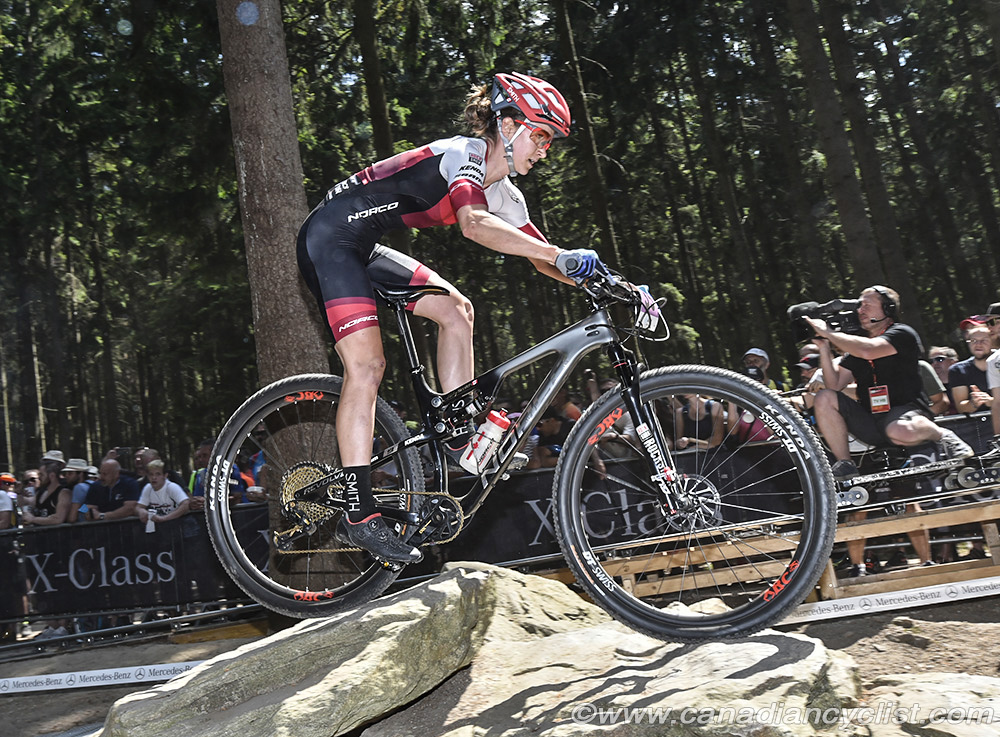 Haley Smith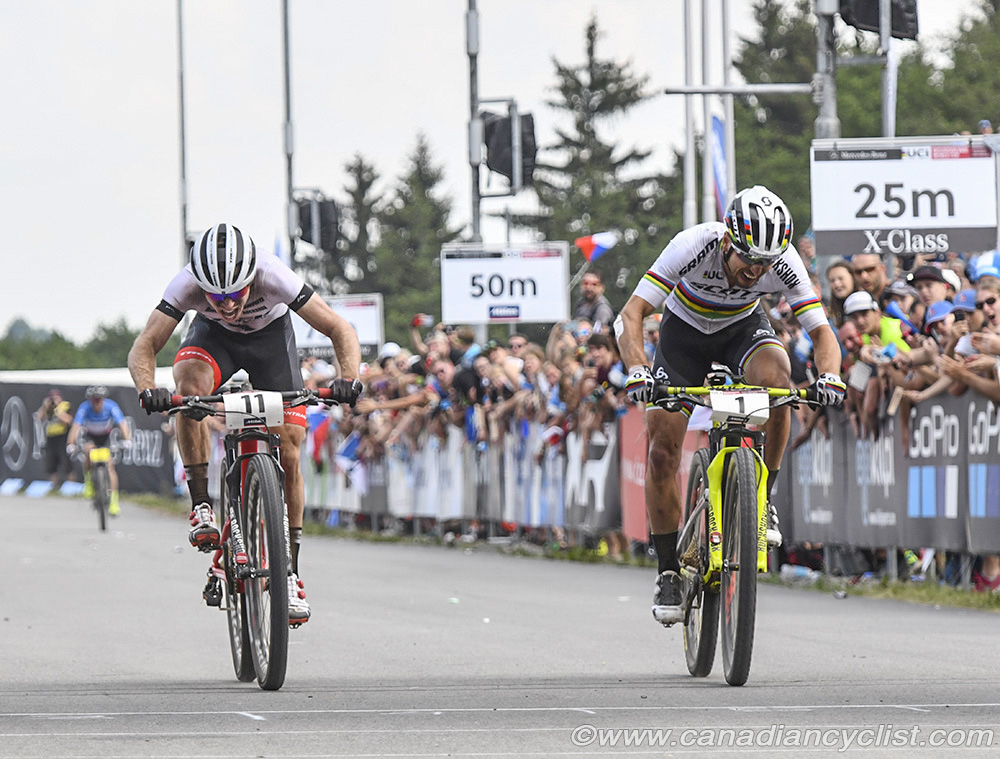 2018 Elite Men's race ended in a sprint
The XCO schedule is a little different from Round 1, with both Under-23 men and women, plus Junior women and men all racing on Saturday, followed by the two Elite categories on Sunday.

Canada had strong showings in all categories last week, and Canadians have done well at Nove Mesto in the past. In the Juniors, Woods finished second after crashing in the final 200 metres, and Johnston was eighth. Laurie Arsenault (Team Canada) was 12th in Under-23 women, and will be looking to crack the top-10 this week, while Sean Fincham (Norco Factory) was tenth in Under-23 men.

In the Elite categories, Haley Smith was a career-high ninth and Catharine Pendrel just outside the top-10 in 12th. Peter Disera also had a career-best performance in Elite men, finishing 19th.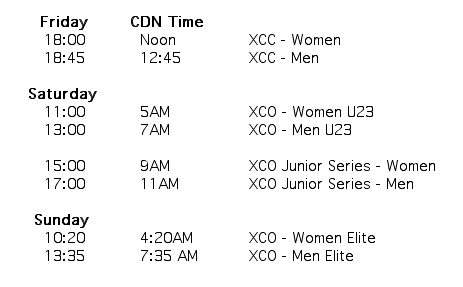 XCO Line-Up
Elite Women
Cindy Montambault (Team Canada)
Catharine Pendrel (Clif Pro/Team Canada)
Emily Batty (Trek Factory Racing)
Haley Smith (Norco Factory Racing)
Sandra Walter (Team Canada)
Jenn Jackson (AWI Racing)
Rebecca Beaumont

Elite Men
Raphael Gagne (Team Canada)
Peter Disera (Norco Factory Racing)
Andrew L'Esperance (Norco Factory Racing)
Leandre Bouchard (Pivot-OTE)
Marc-Andre Fortier (Pivot-OTE)

U23 Women
Laurie Arsenault (Team Canada)
Mackenzie Myatt (Team Canada)
Sophianne Samson
Juliette Tetreault (Ride with Rendall)
Marianne Theberge (Team Canada)

U23 Men
Raphael Auclair (Pivot-OTE)
Quinton Disera (Norco Factory)
Sean Fincham (Norco Factory)
Gunnar Holmgren (Team Canada)
Tyler Orschel
Victor Verreault

Juniors
Emilly Johnston (Pendrel Racing)
Carter Woods (Rocky Mountain Factory)
---
Related Photo Galleries
---