May 25/19 13:15 pm - Fincham 6th at Nove Mesto World Cup

Posted by Editoress on 05/25/19

Canadian Under-23 men's national champion Sean Fincham (Norco Factory Team) finished sixth at the second round of the Mountain Bike World Cup on Saturday, in Nove Mesto, Czech Republic, moving him up from tenth to seventh in the overall standings. His result was the top Canadian one on a day that saw some bad luck for Canadian riders.
Fincham went to the front of the race early on to try and whittle down the contenders, succeeding in bringing the lead group down to ten. It was reduced even further over the next few laps, with Fincham managing to stay with the leaders until the halfway point, dropping back to eighth before recovering to sixth. Other Canadian results include Quinton Disera (Norco Factory Team) in 19th, Gunnar Holmgren (Team Canada) in 33rd, Tyler Orschel (Team Canada) in 60th, Raphael Auclair (Pivot Cycles-OTE) in 66th, and Victor Verreault (Team Canada) in 96th. Holmgren had a noteworthy ride; moving up from 99th on the start line.

"After last week I came in with a lot of confidence," said Fincham. "This is a track I have some good history on. Things started to pick up with three laps to go and I tried to hold on. I had a pretty good last lap and managed to pick up a couple of spots."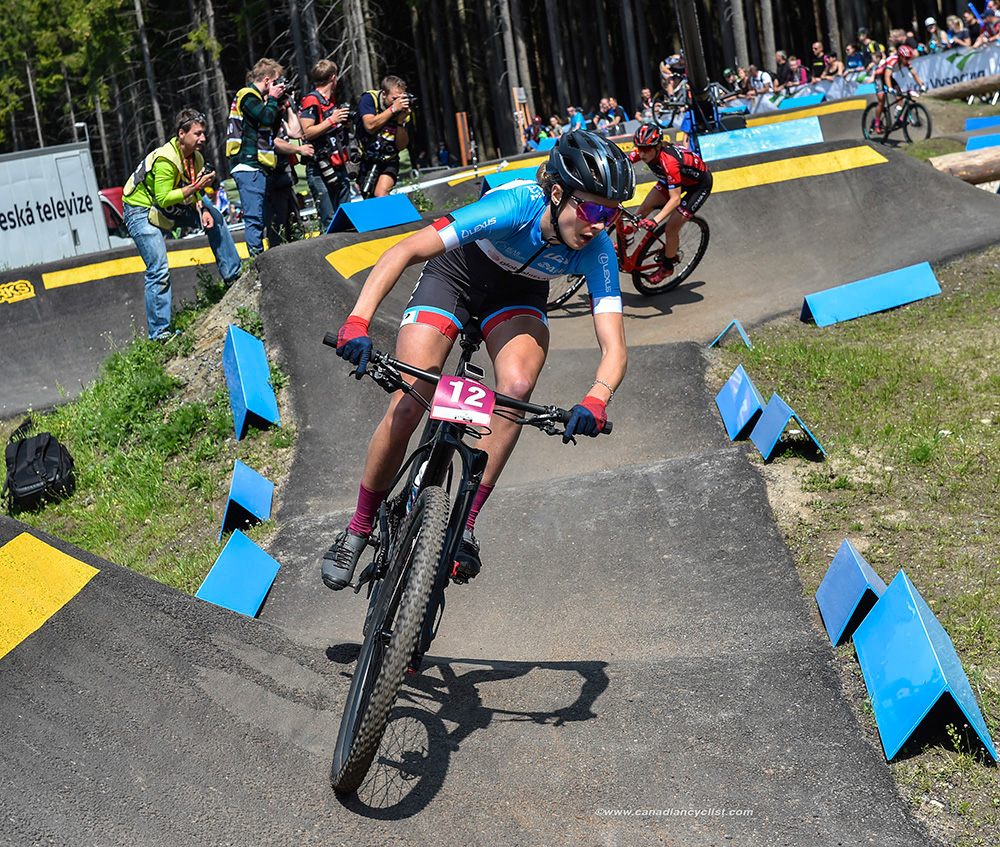 In the Under-23 women's competition, Laurie Arsenault (Team Canada) could not match her 12th place from Round 1, but managed to finish just inside the top-20, in 19th place and is 14th overall in the standings. Haley Batten (Team USA) won after leading from start to finish, and takes the overall lead in the standings. Other Canadian results include Sophianne Samson (Equipe du Quebec) in 38th, Marianne Theberge (Team Canada) in 42nd, Mackenzie Myatt (Team Canada) in 45th, and Juliette Tetreault (Equipe du Quebec) in 49th.

Canadian Junior riders had some bad luck in their races, with Emilly Johnston (Pendrel Racing) crashing while in the lead group of the women's race and recovering for 13th place. Norway's Helene Marie Fossesholm took the win.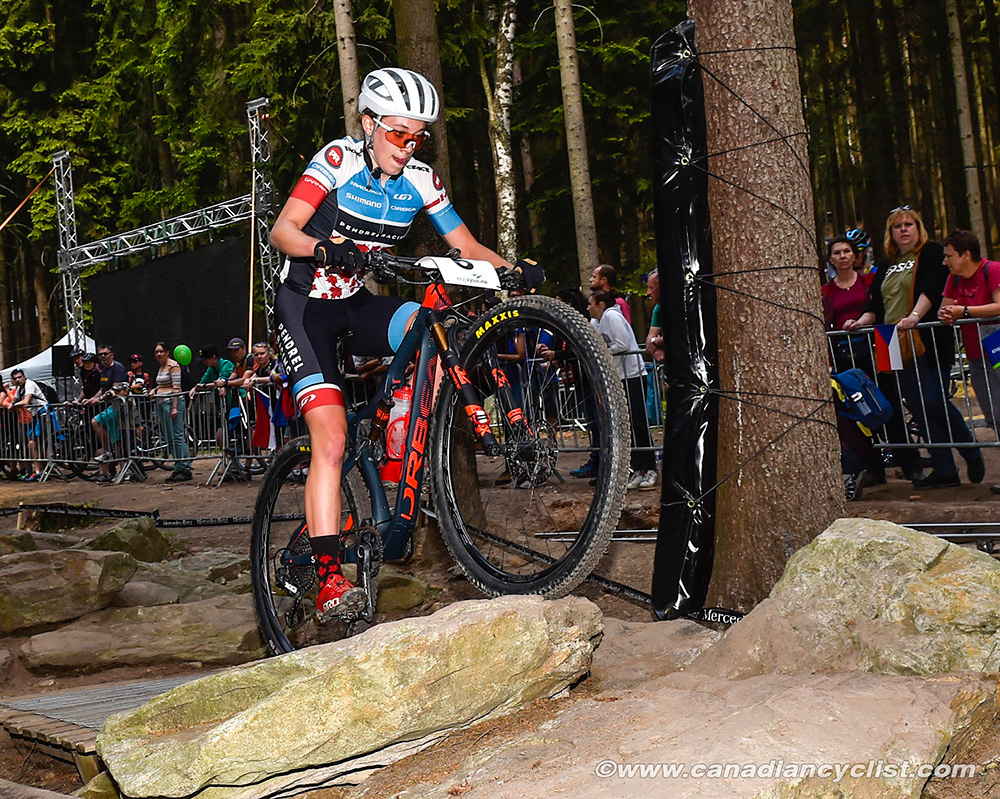 "It was a stupid mistake," admitted Johnston. "I went too high in a berm and wiped out. My bars got twisted and I had to ride all the way to the pit like that to get them straightened, so I dropped to around 30th."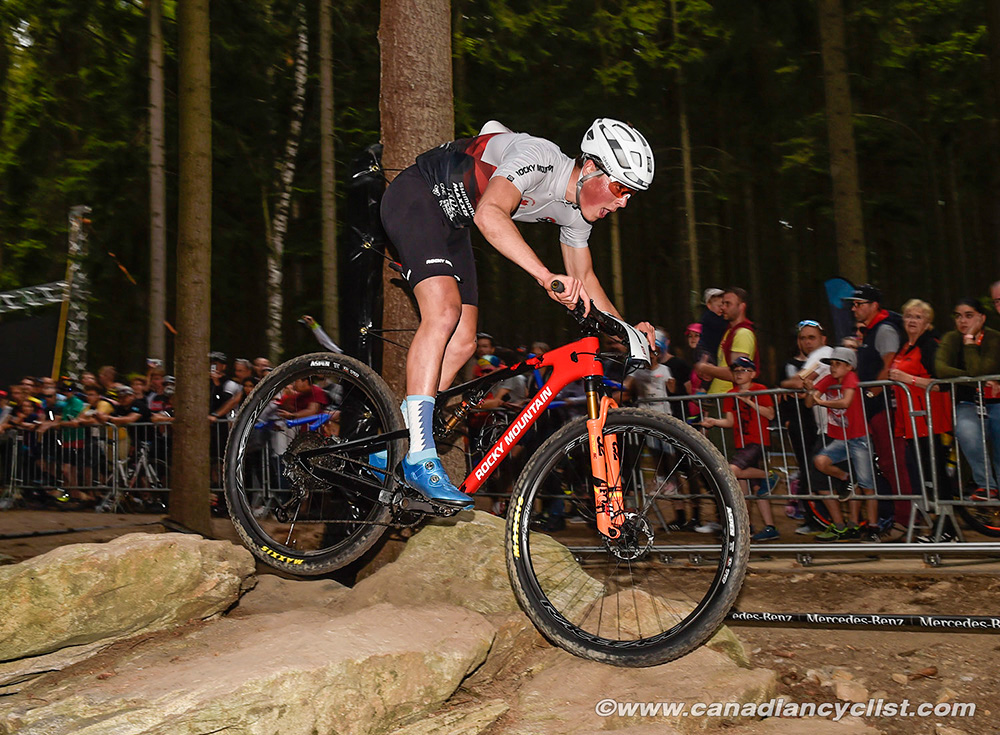 World number one ranked Carter Woods (Rocky Mountain Factory), the Canadian champion, hit a post with his knee while battling for first place in Junior men with eventual winner Charlie Aldridge (Team GB) and dropped back to finish tenth. Woods was limping heavily after the race and went for medical attention.
---
Related Photo Galleries
---