May 26/19 12:04 pm - Haley Smith Takes First World Cup Podium in Nove Mesto

Posted by Editoress on 05/26/19

Haley Smith (Norco Factory) took the first World Cup podium result of her career with a third place in the Elite women on Sunday at the second round of the Mountain Bike World Cup in Nove Mesto, Czech Republic. Smith's result moved her up to eighth in the overall standings from 13th. Catharine Pendrel (Team Canada) finished in 14th place and is 15th overall. In the men's race, Leandre Bouchard (Pivot Cycles-OTE) was the top Canadian in 39th place, after breaking a spoke and flatting in the opening lap - passing 90 riders in a very impressive ride.

Women
Anne Tauber (CST Sandd Bafang) attacked on the opening lap to take the lead, with Courtney, Jolanda Neff (Trek Factory), Rebecca McConnell (Primaflor Mondraker) and Sina Frei (Ghost Factory) chasing, and Smith sitting in the top-10. Tauber was joined by Neff, while Courtney fell back to fourth by the second lap after flatting. She worked her way back up to join Neff on Lap 4 and then went on a solo chase, joining and dropping Tauber on the last lap, after the Dutch rider crashed multiple times, bending her derailleur. McConnell moved up to take second, while Haley Smith had the fastest lap of the day (12:54) to move from sixth to third. Courtney solidified her lead in the overall standings with 700 points, followed by Neff at 490 and Chloe Woodruff (Team USA) at 385.

"I think I started a little hard," said Courtney, "and when I had my flat it was tough mentally. But I was able to reset and focus on my own pace. It took every ounce of what I had, so I'm pretty happy."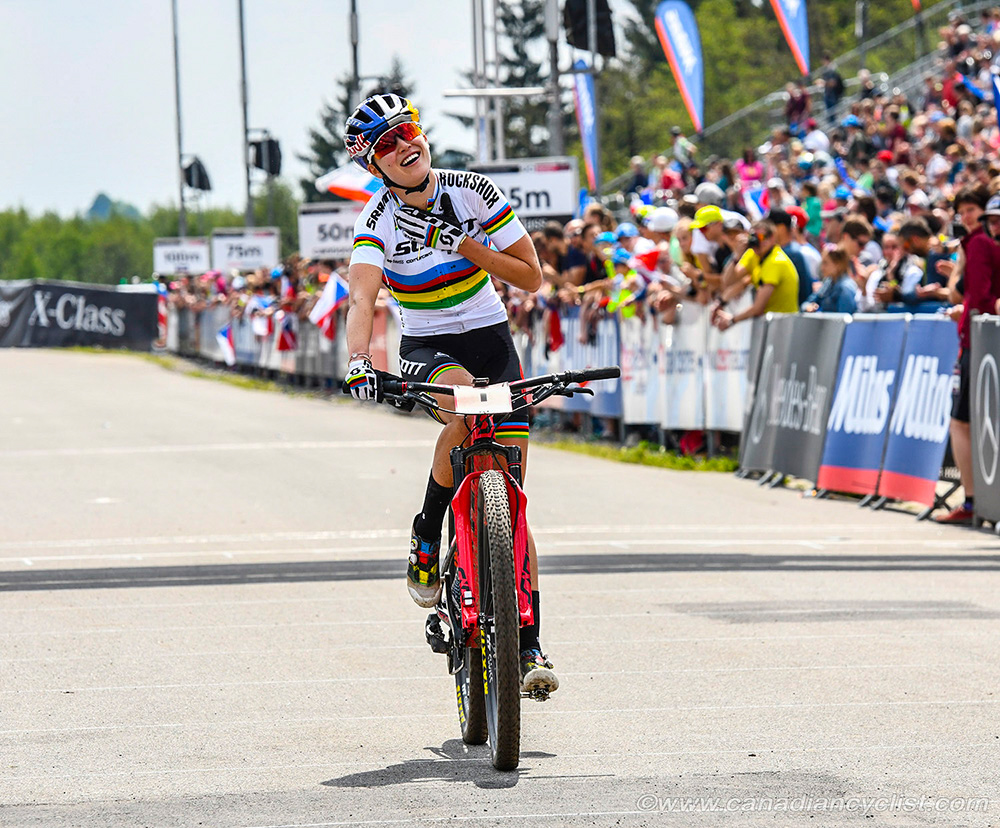 "I've always liked this course," said Smith, "it's been good to me. It really feels like mountain biking, it's got flow and is about being a bike rider, and that's what I did; I just found the flow and I went for it. I think I was 15 seconds out [of top-5] heading out on the last lap, and [national coach] Dan [Proulx] yelled seven seconds, and I thought 'I can do seven seconds'. I knew I just had to give it everything I had, because I would regret it if I didn't."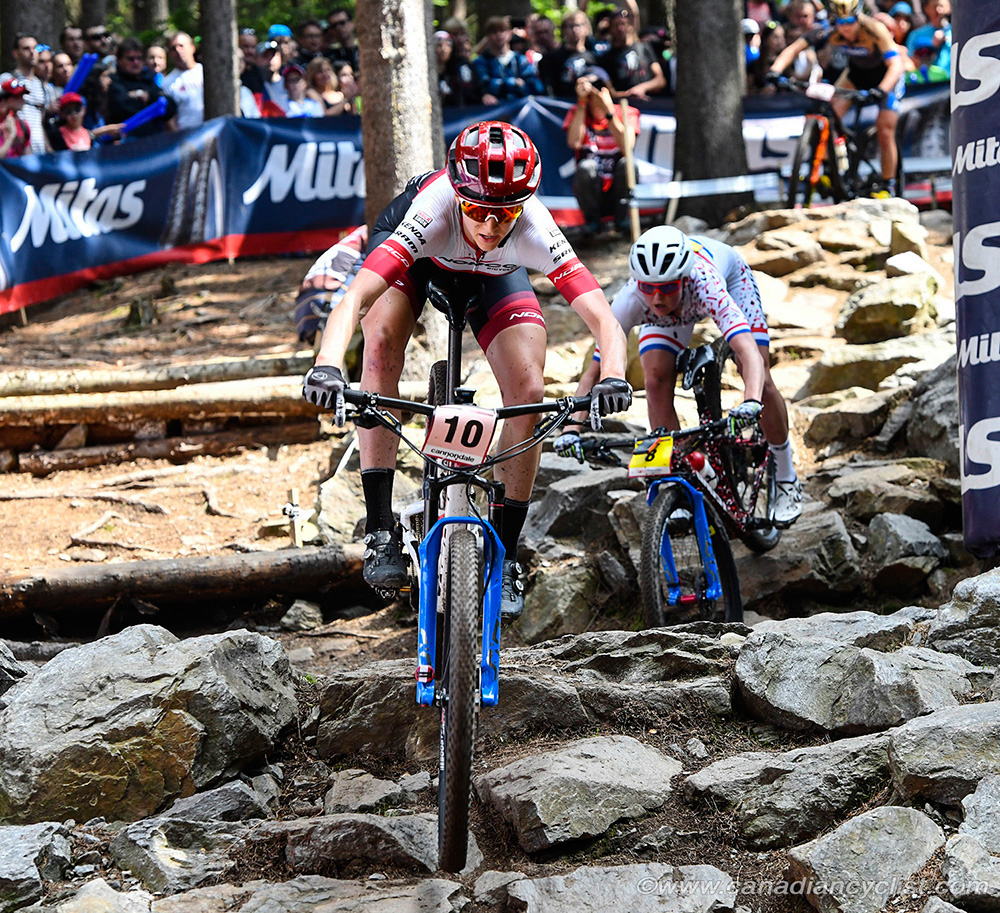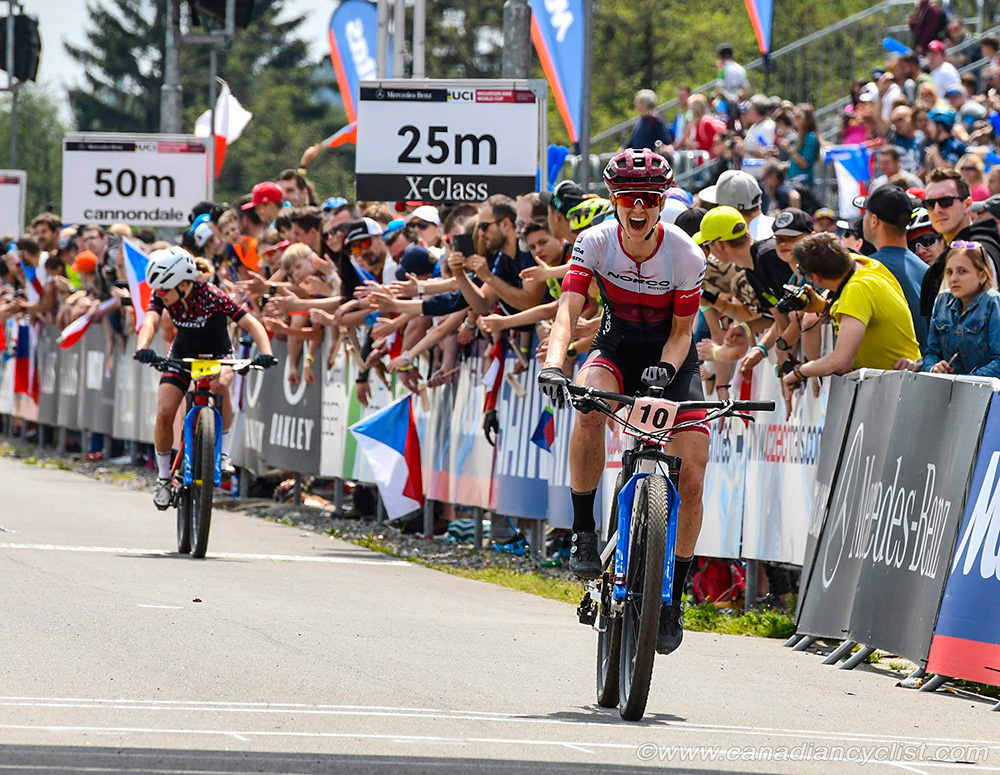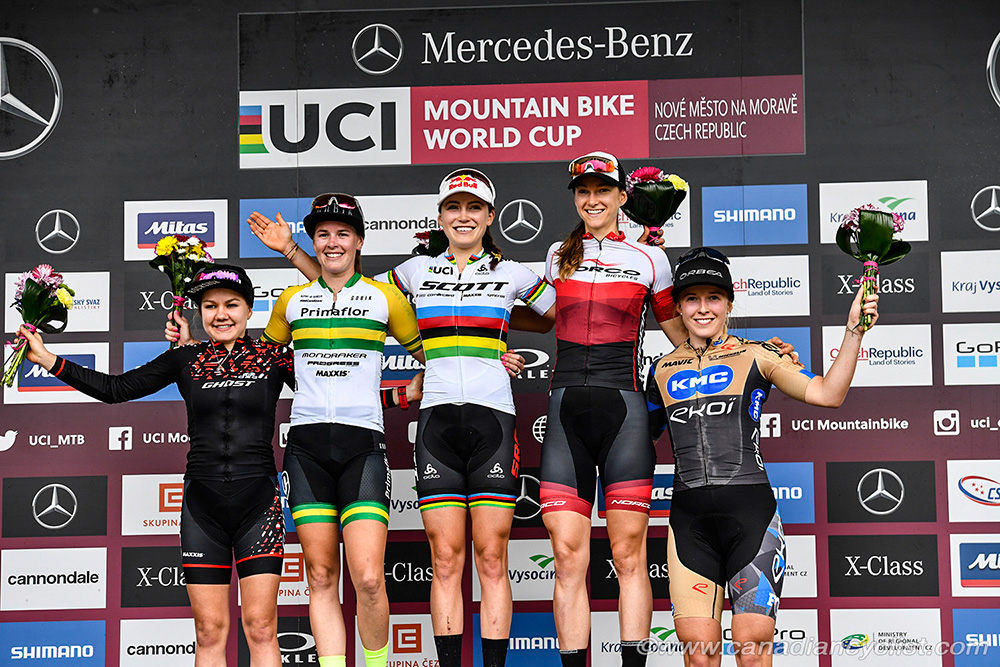 In addition to Smith's third and Pendrel's 14th, Sandra Walter (Team Canada) was 28th, Jenn Jackson (AWI Racing) was 31st, Emily Batty (Trek Factory) was 38th, Cindy Montambault (Team Canada) was 51st, and Rebecca Beaumont was 60th. In the overall standings, Batty is 29th, Walter is 30th and Jackson is 37th.

Men
Mathieu van der Poel (Corendon Circus) finally took his first Mountain Bike World Cup victory on Sunday, at Round 2 in Nove Mesto, Czech Republic.

Van der Poel was at the front from the start on a course that he calls his favourite. However, he was shadowed by his nemesis, world champion Nino Schurter (Scott-SRAM). The duo rode away from the rest of the field, with local favourite Ondrej Cink (Kross Racing) following alone in third. Schurter tried an attack halfway through the race on the longest climb but van der Poel easily covered it. The world champion could not respond when van der Poel launched a searing attack on the final climb of the last lap, opening up a gap of 15 seconds in 300 metres, and riding in to win by 19 seconds, recording the fastest lap of the day. Round 1 winner Mathias Flueckiger (Thomus RN Swiss Bike) took third. Van der Poel, by virtue of second at Round 1, two short track wins and now his first XCO win, continues to lead the overall standings with 700 points, followed by Flueckiger at 500 and Schurter at 485.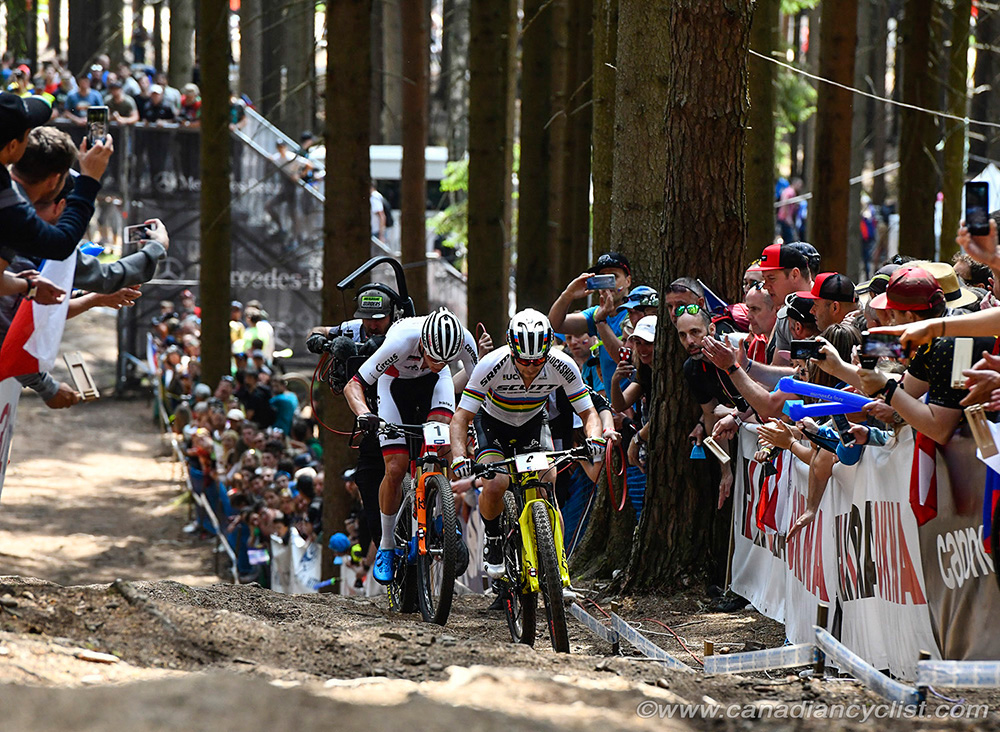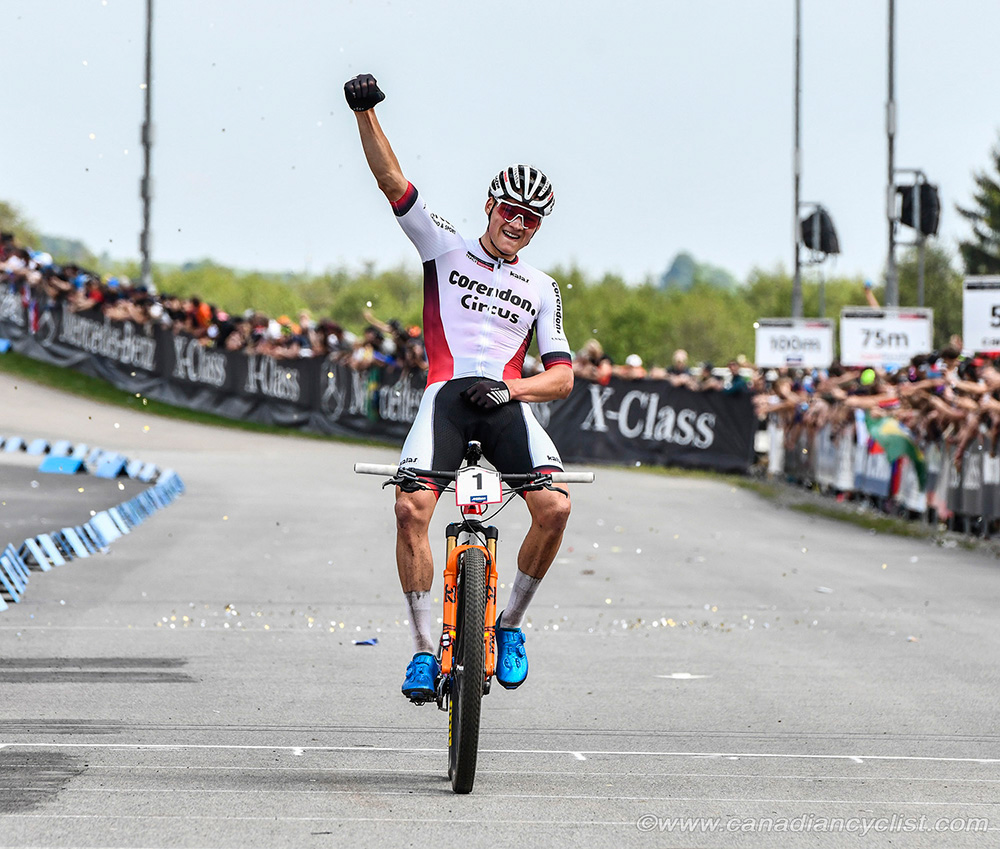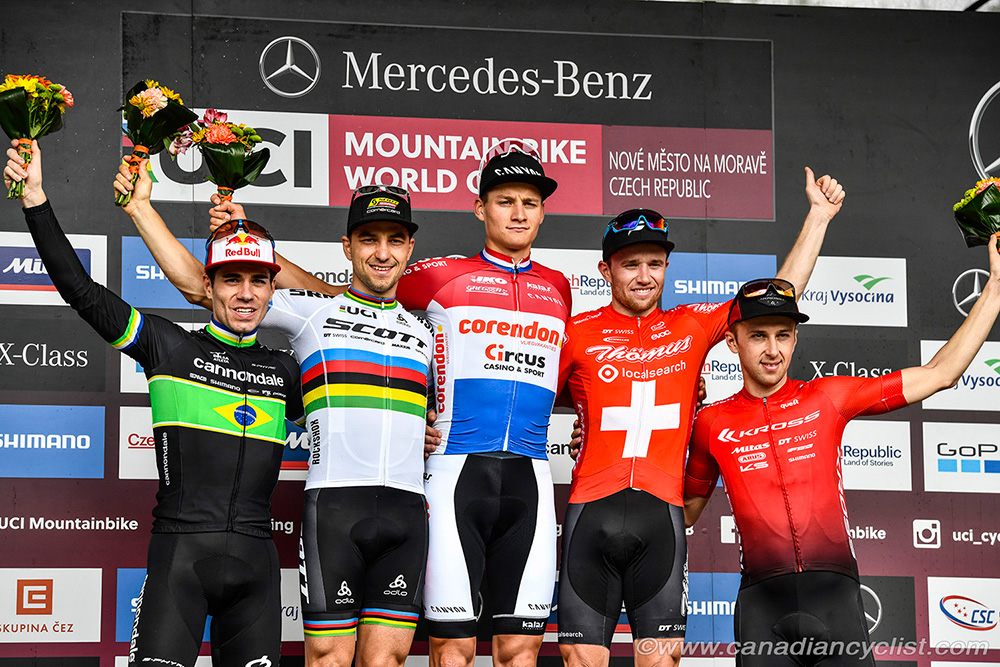 "It was a battle between the greatest mountain bikers, so it was so sweet to win," said van der Poel. "I had that point on the course for my attack in my mind two laps before the finish, and I just went all in. I'm really happy to finally get my first World Cup win. For me, it is one of my biggest achievements, one of the toughest things I can do. I've been trying for three years, so I've been dreaming of a World Cup win."

In other Canadian results, Andrew L'Esperance (Norco Factory) was 42nd, Canadian champion Peter Disera (Norco Factory) struggled after finishing seventh on Friday in the short track event and could only manage 49th, however, he remains in 18th place overall. Marc-Andre Fortier (Team Canada) was 94th and Raphael Gagne (Team Canada) was 109th.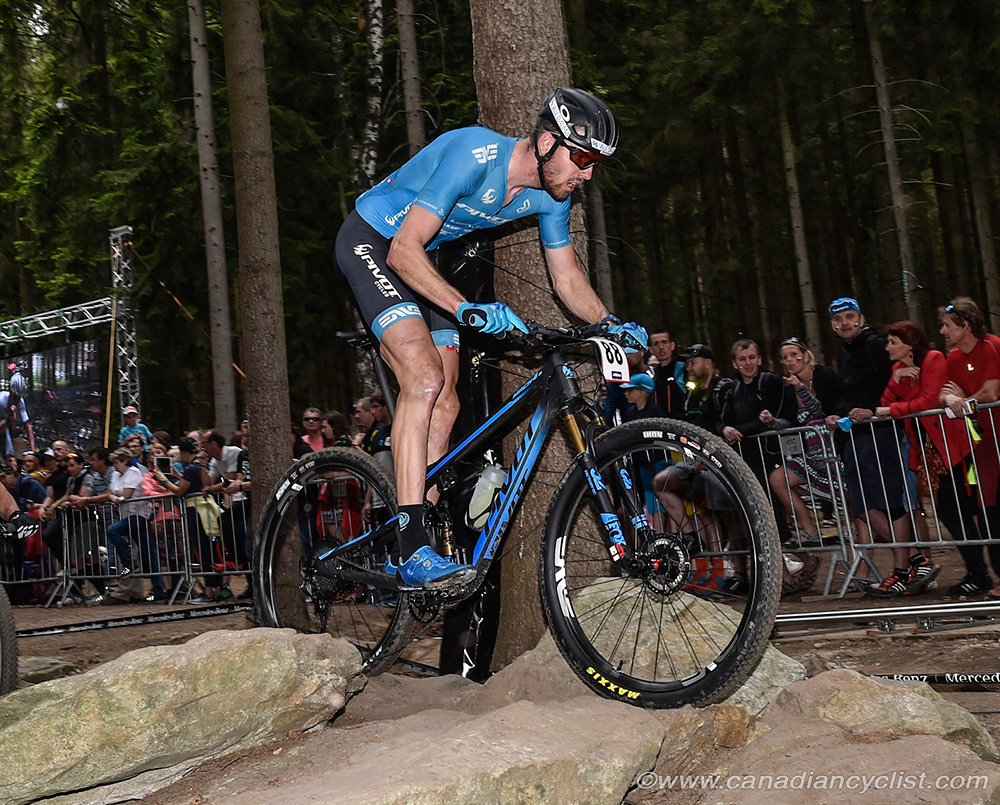 "It was a fast race, but unfortunately it started unluckily for me," said Bouchard. "I broke a spoke on the first straight and got a flat, so I had to stop at the tech zone and change my front wheel. So, I was the last rider. At the beginning, I was catching 10-15 guys per lap, so I just put my mind to suffer mode and kept going. I'm happy to make the top-40."

Kris Westwood, Head of Performance Operations at Cycling Canada, said "It was great for me to see our athletes in action here in Nove Mesto - it's been a long time since I had the chance to come to a world cup. It's great how all the Canadians support each other, whether they're with the Canadian team or their trade teams, and coach Dan Proulx does a great job of helping with advice or technical support when needed."

"Of course, the highlight was Haley's podium finish in the elite women's race. What an amazing weekend for Haley. She rode a very controlled short track and then backed that up with a world-class performance in the cross-country to get her first-ever world cup podium. She moved from sixth to third in the final lap - tying for the fastest lap of the day in the process."

"Other highlights are Sean Fincham's sixth-place finish in the U23 race, Laurie Arsenault's 19th in the U23 women's event, and Peter Disera's seventh in the elite men's short track. Leandre Bouchard also deserves a mention: after flatting on the start loop, he moved up from 129th position to 39th at the finish. Gaining 90 positions is an unofficial record for team Canada!"
Nove Mesto World Cup: Elite Men results
Nove Mesto World Cup: Elite Women results
Disera Finishes 7th at Nove Mesto World Cup XCC
Fincham 6th at Nove Mesto World Cup
---
Related Photo Galleries
---