June 7/19 23:38 pm - Kirchmann Second at Chrono Gatineau

Posted by Editoress on 06/7/19

Amber Neben (Cogeas Mettler Look) won her second straight Chrono Gatineau on Friday in Gatineau, Quebec, completely dominating the field to win by nearly a minute over Leah Kirchmann (Team Canada) and Taylor Wiles (Trek Segafredo). Kirchmann had already won the GP Gatineau road race the evening before.

The 17.3 kilometre course started with a climb of nearly eight kilometres through the Gatineau national park, before the riders turned around and headed back down the same road. A final flat section of nearly a kilometre led onto the last 300 metres of climbing to the finish line.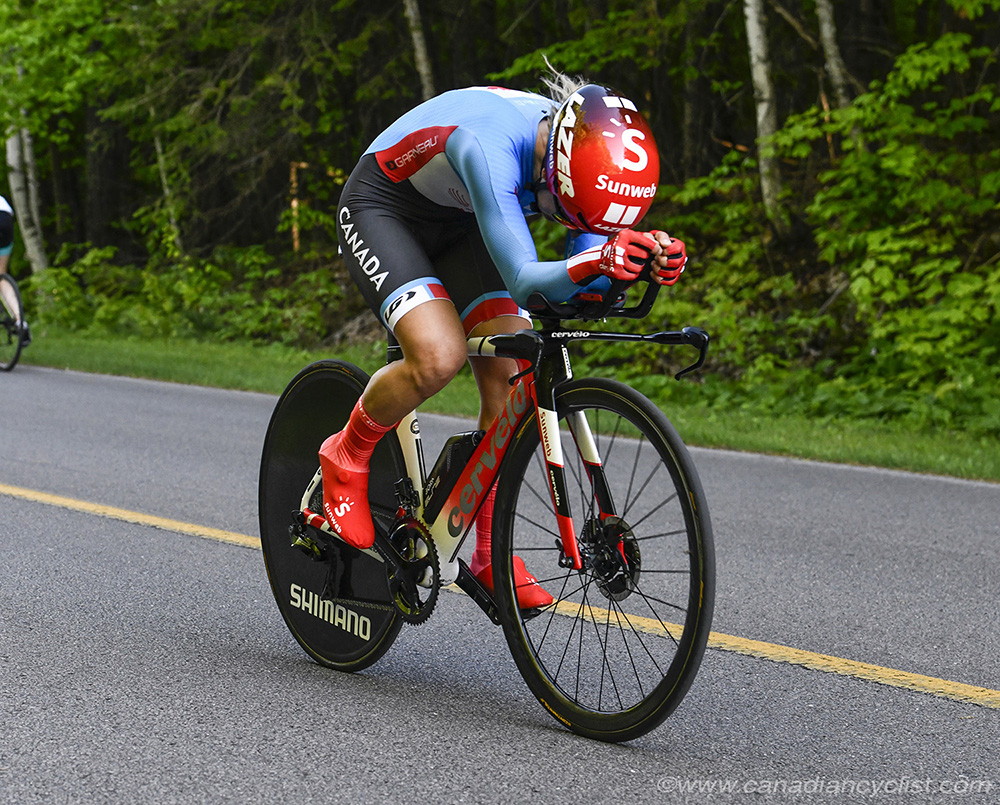 Leah Kirchmann
Kirchmann was the first rider off and set a time of 24:47, which would stand up through the entire field until Neben, the final rider, smashed it by 54.63 seconds. Wiles, starting second from last, finished a further 5.34 seconds back. Three other Canadians finished in the top-10, with Gillian Ellsay (Rally UHC) fifth, Annie Foreman-Mackey (The Cyclery) sixth, and Marie Soleil Blais (Team Canada) eighth.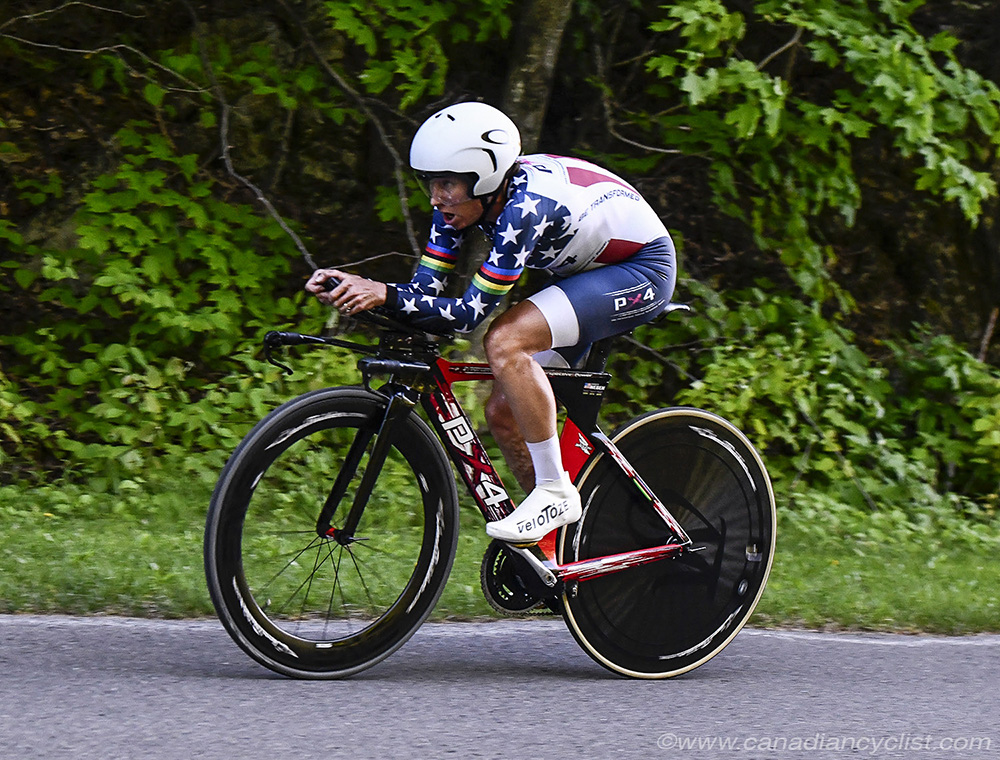 Amber Neben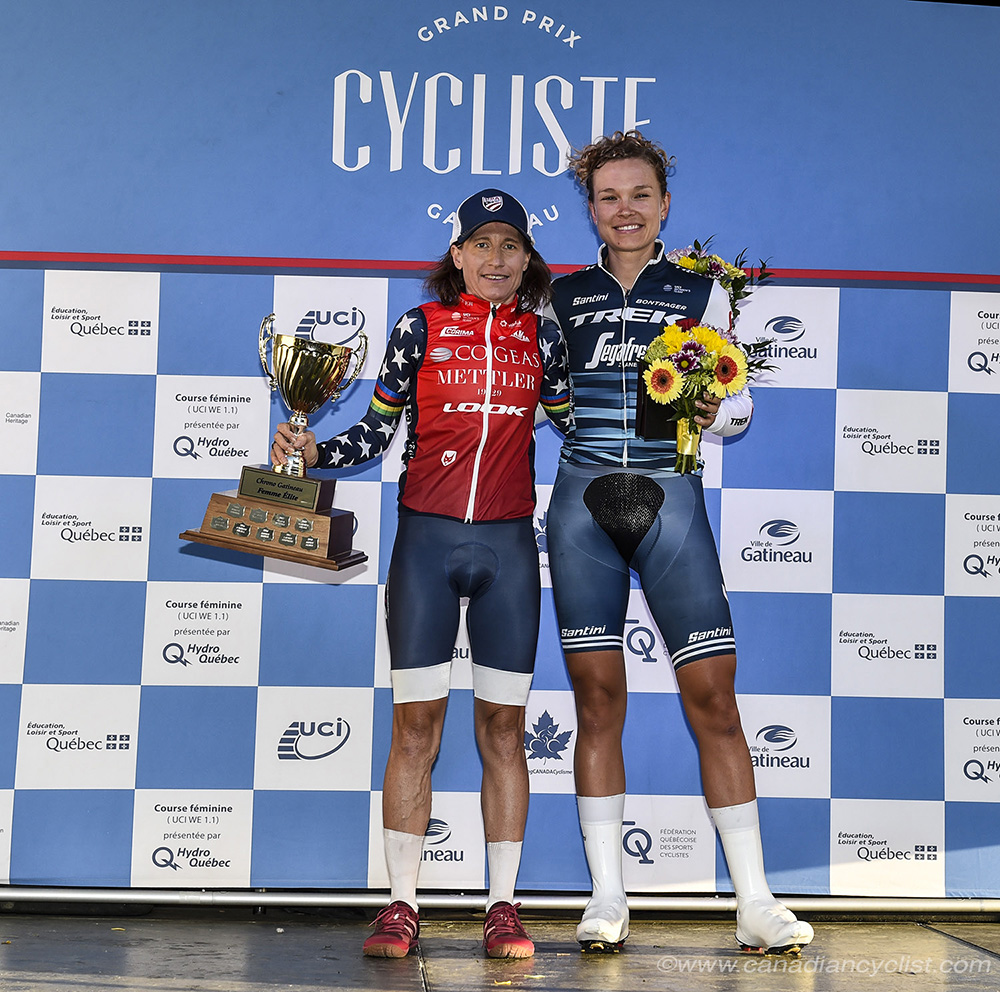 Amber Neben and Taylor Wiles, Leah Kirchmann (absent, travelling to Women's Tour)
"I really think this course does suit me," said Neben. "It's a full-gas, long VO2 Max effort all the way to the top, and then you have to ride fast all the way back down. Pacing-wise I think it suits me, but I also think that I just had a really good day. I went really hard going out because I knew the other two girls were really fast coming back. I love time trialing, and the chance to do a [standalone] 1.1 UCI race like this is special. Gatineau is so friendly and the organization does a really good job, so to get some good preparation for US Pro [championships] worked out well for me."

"Amber is really tough competition in a time trial," said Kirchmann, "but I'm quite pleased to be on the podium. I was hoping to have a fast race. Is it a really tough course with so much climbing in the first half. My strategy was to put a lot of energy into the first half and then hopefully recover a bit on the descent. My legs were really exploding on the climb up to Pink Lake. I think I paced it as hard as I could - I couldn't have really gone any faster. I'm satisfied with my effort."

Kirchmann finished the week end with two podiums in two days after winning the GP Gatineau road race on Thursday evening. "I was feeling really in training leading up to these races, and knew that if everything aligned for me that it was possible to have two really good races."
---
Related Photo Galleries
---