July 14/19 8:14 am - Smith Sixth at Les Gets World Cup

Posted by Editoress on 07/14/19

Kate Courtney (Scott-SRAM) re-established her dominance in the Mountain Bike World Cup with her third XCO win in four rounds on Sunday in Les Gets, France. Jolanda Neff (Trek Factory) recovered from over extending herself in the first lap to finish second, while Germany's Elizabeth Brandau had her best ever World Cup finish in third. Haley Smith (Norco Factory) was the top Canadian, finishing just off the podium in sixth place.

After faltering in the 2000 metre altitude at Andorra last weekend, Courtney showed that she remains the strongest woman in the cross-country this season at the slightly lower 1200 metres in Les Gets. Neff had her usual fast start, but then slowed on the climbs, dropping nearly a minute back of the lead group.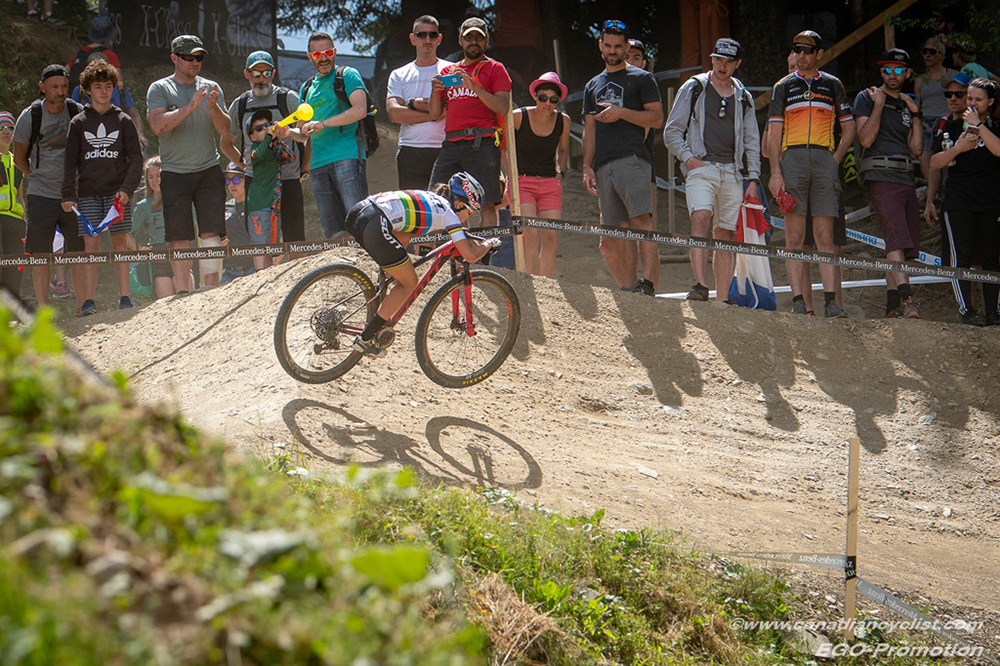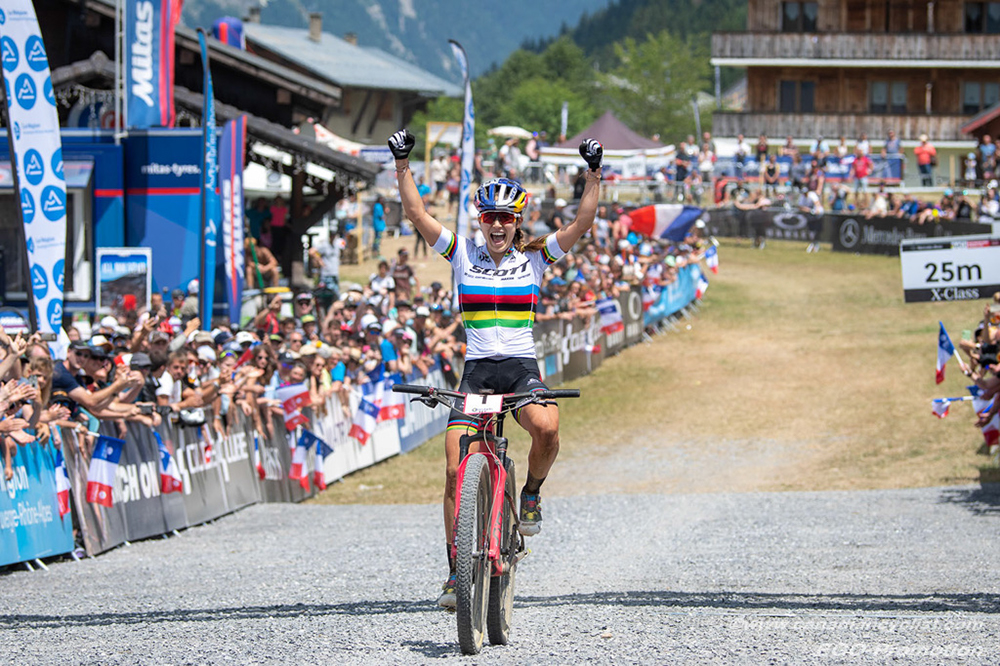 Kate Courtney
Courtney attacked out of the group, and had a 14 second gap by the start of the second lap. The chase was led by Pauline Ferrand Prevot (Canyon Factory), who was joined by Brandau, Sina Frei (Ghost Factory), Italian champion Eva Lechner and, remarkably, 2016 Olympic champion Jenny Rissveds (Sweden), who came up from starting nine rows back. Rissveds went right through the group and up to Courtney, but almost immediately faded after her effort, eventually finishing ninth.

In front, Courtney was steadily riding her way to victory, but behind there was a battle for podium spots. Rissveds was caught by Frei and Ferrand Prevot by the fourth lap, with Neff joining them late in the lap and attacking to move into second. Courtney appeared to be slowing, as Neff moved to within 30 seconds by the start of the penultimate sixth lap, but the world champion was merely managing her effort, and maintained the gap for the rest of the race. Brandau had joined Frei and Ferrand Prevot in the chase, and got a slight gap on Frei after Ferrand Prevot had a small crash.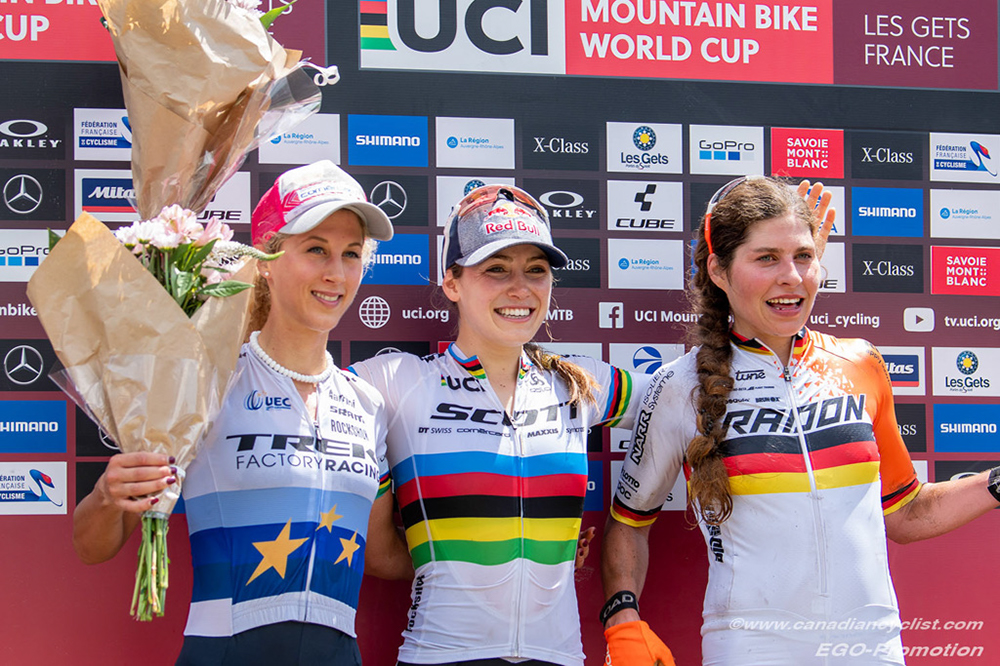 Jolanda Neff, Kate Courtney, Elisabeth Brandau
"Today I just rode my own race and focussed on the objectives," said Courtney. "I'm really happy it worked out. It has been a really good weekend, but I'm new to this, so I'm learning to focus on just one race at a time and not let the pressure get to me. Of course, having a rider like Jolanda, who is so strong on the climbs and a maniac of the descents put some pressure on, but I just tried to stay focussed and keep on the gas."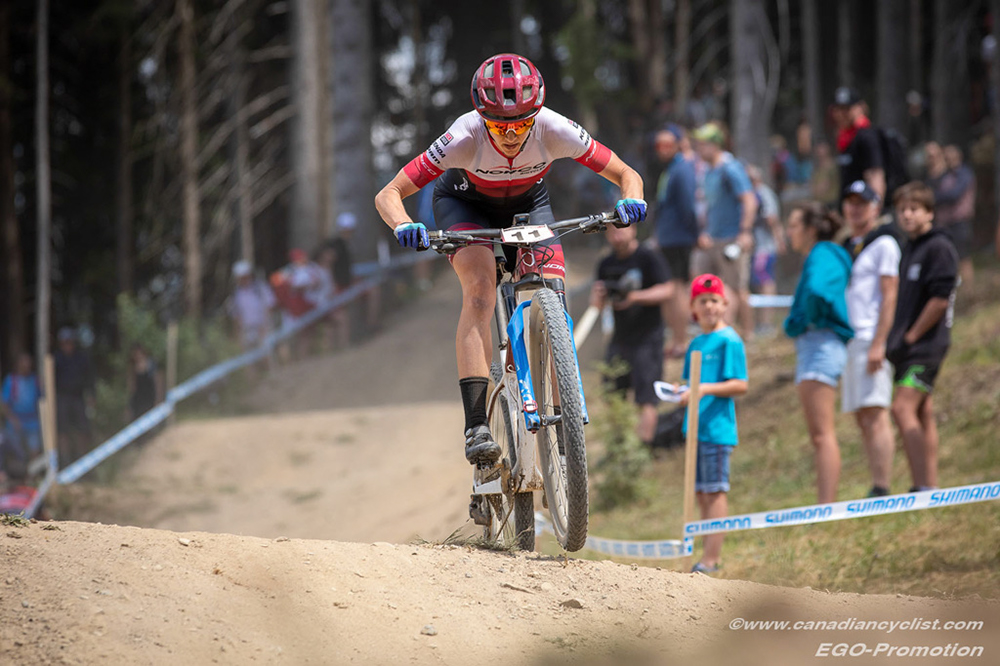 Haley Smith
Smith, who was another rider who had struggled with the altitude in Andorra, took a more measured approach in this race, moving up to 13th in the first lap and then to eighth in the second lap, leading the second chase group. By the fifth lap she had moved up another spot, and then to sixth for the final two laps, just holding off Round 3 winner Anne Terpstra (Ghost Factory). Catharine Pendrel (Clif Pro) also had a strong ride, moving as high as tenth by Lap 4 before dropping two spots to finish 12th. Other Canadian results had Canadian champion Emily Batty (Trek Factory) finishing 23rd, Sandra Walter (Team Canada) 42nd, Jennifer Jackson (Team Canada) 45th and Cindy Montambault (Team Canada) 46th.

"Yes, I had a really good ride today," said Smith. "I was experiencing a lot of stress and doubt all week; I'm not really sure why. But when that happens I know I just have to return to the basics of bike riding and focus on those. So that's what I did today - just focused on the task at hand and stuck with my mantra of 'I can do this'. Often, finishing sixth can be frustrating because you wonder if you could have given anything more for the podium, but I know there was just absolutely nothing left today. My legs were on the verge of cramping for the last two laps and I had to go so deep to hold off Anne Terpstra charging behind me. So I'm very satisfied. I'll sleep well tonight. And honestly, no matter how my race went today, I just felt so happy for Sean [Fincham, in Under-23 men] getting his first podium. Talk about a positive distraction during warm up!!"

Courtney, after winning both the XCC on Friday and the XCO, extended her lead in the overall standings to 175 points over Neff. Terpstra, despite finishing seventh remains third, but Brandau jumps from 11th to fourth. Smith remains the top Canadian in the overall standings, dropping one spot to tenth after Brandau and Ferrand Prevot leapfrogged her. Pendrel moves up again, now 13th, as does Batty, from 24th to 22nd, while Walter drops two spots to 31st.
Fincham Third in U23 Men World Cup at Les Gets
Disera Sixth at Les Gets World Cup
Results
| | |
| --- | --- |
| Elite Women, 7 laps (25.2 km) | |
| 1 Kate Courtney (USA) Scott- SRAM MTB Racing | 1:26:29 |
| 2 Jolanda Neff (Sui) Trek Factory Racing XC | at 0:33 |
| 3 Elisabeth Brandau (Ger) Radon EBE- Racing Team | 1:05 |
| 4 Sina Frei* (Sui) Ghost Factory Racing | 1:15 |
| 5 Pauline Ferrand Prevot (Fra) Canyon Factory Downhill Team | 1:32 |
| 6 Haley Smith (Can) Norco Factory Team | 1:40 |
| 7 Anne Terpstra (Ned) Ghost Factory Racing | 1:41 |
| 8 Rebecca Ellen Mcconnell (Aus) Primaflor Mondraker Rotor | 2:16 |
| 9 Jenny Rissveds (Swe) | 2:24 |
| 10 Eva Lechner (Ita) | 2:44 |
| 11 Yana Belomoina (Ukr) CST Sandd Bafang MTB Racing Team | 2:55 |
| 12 Catharine Pendrel (Can) Clif Pro | 3:01 |
| 13 Janika Loiv (Est) | 3:04 |
| 14 Githa Michiels (Bel) Primaflor Mondraker Rotor | 3:16 |
| 15 Lea Davison (USA) | 3:21 |
| 16 Tanja Zakelj (Slo) Unior / Devinci Factory Racing | 3:34 |
| 17 Alessandra Keller (Sui) Thömus RN Swiss Bike Team | 3:44 |
| 18 Jitka Cabelicka (Cze) Gapp System- Cabtech MTB Racing Team | 3:45 |
| 19 Candice Lill (RSA) | 3:47 |
| 20 Ramona Forchini (Sui) JB Brunex Felt Factory Team | 4:11 |
| 21 Sophie Von Berswordt (Ned) JB Brunex Felt Factory Team | 4:28 |
| 22 Chiara Teocchi (Ita) Bianchi Countervail | 4:53 |
| 23 Emily Batty (Can) Trek Factory Racing XC | 5:00 |
| 24 Mariske Strauss (RSA) | 5:18 |
| 25 Anne Tauber (Ned) CST Sandd Bafang MTB Racing Team | 5:19 |
| 26 Barbara Benko (Hun) Ghost Factory Racing | 5:45 |
| 27 Linda Indergand (Sui) Superior XC Team | 5:59 |
| 28 Lucie Urruty (Fra) Scott Creuse Oxygene Gueret | 6:18 |
| 29 Aleksandra Podgorska (Pol) Volkswagen Samochody Uzytkowe MTB Team | 6:32 |
| 30 Adelheid Morath (Ger) | 6:49 |
| 31 Annemarie Worst (Ned) | 6:50 |
| 32 Vera Medvedeva (Rus) | 6:50 |
| 33 Isla Short (GBr) | 6:59 |
| 34 Rocio Del Alba Garcia Martinez* (Esp) BH Templo Cafés Ucc | 7:28 |
| 35 Alexis Skarda (USA) | 7:43 |
| 36 Annie Last (GBr) KMC- Ekoi- Orbea | 7:50 |
| 37 Elisabeth Osl (Aut) JB Brunex Felt Factory Team | 8:10 |
| 38 Julie Bresset (Fra) BMC Mountainbike Racing Team | 8:20 |
| 39 Irina Kalentyeva (Rus) Moebel Maerki MTB Pro Team | 8:20 |
| 40 Lena Gerault (Fra) SUNN- Beaumes de Venise | 8:40 |
| 41 Hanna Klein (Ger) | 8:40 |
| 42 Sandra Walter (Can) | 8:49 |
| 43 Corina Gantenbein (Sui) RDR Italia Factory Team | 8:53 |
| 44 Fabienne Schaus (Lux) Moebel Maerki MTB Pro Team | 9:02 |
| 45 Jennifer Jackson (Can) | 9:08 |
| 46 Cindy Montambault (Can) | 9:26 |
| 47 Lotte Koopmans (Ned) | 9:47 |
| 48 Paula Gorycka (Pol) Strüby- Bixs Team | 10:01 |
| 49 Malene Degn (Den) KMC- Ekoi- Orbea | 10:07 |
| 50 Jovana Crnogorac (Srb) Bike Way Racing Team | 10:34 |
| 51 Nadine Rieder (Ger) | 10:53 |
| 52 Camille Devi (Fra) SUNN- Beaumes de Venise | 11:08 |
| 53 Serena Calvetti (Ita) KTM Protek Dama | -1 lap |
| 54 Katarzyna Solus-Miskowicz (Pol) | -1 lap |
| 55 Anais Griault (Fra) | -1 lap |
| 56 Perrine Clauzel (Fra) Cube Pro Fermetures Sefic | -1 lap |
| 57 Chrystelle Baumann (Sui) | -1 lap |
| 58 Karla Stepanova (Cze) Superior XC Team | -1 lap |
| 59 Nadja Heigl (Aut) | -2 laps |
| 60 Meritxell Figueras Garangou (Esp) | -2 laps |
| 61 Kathrin Stirnemann (Sui) Thömus RN Swiss Bike Team | -2 laps |
| 62 Olga Terentyeva (Rus) | -2 laps |
| 63 Sabrina Enaux (Fra) | -2 laps |
| 64 Joana Monteiro (Por) | -3 laps |
| 65 Raiza Goulao Henrique (Bra) | -3 laps |
| 66 Alaina Casioppo (USA) | -3 laps |
| 67 Natalia Fischer Egusquiza (Esp) MMR Factory Racing Team | -3 laps |
| 68 Janina Wust (Sui) | -3 laps |
| 69 Jules Toone (GBr) | -3 laps |
| 70 Cherie Redecker (RSA) | -3 laps |
| 71 Theresia Schwenk (Ger) | -3 laps |
| 72 Federica Piana (Ita) Vallerbike | -3 laps |
| 73 Vanessa Holmes (GBr) | -4 laps |
Fincham Third in U23 Men World Cup at Les Gets
Disera Sixth at Les Gets World Cup
---
Related Photo Galleries
---