July 16/19 16:37 pm - Canada Cup Moves to Horseshoe for Round Seven

Posted by Editoress on 07/16/19

While Canada's top mountain bike pros were at the fourth round of the World Cup in Les Gets, France, the seventh round of the domestic Canada Cup series was taking place this past Sunday at Horseshoe Valley, approximately 75 minutes north of Toronto. The Canada Cup is an important development series, with most of Canada's top riders having cut their teeth on it, including Haley Smith (Norco Factory), Peter Disera (Norco Factory), Catharine Pendrel (Clif Pro), Emily Batty (Trek Factory), Sean Fincham (Norco Factory) and Leandre Bouchard (Pivot Cycles-OTE).

The Elite women's race saw Marianne Theberge (MSA) ride away from the rest of the field, winning by almost five minutes over Ruby West (Specialized - Tenspeed Hero), with Roxanne Vermette (MSA) finishing third.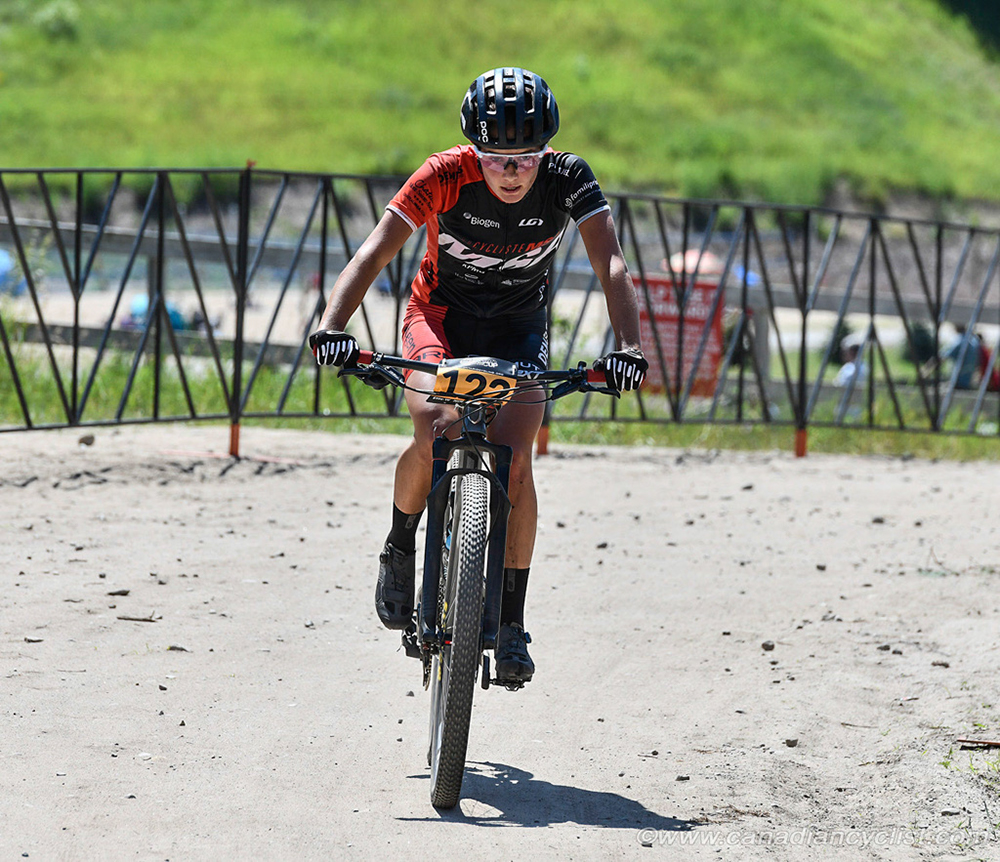 Marianne Theberge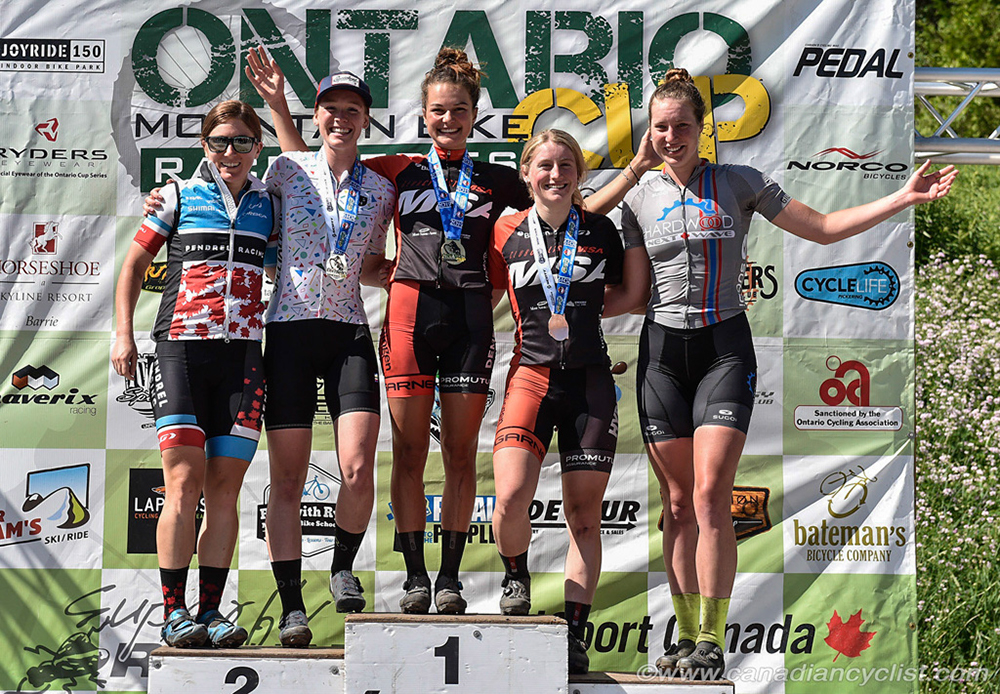 L to r: Elyse Nieuwold, Ruby West, Marianne Theberge, Roxane Vermette, Dana Gilligan
The Elite men's race was a two-up battle for most of the six laps between Tyler Orschel (Durham Shredders) and Gunnar Holmgren (Hardwood Next Wave). Holmgren was content to follow Orschel's wheel for most of the race before attacking on the final lap to win by nine seconds. William Cote (Equipe du Quebec) took third. With his second place, Orschel moves into the lead with 810 points, up from third. Holden Jones (Pendrel Racing) remains in second at 784 and Felix Belhumeur (Pivot Cycles-OTE) jumps from fifth to third with 738 points.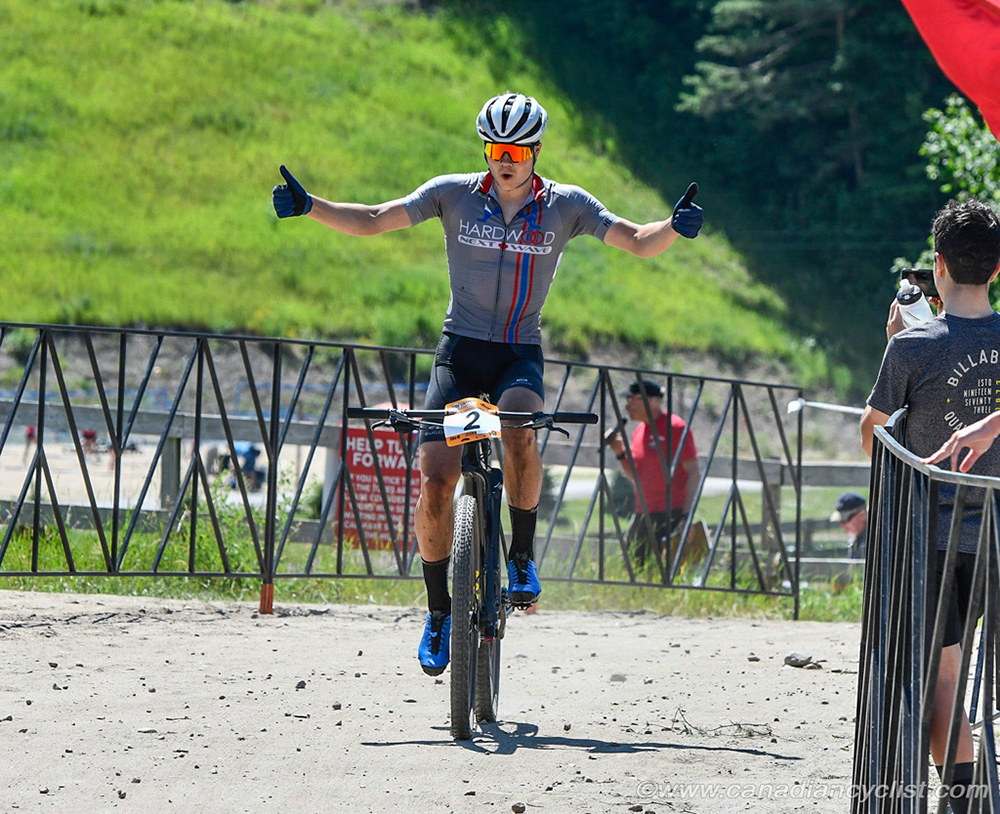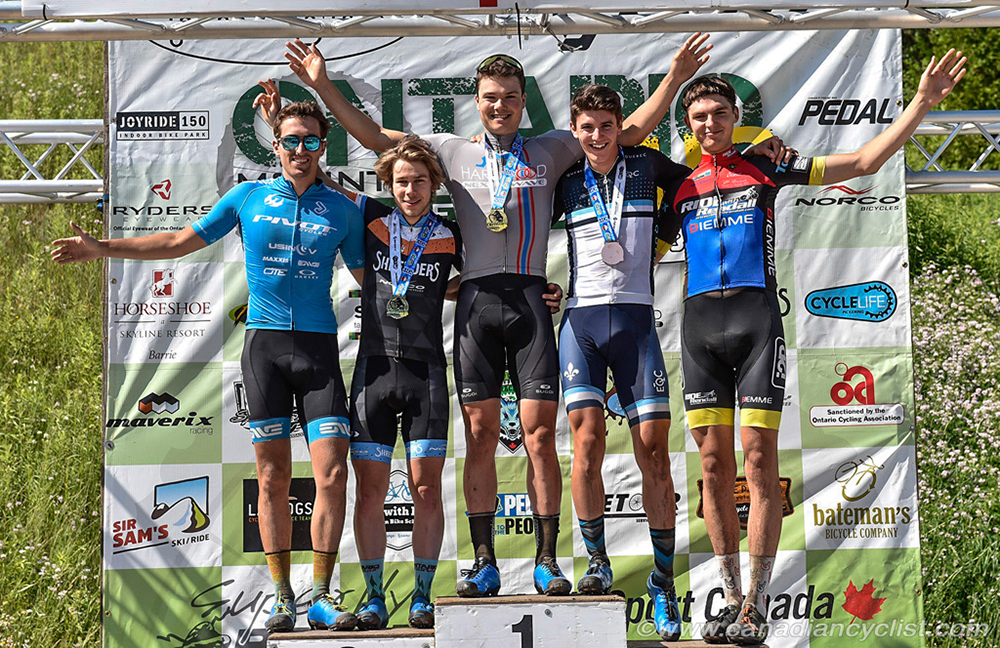 L to r: Felix Belhumeur, Tyler Orschel, Gunnar Holmgren, William Cote, Emile Farrell-Dessureault
In the Junior men's race, Charles-Antoine St-Onge (Dalbix Siboire) took an early lead and held on to win by 36 seconds over Hamish Graham (Comox Valley CC), with Xavier Roy (Ponsse) taking third. Hamish Graham took the Series lead, moving up from third with 340 points. St-Onge jumps from fifth to second with 334 points and former leader Vincent Thiboutot (Pivot Cycles-OTE) drops to third at 310 points.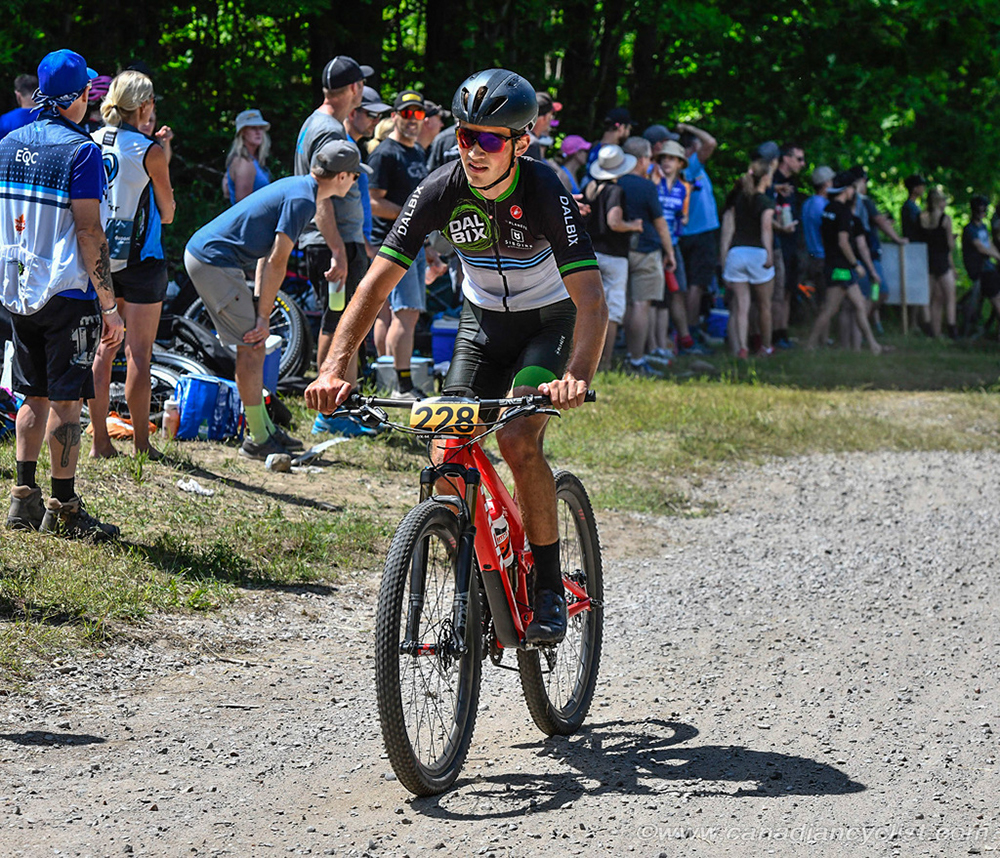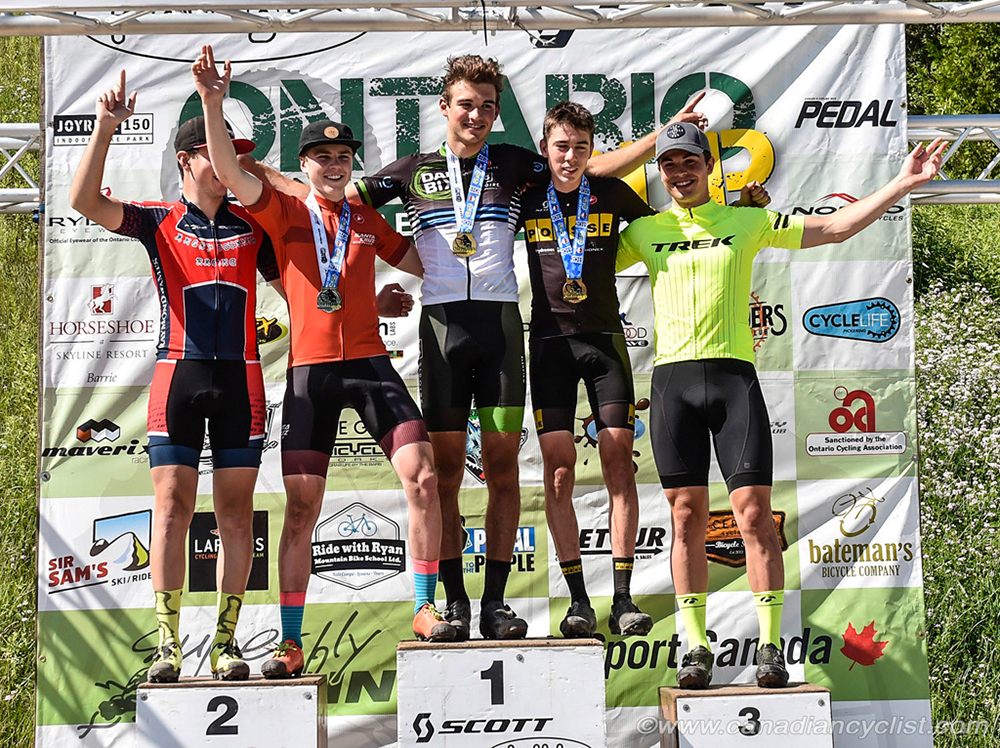 L to r: Dylan Kerr, Hamish Graham, Charles-Antoine St-Onge, Xavier Roy, Colton Woods
The Junior women had an equally tight battle between two Quebec riders, with Julianne Sarrazin (Velo Pays-d'en-Haut) winning by 34 seconds over Juliette Larose-Gingras (Velo Cartel X BL Coaching). Kaitlyn Shikaze (Cyclepath Oakville) took third. Larose-Gingras leads the series with 350 points, moving up from second. Former leader Magdeleine Vallieres-Mill (Quebecor Stingray), who did not race, drops to second with 340 points Sarrazin moves up to third from sixth with 307 points.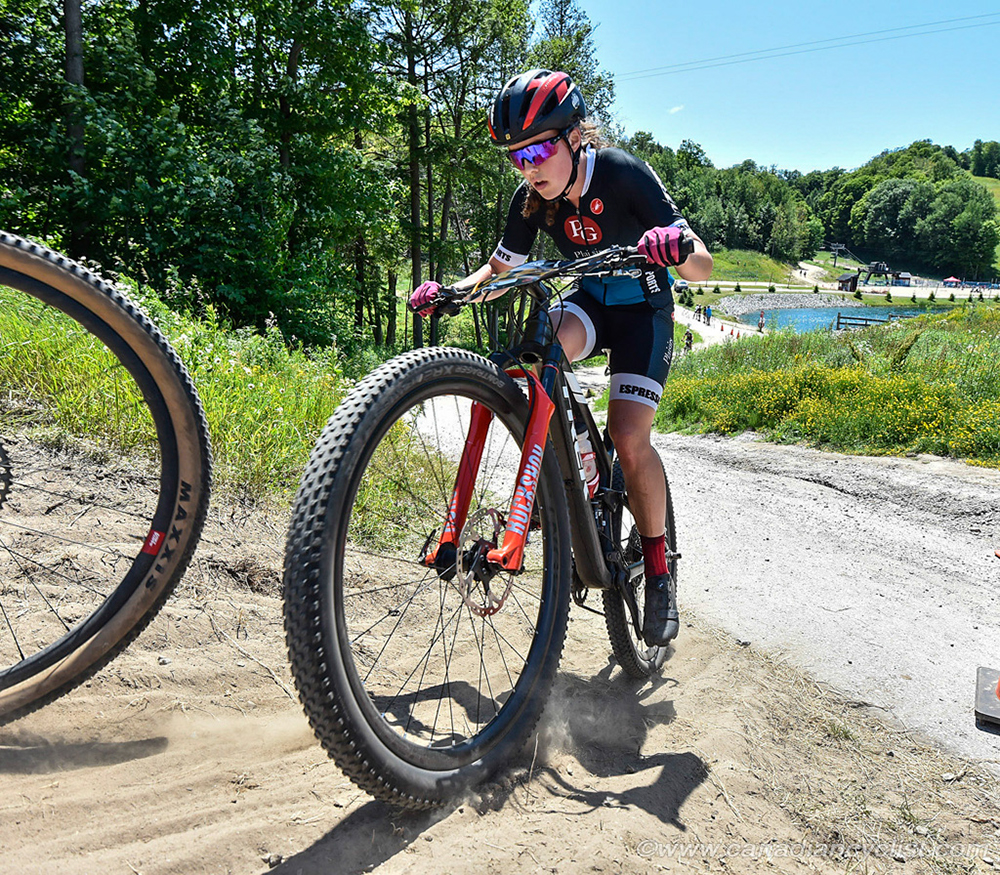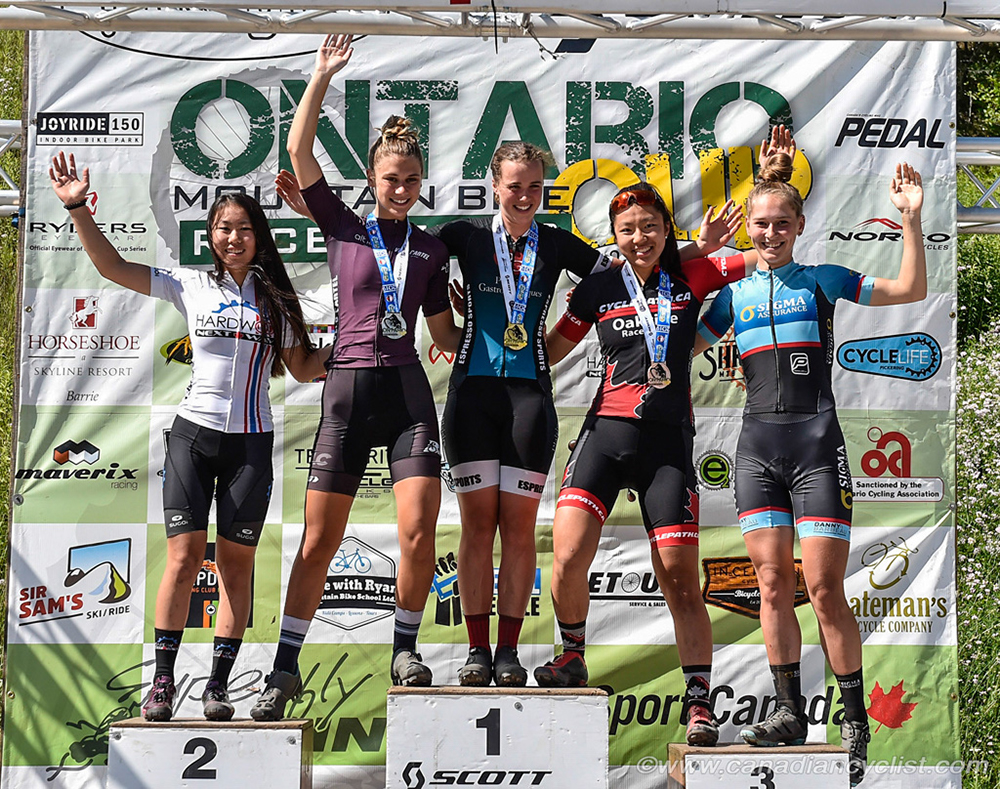 L to r: Kelly Lawson, Juliette Larose-Gingras, Julianne Sarrazin, Kaitlyn Shikaze, Samuelle Baillargeon
Junior Men and Women's Gallery
Canada Cup Standings after Horseshoe

---
Related Photo Galleries
---